THAT'S ENTERTAINMENT
CLICK ON ANY OF THESE LINKS TO FIND OUR EXTREME ENTERTAINMENT
August 2018
| Mon | Tue | Wed | Thu | Fri | Sat | Sun |
| --- | --- | --- | --- | --- | --- | --- |
| | | 1 | 2 | 3 | 4 | 5 |
| 6 | 7 | 8 | 9 | 10 | 11 | 12 |
| 13 | 14 | 15 | 16 | 17 | 18 | 19 |
| 20 | 21 | 22 | 23 | 24 | 25 | 26 |
| 27 | 28 | 29 | 30 | 31 | | |
Calendar

Forum Updated Index
If you wanted to look at the Magic Star . You will see that it is in the forum F6 . If you click F6 you wiil see just those 12 forums . Then you can look in each one at all the topics in them .
F1 ALL MEMBERS BRIEFLY INTRODUCE YOURSELF
F2 Valley of the Sun CC SITE AND FORUM GUILDELINES
VOTSCC TOURNAMENT MAKING GUIDE
VOTSCC OUR WGT CC BASIC PROTOCO
L
F3 Valley of the Sun CC HALL OF FAME REPLAY BLOOPERS
Valley of the Sun CC BEST OF REPLAYS
F5 RECENT TOURNEY WINNERS
VOTSCC "KICK ASS" 100,000 POINT CLUB MEMBERS
F6 FORUM FOR PAGE 3 & SAT & SUN BRACKETS & TOURNEY INFO HERE
FLASH MOB & ECGA POKER & MY LEAGUE POOL HALL PROS
LEXMARK 2500 CREDIT TOURNEY
VOTSCC INTERPLAY CC VS CC MATCHES
ACE'S " Best of the Alternate Shot Championship "
JUNE28 RATTLESNAKE ALT SHOT
DON"T CHOKE IT "JOKE IT "
TIPS FROM THE DOCTOR OF TECHNOLOGY AZDEWARS
F9 Current Events ,,Announcemets , Bulletin Board Part 1
AZ "HOT SHOTS" REMEMBERED
RANDOM SELFLESS ACTS OF KINDNESS
F11 CHAT ? ANYONE HERE TO CHAT WITH ?
DAVID LANES KICK ASS GALLERY OF ART
FORUM OF OLD WGT FORUM POST'S (archives)
OFF THE WALL , THX FOR A WALL OF A GOOD TIME
Gallery
Click on Gallery in toolbar above to see Galleries
FORUM UPDATE
THIS FORUM IS FOR YOU ALL . PLEASE FEEL LIKE IT IS YOURS . READ THE FORUMS. POST COMMENTS . ASK QUESTIONS . IF YOU HAVE A COMPLAINT POST IT . MAKE SUGGESTIONS . READ SOME TUTORIALS . READ SOME GOLF TIPS . CHECK RECENT TOURNEY WINNERS . BROWSE OUR OLD FORUM ARCHIVES . LOG IN TO THE CHAT AND MESSAGE SOMEONE TO MEET YOU THERE AND ARRANGE A MATCH . LOG IN TO THE CHAT TO SEE IF SOMEONE IS THERE JUST TO SAY HI . MESSAGE ME IF YOU WANT TO GET ON THE DAILY BLITZ .
KWIK KLIK TO YOUR FAV FORUM
THE BLITZ SCORECARD IS ON
Page 3
PLEASE CLICK
HERE
TO FIND THE COURSE OF THE DAY AND SEE
THE WEEKLY STANDINGS .
PLEASE POST
YOUR SCORES HERE. IN THIS
Owner's Objectives
It's been a while since I expressed some of my objectives for the CC . First of all I like and respect everyone that joins our club . I realize that not everyone knows what a CC is all about . Many have different reasons for joining . I really don't know how many of the other clubs are run . They are all different . What I want to emphasize in our CC is that whatever tier you are . That you feel comfortable here , part of a team of players that come here to find conditions that enable them to improve their game , hone their skills , lower their scores ,lower their averages , move up in tiers . Enjoyably and comfortably with the conditions that challenge them enough to keep that drive without the frustrationsof regular game play . All that is completely possible by either creating those tourneys yourself or by messaging me about it . Or someone else in your tier that has been creating tourneys . Any kind of information that you need to know should be provided here , any kind of appp , calculator , help , tutorial , tournament , statistic , message , opinion , gripe , compliment , etc , etc . Should able to be aqcuired here ( or in our website , as it may be easier there ). With your help , all of this can be done easily . We already have a good start . I am going to be here for a very long time trying to achieve all this . For any of you that think it's a good direction for your CC to go in . Then lets keep on keepin on . Sincerely , Your Co team member PDB1 , Paul ( sitting here on a rare rainy day ) May the SUN always be with you
POST OF THE WEEK
Re:
Where are the Flags ?By Bertasion in Valley of the Sun Casual Club The other day upon the heather fair I hit a flagstick that was not there. I saw it's shadow and heard the clank but where it stood was just a blank. It was not there again today. I wonder when it will come back and stay. Brian
BLITZ LIST
HERE IS THE LIST OF BLITZ COURSES IN THE ORDER THEY ARE PLAYED EVERY WEEK OF EVERY SEASON .
DAILY BLITZ WEEKLY SCHEDULE



WEEK 1

BEST OF BANDON PAR 3
PEBBLE BEACH
THE OLYMPIC CLUB
VAHALLA
MERION


WEEK 2

PINEHURST NO.2
HARBOUR TOWN
KIAWAH ISLAND
ROYAL ST. GEORGE
CONGRESSIONAL


WEEK 3

ERIN HILLS
ST. ANDREWS
BALI HAI
CELTIC MANOR
BETHPAGE BLACK


WEEK 4

PINEHURST NO. 8
WOLF CREEK
CHALLANGE AT MANELE
EXPERIENCE AT KOELE
HILVERSUMSCHE


WEEK 5

EDGEWOOD TAHOE
BEST OF WATER SHOTS
BEST OF FAMOUS SHOTS
BEST OF PUTTING
CHAMBERS BAY
TIER & AVERAGE REQUIREMENTS
BASIC LEVEL AND AVERAGE REQUIREMENTS , AND SATURATION
You need to play at least 5 ranked rounds as hack to saturate & be eligible for Amateur.
When your average score is equal or smaller than 100 you go from Hack to Amateur.
You need to play at least 10 ranked rounds as amateur to saturate & be eligible for Pro.
When your average score is equal or smaller than 80 you go from Amateur to Pro..
You need to play at least 20 ranked rounds as Pro
to saturate & be eligible for
Tour Pro.
When
your average score is
equal or smaller than 72 you go from pro to Tour Pro.
You need to play at least 25 ranked rounds as Tour pro
to saturate & be eligible for
Master.
When
your average score is
equal or smaller than 67 you go from Tour Pro to Master.
You need to play at least 40 ranked rounds as Master
to saturate & be eligible for
Tour Master.
When
your average score is
equal or smaller than 63 you go from Master to Tour Master.
You need to play at least 50 ranked rounds as Tour Master
to saturate & be eligible for
Legend.
When
your average score is
equal or smaller than 61 you go from Tour Master to Legend.
You need to play at least 500 ranked rounds as Legend to
to saturate & be eligible
for Tour Legend.
When
your average score
is equal or smaller than 60 you go from Legend to Tour Legend.
You need to play at least 200 ranked rounds as Tour Legend to
to saturate & be eligible for Champion .
When
your average score
is equal or smaller than 59 you go from Tour Legend to Champion .
You need to play another 200 ranked rounds as a Champion to saturate .
You need to jump through 10,000 hoops before you receive an exclusive personal invitation before reaching Tour Champion.
May the SUN always be with you
Page 5 of 5 •

1, 2, 3, 4, 5
First topic message reminder :

I WISH I HAD THOUGHT OF THIS SOONER  .THERE HAVE BEEN SO MANY GR8 POSTS TO MY WALL . I THANK YOU ALL VERY MUCH I WISH I COULD HAVE SAVED MORE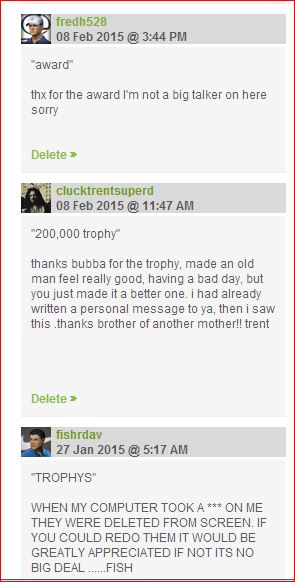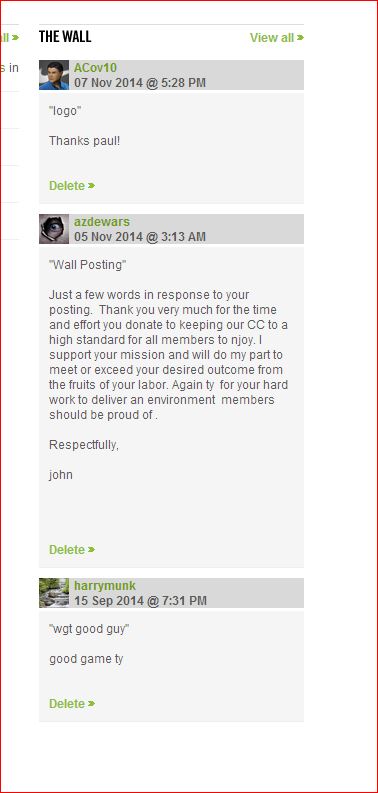 ---


UFCJohny wrote "tell the world !!!!!"
at 5:27 PM on January 5, 2018

Pauly can Shoot !!  and  got a Cool Soul  also ,  just Like  WgtIcon Does
Delete


harryskunk wrote "hey"
at 5:02 AM on January 5, 2018

hello paul happy new year and thanks for the message

Delete


avvem wrote "Thanks"
at 3:22 AM on December 31, 2017

Thanks for your appreciation. I wish you a Happy New Year.
God be with you.
Avvem/Achille

RyggePly
13 Jan 2018 @ 6:07 AM
"Falster Golfklub Virket" 
Hi !
Thanks for the game in the Clubclash.
We enjoyed it too.
RyggePly.

Delete


brianpil
13 Jan 2018 @ 3:32 AM
"Leigh Village GC" 
Thank you for your message, we enjoyed our clash with you all and look forward to many more close matches.
Best wishes to you all from all of us at Leigh Village GC

Delete



glpark
12 Jan 2018 @ 7:08 PM
"Clash & Post" 
Hi Paul: Thank you very much for your post and Clash today. I wish we could have made it just a little tougher for you to gain the upper hand. Congrats & great job.  I always enjoy your very helpful, non sarcastic posts in the WGT Forum. Keep it up. Thanks again, Greg


Last edited by Paul on Mon 30 Apr 2018, 21:25; edited 1 time in total
likesmallbutts wrote "Thank you "
at 2:03 PM on February 13, 2018
We had fun and enjoyed playing you in the clashes also,,, 
Donna
Delete

azdewars wrote "I Don't Thank You Enough"
at 6:35 AM on February 11, 2018
I'm truly sadden by what life has handed you and family. You know that you and family are in my prayers. You have weathered through difficult times with the VOTSCC and your determination and fortitude will get you through this misfortune. You have shown your worthiness time and time again.  I'm here for you my friend if the need arises.
A BIG thank you for ALL the time, work and dedication you have exhibited since my recruitment into the VOTSCC.   BTW: I could use a road trip.
Respectfully,
John - AZDewars
Delete

alcaucin wrote "hey Paul"
at 3:04 PM on February 9, 2018
Real sorry to hear of the issues you're going through.
We may not have always agreed ;-)  but....
You've been a great asset to the Community !
Wishing you all the best in the future.
Andy
Delete

HALFBACKFLANK wrote "CLASH 66"
at 7:39 AM on February 8, 2018
Thanx pdb1, close to the very finish. All the best for the rest of the clash.
HBF
Delete
Wilberforce369 wrote "Hello"
at 7:13 AM on February 8, 2018
Thanks for the well wishes man. Friendly competition is always a pleasure. Good luck to you and your club the rest of the way. RobT
Last edited by Paul on Mon 30 Apr 2018, 21:20; edited 1 time in total


harryskunk
25 Feb 2018 @ 10:47 AM
"friend" 
hey paul hows trickys m8? good see you back

Delete


littlejohn61
25 Feb 2018 @ 9:24 AM
"THANK YOU" 
We always enjoy playing you guys, You are our best motivator. We have our issues with health and all but I refuse to lay down. I am one of the best recruiters out there and will continue to find the best with a small club. It dont take 250 to go where we are going. TY PDB1 for the warm wishes I appreciate that. LJ 

Delete


okiechuck
19 Feb 2018 @ 5:33 PM
"Invitation" 




Thank you for the response to my post in the Forum. Also, thank you for the invitation to join your club. But, I am looking for a lower level club that need some help to advance. Your club is very well established and a credit to WGT as a playing club with outstanding members.
Thank you again for the invitation and my best wishes for your clubs continued success.

Delete


pmm711
16 Feb 2018 @ 12:12 AM
"Best Wishes...Heal Up" 
Paul, 
I just saw your post on my wall as I play more mobile today.  Sorry to see you're about to go under the knife for both shoulders.  I've had friends go for shoulder replacement vs. corrective surgery.  These are rough recoveries but I pray you push through with flying colors.
Hope to see you back swinging them soon!
Paul
Last edited by Paul on Mon 30 Apr 2018, 21:18; edited 1 time in total
HenryKawa wrote "WOW!"
at 12:34 AM on February 27, 2018
I'm really getting hammered in the forums!  Not sure why I am being targetted right now.  

jonny88 wrote "Hey Wanda"
at 3:26 PM on March 25, 2018
Nice vinyl>>>yo
Delete

jase025 wrote "Thank you"
at 7:27 PM on March 23, 2018
Hey PDB1, whilst no one in our club plays these any more members can activate them through out the day . So ty for e ty all the best to you an yoursom
Delete

duaneemery wrote ""Thank You"..."
at 6:19 PM on March 23, 2018
...on behalf of The Founders Club. The Clash has changed here recently, and we're still feeling our way. Good luck you you and yours in the future. duaneemery Owner of TFC
Delete

JimQ916 wrote "WTG Boss Man!!!!!"
at 2:08 PM on March 14, 2018
Delete

jonny88 wrote "terrible with names"
at 5:16 PM on March 12, 2018
So glad your back.  I posted you PB1 forgot the D.  Saw your post to DC. I hope your better now.
Love reading your shots in the Forum.  Take Care!!!
Delete

Wood4Woody wrote "Sorry for late reply"
at 7:22 AM on March 9, 2018
Only just got round to checking profile page and read your comment on my wall regards CC67.
Many Many thanks  from Dawn and myself.
As a new club - I only started it after CC64 - with only 2 players, at the moment most of our time is spent racking up the club xp, with the Clashes coming as a nice break in the tedium.
3 events under our belt and currently sitting 288, a few more players and we could be a good challenge later on.
Hope to meet again in next clash.
Take care and may the Great God " Holey Putt - Putt " bear riches down on you and your fellow players.
Cheers again
Woody
Oh yeah, have sent you friend invite, I hope you will accept it and we can meet out on the greens.
Delete

UFCJohny wrote "Please Donate"
at 8:05 PM on March 8, 2018
Delete

UFCJohny wrote "Tell The World !!!!!"
at 7:59 PM on March 8, 2018
Delete
HenryKawa wrote "Sorry Sir!"
at 2:30 PM on March 8, 2018
Paul.  I read your comments on Robert1893 Wall.  I am truly sorry to hear what  you are going through.  I am sorry for whining the other day about my whoa's when they are so in-significant compared to issues others have.   I am embarrassed now.    Paul, if you ever need to talk, don't hesitate - I will be here for you.  I know you likely don't think much of me, although you have always been fair to me (ME - THE TROLL, as some other people call me).  However, I am a retired cop after 35 years in service.  I am a good person.  As far as you are concerned, I have always thought highly of you as does pretty much everyone else you come into contact with.   Keep plugging away, and I know things will get better for you.  Thank you for being YOU.  
Delete
HenryKawa wrote "WOW HENRY GETTING BLASTED IN THE FORUMS!"
at 8:43 PM on March 7, 2018
-  Hello Sir.  I don't see you in the forums very often.  I am getting "HAMMERED" right now by so many people in a thread called "WGT History and Milestones!"
- All the nasty things ppl say about me is "water off a ducks back".   The only thing that bugs me is when they call me a liar about being a retired cop.  I spent over 35 years in the profession and it is one of the few things I've ever done that I'm proud of.  Other than raising a wonderful family and my grand kids.
- Talk to you soon, my friend. 
HK (average player)
Delete
Lute345 wrote "WGT's Silence!!"
at 12:45 PM on March 7, 2018
Hey Paul, sorry if I got you in trouble with icon. But I felt he might be our only hope with getting any type of answers from WGT. But I also realize he's merely a pawn. His hands are tied just like Members Services. It's just unfortunate that WGT is so damn pig-headed and doesn't let us know what their intentions are going to be once Flash is gone bye-bye. There are so many players who have gotten fed up and left the game it isn't even funny!!
I hope you're not upset with me Paul. I was only trying to keep the conversation going.
Lute
Delete

IvaThongon wrote "Thank you"
at 11:09 AM on March 5, 2018
Thanks Paul for the CC offer. One of my friends added me to their CC.
Blessings.
Delete

boeling wrote "

"
at 8:15 AM on March 5, 2018
Thank you 

Delete

jetrep7 wrote "Club Challenge"
at 4:30 AM on March 5, 2018
First, thanks for the post. We at UFVG enjoyed our clash round also. I am posting this to see if your club would be interested in a
CC vs CC Challenge Match
for the Month of April, or sooner. Post yer reply or send me a friend invite so we can work out the details.
We have a team of 12 players ... 2 are Master tiers, 7 Legends,1 Tour Legend and 2 Champion (small club). So, if your club can match that (or something close) it would be great.
I propose 2 rounds ... one Stroke Play and one Match Play. Two weeks per round, to allow opponents time to schedule and complete the rounds. 
Delete

WoodyJeep wrote "Hi Paul"
at 7:09 PM on March 1, 2018
Thanks for the heads up. He's all yours. Be well.
Last edited by Paul on Mon 30 Apr 2018, 21:13; edited 1 time in total
mitimiti51 wrote "Looking for a club to join"
at 2:55 PM on April 10, 2018
Hi the club I belong to currently is not very active. I like the look of yours.
Please consider me, 
Cheers George 
Delete

Refugee76 wrote "Joining up"
at 4:07 PM on April 8, 2018
Hi pdb. Thanks for the response. Yes I'm interested in joining your CC. I'm a new player and would like to be part of a learning community and find some decent folks to compete with and against. Still finding my feet in the game!
Delete

BobbyWiser wrote "We Like, and Love,and We Pray"
at 4:56 PM on April 7, 2018
Pauly, im here in Arnie's Army CC, i heard from ufcjohny you got a good soulbobby
Delete

AlaskanDame wrote "Hope you are getting better, Paul."
at 8:28 AM on April 6, 2018
And I see one of my new members used to be yours (faasda1). But he was unattached when he requested FAPC membership, so I hope that's okay with you.
All my best,
AKD
Delete
Peterthegreat9 wrote "Club clash"
at 6:41 AM on March 30, 2018
Hi pdb1,
Thanks for you kind words, I hope we can meet in another clash soon.
Cheers Peter (owner of The Eagle City Boomers)
Delete

eisaku10 wrote "Hello PDB 1"
at 7:25 PM on March 29, 2018
You and your team are wonderful, please continue to succeed, thank you.
Delete

ironhawk0 wrote "We will meet again"
at 6:05 PM on March 27, 2018
Thank you gentleman from the fairway crashers on two good clashes .
IRONHAWK0...owner
Delete
jonny88 wrote "Hey Wanda"
at 3:26 PM on March 25, 2018
Nice vinyl>>>yo
Delete
Last edited by Paul on Mon 30 Apr 2018, 21:04; edited 1 time in total

dsull15
25 Apr 2018 @ 2:42 PM
"Beer?"
Delete

northernpainter
11 Apr 2018 @ 11:01 AM
"Thank you"
Thank you Paul

Christine
The Wall

Golfschuh wrote "cc welcome"
at 9:30 PM on May 19, 2018
Thanks very much for the warm welcome!
Delete

bossbird wrote "Just to let you know "
at 10:11 AM on May 17, 2018
Hi Paul , I wanted this clash to be a very happy and exciting clash , as I have already said , I do,love them. I was very surprised and grateful tomCharles for sending me a very good number of passes. Sadly I went to hospital with my husband today where he has been diagnosed with an aggresive form of prostate cancer. It has floored me somewhat. I will play as many matches as I can and will play into the night, but tomorrow I once again have to go to hospital with him. Please don't think I am anything other than a committed player , but after today's news , I have other priorities ! Thank you for your understanding Lesley
Delete

whank wrote "Thanks "
at 1:40 AM on May 16, 2018
I have joined the BroCountry Club kool club and strong in the clash .Got tired of LJ tripn on me long story LOLl whank
Delete

eagleslayer2 wrote "????"
at 8:29 PM on May 8, 2018
I have no idea what you're talking about. What about my owner?
Delete

boeling wrote "Beer?"
at 8:23 AM on May 6, 2018
i think,  hotdog


TALKPLAYWITHME37
21 May 2018 @ 5:36 AM
"hi"
nice wgt  golf game  profile name 
play  and  chat  please    
Melissa   on the wgt 
Delete
DTrumpdaman
20 May 2018 @ 8:03 PM
"Hey"
Always nice to play against a friendly good bunch of people  like you guys. Good luck to you and your club. DT
Delete

HALFBACKFLANK
20 May 2018 @ 10:35 AM
"CLASH
#73
"
Thanks PDB1, on behalf of CLUB 801 congratulations on your top 100 finish.
All the best
HBF

Cullo5
08 Jul 2018 @ 3:49 AM
"Thank you"
Hi Pdb
thank you for the sweet message .. enjoyed the CC ...
have fun 
Abi

Delete

goldeena
07 Jul 2018 @ 2:12 AM
"Let's stay gooed friends."
You are a gy paul - you came and invited me to your CC and I don't think I would have been invited from anyone else, I saw you defend me on the forums, all of this has been very unfortunate - they didn't get their scalp either Paul, now it is obvious to me - the CC is born the way you want it and if you want it a certain way you have to create it - it is a creation from the very first instance. let's stay in touch, thanks for giving me my first experience opf the clashes too it has been a revolution for me!! XXX deena
Delete

GabyGolfGirl
24 Jun 2018 @ 7:37 PM
"Thank u"
So much for allowing me to join your CC
I'll try to be a good girl, I promise

Gaby
x
Delete

NRCoyote
18 Jun 2018 @ 3:11 AM
"Come on now, just sthu..."
          So you bilked WGTer's out of a pile of cash. Have sense enough to thank them and move on. No one in the WGT world is going to buy into your lame, little Martyr act. Stop hijacking threads and acting like you know everything, because you don't. It's really gotten old, and fast. Especially when you babble on about the clashes, and any tech support issues. SMH,  you're making me ill.
Delete
asdubourg
09 Jun 2018 @ 8:06 AM
"pdb1"
Thanks for the invite to your cc, but im banned of wgt, cant play anymore sorry

WUISENRIKE wrote "THANKS THANKS"
at 6:57 PM on June 5, 2018
thanks friend, always a pleasure to play with people with great sportsmanship and lover of this great game.
that the united gulfs walk through the valley of the sun and have fun and make friends is good
Thank you
Luis Enrique
owner of the gulfs
Delete

JohnHoang1 wrote "Clash #72"
at 10:48 PM on May 21, 2018
Hello PDB1,
Thank you very much. Always our pleasure to play against yours.
Best of luck !
---Johnny---
blondesquirrel
15 Jul 2018 @ 8:55 AM
"Be truthful, please"
 I found a person with a wi fi hotspot on their phone . To allow me to write this final message .   Even if I could still play . Even if there was a chance I could return some day in the future . I will not . 
That was posted 6.29
Last round played,,,,,7.7
Need I say more about why I left??
I did enjoy all the effort you put into the CC, Paul,  but maybe if you would have put more effort into IRL,,,,,,,You would be happier.
All the bestests, Blondie

pdb1
15 Jul 2018 @ 10:05 AM
"Frank dear sir "
  As have many before you . With out the proper knowledge of the truth . You would jump to a conclusion that an old date on a blog was connectewd to a new post . The blogs do not update when you edit or add to them .
  If you insist on thinking that in any way . I have ever been dishonest or deceitful . I have not . Never needed to be . The factual truth is all I swill ever need .
  Have always been completely honest and gracious with you . Have enjoyed meeting you and was sorry to see you go .
  Please refrain yourself from posting false accusations on these WGT pages .
  Please try to open yourself to the truth .
  It is very freeing
  Paul
  May the SUN always be with you .
New Wall Post

pdb1
15 Jul 2018 @ 10:29 AM
"I ask you to "
  Please remove that ridiculous statement from my wall .
  Thank you .
  Paul
Delete

pdb1
15 Jul 2018 @ 10:28 AM
"Lol BTW"
  The 6 / 29 in that blog . Was actually 6 / 29 / 2015 when I 1st posted
HOME OF VALLEY OF THE SUN CASUAL CLUB CC
29 Jun
Page 5 of 5 •

1, 2, 3, 4, 5
---
Permissions in this forum:
You
cannot
reply to topics in this forum