THAT'S ENTERTAINMENT
CLICK ON ANY OF THESE LINKS TO FIND OUR EXTREME ENTERTAINMENT
May 2021
| Mon | Tue | Wed | Thu | Fri | Sat | Sun |
| --- | --- | --- | --- | --- | --- | --- |
| | | | | | 1 | 2 |
| 3 | 4 | 5 | 6 | 7 | 8 | 9 |
| 10 | 11 | 12 | 13 | 14 | 15 | 16 |
| 17 | 18 | 19 | 20 | 21 | 22 | 23 |
| 24 | 25 | 26 | 27 | 28 | 29 | 30 |
| 31 | | | | | | |
Calendar
71 WGT TUTORIALS & 32 YOUNG46 TUTORIALS
CLICK HERE
TO SEE OVER 100 YOUTUBE VIDEO TUTORIALS . FROM WGTers , WGT & YOUNG46
Gallery
Click on Gallery in toolbar above to see Galleries
FORUM UPDATE
THIS FORUM IS FOR YOU ALL . PLEASE FEEL LIKE IT IS YOURS . READ THE FORUMS. POST COMMENTS . ASK QUESTIONS . IF YOU HAVE A COMPLAINT POST IT . MAKE SUGGESTIONS . READ SOME TUTORIALS . READ SOME GOLF TIPS . CHECK RECENT TOURNEY WINNERS . BROWSE OUR OLD FORUM ARCHIVES . LOG IN TO THE CHAT AND MESSAGE SOMEONE TO MEET YOU THERE AND ARRANGE A MATCH . LOG IN TO THE CHAT TO SEE IF SOMEONE IS THERE JUST TO SAY HI . MESSAGE ME IF YOU WANT TO GET ON THE DAILY BLITZ .
KWIK KLIK TO YOUR FAV FORUM
THE BLITZ SCORECARD IS ON
Page 3
PLEASE CLICK
HERE
TO FIND THE COURSE OF THE DAY AND SEE
THE WEEKLY STANDINGS .
PLEASE POST
YOUR SCORES HERE. IN THIS
Owner's Objectives
It's been a while since I expressed some of my objectives for the CC . First of all I like and respect everyone that joins our club . I realize that not everyone knows what a CC is all about . Many have different reasons for joining . I really don't know how many of the other clubs are run . They are all different . What I want to emphasize in our CC is that whatever tier you are . That you feel comfortable here , part of a team of players that come here to find conditions that enable them to improve their game , hone their skills , lower their scores ,lower their averages , move up in tiers . Enjoyably and comfortably with the conditions that challenge them enough to keep that drive without the frustrationsof regular game play . All that is completely possible by either creating those tourneys yourself or by messaging me about it . Or someone else in your tier that has been creating tourneys . Any kind of information that you need to know should be provided here , any kind of appp , calculator , help , tutorial , tournament , statistic , message , opinion , gripe , compliment , etc , etc . Should able to be aqcuired here ( or in our website , as it may be easier there ). With your help , all of this can be done easily . We already have a good start . I am going to be here for a very long time trying to achieve all this . For any of you that think it's a good direction for your CC to go in . Then lets keep on keepin on . Sincerely , Your Co team member PDB1 , Paul ( sitting here on a rare rainy day ) May the SUN always be with you
POST OF THE WEEK
Re:
Where are the Flags ?By Bertasion in Valley of the Sun Casual Club The other day upon the heather fair I hit a flagstick that was not there. I saw it's shadow and heard the clank but where it stood was just a blank. It was not there again today. I wonder when it will come back and stay. Brian
BLITZ LIST
HERE IS THE LIST OF BLITZ COURSES IN THE ORDER THEY ARE PLAYED EVERY WEEK OF EVERY SEASON .
DAILY BLITZ WEEKLY SCHEDULE



WEEK 1

BEST OF BANDON PAR 3
PEBBLE BEACH
THE OLYMPIC CLUB
VAHALLA
MERION


WEEK 2

PINEHURST NO.2
HARBOUR TOWN
KIAWAH ISLAND
ROYAL ST. GEORGE
CONGRESSIONAL


WEEK 3

ERIN HILLS
ST. ANDREWS
BALI HAI
CELTIC MANOR
BETHPAGE BLACK


WEEK 4

PINEHURST NO. 8
WOLF CREEK
CHALLANGE AT MANELE
EXPERIENCE AT KOELE
HILVERSUMSCHE


WEEK 5

EDGEWOOD TAHOE
BEST OF WATER SHOTS
BEST OF FAMOUS SHOTS
BEST OF PUTTING
CHAMBERS BAY
TIER & AVERAGE REQUIREMENTS
BASIC LEVEL AND AVERAGE REQUIREMENTS , AND SATURATION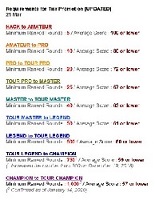 pdb1

5,686 Posts


10-18-2015 12:03 PM
I tried to send this one to all members but i'm not sure it worked 

  Well aint this a bitch ? I just typed for an hour and clicked send and the page timed out and i lost the whole thing . Damn . 


  Well yes . it had been a while . But it happened . I blew a fuse . I am sure it will happen sometime again . Just a lot of built up frustrations over months of time. Comes with the job . Things like the feeling you are the only one here . Or it seems like no one hears you . Wishing for so much more and knowing it will never happen Probably common and likely one of the main reasons there is such a high CC owner turn over rate . 


  It started off yesterday when Rob's Bracket tourney # 41 had 4 WD's . 2 of which were in the 3rd round and didn't even show up to play . Rob was pissed and rightly so . I was almost as mad as he was . Because I know how much work is put into these tourneys . Rob and Jim provide you all with all of the information you need about the tourneys the times of each round and each member . I know just how valuable that information is . I don't think you all know or appreciate what all you have here . Being in a CC and playing at the levels we do here . The bracket players are supposed to know after 41 stroke brackets and 23 CTTH brackets . That these single play tournaments take a higher level of commitment and agree to be available to play all rounds . Play them completely without exception . That is the way it is in brackets . If you can't then don't sign up .
   So anyway Rob took it personally . I take it personally when our Directors are disrespected . 
I got even more butt hurt when the CTTH bracket that I made . " MAKE A MARK " that i added 500 credits to . just to be nice . After 5 days only had 7 entrants even after countless postings on it . So naturally I concluded that either no one reads the forum . Or everyone read it and just didn't respect me enough or give a flying fuck . Because they sure weren't filling it up in as timely a manner as possible as good CC bracket players should be expected to step up and do always . 


  So none of this should be happening and was all it took for my fuse to blow. 


  So i am over it now . 


  Now what to do about it because it sure aint happening again . None of this is new news . Every one has heard this stuff before . We want to insure that CC members are doing the work . Whatever it takes to make all parts of this CC run well . Of course if you arent a bracket player you wouldnt be expected to know about the brackets . But you are sure on top of the formats you prefer . If you arent . You should be . This is not just a free ride at your disposal . You members need to be ready and able to step up and do the work whatever it takes for all events and parts of the CC . That is why you are in a CC to be able to reap the benefits of our levels of play . It takes efforts . Much more than we have seen . But you should already know this . As I have said it all many times before . 


  This is just a brief synopsis of what I had already written . But oh well . the point is still the same . 


  I am in the process of writing a few specific guidelines so we all know where we stand . 


  I just wanted to catch you up on what i was feeling . 


  Talk to you soon .
---
Permissions in this forum:
You
cannot
reply to topics in this forum