THAT'S ENTERTAINMENT
CLICK ON ANY OF THESE LINKS TO FIND OUR EXTREME ENTERTAINMENT
Statistics
We have
423
registered users
The newest registered user is
networthtalks
Our users have posted a total of
11680
messages in
2895
subjects
August 2022
| Mon | Tue | Wed | Thu | Fri | Sat | Sun |
| --- | --- | --- | --- | --- | --- | --- |
| 1 | 2 | 3 | 4 | 5 | 6 | 7 |
| 8 | 9 | 10 | 11 | 12 | 13 | 14 |
| 15 | 16 | 17 | 18 | 19 | 20 | 21 |
| 22 | 23 | 24 | 25 | 26 | 27 | 28 |
| 29 | 30 | 31 | | | | |
Calendar
71 WGT TUTORIALS & 32 YOUNG46 TUTORIALS
CLICK HERE
TO SEE OVER 100 YOUTUBE VIDEO TUTORIALS . FROM WGTers , WGT & YOUNG46
FORUM UPDATE
THIS FORUM IS FOR YOU ALL . PLEASE FEEL LIKE IT IS YOURS . READ THE FORUMS. POST COMMENTS . ASK QUESTIONS . IF YOU HAVE A COMPLAINT POST IT . MAKE SUGGESTIONS . READ SOME TUTORIALS . READ SOME GOLF TIPS . CHECK RECENT TOURNEY WINNERS . BROWSE OUR OLD FORUM ARCHIVES . LOG IN TO THE CHAT AND MESSAGE SOMEONE TO MEET YOU THERE AND ARRANGE A MATCH . LOG IN TO THE CHAT TO SEE IF SOMEONE IS THERE JUST TO SAY HI . MESSAGE ME IF YOU WANT TO GET ON THE DAILY BLITZ .
THE BLITZ SCORECARD IS ON
Page 3
PLEASE CLICK
HERE
TO FIND THE COURSE OF THE DAY AND SEE
THE WEEKLY STANDINGS .
PLEASE POST
YOUR SCORES HERE. IN THIS
KWIK KLIK TO YOUR FAV FORUM
Owner's Objectives
It's been a while since I expressed some of my objectives for the CC . First of all I like and respect everyone that joins our club . I realize that not everyone knows what a CC is all about . Many have different reasons for joining . I really don't know how many of the other clubs are run . They are all different . What I want to emphasize in our CC is that whatever tier you are . That you feel comfortable here , part of a team of players that come here to find conditions that enable them to improve their game , hone their skills , lower their scores ,lower their averages , move up in tiers . Enjoyably and comfortably with the conditions that challenge them enough to keep that drive without the frustrationsof regular game play . All that is completely possible by either creating those tourneys yourself or by messaging me about it . Or someone else in your tier that has been creating tourneys . Any kind of information that you need to know should be provided here , any kind of appp , calculator , help , tutorial , tournament , statistic , message , opinion , gripe , compliment , etc , etc . Should able to be aqcuired here ( or in our website , as it may be easier there ). With your help , all of this can be done easily . We already have a good start . I am going to be here for a very long time trying to achieve all this . For any of you that think it's a good direction for your CC to go in . Then lets keep on keepin on . Sincerely , Your Co team member PDB1 , Paul ( sitting here on a rare rainy day ) May the SUN always be with you
POST OF THE WEEK
Re:
Where are the Flags ?By Bertasion in Valley of the Sun Casual Club The other day upon the heather fair I hit a flagstick that was not there. I saw it's shadow and heard the clank but where it stood was just a blank. It was not there again today. I wonder when it will come back and stay. Brian
BLITZ LIST
HERE IS THE LIST OF BLITZ COURSES IN THE ORDER THEY ARE PLAYED EVERY WEEK OF EVERY SEASON .
DAILY BLITZ WEEKLY SCHEDULE



WEEK 1

BEST OF BANDON PAR 3
PEBBLE BEACH
THE OLYMPIC CLUB
VAHALLA
MERION


WEEK 2

PINEHURST NO.2
HARBOUR TOWN
KIAWAH ISLAND
ROYAL ST. GEORGE
CONGRESSIONAL


WEEK 3

ERIN HILLS
ST. ANDREWS
BALI HAI
CELTIC MANOR
BETHPAGE BLACK


WEEK 4

PINEHURST NO. 8
WOLF CREEK
CHALLANGE AT MANELE
EXPERIENCE AT KOELE
HILVERSUMSCHE


WEEK 5

EDGEWOOD TAHOE
BEST OF WATER SHOTS
BEST OF FAMOUS SHOTS
BEST OF PUTTING
CHAMBERS BAY
TIER & AVERAGE REQUIREMENTS
BASIC LEVEL AND AVERAGE REQUIREMENTS , AND SATURATION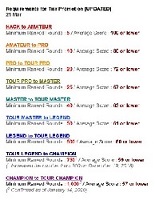 WHAT YOU CAN DO TO ABOUT IT
WHAT'SUP WHATSAP AND OTHER APPS . HERE IN THIS SITE . THE SKY IS YOUR LIMIT . IF YOU WANT TO PROMOTE , GROW , SHARE , IMPROVE , UPDATE POST AND LEARN ABOUT YOUR PRODUCT OR ANY PRODUCT . YOU CAN DO ALL OF THE ABOVE . JUST DO IT .
What I like about Windows 10 is that it's a free upgrade, but I'm not a fan of the required cumulative software updates. Even though Microsoft's Corporate Vice President of Operating Systems Joe Belfiore says cumulative updates are good for users, it still seems to be causing a lot of problems. It is also troubling that users do not have control over the software upgrades that PCs receive.
When Microsoft accidentally forced Windows 7 and Windows 8.1 PCs to upgrade to Windows 10 recently, a large number of complaints surfaced. Susan Bradley, a Small Business Server and Security MVP and Microsoft Community Contributor, filed a petition on Change.org asking for more control over the updates as pointed out byWindowsITPro.com. Over 4,500 people have signed the petition so far.
"We need the ability to delay or hide damaging updates that impact the computing experience, have undesirable side effects such as blue screens of death, or reduce the functionality to attached devices. Under the current system of mandated updates, we have been adversely impacted by forced driver and firmware updates plus other patches," says the petition. "We've wasted hours dealing with the unwanted side effects. As long-time Windows users, we understand the need to have quicker and more agile security updating. But this agility should not introduce additional risks to our systems. Windows 10 updates have already caused loss of system functionality, video and display issues, and other significant issues."
Why did Bradley file the petition? Right before going on a trip, she turned off the Windows 10 updating service on her Surface 3 that she was taking with her. Bradley turned off the updating service because she knew that her device would be offered software updates while on the trip. The updates would consume her mobile data allowance and she was concerned an update could crash the Surface 3. Recently Bradley had to deal with a Blue Screen of Death (BSoD) issue on her Surface 3, which was fixed after the updating system installed an Intel video driver.
Consumers have become accustomed to free software updates and Microsoft seems to be feeling some pressure. However, Microsoft's corporative vice president for the Operating Systems Group Joe Belfiore — who is now on a sabbatical (more details on that below) — said that the results of the cumulative updates have been good for consumers. "We've involved a lot of companies and real-world IT management organizations in talking through the implications… and our feeling talking with them is that the net result that you get is better," said Belfiore viaPCWorld. "We've seen lots of examples of situations where end users experienced lower reliability or unpredictable system performance because of a relatively untested combination of updates. So our net intent is to improve the quality overall, for everybody. And we believe that this method will deliver that."
An advantage of offering cumulative updates is that Microsoft is able to test software based on what it is being installed on right away instead of having to deal with many different versions of Windows with various capabilities. And developers will have less fragmentation to deal with while building applications. Eventually Microsoft will launch a service called Windows Update for Business, which will let IT administrators support deployment rings to test out rollouts of a new update. That service is expected to arrive next year. And Microsoft is going to roll out Long-Term Service Branches to enable IT managers to restrict specific devices from receiving security updates after Windows 10 is installed.
Microsoft Pulled Windows 10 Preview Update KB 3105208
Microsoft recently had to pull an update because it was causing Blue Screen of Deaths (BSoDs) and caused some PCs to crash. Microsoft acknowledged Windows 10 Insider Preview build 10565 was the culprit.
"It's affecting Secure Boot enabled devices running the preview build. So others will be affected too, likely including Book," wrote Windows Insider head Gabriel Aul in a tweet. "KB was throttled to zero last night (no longer automatic) and now fully pulled."
Users that already received the update can disable Secure Boot to prevent PCs from crashing. Or using a System Restore could also work. This update was only available on Windows Insider PCs, not the public.
John (azdewars)
---
Permissions in this forum:
You
cannot
reply to topics in this forum