THAT'S ENTERTAINMENT
CLICK ON ANY OF THESE LINKS TO FIND OUR EXTREME ENTERTAINMENT
Statistics
We have
423
registered users
The newest registered user is
networthtalks
Our users have posted a total of
11680
messages in
2895
subjects
August 2022
| Mon | Tue | Wed | Thu | Fri | Sat | Sun |
| --- | --- | --- | --- | --- | --- | --- |
| 1 | 2 | 3 | 4 | 5 | 6 | 7 |
| 8 | 9 | 10 | 11 | 12 | 13 | 14 |
| 15 | 16 | 17 | 18 | 19 | 20 | 21 |
| 22 | 23 | 24 | 25 | 26 | 27 | 28 |
| 29 | 30 | 31 | | | | |
Calendar
71 WGT TUTORIALS & 32 YOUNG46 TUTORIALS
CLICK HERE
TO SEE OVER 100 YOUTUBE VIDEO TUTORIALS . FROM WGTers , WGT & YOUNG46
FORUM UPDATE
THIS FORUM IS FOR YOU ALL . PLEASE FEEL LIKE IT IS YOURS . READ THE FORUMS. POST COMMENTS . ASK QUESTIONS . IF YOU HAVE A COMPLAINT POST IT . MAKE SUGGESTIONS . READ SOME TUTORIALS . READ SOME GOLF TIPS . CHECK RECENT TOURNEY WINNERS . BROWSE OUR OLD FORUM ARCHIVES . LOG IN TO THE CHAT AND MESSAGE SOMEONE TO MEET YOU THERE AND ARRANGE A MATCH . LOG IN TO THE CHAT TO SEE IF SOMEONE IS THERE JUST TO SAY HI . MESSAGE ME IF YOU WANT TO GET ON THE DAILY BLITZ .
THE BLITZ SCORECARD IS ON
Page 3
PLEASE CLICK
HERE
TO FIND THE COURSE OF THE DAY AND SEE
THE WEEKLY STANDINGS .
PLEASE POST
YOUR SCORES HERE. IN THIS
KWIK KLIK TO YOUR FAV FORUM
Owner's Objectives
It's been a while since I expressed some of my objectives for the CC . First of all I like and respect everyone that joins our club . I realize that not everyone knows what a CC is all about . Many have different reasons for joining . I really don't know how many of the other clubs are run . They are all different . What I want to emphasize in our CC is that whatever tier you are . That you feel comfortable here , part of a team of players that come here to find conditions that enable them to improve their game , hone their skills , lower their scores ,lower their averages , move up in tiers . Enjoyably and comfortably with the conditions that challenge them enough to keep that drive without the frustrationsof regular game play . All that is completely possible by either creating those tourneys yourself or by messaging me about it . Or someone else in your tier that has been creating tourneys . Any kind of information that you need to know should be provided here , any kind of appp , calculator , help , tutorial , tournament , statistic , message , opinion , gripe , compliment , etc , etc . Should able to be aqcuired here ( or in our website , as it may be easier there ). With your help , all of this can be done easily . We already have a good start . I am going to be here for a very long time trying to achieve all this . For any of you that think it's a good direction for your CC to go in . Then lets keep on keepin on . Sincerely , Your Co team member PDB1 , Paul ( sitting here on a rare rainy day ) May the SUN always be with you
POST OF THE WEEK
Re:
Where are the Flags ?By Bertasion in Valley of the Sun Casual Club The other day upon the heather fair I hit a flagstick that was not there. I saw it's shadow and heard the clank but where it stood was just a blank. It was not there again today. I wonder when it will come back and stay. Brian
BLITZ LIST
HERE IS THE LIST OF BLITZ COURSES IN THE ORDER THEY ARE PLAYED EVERY WEEK OF EVERY SEASON .
DAILY BLITZ WEEKLY SCHEDULE



WEEK 1

BEST OF BANDON PAR 3
PEBBLE BEACH
THE OLYMPIC CLUB
VAHALLA
MERION


WEEK 2

PINEHURST NO.2
HARBOUR TOWN
KIAWAH ISLAND
ROYAL ST. GEORGE
CONGRESSIONAL


WEEK 3

ERIN HILLS
ST. ANDREWS
BALI HAI
CELTIC MANOR
BETHPAGE BLACK


WEEK 4

PINEHURST NO. 8
WOLF CREEK
CHALLANGE AT MANELE
EXPERIENCE AT KOELE
HILVERSUMSCHE


WEEK 5

EDGEWOOD TAHOE
BEST OF WATER SHOTS
BEST OF FAMOUS SHOTS
BEST OF PUTTING
CHAMBERS BAY
TIER & AVERAGE REQUIREMENTS
BASIC LEVEL AND AVERAGE REQUIREMENTS , AND SATURATION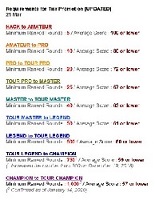 WHAT YOU CAN DO TO ABOUT IT
WHAT'SUP WHATSAP AND OTHER APPS . HERE IN THIS SITE . THE SKY IS YOUR LIMIT . IF YOU WANT TO PROMOTE , GROW , SHARE , IMPROVE , UPDATE POST AND LEARN ABOUT YOUR PRODUCT OR ANY PRODUCT . YOU CAN DO ALL OF THE ABOVE . JUST DO IT .
The Windows 10 update – which is dubbed Threshold 2 inside Microsoft – is scheduled for the first week in November.
Threshold 2 will contain a number of tweaks and features previously showcased in the latest Microsoft Insider builds,including redesigned messaging apps and improvements to the Edge browser.
Microsoft missed its own deadline to roll out overhauled Skype messaging apps built for its latest operating system.
According to an official Microsoft blog post, the refreshed apps will break-up the core Skype experience into three new universal apps.
Thanks to its new universal app approach, Redmond technology firm is introducing the ability to send texts from your desktop PC using chatty virtual assistant, Cortana.
This means you no longer have to rummage for your smartphone each time you need to send a text message.
Microsoft has also added the ability to type your text into the Cortana search field – and send the message directly from your taskbar.
The Redmond technology firm has already started linking Skype usernames with mobile numbers to make it much easier to find friends.
MICROSOFT  Cortana can now send a dictated (or typed) text message from your desktop taskbar
It also means you won't need to know someone's obscure Skype ID to add their contact details.
Amongst the new features – which will update automatically to all users running on Windows 10 – is a dramatic change to how the operating system handles activations.
The change to the process will finally allow users who upgraded their PC to Windows 10 from a previous version will finally be able to reinstall the operating system.
Previously, those who had taken advantage of the feee upgrade offer were unable to perform a clean install of Windows 10.
A number of smaller visual tweaks have also been made across the operating system
This was because the new Microsoft operating system would not recognise a product key from a previous version.
The latest update will allow Windows 10 users to register their operating system using their existing genuine Windows 7, Windows 8 and Windows 8.1 product keys.
Windows Vice President Gabe Aul said: "You can enter the product key from Windows 7, Windows 8 or Windows 8.1 used to activate the prior Windows version on the same device to activate Windows 10 by going to Settings > Update & security > Activation and selecting Change Product Key."
Cortana will also get a score of new features and better local integration after Threshold 2 rolls out worldwide.
After the update, Windows 10 users will be able to access third-party apps within the Cortana search field – such as ordering an Uber taxi to the next appointment on your calendar without leaving the search field.
Cortana can now book you an Uber from the taskbar and pull relevant details from your calendar
Microsoft Edge – a quantifiable failure for the operating system – will also see some improvements. Unfortunately browser extensions are not amongst the new features.
A number of cosmetic changes, such as coloured title bars for apps ands refreshed icons, are also expected to be included.
Users who upgrade from Windows 8.1 to the latest version of Windows 10 will also have all of the third-party bloatware stripped from their machine during the free installation process, Windows commentator Paul Thurrott has claimed.
Windows 10 Threshold 2 update is expected to roll out worldwide, starting next week.
Microsoft Edge gets a bit of bump in Windows 10, but don't expect any browser extensions just yet
The new Microsoft operating system has an impressive adoption rate – racking up 110 million installations in just 11 weeks.
But the new OS has not been without issues.
Users have reported frustratingly slow boot-up speeds, trouble with wifi connections, privacy concerns and issues with child safety features following the jump to Windows 10.
Windows 10 is currently a free operating system upgrade to customers running genuine versions of Windows 7, Windows 8 and Windows 8.1.
If you have managed to get your version of Windows 10 up and running smoothly – Express.co.uk has rounded up SEVEN top tips to master your new operating system.
And if you are feeling negative towards the new operating system, here are the WORST features Microsoft included in Windows 10.
John (azdewars)
---
Permissions in this forum:
You
cannot
reply to topics in this forum