THAT'S ENTERTAINMENT
CLICK ON ANY OF THESE LINKS TO FIND OUR EXTREME ENTERTAINMENT
Statistics
We have
389
registered users
The newest registered user is
apkguru
Our users have posted a total of
10634
messages in
2745
subjects
September 2021
| Mon | Tue | Wed | Thu | Fri | Sat | Sun |
| --- | --- | --- | --- | --- | --- | --- |
| | | 1 | 2 | 3 | 4 | 5 |
| 6 | 7 | 8 | 9 | 10 | 11 | 12 |
| 13 | 14 | 15 | 16 | 17 | 18 | 19 |
| 20 | 21 | 22 | 23 | 24 | 25 | 26 |
| 27 | 28 | 29 | 30 | | | |
Calendar
71 WGT TUTORIALS & 32 YOUNG46 TUTORIALS
CLICK HERE
TO SEE OVER 100 YOUTUBE VIDEO TUTORIALS . FROM WGTers , WGT & YOUNG46
FORUM UPDATE
THIS FORUM IS FOR YOU ALL . PLEASE FEEL LIKE IT IS YOURS . READ THE FORUMS. POST COMMENTS . ASK QUESTIONS . IF YOU HAVE A COMPLAINT POST IT . MAKE SUGGESTIONS . READ SOME TUTORIALS . READ SOME GOLF TIPS . CHECK RECENT TOURNEY WINNERS . BROWSE OUR OLD FORUM ARCHIVES . LOG IN TO THE CHAT AND MESSAGE SOMEONE TO MEET YOU THERE AND ARRANGE A MATCH . LOG IN TO THE CHAT TO SEE IF SOMEONE IS THERE JUST TO SAY HI . MESSAGE ME IF YOU WANT TO GET ON THE DAILY BLITZ .
THE BLITZ SCORECARD IS ON
Page 3
PLEASE CLICK
HERE
TO FIND THE COURSE OF THE DAY AND SEE
THE WEEKLY STANDINGS .
PLEASE POST
YOUR SCORES HERE. IN THIS
KWIK KLIK TO YOUR FAV FORUM
Owner's Objectives
It's been a while since I expressed some of my objectives for the CC . First of all I like and respect everyone that joins our club . I realize that not everyone knows what a CC is all about . Many have different reasons for joining . I really don't know how many of the other clubs are run . They are all different . What I want to emphasize in our CC is that whatever tier you are . That you feel comfortable here , part of a team of players that come here to find conditions that enable them to improve their game , hone their skills , lower their scores ,lower their averages , move up in tiers . Enjoyably and comfortably with the conditions that challenge them enough to keep that drive without the frustrationsof regular game play . All that is completely possible by either creating those tourneys yourself or by messaging me about it . Or someone else in your tier that has been creating tourneys . Any kind of information that you need to know should be provided here , any kind of appp , calculator , help , tutorial , tournament , statistic , message , opinion , gripe , compliment , etc , etc . Should able to be aqcuired here ( or in our website , as it may be easier there ). With your help , all of this can be done easily . We already have a good start . I am going to be here for a very long time trying to achieve all this . For any of you that think it's a good direction for your CC to go in . Then lets keep on keepin on . Sincerely , Your Co team member PDB1 , Paul ( sitting here on a rare rainy day ) May the SUN always be with you
POST OF THE WEEK
Re:
Where are the Flags ?By Bertasion in Valley of the Sun Casual Club The other day upon the heather fair I hit a flagstick that was not there. I saw it's shadow and heard the clank but where it stood was just a blank. It was not there again today. I wonder when it will come back and stay. Brian
BLITZ LIST
HERE IS THE LIST OF BLITZ COURSES IN THE ORDER THEY ARE PLAYED EVERY WEEK OF EVERY SEASON .
DAILY BLITZ WEEKLY SCHEDULE



WEEK 1

BEST OF BANDON PAR 3
PEBBLE BEACH
THE OLYMPIC CLUB
VAHALLA
MERION


WEEK 2

PINEHURST NO.2
HARBOUR TOWN
KIAWAH ISLAND
ROYAL ST. GEORGE
CONGRESSIONAL


WEEK 3

ERIN HILLS
ST. ANDREWS
BALI HAI
CELTIC MANOR
BETHPAGE BLACK


WEEK 4

PINEHURST NO. 8
WOLF CREEK
CHALLANGE AT MANELE
EXPERIENCE AT KOELE
HILVERSUMSCHE


WEEK 5

EDGEWOOD TAHOE
BEST OF WATER SHOTS
BEST OF FAMOUS SHOTS
BEST OF PUTTING
CHAMBERS BAY
TIER & AVERAGE REQUIREMENTS
BASIC LEVEL AND AVERAGE REQUIREMENTS , AND SATURATION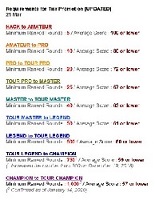 If you ever have any questions about...
Between CanineSupervisor, pdb1


CanineSupervisor wrote
on 30 Nov 2014 at 12:10 PM

..anything, please feel free to contact me, Paul. All you'll get in the forums is samrt-a$$ quips and very little help.
I have owned 2 250 member CC's here..closed both due to lack of participation, mainly related to people creating tourneys for everyone and not tier based which caused people to stop playing them.
Lee

pdb1 wrote
on 30 Nov 2014 at 1:20 PM

I am going to send you my last couple posts . Just for the hell of it .
 
Rules . Is not and has not ever been on my favorites list . 
 
When I first started running my CC . A lot of players signed up fairly quickly . Started making tourneys and not getting much participation . Tried to communicate with members.
 
Found out there was no such thing . So I started posting messages on each players wall .Real polite stuff with pleases and thank you's . Not easy with , at that time , 80 members .
 
At least I knew then that at some point they would look on their wall and get mt messages . Just asking them if they would please participate in CC tourneys . Thank you..
 
Also a message explaining that the " email all members" does not work in our club and if they could please respond . We could start a member / owner communication .
 
Still nothing . Next couple of messages explained that I would like them to play at least one tourney a month .
 
Still nothing . Then I messaged that it is required to play at least once a month .
 
Nothing . So . If you don't participate you will regretfully be removed from the club .
 
Finally I deleted 53 members all at once . Leaving 15 original members and 10 other good ones that joined a couple months later .
 
Another member and myself started a recruiting spree . This time screening a little more carefully explaining that participation was mandatory . Much like most other CC's I'm sure . I waited until i had seen some participation before I made them members .
 
We are back up to about 65 members now . Which for me is plenty . Especially if they are good participating , communicative , semi accessable , non complaining members.
 
Which they are not .
 
Which finally brings me to my topic lol . Sorry about the pain . not .
 
I'm thinking that a couple rules might need to be implemented .
 
Because I could care less about CC points or XP  points . I just want good participating , communicative , semi accessable , non complaining members.
 
That respect an owner enough to respond to a small request . 
 
A rule that disallows ignoring the owner . That's what it boils down to . I'm not trying to pry into their lives or be their buddies .
 
But I put a lot of time into trying to make it a good CC experience for them . Hell I don't have any time to play . My consecutive days played resets to ZERO a couple times a week anymore .
 
Disrespecting the owner by not participating in CC events . And not responding to inquiries . Will now result in consideration for immediate removal .
 
Rules to live live by in my CC LOL .

pdb1 wrote
on 30 Nov 2014 at 1:22 PM

Sad day because i have been putting a lot of time into making a website for our club .
I also set up a very small tournament . Didn't shove it down your throats . But started a couple weeks in advance to gather 8 players for the tourney . I know you all got the messages and were aware of it . Well I had 5 entrants out of 8 and only 3 of them showed up . LOL .What a phucking farce you group of members are .
If you would like to continue to help me to develop this club into what I think, it should be . I will be happy to have you and accept any input you might offer .
Many of you . If you continue to barely play in our CC tournaments . And continue to ignore my messages . What few there are . And show no interest in what I am doing .
I am going to simply remove you from the club .
Paul
pdb1 wrote
on 30 Nov 2014 at 1:32 PM

I get what you are saying about the tier level of the tourneys and I will adjust that .
 .But I have about 25 legends and nearly that many TM's  That have no excuse to ignore me .
I make them custom awards and trophies ,
I award them racks of balls out of my own pocket and not so much as a thank you .
With the exception of a very few that actually have manners and know how to act like gentlemen and lady (1 ) does and 1 doesn't  lol not much I can do about the ladies but they are not exempt from my messages .
Thanx for listening Paul
May the SUN always be with you
pdb1 wrote
on 30 Nov 2014 at 1:33 PM

The first post I posted in CC corner and my forum . The second one just my forum .
---
Permissions in this forum:
You
cannot
reply to topics in this forum