THAT'S ENTERTAINMENT
CLICK ON ANY OF THESE LINKS TO FIND OUR EXTREME ENTERTAINMENT
Statistics
We have
383
registered users
The newest registered user is
AQUAWRAP
Our users have posted a total of
10376
messages in
2706
subjects
July 2021
| Mon | Tue | Wed | Thu | Fri | Sat | Sun |
| --- | --- | --- | --- | --- | --- | --- |
| | | | 1 | 2 | 3 | 4 |
| 5 | 6 | 7 | 8 | 9 | 10 | 11 |
| 12 | 13 | 14 | 15 | 16 | 17 | 18 |
| 19 | 20 | 21 | 22 | 23 | 24 | 25 |
| 26 | 27 | 28 | 29 | 30 | 31 | |
Calendar
71 WGT TUTORIALS & 32 YOUNG46 TUTORIALS
CLICK HERE
TO SEE OVER 100 YOUTUBE VIDEO TUTORIALS . FROM WGTers , WGT & YOUNG46
FORUM UPDATE
THIS FORUM IS FOR YOU ALL . PLEASE FEEL LIKE IT IS YOURS . READ THE FORUMS. POST COMMENTS . ASK QUESTIONS . IF YOU HAVE A COMPLAINT POST IT . MAKE SUGGESTIONS . READ SOME TUTORIALS . READ SOME GOLF TIPS . CHECK RECENT TOURNEY WINNERS . BROWSE OUR OLD FORUM ARCHIVES . LOG IN TO THE CHAT AND MESSAGE SOMEONE TO MEET YOU THERE AND ARRANGE A MATCH . LOG IN TO THE CHAT TO SEE IF SOMEONE IS THERE JUST TO SAY HI . MESSAGE ME IF YOU WANT TO GET ON THE DAILY BLITZ .
THE BLITZ SCORECARD IS ON
Page 3
PLEASE CLICK
HERE
TO FIND THE COURSE OF THE DAY AND SEE
THE WEEKLY STANDINGS .
PLEASE POST
YOUR SCORES HERE. IN THIS
KWIK KLIK TO YOUR FAV FORUM
Owner's Objectives
It's been a while since I expressed some of my objectives for the CC . First of all I like and respect everyone that joins our club . I realize that not everyone knows what a CC is all about . Many have different reasons for joining . I really don't know how many of the other clubs are run . They are all different . What I want to emphasize in our CC is that whatever tier you are . That you feel comfortable here , part of a team of players that come here to find conditions that enable them to improve their game , hone their skills , lower their scores ,lower their averages , move up in tiers . Enjoyably and comfortably with the conditions that challenge them enough to keep that drive without the frustrationsof regular game play . All that is completely possible by either creating those tourneys yourself or by messaging me about it . Or someone else in your tier that has been creating tourneys . Any kind of information that you need to know should be provided here , any kind of appp , calculator , help , tutorial , tournament , statistic , message , opinion , gripe , compliment , etc , etc . Should able to be aqcuired here ( or in our website , as it may be easier there ). With your help , all of this can be done easily . We already have a good start . I am going to be here for a very long time trying to achieve all this . For any of you that think it's a good direction for your CC to go in . Then lets keep on keepin on . Sincerely , Your Co team member PDB1 , Paul ( sitting here on a rare rainy day ) May the SUN always be with you
POST OF THE WEEK
Re:
Where are the Flags ?By Bertasion in Valley of the Sun Casual Club The other day upon the heather fair I hit a flagstick that was not there. I saw it's shadow and heard the clank but where it stood was just a blank. It was not there again today. I wonder when it will come back and stay. Brian
BLITZ LIST
HERE IS THE LIST OF BLITZ COURSES IN THE ORDER THEY ARE PLAYED EVERY WEEK OF EVERY SEASON .
DAILY BLITZ WEEKLY SCHEDULE



WEEK 1

BEST OF BANDON PAR 3
PEBBLE BEACH
THE OLYMPIC CLUB
VAHALLA
MERION


WEEK 2

PINEHURST NO.2
HARBOUR TOWN
KIAWAH ISLAND
ROYAL ST. GEORGE
CONGRESSIONAL


WEEK 3

ERIN HILLS
ST. ANDREWS
BALI HAI
CELTIC MANOR
BETHPAGE BLACK


WEEK 4

PINEHURST NO. 8
WOLF CREEK
CHALLANGE AT MANELE
EXPERIENCE AT KOELE
HILVERSUMSCHE


WEEK 5

EDGEWOOD TAHOE
BEST OF WATER SHOTS
BEST OF FAMOUS SHOTS
BEST OF PUTTING
CHAMBERS BAY
TIER & AVERAGE REQUIREMENTS
BASIC LEVEL AND AVERAGE REQUIREMENTS , AND SATURATION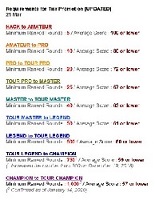 10 Jokes Only Engineers Will Understand. Who Says Engineers Don't Have A Sense Of Humor?
1. Normal people believe that if it ain't broke, don't fix it. 
Engineers believe that if it ain't broke, it doesn't have enough features yet. 
2. To the optimist, the glass is half-full. 
To the pessimist, the glass is half-empty. 
To the engineer, the glass is twice as big as it needs to be. 
3. A priest, a doctor, and an engineer were waiting one morning for a particularly slow group of golfers. The engineer fumed, "What's with those guys? We must have been waiting for fifteen minutes!" 
The doctor chimed in, "I don't know, but I've never seen such inept golf!" 
The priest said, "Here comes the green-keeper. Let's have a word with him." 
He said, "Hello George, what's wrong with that group ahead of us? They're rather slow, aren't they?" 
The green-keeper replied, "Oh, yes. That's a group of blind firemen. They lost their sight saving our clubhouse from a fire last year, so we always let them play for free anytime." 
The group fell silent for a moment. 
The priest said, "That's so sad. I think I will say a special prayer for them tonight." 
The doctor said, "Good idea. I'm going to contact my ophthalmologist colleague and see if there's anything he can do for them." 
The engineer said, "Why can't they play at night?" 
4. What is the difference between mechanical engineers and civil engineers? 
Mechanical engineers build weapons. Civil engineers build targets. 
5. The graduate with a science degree asks, "Why does it work?" 
The graduate with an engineering degree asks, "How does it work?" 
The graduate with an accounting degree asks, "How much will it cost?" 
The graduate with an arts degree asks, "Do you want fries with that?" 
6. Three engineering students were gathered together discussing who must have designed the human body. 
One said, "It was a mechanical engineer. Just look at all the joints." 
Another said, "No, it was an electrical engineer. The nervous system has many thousands of electrical connections." 
The last one said, "No, actually it had to have been a civil engineer. Who else would run a toxic waste pipeline through a recreational area?" 
7. Knock knock. Who's there? Interrupting coefficient of friction. Interrupting coefficient of fri.... mmmuuuuuuuuuuuuuuuu (μ)
8. Two engineering students were walking across a university campus when one said, "Where did you get such a great bike?" 
The second engineer replied, "Well, I was walking along yesterday, minding my own business, when a beautiful woman rode up on this bike, threw it to the ground, took off all her clothes and said, "Take what you want." 
The first engineer nodded approvingly and said, "Good choice; the clothes probably wouldn't have fit you anyway." 
9. An engineer was crossing a road one day, when a frog called out to him and said, "If you kiss me, I'll turn into a beautiful princess." He bent over, picked up the frog and put it in his pocket. 
The frog then cried out, "If you kiss me and turn me back into a princess, I'll stay with you for one week and do ANYTHING you want." 
Again, the engineer took the frog out, smiled at it and put it back into his pocket. 
Finally, the frog asked, "What is the matter? I've told you I'm a beautiful princess and that I'll stay with you for one week and do anything you want. Why won't you kiss me?" 
The engineer said, "Look, I'm an engineer. I don't have time for a girlfriend, but a talking frog, now that's cool."
10. A wife asks her husband, a software engineer...
"Could you please go shopping for me and buy one carton of milk, and if they have eggs, get 6!" A short time later the husband comes back with 6 cartons of milk. The wife asks him, "Why the hell did you buy 6 cartons of milk?" He replied, "They had eggs."
---
Permissions in this forum:
You
cannot
reply to topics in this forum