THAT'S ENTERTAINMENT
CLICK ON ANY OF THESE LINKS TO FIND OUR EXTREME ENTERTAINMENT
September 2020
| Mon | Tue | Wed | Thu | Fri | Sat | Sun |
| --- | --- | --- | --- | --- | --- | --- |
| | 1 | 2 | 3 | 4 | 5 | 6 |
| 7 | 8 | 9 | 10 | 11 | 12 | 13 |
| 14 | 15 | 16 | 17 | 18 | 19 | 20 |
| 21 | 22 | 23 | 24 | 25 | 26 | 27 |
| 28 | 29 | 30 | | | | |
Calendar
Forum Updated Index
If you wanted to look at the Magic Star . You will see that it is in the forum F6 . If you click F6 you wiil see just those 12 forums . Then you can look in each one at all the topics in them .
F1 ALL MEMBERS BRIEFLY INTRODUCE YOURSELF
F2 Valley of the Sun CC SITE AND FORUM GUILDELINES
VOTSCC TOURNAMENT MAKING GUIDE
VOTSCC OUR WGT CC BASIC PROTOCO
L
F3 Valley of the Sun CC HALL OF FAME REPLAY BLOOPERS
Valley of the Sun CC BEST OF REPLAYS
F5 RECENT TOURNEY WINNERS
VOTSCC "KICK ASS" 100,000 POINT CLUB MEMBERS
F6 FORUM FOR PAGE 3 & SAT & SUN BRACKETS & TOURNEY INFO HERE
FLASH MOB & ECGA POKER & MY LEAGUE POOL HALL PROS
LEXMARK 2500 CREDIT TOURNEY
VOTSCC INTERPLAY CC VS CC MATCHES
ACE'S " Best of the Alternate Shot Championship "
JUNE28 RATTLESNAKE ALT SHOT
DON"T CHOKE IT "JOKE IT "
TIPS FROM THE DOCTOR OF TECHNOLOGY AZDEWARS
F9 Current Events ,,Announcemets , Bulletin Board Part 1
AZ "HOT SHOTS" REMEMBERED
RANDOM SELFLESS ACTS OF KINDNESS
F11 CHAT ? ANYONE HERE TO CHAT WITH ?
DAVID LANES KICK ASS GALLERY OF ART
FORUM OF OLD WGT FORUM POST'S (archives)
OFF THE WALL , THX FOR A WALL OF A GOOD TIME
Gallery
Click on Gallery in toolbar above to see Galleries
FORUM UPDATE
THIS FORUM IS FOR YOU ALL . PLEASE FEEL LIKE IT IS YOURS . READ THE FORUMS. POST COMMENTS . ASK QUESTIONS . IF YOU HAVE A COMPLAINT POST IT . MAKE SUGGESTIONS . READ SOME TUTORIALS . READ SOME GOLF TIPS . CHECK RECENT TOURNEY WINNERS . BROWSE OUR OLD FORUM ARCHIVES . LOG IN TO THE CHAT AND MESSAGE SOMEONE TO MEET YOU THERE AND ARRANGE A MATCH . LOG IN TO THE CHAT TO SEE IF SOMEONE IS THERE JUST TO SAY HI . MESSAGE ME IF YOU WANT TO GET ON THE DAILY BLITZ .
KWIK KLIK TO YOUR FAV FORUM
THE BLITZ SCORECARD IS ON
Page 3
PLEASE CLICK
HERE
TO FIND THE COURSE OF THE DAY AND SEE
THE WEEKLY STANDINGS .
PLEASE POST
YOUR SCORES HERE. IN THIS
Owner's Objectives
It's been a while since I expressed some of my objectives for the CC . First of all I like and respect everyone that joins our club . I realize that not everyone knows what a CC is all about . Many have different reasons for joining . I really don't know how many of the other clubs are run . They are all different . What I want to emphasize in our CC is that whatever tier you are . That you feel comfortable here , part of a team of players that come here to find conditions that enable them to improve their game , hone their skills , lower their scores ,lower their averages , move up in tiers . Enjoyably and comfortably with the conditions that challenge them enough to keep that drive without the frustrationsof regular game play . All that is completely possible by either creating those tourneys yourself or by messaging me about it . Or someone else in your tier that has been creating tourneys . Any kind of information that you need to know should be provided here , any kind of appp , calculator , help , tutorial , tournament , statistic , message , opinion , gripe , compliment , etc , etc . Should able to be aqcuired here ( or in our website , as it may be easier there ). With your help , all of this can be done easily . We already have a good start . I am going to be here for a very long time trying to achieve all this . For any of you that think it's a good direction for your CC to go in . Then lets keep on keepin on . Sincerely , Your Co team member PDB1 , Paul ( sitting here on a rare rainy day ) May the SUN always be with you
POST OF THE WEEK
Re:
Where are the Flags ?By Bertasion in Valley of the Sun Casual Club The other day upon the heather fair I hit a flagstick that was not there. I saw it's shadow and heard the clank but where it stood was just a blank. It was not there again today. I wonder when it will come back and stay. Brian
BLITZ LIST
HERE IS THE LIST OF BLITZ COURSES IN THE ORDER THEY ARE PLAYED EVERY WEEK OF EVERY SEASON .
DAILY BLITZ WEEKLY SCHEDULE



WEEK 1

BEST OF BANDON PAR 3
PEBBLE BEACH
THE OLYMPIC CLUB
VAHALLA
MERION


WEEK 2

PINEHURST NO.2
HARBOUR TOWN
KIAWAH ISLAND
ROYAL ST. GEORGE
CONGRESSIONAL


WEEK 3

ERIN HILLS
ST. ANDREWS
BALI HAI
CELTIC MANOR
BETHPAGE BLACK


WEEK 4

PINEHURST NO. 8
WOLF CREEK
CHALLANGE AT MANELE
EXPERIENCE AT KOELE
HILVERSUMSCHE


WEEK 5

EDGEWOOD TAHOE
BEST OF WATER SHOTS
BEST OF FAMOUS SHOTS
BEST OF PUTTING
CHAMBERS BAY
TIER & AVERAGE REQUIREMENTS
BASIC LEVEL AND AVERAGE REQUIREMENTS , AND SATURATION
You need to play at least 5 ranked rounds as hack to saturate & be eligible for Amateur.
When your average score is equal or smaller than 100 you go from Hack to Amateur.
You need to play at least 10 ranked rounds as amateur to saturate & be eligible for Pro.
When your average score is equal or smaller than 80 you go from Amateur to Pro..
You need to play at least 20 ranked rounds as Pro
to saturate & be eligible for
Tour Pro.
When
your average score is
equal or smaller than 72 you go from pro to Tour Pro.
You need to play at least 25 ranked rounds as Tour pro
to saturate & be eligible for
Master.
When
your average score is
equal or smaller than 67 you go from Tour Pro to Master.
You need to play at least 40 ranked rounds as Master
to saturate & be eligible for
Tour Master.
When
your average score is
equal or smaller than 63 you go from Master to Tour Master.
You need to play at least 50 ranked rounds as Tour Master
to saturate & be eligible for
Legend.
When
your average score is
equal or smaller than 61 you go from Tour Master to Legend.
You need to play at least 500 ranked rounds as Legend to
to saturate & be eligible
for Tour Legend.
When
your average score
is equal or smaller than 60 you go from Legend to Tour Legend.
You need to play at least 200 ranked rounds as Tour Legend to
to saturate & be eligible for Champion .
When
your average score
is equal or smaller than 59 you go from Tour Legend to Champion .
You need to play another 200 ranked rounds as a Champion to saturate .
You need to jump through 10,000 hoops before you receive an exclusive personal invitation before reaching Tour Champion.
May the SUN always be with you
http://challonge.com/
[size=36]About Challonge[/size]
Challonge debuted in 2009 as a handy bracket generator, not knowing it was the beginning of something much bigger. Today, hundreds of thousands of people trust Challonge for their tournaments, including arcade and PC/console gaming venues, sports organizations, and countless online gamers.

We're committed to providing an easy to use, reliable service to the gaming community, and we're continually building improvements along the way.

Thank you to all who have supported us and given valuable feedback!
........................................................................................................................
http://challonge.com/ Provides all kinds of tournament and brackets for many different sports . I learned about their golf ladder brackets a couple years ago with the " FLASHMOB " Hosted by  

sugahsweet

  of 
THE LIONS HEART COUNTRY CLUB
  fame 
  Below I will describe the process in challonge for making an alt shot tournament . 
  Challonge and WGT have a supported or  synched relationship . If you register in challonge with the same username  as you used in WGT you will be able to recieve notifications and invites just by way of your username . 
  However . When it comes to setting up a tournament and registering players . Challonge will only allow 1 registered username per line . So when creating an altshot tournament . AKA's or aliases must be used
as you see below in the 3rd screenshot
. On the right side of the add participants box is used for registered usernames or emails . The left side is used for entering the team names . Below it would not have accepted PDB! / beepbeepfatazz . But will accept Paul / Marg . You need at least two entries to start the bracket . Next you see the 2 entries and a sample of my registered username entry .
4th screenshot
 First click " CREATE A TOURNAMENT " ( after you register )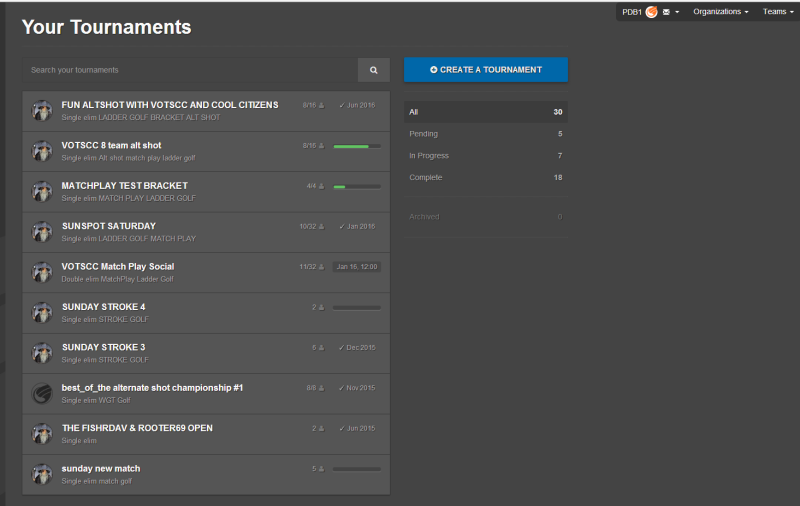 Then fill in the registration which will also create the URL to embed the bracket in your website . To be played and edited live as you and everyone else are live and watching . All registered players also can record their own scores . You may also assign full admin to certain players in the registration for each tournament .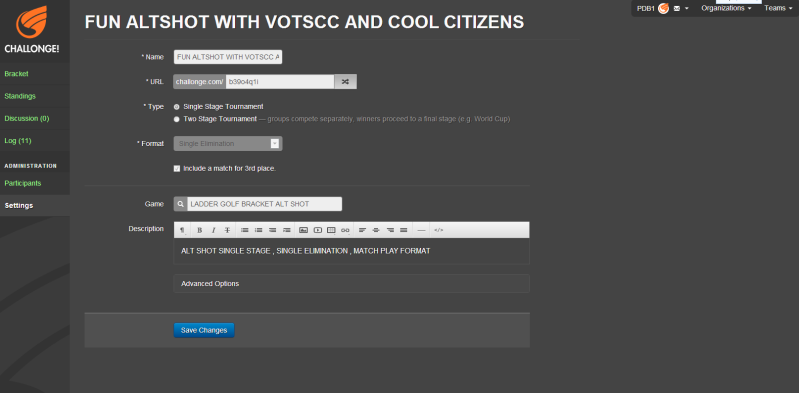 You need 2 entries to cre4ate the bracket 
 Here is the full roster with all 8 teams 
  Once all 8 teams have been checked in ( simple click ) You start the tourney .
  As you create the bracket . You will choose the course for each round . Just click on each round , semi finals and finals and type in the course .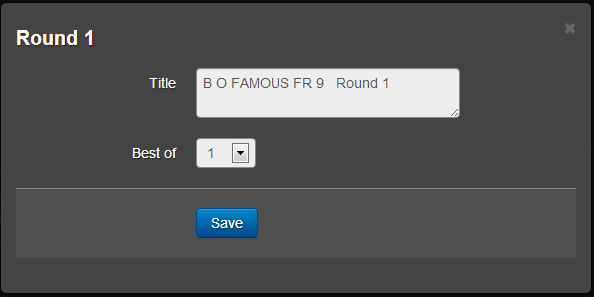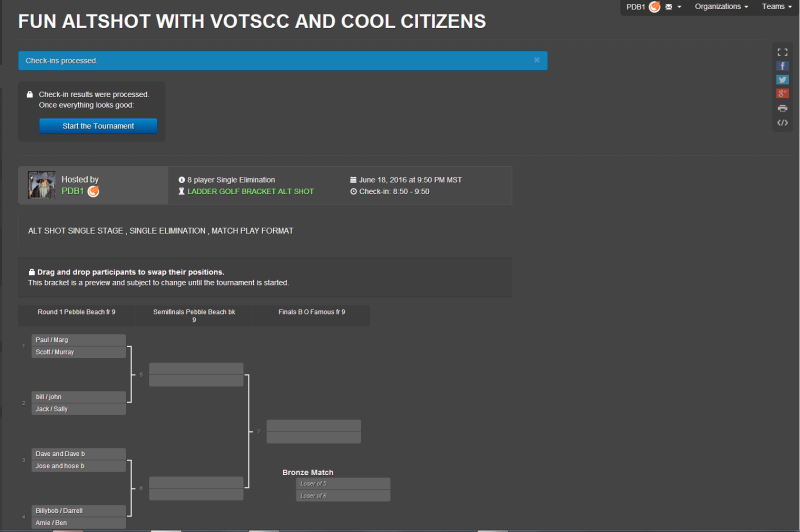 There is a little edit pencil next to the players or teams name in each bracket .
  At the end of each round one player from that match ( or the host if you prefer ) . Clicks on the edit pencil and records the winner first . Then the score . There is a setting that eliminates the need to enter the score . Only the winner is needed . 
  End of 1st round . Automatically sets up the 2nd round once all 1st round scores have been entered .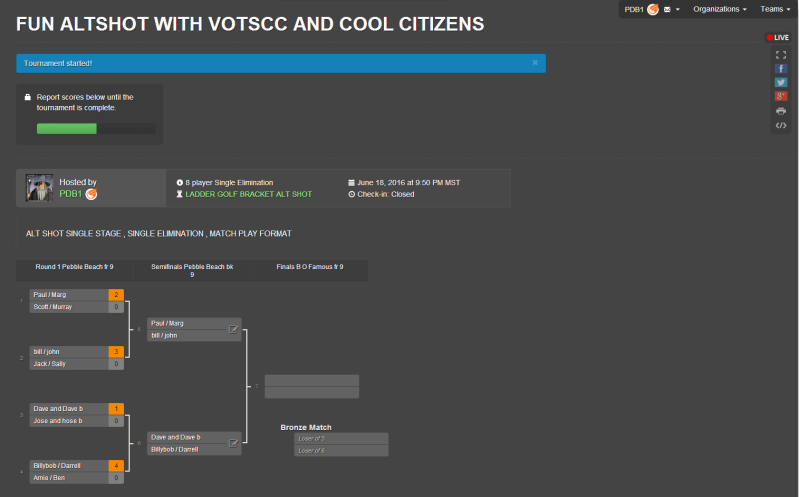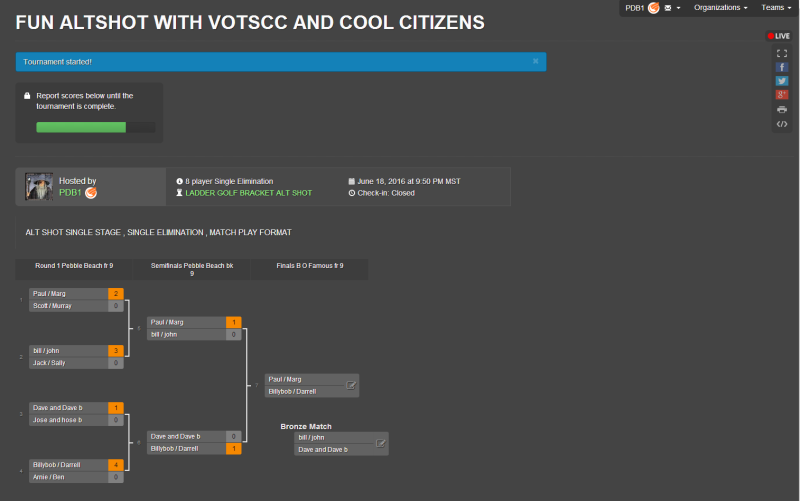 In this mock tourney I added a Bronze Match to determine the 3rd place winner . In this tournament the 2 losing teams in the semi finals will play in the Bronze Match . The same course and the same time as the finals .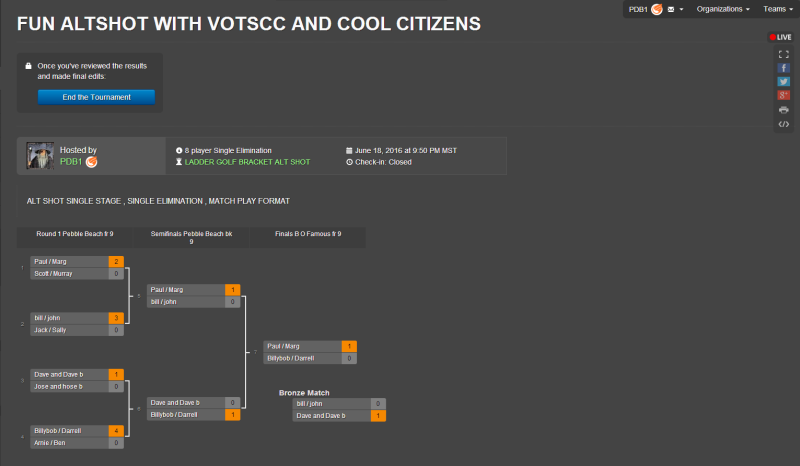 Finals and Bronze Match are ready to play .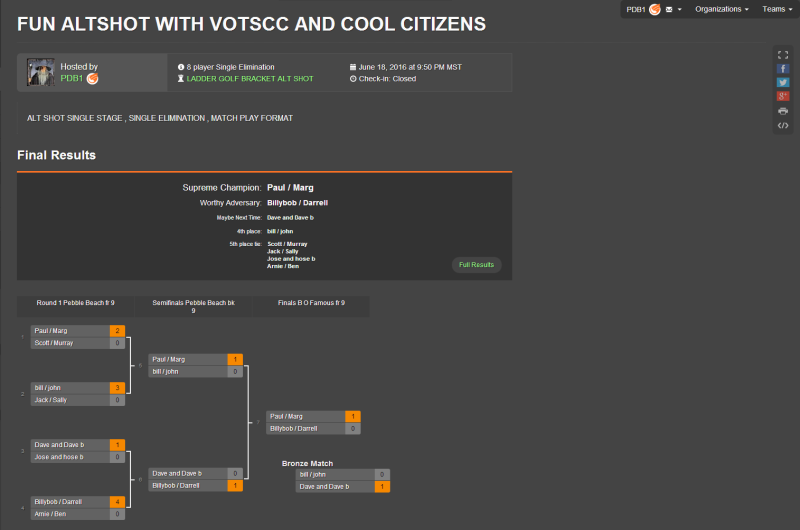 The final results are automatically displayed immediately following reporting the final scores . 
  This description was for the alt shot format . One of the most difficult formats . Match play is much easier . And stroke play is a different animal altogether because you are reporting winning score that is lower than the losers score . The automated bracket program will ask you if you are aware that you are reporting a winning score that is below the other score and do you wish to proceed . You click yes . 
  There are other descriptions and variables and scenarios on 
Page 2
 .of this website .
  This is much simpler than it looks at first . And would be very easy to follow on Skype with a live embedded bracket . These are mostly played in a common chatroom . Which is what we have just below the live bracket as you can see at 
Page 3 .
of this  website .
  Fell free to message me with any questions . Enjoy . 
---
Permissions in this forum:
You
cannot
reply to topics in this forum