THAT'S ENTERTAINMENT
CLICK ON ANY OF THESE LINKS TO FIND OUR EXTREME ENTERTAINMENT
Statistics
We have
389
registered users
The newest registered user is
apkguru
Our users have posted a total of
10634
messages in
2745
subjects
September 2021
| Mon | Tue | Wed | Thu | Fri | Sat | Sun |
| --- | --- | --- | --- | --- | --- | --- |
| | | 1 | 2 | 3 | 4 | 5 |
| 6 | 7 | 8 | 9 | 10 | 11 | 12 |
| 13 | 14 | 15 | 16 | 17 | 18 | 19 |
| 20 | 21 | 22 | 23 | 24 | 25 | 26 |
| 27 | 28 | 29 | 30 | | | |
Calendar
71 WGT TUTORIALS & 32 YOUNG46 TUTORIALS
CLICK HERE
TO SEE OVER 100 YOUTUBE VIDEO TUTORIALS . FROM WGTers , WGT & YOUNG46
FORUM UPDATE
THIS FORUM IS FOR YOU ALL . PLEASE FEEL LIKE IT IS YOURS . READ THE FORUMS. POST COMMENTS . ASK QUESTIONS . IF YOU HAVE A COMPLAINT POST IT . MAKE SUGGESTIONS . READ SOME TUTORIALS . READ SOME GOLF TIPS . CHECK RECENT TOURNEY WINNERS . BROWSE OUR OLD FORUM ARCHIVES . LOG IN TO THE CHAT AND MESSAGE SOMEONE TO MEET YOU THERE AND ARRANGE A MATCH . LOG IN TO THE CHAT TO SEE IF SOMEONE IS THERE JUST TO SAY HI . MESSAGE ME IF YOU WANT TO GET ON THE DAILY BLITZ .
THE BLITZ SCORECARD IS ON
Page 3
PLEASE CLICK
HERE
TO FIND THE COURSE OF THE DAY AND SEE
THE WEEKLY STANDINGS .
PLEASE POST
YOUR SCORES HERE. IN THIS
KWIK KLIK TO YOUR FAV FORUM
Owner's Objectives
It's been a while since I expressed some of my objectives for the CC . First of all I like and respect everyone that joins our club . I realize that not everyone knows what a CC is all about . Many have different reasons for joining . I really don't know how many of the other clubs are run . They are all different . What I want to emphasize in our CC is that whatever tier you are . That you feel comfortable here , part of a team of players that come here to find conditions that enable them to improve their game , hone their skills , lower their scores ,lower their averages , move up in tiers . Enjoyably and comfortably with the conditions that challenge them enough to keep that drive without the frustrationsof regular game play . All that is completely possible by either creating those tourneys yourself or by messaging me about it . Or someone else in your tier that has been creating tourneys . Any kind of information that you need to know should be provided here , any kind of appp , calculator , help , tutorial , tournament , statistic , message , opinion , gripe , compliment , etc , etc . Should able to be aqcuired here ( or in our website , as it may be easier there ). With your help , all of this can be done easily . We already have a good start . I am going to be here for a very long time trying to achieve all this . For any of you that think it's a good direction for your CC to go in . Then lets keep on keepin on . Sincerely , Your Co team member PDB1 , Paul ( sitting here on a rare rainy day ) May the SUN always be with you
POST OF THE WEEK
Re:
Where are the Flags ?By Bertasion in Valley of the Sun Casual Club The other day upon the heather fair I hit a flagstick that was not there. I saw it's shadow and heard the clank but where it stood was just a blank. It was not there again today. I wonder when it will come back and stay. Brian
BLITZ LIST
HERE IS THE LIST OF BLITZ COURSES IN THE ORDER THEY ARE PLAYED EVERY WEEK OF EVERY SEASON .
DAILY BLITZ WEEKLY SCHEDULE



WEEK 1

BEST OF BANDON PAR 3
PEBBLE BEACH
THE OLYMPIC CLUB
VAHALLA
MERION


WEEK 2

PINEHURST NO.2
HARBOUR TOWN
KIAWAH ISLAND
ROYAL ST. GEORGE
CONGRESSIONAL


WEEK 3

ERIN HILLS
ST. ANDREWS
BALI HAI
CELTIC MANOR
BETHPAGE BLACK


WEEK 4

PINEHURST NO. 8
WOLF CREEK
CHALLANGE AT MANELE
EXPERIENCE AT KOELE
HILVERSUMSCHE


WEEK 5

EDGEWOOD TAHOE
BEST OF WATER SHOTS
BEST OF FAMOUS SHOTS
BEST OF PUTTING
CHAMBERS BAY
TIER & AVERAGE REQUIREMENTS
BASIC LEVEL AND AVERAGE REQUIREMENTS , AND SATURATION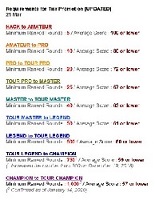 [size=39]Replying to Forum Posts
[/size]
COMMON WAYS TO RESPOND IN A FORUM
Reply

One of the most common methods of posting on a forum is to use the reply function. When you create a reply, you're adding to an ongoing discussion in the thread you're viewing. Once a reply is submitted, it can be viewed as a post by other forum members and they can then reply to your comments.
At most times, the reply button can be found in the top-right corner of the first post in the thread you're viewing. Clicking the reply button will take you to the posting page where you'll create your message. If a thread is locked or you don't have permission to post in that topic, you may not be able to see or use the reply button due to posting restrictions. For more information on the posting page and the formatting options available there, refer to the Creating a Forum Thread section of the help guide.

Quote

Occasionally, when reading through an interesting thread, you'll find a specific post you'd like to respond to; this is when you'll use the Quote feature. After clicking the Quote button in the top-right corner of the post, you'll be taken to the standard posting page where the quoted content will already be included in your reply. Begin your message by clicking into the message area immediately after the last [/quote] tag.

Modify

If you've already submitted a post and decide you'd like to change it; either to correct a misspelled word or add a few additional comments, click the Modify button in the top right corner of the post. Once clicked, you'll be taken to the standard posting page where you can update your post. When the modifications have been made, a Last Edit message will automatically be applied to the bottom of your post to let others know modifications have been made.

Quick Reply

If you don't wish to respond to any specific posts in a thread or just want to submit a quick comment, use the quick reply function. When enabled, the Quick Reply box can be found at the bottom left of every thread you view on the forum. Quick Reply allows you to reply and post directly to message board threads without ever leaving the page (to go to the posting page mentioned above).
Just type your message in the box and click the Post Reply button. While this feature is intended for quick posts, you can also use BBCode or smileys to dress up your message. For more robust customization, you'll want to use the discussion forum posting page for additional formatting features.
In our WGT CC Forum . The forum is there for many reasons .
  To provide information to the members of the CC . Information about events happening around WGT and in the CC .
  To provide details about formats and requirements for Tournaments 
   to be continued
---
Permissions in this forum:
You
cannot
reply to topics in this forum