THAT'S ENTERTAINMENT
CLICK ON ANY OF THESE LINKS TO FIND OUR EXTREME ENTERTAINMENT
Statistics
We have
423
registered users
The newest registered user is
networthtalks
Our users have posted a total of
11680
messages in
2895
subjects
August 2022
| Mon | Tue | Wed | Thu | Fri | Sat | Sun |
| --- | --- | --- | --- | --- | --- | --- |
| 1 | 2 | 3 | 4 | 5 | 6 | 7 |
| 8 | 9 | 10 | 11 | 12 | 13 | 14 |
| 15 | 16 | 17 | 18 | 19 | 20 | 21 |
| 22 | 23 | 24 | 25 | 26 | 27 | 28 |
| 29 | 30 | 31 | | | | |
Calendar
71 WGT TUTORIALS & 32 YOUNG46 TUTORIALS
CLICK HERE
TO SEE OVER 100 YOUTUBE VIDEO TUTORIALS . FROM WGTers , WGT & YOUNG46
FORUM UPDATE
THIS FORUM IS FOR YOU ALL . PLEASE FEEL LIKE IT IS YOURS . READ THE FORUMS. POST COMMENTS . ASK QUESTIONS . IF YOU HAVE A COMPLAINT POST IT . MAKE SUGGESTIONS . READ SOME TUTORIALS . READ SOME GOLF TIPS . CHECK RECENT TOURNEY WINNERS . BROWSE OUR OLD FORUM ARCHIVES . LOG IN TO THE CHAT AND MESSAGE SOMEONE TO MEET YOU THERE AND ARRANGE A MATCH . LOG IN TO THE CHAT TO SEE IF SOMEONE IS THERE JUST TO SAY HI . MESSAGE ME IF YOU WANT TO GET ON THE DAILY BLITZ .
THE BLITZ SCORECARD IS ON
Page 3
PLEASE CLICK
HERE
TO FIND THE COURSE OF THE DAY AND SEE
THE WEEKLY STANDINGS .
PLEASE POST
YOUR SCORES HERE. IN THIS
KWIK KLIK TO YOUR FAV FORUM
Owner's Objectives
It's been a while since I expressed some of my objectives for the CC . First of all I like and respect everyone that joins our club . I realize that not everyone knows what a CC is all about . Many have different reasons for joining . I really don't know how many of the other clubs are run . They are all different . What I want to emphasize in our CC is that whatever tier you are . That you feel comfortable here , part of a team of players that come here to find conditions that enable them to improve their game , hone their skills , lower their scores ,lower their averages , move up in tiers . Enjoyably and comfortably with the conditions that challenge them enough to keep that drive without the frustrationsof regular game play . All that is completely possible by either creating those tourneys yourself or by messaging me about it . Or someone else in your tier that has been creating tourneys . Any kind of information that you need to know should be provided here , any kind of appp , calculator , help , tutorial , tournament , statistic , message , opinion , gripe , compliment , etc , etc . Should able to be aqcuired here ( or in our website , as it may be easier there ). With your help , all of this can be done easily . We already have a good start . I am going to be here for a very long time trying to achieve all this . For any of you that think it's a good direction for your CC to go in . Then lets keep on keepin on . Sincerely , Your Co team member PDB1 , Paul ( sitting here on a rare rainy day ) May the SUN always be with you
POST OF THE WEEK
Re:
Where are the Flags ?By Bertasion in Valley of the Sun Casual Club The other day upon the heather fair I hit a flagstick that was not there. I saw it's shadow and heard the clank but where it stood was just a blank. It was not there again today. I wonder when it will come back and stay. Brian
BLITZ LIST
HERE IS THE LIST OF BLITZ COURSES IN THE ORDER THEY ARE PLAYED EVERY WEEK OF EVERY SEASON .
DAILY BLITZ WEEKLY SCHEDULE



WEEK 1

BEST OF BANDON PAR 3
PEBBLE BEACH
THE OLYMPIC CLUB
VAHALLA
MERION


WEEK 2

PINEHURST NO.2
HARBOUR TOWN
KIAWAH ISLAND
ROYAL ST. GEORGE
CONGRESSIONAL


WEEK 3

ERIN HILLS
ST. ANDREWS
BALI HAI
CELTIC MANOR
BETHPAGE BLACK


WEEK 4

PINEHURST NO. 8
WOLF CREEK
CHALLANGE AT MANELE
EXPERIENCE AT KOELE
HILVERSUMSCHE


WEEK 5

EDGEWOOD TAHOE
BEST OF WATER SHOTS
BEST OF FAMOUS SHOTS
BEST OF PUTTING
CHAMBERS BAY
TIER & AVERAGE REQUIREMENTS
BASIC LEVEL AND AVERAGE REQUIREMENTS , AND SATURATION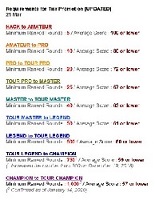 WHAT YOU CAN DO TO ABOUT IT
WHAT'SUP WHATSAP AND OTHER APPS . HERE IN THIS SITE . THE SKY IS YOUR LIMIT . IF YOU WANT TO PROMOTE , GROW , SHARE , IMPROVE , UPDATE POST AND LEARN ABOUT YOUR PRODUCT OR ANY PRODUCT . YOU CAN DO ALL OF THE ABOVE . JUST DO IT .



azdewars

370 Posts


Wed, Jun 29 2016 4:34 AM


If you live in the US and have a computer, tablet or smartphone connected to the internet, then this may be the most important news you read all year.
Earlier this month we saw thousands of people across the US get their hands on the the latest Online ID protection from SaferWeb, after yet another increase in identity theft and web-history monitoring.
We have however been advised that because of its unexpected popularity, availability is very limited and is now on a first come first serve basis. 
Experts Are Now Calling SaferWeb, "A Game Changer For Internet Users"
As part of the special promotion due to end June 30, 2016, a group of Engineers teamed up with innovative new software provider SaferWeb, to provide the latest ID Protection thats just gone viral.
If you have a desktop, laptop, tablet or smartphone connected to the internet, your activities could be monitored and private information collected when you're Internet shopping or banking. Even just browsing online is a risk in 2016.
SaferWeb had a primary objective to eliminate this by boosting security and ensure eavesdroppers cannot make sense of your encrypted communications.
Technical Lead John McBride, from SaferWeb explains; Our main objective for creating the app was pretty simple. We wanted to help users protect their Identity & Internet Connection to eliminate the risk of any online, banking or personal information being stolen, monitored or hacked"
The company SaferWeb seemed to deliver on this objective perfectly. Using their technology will give a private tunnel between you and the internet that's invisible to hackers or any malware, letting you browse the Internet anonymously and securely. Literally anyone can use it and it only takes 5 minutes to set up.
So how can SaferWeb give this away? Apparently this promotional tactic is common among big companies with large marketing budgets. For instance, Burger King launched a similar campaign in 2013, giving away 20,000 free whoppers on Facebook."
One user we spoke to said, "I came across SaferWeb and decided to give it a go, it's less than a cup of coffee anyways. I noticed the difference right away and  couldn't be happier with results. I've always been anxious about who watches the sites I use and how safe my information really is and heard countless stories about people having their banking information hacked. This is the perfect solution to eliminate this.


So, how do you Protect Your Online Identity Today?

Here is the simple 3 click step recommended by SmarterWebLife to get yourself instant protection:

Step 1:Click Here to go to SaferWeb, who are market leaders in securing your ID, and internet connection to make it private

Step 2: Click the "Get a Safer Web" button and enter your name, email and choose a password.

Step 3:Select a package:  I recommend the "Pro" Plan. (Only$5) and  Not only will you be fully protected for life, but you'll also get discounts on thousands of online purchases,by, accessing local currency rates when connecting your computer to the secure connection

Step 4: Your connection and Online ID are now protected for life One Account for all your devices.. It's that simple.

SaferWeb Internet Security – Official Website
UPDATE: The promotion is due to end on  
June 30, 2016
  so we urge you to act fast to avoid disappointment. 
john - azdewars
Delete
Edit
Reply
Send to Friend
Report Abuse
pdb1

10,311 Posts


Wed, Jun 29 2016 5:10 AM

  THE DOCTOR IS IN . 
  Welcome back John . 

Delete
Edit
Reply
Send to Friend
Report Abuse



JimQ916

2,972 Posts


Wed, Jun 29 2016 6:24 AM

Thanks John...I think I might give it a go although my bank account usually only contains a few dollars but I do shop on line. I usually empty my cashe in firefox a couple times a day and run "Super AntiISpyware" daily when I'm shutting down for the night. I have  Zone Alarm  and Windows Defender starting at startup and monitors my shyt. Is what I do sufficient or do I need more? it's not 1 thing with the web, it's another.

Delete
Edit
Reply
Send to Friend
Report Abuse



azdewars

370 Posts


Wed, Jun 29 2016 10:19 AM

Thank you Paul, good to be back.
Good question Jim. My opinion would Purchase SaferWeb and eliminate Super Antispyware and ZoneAlarm. Keep Windoows Defender and download Windows Essentials (free)
SaferWeb is just like a VPN with some extras. This said SaferWeb uses a "Tunnel / Direct Pipeline" connection rendering you invisible yo ANY onlookers/Hackers/Monitors. You cant hack what you cant SEE.
I noticed you made referance to doing online purchases. No doubt needed credit./ debit /gift card. You are TOTALLY vulnerable with present configuration. SaferWeb was intentionally developed with secure online banking as its primary objective.
In short, its been a long time coming from a security standpoint. Trust me when I say, "There is no online security," Persons not using at least a VPN are "OPEN SEASON".
Respectfully,
John - azdewars



_________________

May the SUN always be with you
Please enjoy

Paul
Similar topics
---
Permissions in this forum:
You
cannot
reply to topics in this forum