THAT'S ENTERTAINMENT
CLICK ON ANY OF THESE LINKS TO FIND OUR EXTREME ENTERTAINMENT
Statistics
We have
423
registered users
The newest registered user is
networthtalks
Our users have posted a total of
11680
messages in
2895
subjects
August 2022
| Mon | Tue | Wed | Thu | Fri | Sat | Sun |
| --- | --- | --- | --- | --- | --- | --- |
| 1 | 2 | 3 | 4 | 5 | 6 | 7 |
| 8 | 9 | 10 | 11 | 12 | 13 | 14 |
| 15 | 16 | 17 | 18 | 19 | 20 | 21 |
| 22 | 23 | 24 | 25 | 26 | 27 | 28 |
| 29 | 30 | 31 | | | | |
Calendar
71 WGT TUTORIALS & 32 YOUNG46 TUTORIALS
CLICK HERE
TO SEE OVER 100 YOUTUBE VIDEO TUTORIALS . FROM WGTers , WGT & YOUNG46
FORUM UPDATE
THIS FORUM IS FOR YOU ALL . PLEASE FEEL LIKE IT IS YOURS . READ THE FORUMS. POST COMMENTS . ASK QUESTIONS . IF YOU HAVE A COMPLAINT POST IT . MAKE SUGGESTIONS . READ SOME TUTORIALS . READ SOME GOLF TIPS . CHECK RECENT TOURNEY WINNERS . BROWSE OUR OLD FORUM ARCHIVES . LOG IN TO THE CHAT AND MESSAGE SOMEONE TO MEET YOU THERE AND ARRANGE A MATCH . LOG IN TO THE CHAT TO SEE IF SOMEONE IS THERE JUST TO SAY HI . MESSAGE ME IF YOU WANT TO GET ON THE DAILY BLITZ .
THE BLITZ SCORECARD IS ON
Page 3
PLEASE CLICK
HERE
TO FIND THE COURSE OF THE DAY AND SEE
THE WEEKLY STANDINGS .
PLEASE POST
YOUR SCORES HERE. IN THIS
KWIK KLIK TO YOUR FAV FORUM
Owner's Objectives
It's been a while since I expressed some of my objectives for the CC . First of all I like and respect everyone that joins our club . I realize that not everyone knows what a CC is all about . Many have different reasons for joining . I really don't know how many of the other clubs are run . They are all different . What I want to emphasize in our CC is that whatever tier you are . That you feel comfortable here , part of a team of players that come here to find conditions that enable them to improve their game , hone their skills , lower their scores ,lower their averages , move up in tiers . Enjoyably and comfortably with the conditions that challenge them enough to keep that drive without the frustrationsof regular game play . All that is completely possible by either creating those tourneys yourself or by messaging me about it . Or someone else in your tier that has been creating tourneys . Any kind of information that you need to know should be provided here , any kind of appp , calculator , help , tutorial , tournament , statistic , message , opinion , gripe , compliment , etc , etc . Should able to be aqcuired here ( or in our website , as it may be easier there ). With your help , all of this can be done easily . We already have a good start . I am going to be here for a very long time trying to achieve all this . For any of you that think it's a good direction for your CC to go in . Then lets keep on keepin on . Sincerely , Your Co team member PDB1 , Paul ( sitting here on a rare rainy day ) May the SUN always be with you
POST OF THE WEEK
Re:
Where are the Flags ?By Bertasion in Valley of the Sun Casual Club The other day upon the heather fair I hit a flagstick that was not there. I saw it's shadow and heard the clank but where it stood was just a blank. It was not there again today. I wonder when it will come back and stay. Brian
BLITZ LIST
HERE IS THE LIST OF BLITZ COURSES IN THE ORDER THEY ARE PLAYED EVERY WEEK OF EVERY SEASON .
DAILY BLITZ WEEKLY SCHEDULE



WEEK 1

BEST OF BANDON PAR 3
PEBBLE BEACH
THE OLYMPIC CLUB
VAHALLA
MERION


WEEK 2

PINEHURST NO.2
HARBOUR TOWN
KIAWAH ISLAND
ROYAL ST. GEORGE
CONGRESSIONAL


WEEK 3

ERIN HILLS
ST. ANDREWS
BALI HAI
CELTIC MANOR
BETHPAGE BLACK


WEEK 4

PINEHURST NO. 8
WOLF CREEK
CHALLANGE AT MANELE
EXPERIENCE AT KOELE
HILVERSUMSCHE


WEEK 5

EDGEWOOD TAHOE
BEST OF WATER SHOTS
BEST OF FAMOUS SHOTS
BEST OF PUTTING
CHAMBERS BAY
TIER & AVERAGE REQUIREMENTS
BASIC LEVEL AND AVERAGE REQUIREMENTS , AND SATURATION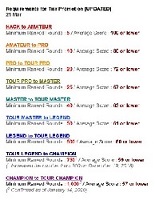 WHAT YOU CAN DO TO ABOUT IT
WHAT'SUP WHATSAP AND OTHER APPS . HERE IN THIS SITE . THE SKY IS YOUR LIMIT . IF YOU WANT TO PROMOTE , GROW , SHARE , IMPROVE , UPDATE POST AND LEARN ABOUT YOUR PRODUCT OR ANY PRODUCT . YOU CAN DO ALL OF THE ABOVE . JUST DO IT .



azdewars

370 Posts


Wed, Jun 29 2016 4:45 AM


Google Docs is packed with powerful tools. Here are 10 that will help you get more out of Google's free word-processing app.


1. Talk instead of type

For times when you'd rather use your voice than your fingertips to type, give Google Docs' voice typing tool a try.
From the top of an open document, go to Tools > Voice typing. A small window with a large microphone icon pops up along the right edge of Chrome that you can click to toggle voice typing on and off. Voice typing is available only in the Chrome browser.
It's an acquired taste, but you can also use voice typing to edit and format text in Google Docs.


2. Clear formatting

When you paste a block of text into a Google Doc, its font and font size will likely differ from the rest of your document. To make it conform, highlight the text and do one of three things:

Right-click the highlighted text and choose Clear formatting.

Go to Format > Clear formatting.

Click Normal text from the pull-down menu below the Format and Tools menu options.

3. Add more fonts
From the font pull-down menu at the top of your document, choose 
More fonts
 to add new fonts to this menu. There are hundreds you can choose from:
To get a better sense of how the different fonts look, check out 
Google Fonts
where you can view sample sentences of each font. You can also click into each sample sentence and change it to your own wording. When you find a font you like, just search for its name from the fonts pull-down menu in Google Docs and add it to your list.
4. Suggestion mode
Stop, collaborate and listen: when you're working on a shared document, you can change the edit mode so that Google Docs tracks changes like Microsoft Word. To show your edits and allow your collaborators to accept or reject them, select the pencil button in the upper-right corner of your document and click 
Suggesting
. Now, as you edit the document, changes will show up as color-coded suggestions with a comment next to each to show who made the change. Each comment has an Accept and Reject button.
5. Tag someone in a comment
If you want to draw someone's attention to a comment you added, you can tag them. When writing your comment, enter the 
@
 or 
+
 sign and choose the person you want to tag. He or she will then get an email to alert them of your comment or question.
6. Bookmark more, scroll less
For long documents, adding bookmarks means less scrolling. Go to 
Insert > Bookmark
 to add a bookmark to your document. A small, blue bookmark icon will be added to the left edge of your document.
You can create a link to a bookmark, which is helpful for long documents because you can create a quick table of contents at the top of your document to jump to your various bookmarks. Right-click at the top of your document (or any location where a link to a bookmark might be helpful) and click 
Link
. Instead of adding a URL, select one of your bookmarks from the drop-down menu below, enter the link text and click 
Apply
.
You don't need to use bookmark links, however, for bookmarks to helpful. I use a single bookmark to pick up where I left off the next time I open a Google Doc. To jump to the next bookmark (or, in my case, the only bookmark), hold down the Control and Command keys and hit
 N 
and then
 B
. And to move to the previous bookmark, hold down the Control and Command keys and hit
 P 
and then
 B
. The keyboard shortcuts are a bit cumbersome, but easier to remember if you think of the keys standing for 
next bookmark
 and 
previous bookmark
.
7. Offline mode
You don't need an Internet connection to use Google Docs, though you will need to be connected when setting up offline use (along with Chrome).
From the main screen of Google Drive:


Click the gear icon in the upper-right corner and click Settings.

Check the box in the Offline section for "Sync Google Docs, Sheets, Slides & Drawings files to this computer so that you can edit offline."

With offline mode turned on, you'll be able to view and edit your Docs, Sheets, Slides and Drawings when you are disconnected and the files will sync the next time you connect to the Internet.
8. Roll your own substitutions
Go to 
Tools > Preferences
 and you'll see a list of automatic substitutions that Google Docs makes. Most involve the style in which fractions are displayed along with a few symbols and arrow styles. You can add your own, but substitutions based on the capitalization of a word does not work.
To look up the definition of a word on the quick, right-click on the word and choose
Define
. A small panel appears to the right of your document with the definition of the word, along with synonyms, letting you get information without leaving Google Docs.
Similarly, right-click on a word and choose 
Research
 to perform a quick Google search in the right-panel. Any links you click will open in a new tab, but you can drag images from the search results from the right panel directly into your document.
10. Revision history
Cher isn't the only person who occasionally wishes to turn back time. If you'd like to return to an earlier version of your Google Doc, you can by going to 
File > See revision history
. From the right panel, you'll see a chronological list of time-stamped versions of your document. Choose one and click 
Restore this revision
 to open it.
You can always go back to revision history and choose a more recent version to return to your latest edits. There is no way to lose changes using revision history; choosing an earlier version just moves it to the top of your revision history list. 
john - azdewars
Delete
Edit
Reply
Send to Friend
Report Abuse
pdb1

10,311 Posts


Wed, Jun 29 2016 5:13 AM

This chrome plated megaphone is $40.00? 
Great Googly Moogly!

Delete
Edit
Reply
Send to Friend
Report Abuse



azdewars

370 Posts


Wed, Jun 29 2016 10:22 AM

wHOOPS, Be right back, I forgot to pay
john - azdewars



_________________

May the SUN always be with you
Please enjoy

Paul
---
Permissions in this forum:
You
cannot
reply to topics in this forum