THAT'S ENTERTAINMENT
CLICK ON ANY OF THESE LINKS TO FIND OUR EXTREME ENTERTAINMENT
Statistics
We have
380
registered users
The newest registered user is
ADYTHEGOLFPRO
Our users have posted a total of
9610
messages in
2632
subjects
May 2021
| Mon | Tue | Wed | Thu | Fri | Sat | Sun |
| --- | --- | --- | --- | --- | --- | --- |
| | | | | | 1 | 2 |
| 3 | 4 | 5 | 6 | 7 | 8 | 9 |
| 10 | 11 | 12 | 13 | 14 | 15 | 16 |
| 17 | 18 | 19 | 20 | 21 | 22 | 23 |
| 24 | 25 | 26 | 27 | 28 | 29 | 30 |
| 31 | | | | | | |
Calendar
71 WGT TUTORIALS & 32 YOUNG46 TUTORIALS
CLICK HERE
TO SEE OVER 100 YOUTUBE VIDEO TUTORIALS . FROM WGTers , WGT & YOUNG46
FORUM UPDATE
THIS FORUM IS FOR YOU ALL . PLEASE FEEL LIKE IT IS YOURS . READ THE FORUMS. POST COMMENTS . ASK QUESTIONS . IF YOU HAVE A COMPLAINT POST IT . MAKE SUGGESTIONS . READ SOME TUTORIALS . READ SOME GOLF TIPS . CHECK RECENT TOURNEY WINNERS . BROWSE OUR OLD FORUM ARCHIVES . LOG IN TO THE CHAT AND MESSAGE SOMEONE TO MEET YOU THERE AND ARRANGE A MATCH . LOG IN TO THE CHAT TO SEE IF SOMEONE IS THERE JUST TO SAY HI . MESSAGE ME IF YOU WANT TO GET ON THE DAILY BLITZ .
THE BLITZ SCORECARD IS ON
Page 3
PLEASE CLICK
HERE
TO FIND THE COURSE OF THE DAY AND SEE
THE WEEKLY STANDINGS .
PLEASE POST
YOUR SCORES HERE. IN THIS
KWIK KLIK TO YOUR FAV FORUM
Owner's Objectives
It's been a while since I expressed some of my objectives for the CC . First of all I like and respect everyone that joins our club . I realize that not everyone knows what a CC is all about . Many have different reasons for joining . I really don't know how many of the other clubs are run . They are all different . What I want to emphasize in our CC is that whatever tier you are . That you feel comfortable here , part of a team of players that come here to find conditions that enable them to improve their game , hone their skills , lower their scores ,lower their averages , move up in tiers . Enjoyably and comfortably with the conditions that challenge them enough to keep that drive without the frustrationsof regular game play . All that is completely possible by either creating those tourneys yourself or by messaging me about it . Or someone else in your tier that has been creating tourneys . Any kind of information that you need to know should be provided here , any kind of appp , calculator , help , tutorial , tournament , statistic , message , opinion , gripe , compliment , etc , etc . Should able to be aqcuired here ( or in our website , as it may be easier there ). With your help , all of this can be done easily . We already have a good start . I am going to be here for a very long time trying to achieve all this . For any of you that think it's a good direction for your CC to go in . Then lets keep on keepin on . Sincerely , Your Co team member PDB1 , Paul ( sitting here on a rare rainy day ) May the SUN always be with you
POST OF THE WEEK
Re:
Where are the Flags ?By Bertasion in Valley of the Sun Casual Club The other day upon the heather fair I hit a flagstick that was not there. I saw it's shadow and heard the clank but where it stood was just a blank. It was not there again today. I wonder when it will come back and stay. Brian
BLITZ LIST
HERE IS THE LIST OF BLITZ COURSES IN THE ORDER THEY ARE PLAYED EVERY WEEK OF EVERY SEASON .
DAILY BLITZ WEEKLY SCHEDULE



WEEK 1

BEST OF BANDON PAR 3
PEBBLE BEACH
THE OLYMPIC CLUB
VAHALLA
MERION


WEEK 2

PINEHURST NO.2
HARBOUR TOWN
KIAWAH ISLAND
ROYAL ST. GEORGE
CONGRESSIONAL


WEEK 3

ERIN HILLS
ST. ANDREWS
BALI HAI
CELTIC MANOR
BETHPAGE BLACK


WEEK 4

PINEHURST NO. 8
WOLF CREEK
CHALLANGE AT MANELE
EXPERIENCE AT KOELE
HILVERSUMSCHE


WEEK 5

EDGEWOOD TAHOE
BEST OF WATER SHOTS
BEST OF FAMOUS SHOTS
BEST OF PUTTING
CHAMBERS BAY
TIER & AVERAGE REQUIREMENTS
BASIC LEVEL AND AVERAGE REQUIREMENTS , AND SATURATION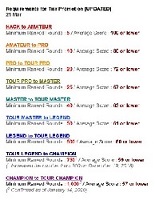 With the biggest shopping day of the year just around the corner, the WGT National Enquirer staff has scoured the local toy stores to make it easier to shop for your WGT addicted loved ones. After days and weeks of hair pulling and heart wrenching decision making, here are the top 10 WGT-related toys to gift.
#10 Mr. Potato Head - WGT Edition
Our own loveable WGTIcon comes to life as Mr. Potato Head in this special WGT edition of a classic for all ages!!
#9 Red Rider BolloxinBruges BB Gun
One of the all-time greatest young boy's Christmas gifts is a Red Ryder BB gun! The new BolloxinBruges Special edition will teach your youngster to be a straight shooter just like Bollie!
#8 Dr. Jedi's Medical Kit
The perfect role model for your children, Dr. Jedi has helped thousands with their problems on wgt.com.  What better way to teach your kids how to give a shot?
#7 Tickle Me Esssy
This WGT Special Edition features lots of lols lol,  Tickle his ribs and he'll say the most amazing things only he can understand!  lol 
#6 MrWGT's Monopoly
Be an entrepreneur like MrWGT! Play the new (coming soon) Monopoly Challenge on wgt.com using your credits not Monopoly money. Of course, WGT gets a 20% rake on all credit transactions.
#5 YANCYCAN'S WHAC-A-MOLE!
Bop them moles!! Help our good friend and fellow WGTer Yancy clear those pesky moles out of his Par 2 & 1/2 golf course with this WGT Special Edition Whac-A-Mole game!
#4 LizzieRossetti's Silly Putting Ball
Great stocking stuffers!!  If you've seen Lizzie putt you know how hysterical it can be (it isn't her fault)!  Now you can "Putt Like Lizzie" with this goofy ball made from the amazing world renown substance known to everyone as Silly Putty. 
#3 Gift Certificates to WGT's New Driving Range
Gift certificates for a bucket of balls at the new WGT Driving range (coming soon in December, 2018!) are a welcome gift for any WGTer! Watch them practice hitting balls into Lake Tibbets and hear the squeals of laughter that it wasn't their own Callaway. (Add the YankeeJim blindfold from the WGT pro shop and they can learn how to hit by feel!)
#2 Plush Toy renniw52
We've all played with Ren on wgt.com, now we can play with him at home!  This 8" tall squirrel plush toy is handcrafted by artisans and has amazing attention to detail.  Nuts are included.
And the Number One WGT National Enquirer recommended gift is!!
#1 WGT Transformers - Legend to Master
Our most popular game.  Use your Legend skills from the Master tees in WGT.com challenge and ready go competitions and amass millions in credits.  Up to 10 accounts are available.  Also available in Legend to Pro and Legend to Tour Pro.
Happy shopping everyone!
---
Permissions in this forum:
You
cannot
reply to topics in this forum