THAT'S ENTERTAINMENT
CLICK ON ANY OF THESE LINKS TO FIND OUR EXTREME ENTERTAINMENT
Statistics
We have
423
registered users
The newest registered user is
networthtalks
Our users have posted a total of
11680
messages in
2895
subjects
August 2022
| Mon | Tue | Wed | Thu | Fri | Sat | Sun |
| --- | --- | --- | --- | --- | --- | --- |
| 1 | 2 | 3 | 4 | 5 | 6 | 7 |
| 8 | 9 | 10 | 11 | 12 | 13 | 14 |
| 15 | 16 | 17 | 18 | 19 | 20 | 21 |
| 22 | 23 | 24 | 25 | 26 | 27 | 28 |
| 29 | 30 | 31 | | | | |
Calendar
71 WGT TUTORIALS & 32 YOUNG46 TUTORIALS
CLICK HERE
TO SEE OVER 100 YOUTUBE VIDEO TUTORIALS . FROM WGTers , WGT & YOUNG46
FORUM UPDATE
THIS FORUM IS FOR YOU ALL . PLEASE FEEL LIKE IT IS YOURS . READ THE FORUMS. POST COMMENTS . ASK QUESTIONS . IF YOU HAVE A COMPLAINT POST IT . MAKE SUGGESTIONS . READ SOME TUTORIALS . READ SOME GOLF TIPS . CHECK RECENT TOURNEY WINNERS . BROWSE OUR OLD FORUM ARCHIVES . LOG IN TO THE CHAT AND MESSAGE SOMEONE TO MEET YOU THERE AND ARRANGE A MATCH . LOG IN TO THE CHAT TO SEE IF SOMEONE IS THERE JUST TO SAY HI . MESSAGE ME IF YOU WANT TO GET ON THE DAILY BLITZ .
THE BLITZ SCORECARD IS ON
Page 3
PLEASE CLICK
HERE
TO FIND THE COURSE OF THE DAY AND SEE
THE WEEKLY STANDINGS .
PLEASE POST
YOUR SCORES HERE. IN THIS
KWIK KLIK TO YOUR FAV FORUM
Owner's Objectives
It's been a while since I expressed some of my objectives for the CC . First of all I like and respect everyone that joins our club . I realize that not everyone knows what a CC is all about . Many have different reasons for joining . I really don't know how many of the other clubs are run . They are all different . What I want to emphasize in our CC is that whatever tier you are . That you feel comfortable here , part of a team of players that come here to find conditions that enable them to improve their game , hone their skills , lower their scores ,lower their averages , move up in tiers . Enjoyably and comfortably with the conditions that challenge them enough to keep that drive without the frustrationsof regular game play . All that is completely possible by either creating those tourneys yourself or by messaging me about it . Or someone else in your tier that has been creating tourneys . Any kind of information that you need to know should be provided here , any kind of appp , calculator , help , tutorial , tournament , statistic , message , opinion , gripe , compliment , etc , etc . Should able to be aqcuired here ( or in our website , as it may be easier there ). With your help , all of this can be done easily . We already have a good start . I am going to be here for a very long time trying to achieve all this . For any of you that think it's a good direction for your CC to go in . Then lets keep on keepin on . Sincerely , Your Co team member PDB1 , Paul ( sitting here on a rare rainy day ) May the SUN always be with you
POST OF THE WEEK
Re:
Where are the Flags ?By Bertasion in Valley of the Sun Casual Club The other day upon the heather fair I hit a flagstick that was not there. I saw it's shadow and heard the clank but where it stood was just a blank. It was not there again today. I wonder when it will come back and stay. Brian
BLITZ LIST
HERE IS THE LIST OF BLITZ COURSES IN THE ORDER THEY ARE PLAYED EVERY WEEK OF EVERY SEASON .
DAILY BLITZ WEEKLY SCHEDULE



WEEK 1

BEST OF BANDON PAR 3
PEBBLE BEACH
THE OLYMPIC CLUB
VAHALLA
MERION


WEEK 2

PINEHURST NO.2
HARBOUR TOWN
KIAWAH ISLAND
ROYAL ST. GEORGE
CONGRESSIONAL


WEEK 3

ERIN HILLS
ST. ANDREWS
BALI HAI
CELTIC MANOR
BETHPAGE BLACK


WEEK 4

PINEHURST NO. 8
WOLF CREEK
CHALLANGE AT MANELE
EXPERIENCE AT KOELE
HILVERSUMSCHE


WEEK 5

EDGEWOOD TAHOE
BEST OF WATER SHOTS
BEST OF FAMOUS SHOTS
BEST OF PUTTING
CHAMBERS BAY
TIER & AVERAGE REQUIREMENTS
BASIC LEVEL AND AVERAGE REQUIREMENTS , AND SATURATION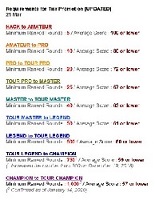 WHAT YOU CAN DO TO ABOUT IT
WHAT'SUP WHATSAP AND OTHER APPS . HERE IN THIS SITE . THE SKY IS YOUR LIMIT . IF YOU WANT TO PROMOTE , GROW , SHARE , IMPROVE , UPDATE POST AND LEARN ABOUT YOUR PRODUCT OR ANY PRODUCT . YOU CAN DO ALL OF THE ABOVE . JUST DO IT .
I been playing with a iCloud locked iPhone 6s. What luck, used emoji's (?) to crash iOS system and up came Main Menu (WTF?) . IPhones' are a whole different world than Android. Think I'm gonna keep this iPhone and learn.  What I'm sharing might be common knowledge, however, most friends of mine with iPhones' did not know of these functions.
1. It can charge twice as fast!
OK, we're starting off with one you may have heard about, but it happens to be excellent. Airplane mode will save your skin if you're in need of a quick charging fix and running low on juice, especially when coupled with the "low battery mode" you'll find in Settings > Battery. Just slide up from the bottom of the screen and hit the airplane symbol, and your charging speed will double.
2. It can snap photos without the touchscreen!
The volume buttons aren't just on the side of your iphone to make your Paramore songs go ear-bleedingly loud—they are also incredibly handy for taking photos. The same goes for those on your headphones. In camera mode, just point your phone at whatever you want to snap and hit up on the volume. Click! A perfectly Instagrammable picture of your avocado on toast! Again.
3. It can go easy on your eyeballs!
A fairly recent addition by Apple is this handy 'Night Shift' mode which will change the coloring of your screen to something less retina-mauling—and stop your girlfriend mumbling 'it's too bright' next to you in bed while you're looking at Maseratis on Autotrader at 3 a.m. Go to 'Display & Brightness' > Night Shift and you can set your own 'color temperature' as well as a time for the screen to revert to usual daytime levels.
4. It can help you hang pictures!
Yep. Don't waste time searching for a level app because you already have exactly what you need to put that framed, signed photo of Penn and Teller up on your bathroom wall just perfectly. Simply go into the Compass app, swipe left, and rotate your phone so it's in landscape. Tada!
5. It can tell you when text messages were sent!
Not everyone knows this simple tip: Just swipe a text to the left to see when it was sent. Additionally, seeing as Snapchat is everywhere these days, you can do this on a line of conversation in that app if you want to save it for later.
Here's a cool, if slightly dangerous, way of getting rid of that drunken text you're about to send and regret forever. Just shake your iPhone at the end of something you've typed to bring up the 'Undo typing' dialogue box—and breathe more easily when you're hung over the next day.
6. It can help you type web addresses!
If you want to complete a url in Safari, holding down the period symbol on your keyboard will bring up a list of domain addresses (.com, .edu, .org, etc.) and you can simply select the one you want. And here's a bonus tip: Rather than finding the period key to type a full stop, simply double tap the space bar when typing. See!
7. It can go all photo negative on you!
If you're someone who appreciates the darker side of life, you can wig out the colors on your screen so that everything looks really funky and your texts and emails look like they're celebrating Halloween. You'll find the option in Settings > General > Accessibility > Invert Colors.
8. It can carry conversations from the home screen!
You'll need to have banner notifications selected for the messages app to do this, but it actually does save a lot of time and energy. When someone imessages you (or essentially 'texts' you as we used to say in the olden days), drag down the banner that appears at the top of your screen and a box to for replying will appear underneath, meaning you don't need to open messages up at all.
9. It can delete texts in a cheeky way!
Here's a cool, if slightly dangerous, way of getting rid of that drunken text you're about to send and regret forever. Just shake your iPhone at the end of something you've typed to bring up the 'Undo typing' dialogue box—and breathe more easily when you're hung over the next day. Just don't do this while eating chicken wings, or standing by the edge of a cliff.
10. It can read to you!
If you want your phone to read out messages, go to Settings > General > Accessibility and turn on 'speak selection,' then sit back and be soothed by the slightly robotic dulcet tones of Siri. It's also worth noting that your phone can read the vast majority of the books in your kindle or ibooks app to you, and Siri will read out your emails and web pages too. Nice lady!
These iPhones are sooo cool. Android? Whats that?   ^_^
john - azdewars
Similar topics
---
Permissions in this forum:
You
cannot
reply to topics in this forum