THAT'S ENTERTAINMENT
CLICK ON ANY OF THESE LINKS TO FIND OUR EXTREME ENTERTAINMENT
Statistics
We have
383
registered users
The newest registered user is
AQUAWRAP
Our users have posted a total of
10376
messages in
2706
subjects
July 2021
| Mon | Tue | Wed | Thu | Fri | Sat | Sun |
| --- | --- | --- | --- | --- | --- | --- |
| | | | 1 | 2 | 3 | 4 |
| 5 | 6 | 7 | 8 | 9 | 10 | 11 |
| 12 | 13 | 14 | 15 | 16 | 17 | 18 |
| 19 | 20 | 21 | 22 | 23 | 24 | 25 |
| 26 | 27 | 28 | 29 | 30 | 31 | |
Calendar
71 WGT TUTORIALS & 32 YOUNG46 TUTORIALS
CLICK HERE
TO SEE OVER 100 YOUTUBE VIDEO TUTORIALS . FROM WGTers , WGT & YOUNG46
FORUM UPDATE
THIS FORUM IS FOR YOU ALL . PLEASE FEEL LIKE IT IS YOURS . READ THE FORUMS. POST COMMENTS . ASK QUESTIONS . IF YOU HAVE A COMPLAINT POST IT . MAKE SUGGESTIONS . READ SOME TUTORIALS . READ SOME GOLF TIPS . CHECK RECENT TOURNEY WINNERS . BROWSE OUR OLD FORUM ARCHIVES . LOG IN TO THE CHAT AND MESSAGE SOMEONE TO MEET YOU THERE AND ARRANGE A MATCH . LOG IN TO THE CHAT TO SEE IF SOMEONE IS THERE JUST TO SAY HI . MESSAGE ME IF YOU WANT TO GET ON THE DAILY BLITZ .
THE BLITZ SCORECARD IS ON
Page 3
PLEASE CLICK
HERE
TO FIND THE COURSE OF THE DAY AND SEE
THE WEEKLY STANDINGS .
PLEASE POST
YOUR SCORES HERE. IN THIS
KWIK KLIK TO YOUR FAV FORUM
Owner's Objectives
It's been a while since I expressed some of my objectives for the CC . First of all I like and respect everyone that joins our club . I realize that not everyone knows what a CC is all about . Many have different reasons for joining . I really don't know how many of the other clubs are run . They are all different . What I want to emphasize in our CC is that whatever tier you are . That you feel comfortable here , part of a team of players that come here to find conditions that enable them to improve their game , hone their skills , lower their scores ,lower their averages , move up in tiers . Enjoyably and comfortably with the conditions that challenge them enough to keep that drive without the frustrationsof regular game play . All that is completely possible by either creating those tourneys yourself or by messaging me about it . Or someone else in your tier that has been creating tourneys . Any kind of information that you need to know should be provided here , any kind of appp , calculator , help , tutorial , tournament , statistic , message , opinion , gripe , compliment , etc , etc . Should able to be aqcuired here ( or in our website , as it may be easier there ). With your help , all of this can be done easily . We already have a good start . I am going to be here for a very long time trying to achieve all this . For any of you that think it's a good direction for your CC to go in . Then lets keep on keepin on . Sincerely , Your Co team member PDB1 , Paul ( sitting here on a rare rainy day ) May the SUN always be with you
POST OF THE WEEK
Re:
Where are the Flags ?By Bertasion in Valley of the Sun Casual Club The other day upon the heather fair I hit a flagstick that was not there. I saw it's shadow and heard the clank but where it stood was just a blank. It was not there again today. I wonder when it will come back and stay. Brian
BLITZ LIST
HERE IS THE LIST OF BLITZ COURSES IN THE ORDER THEY ARE PLAYED EVERY WEEK OF EVERY SEASON .
DAILY BLITZ WEEKLY SCHEDULE



WEEK 1

BEST OF BANDON PAR 3
PEBBLE BEACH
THE OLYMPIC CLUB
VAHALLA
MERION


WEEK 2

PINEHURST NO.2
HARBOUR TOWN
KIAWAH ISLAND
ROYAL ST. GEORGE
CONGRESSIONAL


WEEK 3

ERIN HILLS
ST. ANDREWS
BALI HAI
CELTIC MANOR
BETHPAGE BLACK


WEEK 4

PINEHURST NO. 8
WOLF CREEK
CHALLANGE AT MANELE
EXPERIENCE AT KOELE
HILVERSUMSCHE


WEEK 5

EDGEWOOD TAHOE
BEST OF WATER SHOTS
BEST OF FAMOUS SHOTS
BEST OF PUTTING
CHAMBERS BAY
TIER & AVERAGE REQUIREMENTS
BASIC LEVEL AND AVERAGE REQUIREMENTS , AND SATURATION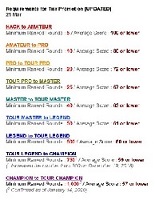 Hi all...here are some jokes for your enjoyment....some are lame, some good....you decide:

A child goes to his father and asks, "Father, how do parents think of names for their children?" The father answers, "Well, son, the night before the mother gives birth, the father goes into the woods and camps for the night. When he wakes the following morning, the first thing he sees is what he names his child, which is why your sister is named Soaring Eagle. Why do you ask, Bear Poop?"
*****************************************************
A husband and wife have four boys. The odd part of it is that the older three have red hair, light skin, and are tall, while the youngest son has black hair, dark eyes, and is short. The father eventually takes ill and is lying on his deathbed when he turns to his wife and says, "Honey, before I die, be completely honest with me. Is our youngest son my child?" The wife replies, "I swear on everything that's holy that he is your son." With that, the husband passes away. The wife then mutters, "Thank God he didn't ask about the other three."
*****************************************************
You know you're getting old when your wife says, "Honey, lets run upstairs and make love," and you answer, "I can't do both."
*****************************************************
A father and son are out shopping for Christmas presents for their family. The son asks, "What present are my sister and I going to get?" The dad answers, "I got you guys an iPad and iPod." "Wow, thanks," the son replies, "What will you give mom?" The dad says, "Your mom is getting an iRon."
*****************************************************
A hillbilly family's only son saves up money to go to college. After about three years, he comes back home. They are sitting around the dinner table, when the dad says, ''Well son, you done gone to college, so you must be perty smart. Why don't you speak some math fer' us?'' ''Ok, Pa.'' The son then says, ''Pi R squared.'' After a moment, the dad says, ''Why son, they ain't teached ya nothin'! Pie are round, cornbread are square.''
*****************************************************
An Amish husband, wife and son travel to the city on vacation. They visit a shopping mall and while the mother is shopping, the father and son are standing in awe in front of an elevator (having no idea what it is). As they watch, an elderly lady walks into the strange silver doors and the doors close. The father and son watch as the numbers go up, and then back down. When the doors open, a beautiful young woman walks out. The father leans over and whispers to the son, "Son, go get your mother...we got to get her in there!"
*****************************************************
Q: "What's the difference between a problem and a challenge?"
A: "3 boys + 1 girl = problem but 1 boy + 3 girls = challenge."
*****************************************************

It's a sunny morning in the Big Forest and the Bear family is just waking up. Baby Bear goes downstairs and sits in his small chair at the table. He looks into his small bowl. It is empty! "Who's been eating my porridge?" he squeaks. Father Bear arrives at the table and sits in his big chair. He looks into his big bowl. It is also empty! "Who's been eating my porridge?" he roars. Mother Bear sticks her head out the kitchen door and yells, "For Pete's sake, how many times do we have to go through this? It was Mother Bear who go up first. It was Mother Bear who woke everybody else in the house up. It was Mother Bear who unloaded the dishwasher from last night and put everything away. It was Mother Bear who went out into the cold early morning air to fetch the newspaper. It was Mother Bear who set the table. It was Mother Bear who put the cat out, cleaned the litter box and filled the cat's water and food dish. And now that you've decided to come down stairs and grace me with your presence, listen good because I'm only going to say this one more time: I haven't made the f*cking porridge yet!"

*****************************************************
Four men are in the hospital waiting room because their wives are having babies. A nurse approaches the first guy and says, "Congratulations! You're the father of twins." "That's odd," answers the man. "I work for the Minnesota Twins!" A nurse then yells the second man, "Congratulations! You're the father of triplets!" "That's weird," answers the second man. "I work for the 3M company!" A nurse goes up to the third man saying, "Congratulations! You're the father of quadruplets." "That's strange," he answers. "I work for the Four Seasons hotel!" The last man begins groaning and banging his head against the wall. "What's wrong?" the others ask. "I work for 7 Up!"
*****************************************************
It was a baby mosquito's first day to fly out from home. When the mosquito came back home later that day, the father mosquito asked, "How was your journey?" The baby mosquito replied, "It went great. Everyone was clapping for me!"
*****************************************************
Two guys are sitting on a bar stool. One starts to insult the other one. He screams, "I slept with your mother!" The bar gets quiet as everyone listens to see what the other man will do. The first again yells, "I SLEPT WITH YOUR MOTHER!" The other man says, "Go home, dad. You're drunk."
*****************************************************
A 7 year-old and a 4 year-old are in their bedroom. "You know what?" says the 7 year-old, "I think it's time we started swearing. When we go downstairs for breakfast, I'll swear first, then you." "Okay," replies the 4 year-old. In the kitchen, when the mother asks the 7 year-old what he wants for breakfast, he answers, "I'll have Coco Pops, bitch." *WHACK* He goes flying out of his chair, crying his eyes out. The mother looks at the 4 year-old & sternly asks, "And what do you want?" "Dunno," he replies, "But it won't be fucking Coco Pops."
*****************************************************
A little boy gets a toy plane. The boy loves his plane. He flies it all over the house. One day, the boy is in the living room with his plane while his mom is in the kitchen washing dishes. She listens to the boy playing and hears him say, "Vroom, vroom, vroom. All you mother fucking people want to get on, get on. All you mother fucking people want to get off, get off." Angry, his mom rushes into the living room, takes the plane away, and sends him into his room. After 15 minutes, she starts to feel bad and tells the boy, "If you don't use that kind of language, you can play with your plane." The boy returns to the living room, his mom to the kitchen. She listens again to the boy playing, she hears him say, "Vroom, vroom, vroom. All you very nice people want to get on, get on. All you very nice people want to get off, get off. If you have a problem with 15 minute delay, you can go talk to the bitch in the kitchen!"
*****************************************************
Little Johnny's new baby brother is screaming up a storm. He asks his mom, "Where'd we get him?" His mother replies, "He came from Heaven, Johnny." Johnny says, "Wow! I can see why they threw him out!"
*****************************************************
An old man and his wife went to the doctor for a check-up. While the man is with the doctor, the doctor asks him, "So how has life been treating you?" The old man replies, "The Lord's been good to me. Every night when I go to the bathroom, he turns the light on and when I'm finished, he turns the light off." While the old woman is with the doctor, the doctor told her what her husband said. She replied, "Damn it! The old fart's been pissing in the ice box again!"
*****************************************************
Traveling through the country, an old couple drives into a gas station. The attendant asks the old man, "Where you folks from? I know everybody in this town." The old man says, "We're from Nebraska." Hard of hearing, the old lady nudges her husband, "What did he say, papa?" The old man answers her, "He asked us where we are from." "Oh," replies the old woman. The old man tells the attendant to fill up the tank and check the tires. When that's all done, the attendant tells the old man, "You know, the worst piece of ass I ever had was from Nebraska." The old lady nudges her husband once more and asks, "What did he say, papa?" The husband replies, "He thinks he knows you, mama."
*****************************************************
A kid asks his dad, "What's a man?" The dad says, "A man is someone who is responsible and cares for their family." The kid says, "I hope one day I can be a man just like mom!"
*****************************************************
Q: Why is diarrhea hereditary?
A: Because it runs in your genes.
*****************************************************
A man in a bar sees a friend at a table, drinking by himself. Approaching the friend, he comments, "You look terrible. What's the problem?" "My mother died in August," he said, "and left me $25,000." "Gee, that's tough," he replied. "Then in September," the friend continued, "my father died, leaving me $90,000." "Wow. Two parents gone in two months. No wonder you're depressed." "Then last month, my aunt died and left me $15,000." "Three close family members lost in three months? How sad." "Then this month," continued the friend, "absolutely no-one died!"
*****************************************************
An apartment building is on fire. Firefighters are on the scene, however both their ladder and life net are broken. A star quarterback sees the commotion and asks, "What's happening? Can I help?" The fire chief says, "There's a mother and baby stuck in the building on the 19th floor! The mother is up there in the window. Can you catch her child?" The mother frantically waves down to the men below and the football player shouts up to her, "Go ahead, I'm ready!" He holds his arms out and the women drops the infant. Just when the quarterback deftly catches the child, he throws it to the ground hard yelling, "TOUCHDOWN!"
*****************************************************
Little Johnny came in from the backyard sobbing. His mother asked "What's the matter?" "Dad was fixing the fence and hit his thumb with the hammer," he said through his tears. "That's not so serious," his mother said, "and a big boy like you shouldn't cry about that. Why didn't you just laugh?" "That's what I did!" cried Johnny.
*****************************************************
My wife and I are planning our 21st wedding anniversary celebration. Here lies the problem: she wants to go to Outback Steakhouse, I want sex, and my mother-in-law thinks we should renew our vows at church. Well, I'm all for compromise, so we should have sex outback of the church.

JimQ916




Posts

: 379


Join date

: 2014-12-31



---
Permissions in this forum:
You
cannot
reply to topics in this forum