THAT'S ENTERTAINMENT
CLICK ON ANY OF THESE LINKS TO FIND OUR EXTREME ENTERTAINMENT
Statistics
We have
383
registered users
The newest registered user is
AQUAWRAP
Our users have posted a total of
10376
messages in
2706
subjects
July 2021
| Mon | Tue | Wed | Thu | Fri | Sat | Sun |
| --- | --- | --- | --- | --- | --- | --- |
| | | | 1 | 2 | 3 | 4 |
| 5 | 6 | 7 | 8 | 9 | 10 | 11 |
| 12 | 13 | 14 | 15 | 16 | 17 | 18 |
| 19 | 20 | 21 | 22 | 23 | 24 | 25 |
| 26 | 27 | 28 | 29 | 30 | 31 | |
Calendar
71 WGT TUTORIALS & 32 YOUNG46 TUTORIALS
CLICK HERE
TO SEE OVER 100 YOUTUBE VIDEO TUTORIALS . FROM WGTers , WGT & YOUNG46
FORUM UPDATE
THIS FORUM IS FOR YOU ALL . PLEASE FEEL LIKE IT IS YOURS . READ THE FORUMS. POST COMMENTS . ASK QUESTIONS . IF YOU HAVE A COMPLAINT POST IT . MAKE SUGGESTIONS . READ SOME TUTORIALS . READ SOME GOLF TIPS . CHECK RECENT TOURNEY WINNERS . BROWSE OUR OLD FORUM ARCHIVES . LOG IN TO THE CHAT AND MESSAGE SOMEONE TO MEET YOU THERE AND ARRANGE A MATCH . LOG IN TO THE CHAT TO SEE IF SOMEONE IS THERE JUST TO SAY HI . MESSAGE ME IF YOU WANT TO GET ON THE DAILY BLITZ .
THE BLITZ SCORECARD IS ON
Page 3
PLEASE CLICK
HERE
TO FIND THE COURSE OF THE DAY AND SEE
THE WEEKLY STANDINGS .
PLEASE POST
YOUR SCORES HERE. IN THIS
KWIK KLIK TO YOUR FAV FORUM
Owner's Objectives
It's been a while since I expressed some of my objectives for the CC . First of all I like and respect everyone that joins our club . I realize that not everyone knows what a CC is all about . Many have different reasons for joining . I really don't know how many of the other clubs are run . They are all different . What I want to emphasize in our CC is that whatever tier you are . That you feel comfortable here , part of a team of players that come here to find conditions that enable them to improve their game , hone their skills , lower their scores ,lower their averages , move up in tiers . Enjoyably and comfortably with the conditions that challenge them enough to keep that drive without the frustrationsof regular game play . All that is completely possible by either creating those tourneys yourself or by messaging me about it . Or someone else in your tier that has been creating tourneys . Any kind of information that you need to know should be provided here , any kind of appp , calculator , help , tutorial , tournament , statistic , message , opinion , gripe , compliment , etc , etc . Should able to be aqcuired here ( or in our website , as it may be easier there ). With your help , all of this can be done easily . We already have a good start . I am going to be here for a very long time trying to achieve all this . For any of you that think it's a good direction for your CC to go in . Then lets keep on keepin on . Sincerely , Your Co team member PDB1 , Paul ( sitting here on a rare rainy day ) May the SUN always be with you
POST OF THE WEEK
Re:
Where are the Flags ?By Bertasion in Valley of the Sun Casual Club The other day upon the heather fair I hit a flagstick that was not there. I saw it's shadow and heard the clank but where it stood was just a blank. It was not there again today. I wonder when it will come back and stay. Brian
BLITZ LIST
HERE IS THE LIST OF BLITZ COURSES IN THE ORDER THEY ARE PLAYED EVERY WEEK OF EVERY SEASON .
DAILY BLITZ WEEKLY SCHEDULE



WEEK 1

BEST OF BANDON PAR 3
PEBBLE BEACH
THE OLYMPIC CLUB
VAHALLA
MERION


WEEK 2

PINEHURST NO.2
HARBOUR TOWN
KIAWAH ISLAND
ROYAL ST. GEORGE
CONGRESSIONAL


WEEK 3

ERIN HILLS
ST. ANDREWS
BALI HAI
CELTIC MANOR
BETHPAGE BLACK


WEEK 4

PINEHURST NO. 8
WOLF CREEK
CHALLANGE AT MANELE
EXPERIENCE AT KOELE
HILVERSUMSCHE


WEEK 5

EDGEWOOD TAHOE
BEST OF WATER SHOTS
BEST OF FAMOUS SHOTS
BEST OF PUTTING
CHAMBERS BAY
TIER & AVERAGE REQUIREMENTS
BASIC LEVEL AND AVERAGE REQUIREMENTS , AND SATURATION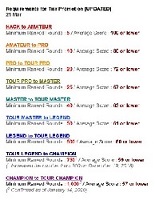 Hi all you great members...here are a few jokes to make you smile. Most are clean, but but a couple are a little risque....enjoy them....Jim
****************************************************

Dad: "Say 'daddy.'"
Baby: "Mommy!"
Dad: "Come on, say 'daddy!'"
Baby: "Mommy!"
Dad: "F*ck you. Say 'daddy!'"
Baby: "F*ck you. Mommy!"
Mom: "Honey, I'm home!"
Baby: "F*ck you!"
Mom: "Who taught you to say that?"
Baby: "Daddy!"
Dad: "Son of a b*tch."

****************************************************

Two guys are walking through a game park & they come across a lion that has not eaten for days. The lion starts chasing the two men. They run as fast as they can and the one guy starts getting tired and decides to say a prayer, "Please turn this lion into a Christian, Lord." He looks to see if the lion is still chasing and he sees the lion on its knees. Happy to see his prayer answered, he turns around and heads towards the lion. As he comes closer to the lion, he hears the it saying a prayer: "Thank you Lord for the food I'm about to receive.

****************************************************

An old man is met by his attorney, and is told he is going to be audited. He rides to the IRS office with his attorney, and when he gets there, he begins to talk with the IRS agent. "I bet $2,000 I can bite my own eye!" The IRS agent agrees to the bet, believing it an impossible task. The old man laughs, pulls out his glass eye, and bites it. The IRS agent is dumbfounded. The old man bets $3,000 he can bite his other eye. The IRS agent knows there's no way possible to do this, so he once more agrees. The old man cackles, pulls out his dentures, and bites his eye. Then the old man finally wagers, "I bet $20,000 I can stand on the far side of your desk, pee over the desk, and get it into your wastebasket, without missing a single drop." The agent knows he won't be able to, so once more he agrees. The old man indeed misses, peeing all over the desk, and on the paperwork. The IRS agent jumps for joy, but then notices the attorney over in the corner moaning. "Are you all right?" asks the agent. "No! On the way over here, he bet me $400,000 he could pee on your desk and you'd be happy about it!"

****************************************************

So two Irishmen are traveling to Australia. Before they leave home, one of their dads gives them both a bit of advice: "You watch them Aussie cab drivers. They'll rob you blind. Don't you go paying them what they ask. You haggle." At the Sydney airport, the Irishmen catch a cab to their hotel. When they reach their destination, the cabbie says, "That'll be twenty dollars, lads." "Oh no you don't! My dad warned me about you. You'll only be getting fifteen dollars from me," says one of the men. "And you'll only be getting fifteen from me too," adds the other.

****************************************************

Two men visit a prostitute. The first man goes into the bedroom. He comes out ten minutes later and says, "Heck. My wife is better than that." The second man goes in. He comes out ten minutes later and says, "You know? Your wife IS better."

****************************************************

A taxi passenger taps the driver on the shoulder to ask him a question. The driver screams, loses control of the car, nearly hits a bus, goes up on the footpath, and stops centimeters from a shop window. For a second, everything goes quiet in the cab, then the driver says, "Look mate, don't ever do that again. You scared the daylights out of me!" The passenger apologizes and says, "I didn't realize that a little tap would scare you so much." The driver replies, "Sorry, it's not really your fault. Today is my first day as a cab driver. I've been driving a funeral van for the last 25 years."

****************************************************

A boss said to his secretary, "I want to have sex with you, but I will make it very fast. I'll throw $1,000 on the floor and by the time you bend down to pick it up, I'll be done." She thought for a moment then called her boyfriend and told him the story. Her boyfriend said, "Do it but ask him for $2,000. Then pick up the money so fast, he won't even have enough time to undress himself." She agrees. After half an hour passes, the boyfriend calls the girlfriend and asks, "So what happened?" She responds, "The bastard used coins, so I'm still picking it up and he is still having sex with me!"

****************************************************

Student: "Should I get in trouble for something I didn't do?"
Teacher: "No."
Student: "Good, because I didn't do my homework."

****************************************************

Helen Keller walks into a bar, then a table, then a chair.

****************************************************

One day in the forest, 3 guys were just hiking along a trail when all of a sudden, a huge pack of Indians attaked them and knocked them out. When they woke up, they were at the leader of the tribe's throne. The chief then said, "All of your lives may be spared if you can find ten of one fruit and bring them back to me." So after a while the first man returned with 10 apples. The cheif then ordered him to stick all ten of them up his butt without making any expression at all on his face. He had a little bit of trouble with the first one and started crying while trying to put the next one in. He was soon killed. Later, the next guy came in with 10 grapes. The cheif soon ordered him to do the same as the first guy. After to the 9th grape, the man started laughing so hard for no apperant reason, and was killed. The first two guys soon met in heaven and the first guy ask the second, "Why did you start laughing? You only needed one more grape and you'd have gotten away!" The second guy answered while still laughing, "I couldn't help it. I saw the third guy walking in with pineapples."

****************************************************

A man goes to his doctor complaining about migraines. His doctor tells him, "I also suffer from the same ailment. Every time I get one, I give my wife oral sex. When she has an orgasm, she tightens her legs around my head which gets rid of the pain. You should try it sometime." Two weeks later on a return visit, the patient tells his doctor, "Your suggestion worked and I'd like to tell you that you have a very nice house."

****************************************************
"Give it to me! Give it to me!" she yelled, "I'm so wet, give it to me now!" She could scream all she wanted to. I was keeping the umbrella.

****************************************************

Two mental patients were walking next to a swimming pool. One jumped into the pool and the other jumped in to save him. Their doctor saw the rescue and called the rescuer to his office. "Due to your actions, it appears your mental state is fine," the doctor said to the patient, "You can go home to your family, but before you do, you should know that the person you saved hung himself today." The patient replied, "He didn't hang himself; I hung him there to dry."

****************************************************

There's a blond and a brunette in a car. The brunette is driving while the blonde is in the passenger seat. They're going down a steep hill when the brunette realizes that the brakes don't work. The brunette tells the blonde that the brakes don't work and they will drive off the side of the cliff because they failed to stop. The blonde then replies, "Don't worry! There's a stop sign ahead."

****************************************************

Tom was at the hospital visiting with his best friend Larry who was dying. Tom asked, "If there is baseball in heaven will you come back and tell me?" Larry nodded yes just as he passed away. That night while Tom was sleeping, he heard Larry's voice in a dream, "Tom..." "Larry! What is it?!" asked Tom. "I have good news and bad news from heaven." "What's the good news?" "There is baseball in heaven after all, but the bad news is you're pitching on Tuesday."

****************************************************

One day in class, the teacher brought a bag full of fruit and said, "Now class, I'm going to reach into the bag and describe a piece of fruit and you tell me which fruit I'm talking about. Alright, the first one is round, plump, and red. Little Johnny raised his hand high but the teacher ignored him and picked Deborah who promptly answered, "Apple." The teacher replied, "No Deborah, it's a beet, but I like your thinking. Now the second one is soft, fuzzy and colored red and brown." Johnny is hopping up and down in his seat trying to get the teacher to call on him but she calls on Billy. "Is it a peach?" Billy asks. "No, it's a potato, but I like your thinking," the teacher replies. "Okay the next one is long, yellow, and fairly hard." Johnny is about to explode as he waves his hand frantically but the teacher calls on Sally who say, "A banana." The teacher responds, "No, it's a squash, but I like your thinking." Johnny is irritated now so he speaks up loudly, "Hey, I've got one for you teacher. Let me put my hand in my pocket. Okay, I've got it. It's round, hard, and it's got a head on it." "Johnny!" she cries, "That's disgusting!" "Nope," answers Johnny, "It's a quarter, but I like your thinking!"

****************************************************

Two guys are standing in line to enter heaven. One turned around and asked the other how he died. "I froze to death. How about you?" "I had a heart attack." "How did that happen?" "Well, I suspected my wife was cheating on me. So after work I went straight home. I ran upstairs to find my wife sleeping by herself. Then I ran back downstairs and looked in all the hiding spots. When I was running back up the stairs, I had a heart attack." "That's ironic." "Why?" "If you would've looked in the deep freezer in the garage, we'd both be alive."

JimQ916




Posts

: 379


Join date

: 2014-12-31



---
Permissions in this forum:
You
cannot
reply to topics in this forum