THAT'S ENTERTAINMENT
CLICK ON ANY OF THESE LINKS TO FIND OUR EXTREME ENTERTAINMENT
Statistics
We have
382
registered users
The newest registered user is
theshawno
Our users have posted a total of
10300
messages in
2688
subjects
July 2021
| Mon | Tue | Wed | Thu | Fri | Sat | Sun |
| --- | --- | --- | --- | --- | --- | --- |
| | | | 1 | 2 | 3 | 4 |
| 5 | 6 | 7 | 8 | 9 | 10 | 11 |
| 12 | 13 | 14 | 15 | 16 | 17 | 18 |
| 19 | 20 | 21 | 22 | 23 | 24 | 25 |
| 26 | 27 | 28 | 29 | 30 | 31 | |
Calendar
71 WGT TUTORIALS & 32 YOUNG46 TUTORIALS
CLICK HERE
TO SEE OVER 100 YOUTUBE VIDEO TUTORIALS . FROM WGTers , WGT & YOUNG46
FORUM UPDATE
THIS FORUM IS FOR YOU ALL . PLEASE FEEL LIKE IT IS YOURS . READ THE FORUMS. POST COMMENTS . ASK QUESTIONS . IF YOU HAVE A COMPLAINT POST IT . MAKE SUGGESTIONS . READ SOME TUTORIALS . READ SOME GOLF TIPS . CHECK RECENT TOURNEY WINNERS . BROWSE OUR OLD FORUM ARCHIVES . LOG IN TO THE CHAT AND MESSAGE SOMEONE TO MEET YOU THERE AND ARRANGE A MATCH . LOG IN TO THE CHAT TO SEE IF SOMEONE IS THERE JUST TO SAY HI . MESSAGE ME IF YOU WANT TO GET ON THE DAILY BLITZ .
THE BLITZ SCORECARD IS ON
Page 3
PLEASE CLICK
HERE
TO FIND THE COURSE OF THE DAY AND SEE
THE WEEKLY STANDINGS .
PLEASE POST
YOUR SCORES HERE. IN THIS
KWIK KLIK TO YOUR FAV FORUM
Owner's Objectives
It's been a while since I expressed some of my objectives for the CC . First of all I like and respect everyone that joins our club . I realize that not everyone knows what a CC is all about . Many have different reasons for joining . I really don't know how many of the other clubs are run . They are all different . What I want to emphasize in our CC is that whatever tier you are . That you feel comfortable here , part of a team of players that come here to find conditions that enable them to improve their game , hone their skills , lower their scores ,lower their averages , move up in tiers . Enjoyably and comfortably with the conditions that challenge them enough to keep that drive without the frustrationsof regular game play . All that is completely possible by either creating those tourneys yourself or by messaging me about it . Or someone else in your tier that has been creating tourneys . Any kind of information that you need to know should be provided here , any kind of appp , calculator , help , tutorial , tournament , statistic , message , opinion , gripe , compliment , etc , etc . Should able to be aqcuired here ( or in our website , as it may be easier there ). With your help , all of this can be done easily . We already have a good start . I am going to be here for a very long time trying to achieve all this . For any of you that think it's a good direction for your CC to go in . Then lets keep on keepin on . Sincerely , Your Co team member PDB1 , Paul ( sitting here on a rare rainy day ) May the SUN always be with you
POST OF THE WEEK
Re:
Where are the Flags ?By Bertasion in Valley of the Sun Casual Club The other day upon the heather fair I hit a flagstick that was not there. I saw it's shadow and heard the clank but where it stood was just a blank. It was not there again today. I wonder when it will come back and stay. Brian
BLITZ LIST
HERE IS THE LIST OF BLITZ COURSES IN THE ORDER THEY ARE PLAYED EVERY WEEK OF EVERY SEASON .
DAILY BLITZ WEEKLY SCHEDULE



WEEK 1

BEST OF BANDON PAR 3
PEBBLE BEACH
THE OLYMPIC CLUB
VAHALLA
MERION


WEEK 2

PINEHURST NO.2
HARBOUR TOWN
KIAWAH ISLAND
ROYAL ST. GEORGE
CONGRESSIONAL


WEEK 3

ERIN HILLS
ST. ANDREWS
BALI HAI
CELTIC MANOR
BETHPAGE BLACK


WEEK 4

PINEHURST NO. 8
WOLF CREEK
CHALLANGE AT MANELE
EXPERIENCE AT KOELE
HILVERSUMSCHE


WEEK 5

EDGEWOOD TAHOE
BEST OF WATER SHOTS
BEST OF FAMOUS SHOTS
BEST OF PUTTING
CHAMBERS BAY
TIER & AVERAGE REQUIREMENTS
BASIC LEVEL AND AVERAGE REQUIREMENTS , AND SATURATION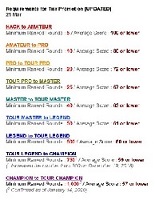 by pdb1 Today at 1:34
If there was a definition for the epitome of a virtual ghost town . This sites URL would pop up . For instance 8 users have logged on in the last 24 hours including myself . 5 of them just to record their daily BLITZ scores . Which entails clicking to the post for the weeks courses POST DAILY BLITZ SCORES HERE.

  These members have moderator permissions to edit in their scores , click send and off they go . Never stopping to see who else is online . Just an easy log into the chat would enable a member to have a real time chat with another user online at the time . A chat is a much different type of conversation than a forum post chat . The messages appear all in a row as each user typed . Right in time with the tempo and almost with the feeling that you are actually talking . Even more than texting on a phone . I know most anyone reading this knows what I am saying . 
  People , users , members are all different these days . My experience with high activity is very limited . But I have had it . a couple years ago . And speaking to many WGT CC owners . I have learned that even in some of the larger CC's much of what used to be much more active has either slowed considerably . Or even discontinued . the same as i have experienced in just our WGT CC . 
  
  That is just a sign of the times . And what appears to be somewhat of a disconnect to everything related to our online golf passion . I don't know how to put it other than that . Because I think that this has slowly crept into many other areas of our lives outside of WGT . Possibly other games as well . Other passions and hobbies have lost a little passion . I would hope that if this has been a little trend . That something , somehow recharges it , us , them , you . Everything . With some new and exciting hope and energy . Something revolutionary . Epic . More challenging and funner than imagined . Lol . Right ? IDK . I'm not just spouting off a bunch of negative shit . That I am imagining and really isn't happening . 
  
  Unless of course . interacting with WGT users is some abnormal experience with  completely distorted and mis leading influences and results . masking real life as we know it and morphing us into these Zombie Golf Gnomes . 
Hmm . You think ? 

  Lol . i don't know what IT is but i have been non stop cheer leading , pep rallying , promoting , selling ideas and formats and events . Positively  , optimistically never ( hardly ever ) slowing or missing a beat in my CC and in my recruiting efforts . For going on 3 years now . 
  Around a year and a half ago . We were at 60 members . Going strong with high activity in WGT and here in the site . Including several Champions , several Tour Legends , over 20 Legends , 25 mixed other tiers . All long time members . A couple years anyway . Not long by some CC standards for sure . But a long damn time for me . 

  It was some months later I learned a very valuable lesson . After a couple years of building and growing . 
  
  ( might add that we could easily have been a 250 member CC 2 times over . With 60 active members . Not unlike many large CC's today . As I have turned away over 500 members . If they don't want to talk to me . Our CC is not a good fit for them . On top of that . If they don't have time to play 1 CC tourney out of say every 75 or 100 WGT tournaments . Also not a good fit . If that or either of those was the case . Even with 500,000 , 600,00 XP's . I have removed way over 3,000,000 XP's . For instance right now we have 40 members . 20 members with over 100,000 XP's . We have had 60 members that have surpassed 100,000 XP's . )

  Building and growing . Incredible spirit . Comaradery . The whole 9 . It felt like it had finally worked . That we were on the virge of being that breakout up and coming Team of the Future . And i had the reassurance of so many that had been posting for the last couple years that it was us or no one . That they were here till the dying end . That they'll go down with the ship . In it for the long haul . Committed , devoted , happy . It was GR8 .

  But I had no idea that that wasn't the case at all . And in almost a blink of an eye . That would all disappear . 
  There were several incidents . That no one had seen coming . No one could have known or predicted any thing close . 
  One incident I should say meltdown between myself one of our most ambitious Champions . Resulted in him quitting moments before I probably should remove him . Started another CC . And unbenounced to me . Another ambitious member made some misunderstood comments that were taken completely out of context causing several other GR8 members to follow . This went on with out my knowledge that there had been a conversation with this misunderstood member . They were all of a sudden gone . At the same time as a couple others felt that it was just time to move on . As many WGTers do at some point . I wish it didn't . But it does . A couple others just left WGT altogether . I lost contact with a couple others that i came to find out a year and a half later had just gone through serious divorces . A couple others that decided to not respond anymore . 
  Before I knew it . We were below 30 members . It was so fast and without warning . And completely unrelated incidents .
   So that is how we began 2016 . 
  Still with 12 original members . 
  Have just now , almost to this day 2/1/2017 rebuilt and recovered and gathered some more exceptional members . That are here to stay and be the strong VOTSCC that is on the rise still as a just a GR8 group . With 40 proud and good members . That can hold their own . On their own . That is more than i could ask of 40 members . 

  So here we are . In this virtual ghost town . I am fine with that . I use this place all day everyday . Anyone else can use it as much as they want . Or not . 
  One of the GR8 features that I use dozens of times a day is the very fast and convenient image host here . https://servimg.com/ . ( BTW I only use the image host and insert image . My storage is all on my computer . )
  I just click on my favorites bar . That takes me to an open reply post in a hidden forum in an instant . Click on " Host An Image " . Any member can do the same thing in any topic in the quick reply box at the bottom of every topic . That is what i am writing in right now . it has an incredible edit bar as you can see . YouTube , Daily Motion , Flash , WYSIWYG , Switch editor , tables , codes , spoiler , quotes , hidden  , formatted , unformatted , remove formatting, Header format , font , size , color , time , date ,  separately , vertical and horizontal scrolling , exponent , index , margins , bold , italics , underline , strike , lists , line breaks , smileys , etc . Available to all users 







  There are a lot of user friendly easy to use features here . All quick and safe and savable . And quite a bit more .
---
Permissions in this forum:
You
cannot
reply to topics in this forum