THAT'S ENTERTAINMENT
CLICK ON ANY OF THESE LINKS TO FIND OUR EXTREME ENTERTAINMENT
Statistics
We have
382
registered users
The newest registered user is
theshawno
Our users have posted a total of
10300
messages in
2688
subjects
July 2021
| Mon | Tue | Wed | Thu | Fri | Sat | Sun |
| --- | --- | --- | --- | --- | --- | --- |
| | | | 1 | 2 | 3 | 4 |
| 5 | 6 | 7 | 8 | 9 | 10 | 11 |
| 12 | 13 | 14 | 15 | 16 | 17 | 18 |
| 19 | 20 | 21 | 22 | 23 | 24 | 25 |
| 26 | 27 | 28 | 29 | 30 | 31 | |
Calendar
71 WGT TUTORIALS & 32 YOUNG46 TUTORIALS
CLICK HERE
TO SEE OVER 100 YOUTUBE VIDEO TUTORIALS . FROM WGTers , WGT & YOUNG46
FORUM UPDATE
THIS FORUM IS FOR YOU ALL . PLEASE FEEL LIKE IT IS YOURS . READ THE FORUMS. POST COMMENTS . ASK QUESTIONS . IF YOU HAVE A COMPLAINT POST IT . MAKE SUGGESTIONS . READ SOME TUTORIALS . READ SOME GOLF TIPS . CHECK RECENT TOURNEY WINNERS . BROWSE OUR OLD FORUM ARCHIVES . LOG IN TO THE CHAT AND MESSAGE SOMEONE TO MEET YOU THERE AND ARRANGE A MATCH . LOG IN TO THE CHAT TO SEE IF SOMEONE IS THERE JUST TO SAY HI . MESSAGE ME IF YOU WANT TO GET ON THE DAILY BLITZ .
THE BLITZ SCORECARD IS ON
Page 3
PLEASE CLICK
HERE
TO FIND THE COURSE OF THE DAY AND SEE
THE WEEKLY STANDINGS .
PLEASE POST
YOUR SCORES HERE. IN THIS
KWIK KLIK TO YOUR FAV FORUM
Owner's Objectives
It's been a while since I expressed some of my objectives for the CC . First of all I like and respect everyone that joins our club . I realize that not everyone knows what a CC is all about . Many have different reasons for joining . I really don't know how many of the other clubs are run . They are all different . What I want to emphasize in our CC is that whatever tier you are . That you feel comfortable here , part of a team of players that come here to find conditions that enable them to improve their game , hone their skills , lower their scores ,lower their averages , move up in tiers . Enjoyably and comfortably with the conditions that challenge them enough to keep that drive without the frustrationsof regular game play . All that is completely possible by either creating those tourneys yourself or by messaging me about it . Or someone else in your tier that has been creating tourneys . Any kind of information that you need to know should be provided here , any kind of appp , calculator , help , tutorial , tournament , statistic , message , opinion , gripe , compliment , etc , etc . Should able to be aqcuired here ( or in our website , as it may be easier there ). With your help , all of this can be done easily . We already have a good start . I am going to be here for a very long time trying to achieve all this . For any of you that think it's a good direction for your CC to go in . Then lets keep on keepin on . Sincerely , Your Co team member PDB1 , Paul ( sitting here on a rare rainy day ) May the SUN always be with you
POST OF THE WEEK
Re:
Where are the Flags ?By Bertasion in Valley of the Sun Casual Club The other day upon the heather fair I hit a flagstick that was not there. I saw it's shadow and heard the clank but where it stood was just a blank. It was not there again today. I wonder when it will come back and stay. Brian
BLITZ LIST
HERE IS THE LIST OF BLITZ COURSES IN THE ORDER THEY ARE PLAYED EVERY WEEK OF EVERY SEASON .
DAILY BLITZ WEEKLY SCHEDULE



WEEK 1

BEST OF BANDON PAR 3
PEBBLE BEACH
THE OLYMPIC CLUB
VAHALLA
MERION


WEEK 2

PINEHURST NO.2
HARBOUR TOWN
KIAWAH ISLAND
ROYAL ST. GEORGE
CONGRESSIONAL


WEEK 3

ERIN HILLS
ST. ANDREWS
BALI HAI
CELTIC MANOR
BETHPAGE BLACK


WEEK 4

PINEHURST NO. 8
WOLF CREEK
CHALLANGE AT MANELE
EXPERIENCE AT KOELE
HILVERSUMSCHE


WEEK 5

EDGEWOOD TAHOE
BEST OF WATER SHOTS
BEST OF FAMOUS SHOTS
BEST OF PUTTING
CHAMBERS BAY
TIER & AVERAGE REQUIREMENTS
BASIC LEVEL AND AVERAGE REQUIREMENTS , AND SATURATION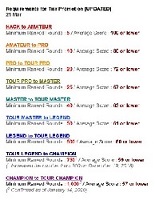 JimQ916


4,366 Posts

Tue, Nov 8 2016 1:47 PM
Hi everyone....every so often I post something about the Blitz that Cory runs everyday (M - F). We have several new members in the CC, and I just want to get the word out about it. If you've never played this format before, you are missing out on an extremely fun tournament. Here's everything you need to know: 

What is Blitz?
The Blitz is a fast paced single or multi-player game in which you take 9 shots per round ....just like a CTTH format. It can be played in a single play mode (only you) or you can play with 2 - 3 other participants....you choose. When we play our CC Blitz, it usually is played in the single player mode, but you can actually play with others and still get a score to post.

 What is the difference between Blitz and Closest to the Hole?
Blitz uses a different scoring format that incorporates things like streaks, bonuses, and multipliers. The goal is still to get your ball as close to the hole as possible (like Closest to the Hole format). Unlike the CTTH format, players compete for the highest score (instead of the lowest) possible.

How does the scoring work?
Each hole is worth a base score of 10,000 points. Your score is calculated by adding up your total distance from the flag stick with your shot. Like Closest To The Hole (CTTH) games, there are penalty feet added to your distance if your ball lands in a hazard or off the green. Your distance (and penalty) is then multiplied by 100, and that total is subtracted from 10,000 to give your base score. Streaks and bonuses are then applied to the base score to give you your final score for the hole. Certain streaks and bonuses can be combined to create unique high-scoring combinations (see below):
 What are the streaks and bonuses I can get?
Hit the Green Bonus
• Each time your ball ends up on the green, you'll get a bonus of 50 points. 

Green Streak
• Each time your ball ends up on the green on consecutive holes, you'll go on a "Green Streak". Once a shot fails to land on the green, the "Green Streak" will be broken, and you'll have to land on the green on a future hole to start another. An example is that if you have a hit 3 greens in a row and miss the 4th, your streak will end and you have to hit another green to start another. The points you earn for a "Streak" is doubled each hole (ie: 2 greens = 100 pts / 3 greens = 200 pts / 4 greens = 400 pts, etc, etc). Hitting all 9 greens is your goal and you get a bunch of bonus points if you do it.

Accuracy Streak
• Each time your ball ends up inside 10 feet of the hole on consecutive holes, you'll go on an "Accuracy Streak". You get 1,000 bonus points for landing 2 in a row within the 10 feet, 2,000 if you hit 3 in a row, 4,000 if you hit it close 4 in a row, and so on and so forth. This is separate from the " Green Hit"  / "Consecutive Greens Hit" bonus....you get both of them. Once a shot fails to land inside 10 feet, the "Accuracy Streak" will be broken, and you'll have to land inside 10 feet again on consecutive holes to start another one.
 Hit the Pin Bonus
• If your ball hits the pin and doesn't drop in for a Hole-in-One, you'll get a 25,000 point bonus. A nice reward for having good aim! Those 25,000 points more than make up for the darn ball not going in the hole....well, sort of.

 Hole in One Bonus/Streak
• This is the greatest shot in golf, and in Blitz it's no different. Get a Hole-in-One and you'll get a 40,000 point bonus and your score for the entire round will be doubled, both points / bonuses already earned and all future points you earn (including "Streak" bonus's). Most of the time you'll also hit the pin when you hole out, and if you do, you'll receive another 25,000 bonus points added onto the 40,000 for the HIO. Get more than one Hole-in-One in a row and you'll go on a "Hole in One Streak", will get you an unthinkable amount of bonus points. This adds to the intrigue of the game, as even the worst of rounds can turned into high scoring ones with a Hole in One. Get one late in the game for the ultimate comeback!
That about covers it. Playing in our Blitz is something everyone should try....they are fun as heck and are addicting sd well (I most definitely am). If you're unsure about playing because it seems complicated, please play a round or 2 (it's in the game menu....just click the "Single Player Blitz" and off you go). Once you play a couple times, you'll see how really easy and fun it is. The above explains everything about the Blitz in general and the scoring used, so here is the specific's that have to do with how to play Cory's Blitz Tournament within the CC:
OUR BLITZ TOURNAMENTS ARE A FUN, CHALLENGING, ADDICTING, SOMETIMES FRUSTRATING EVENT FOR VOTSCC MEMBERS WHERE YOU CAN LEARN, PRACTICE AND IMPROVE YOUR APPROACH SHOTS / SHORT GAME AND PUTTING ON A DAILY BASIS .
We use a different Course every Day, 5 Days per Week (M - F) for 5 Weeks...25 Courses (each season)...each season we repeat these these 25 courses in the same order that we just played them (the courses, and order we play them, are listed below).

Anyone can join at any point in a Season...you need not wait until a new season starts. If you want to join us, simply PM Cory and he'll add your name to our Blitz Tournament roster (on our Website) and you'll be there permanently from then on out.  When he does add you, and you play your round for the day, simply go to the Website and post your score next to your name....do this every day. To post your score, click the website and click the link that says "POST BLITZ SCORES HERE" (it's on page 1 (Homepage) of the site (top right) or go to page 3 and there a link there too (also top right)......go to the last page of the thread, and when you get there, scroll down to the bottom and you'll see a post for the week with the appropriate courses listed...just click "Edit", go to the red box, add your score next to your name, then click "Post"....it's that simple.Once you do it once or twice, it will become 2nd nature to you. If you get there and there is no "Edit" button, it means that you're not signed in....just sign in and that button will be there.

Each week Cory posts the scorecard for that weeks' Courses on the website (same post as adding your score). He also posts the Courses for that week (usually on Sunday) in our Forum here: DESERT BLITZ SEASON ___, WEEK ____.
You can play as many times as you want to get a score you're happy with. Play once, 10, 100 times....totally up to you. You can restart rounds if you're not happy with how things are going. The only catch is that you have to have a score posted before midnight of that day. Sometimes there are times where you can't play that day and that's understood....you can play the courses before or after the regular day, but make sure to get a score posted for every course....if you have to do this, let Cory know (beforehand if possible). Cory updates his spreadsheet on the weekend at the end of that week so please make sure to have everything posted by midnight on Friday. We're on the "Honor System" here, and posting a correct score is up to you to do...it isn't recorded automatically, as all other tournaments are. Although the scores aren't automatically posted to the Blitz spreadsheet, you can see your scores by visiting your "Scoring History" in your profile....this especially comes in handy if you play more than once to find your best score to post. If you have to post a score late, it's not a problem, but please do everything in your power to play (and post) on the correct day. Also, please (and I can't emphasis this enough) don't make it a habit of this! Posting a score late will make you ineligible for "High Score For The Day" (no credits involved...just the recognition), but will still count toward the Weekly, Mystery and Season Totals. It causes Cory more work which he doesn't need. It's best that you post a score early or late then not at all though!!!
Enlarge this image
Click to see fullsize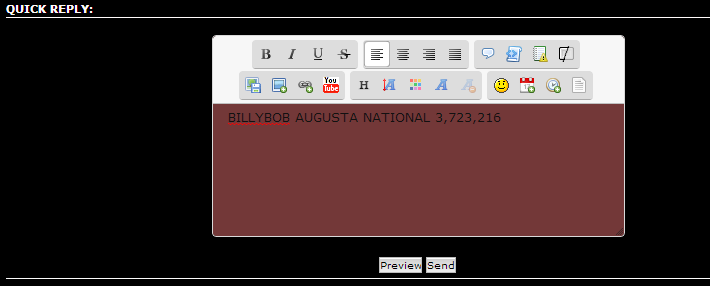 This a fun event and not really a competition...we're just here to have fun, enjoy ourselves and work on our irons / total short game and putting....this really does help. The Blitz does not count against your average in any way at all, so don't be afraid of it going up...it won't
PRIZES AWARDED:
Prizes are awarded for Weekly High score, Season High Score and a weekly "Mystery Score", which is a number Cory determines at the beginning of the week before we start. Here's what they are:

The Weekly and Mystery score winners will both receive 100 credits to the pro shop. 

The Season winner will receive 1400 credits for the pro shop.
Cory keeps track of the credits and add them to a bank until season's end...at that time they'll be rewarded...they can't be given to you but Cory will gift you what you want from from the Pro Shop...usually balls or such.
COURSES:
Here are the Courses we use and the order we play them.....my suggestion is to print them out so you have easy access to them and you don't get confused about what course is for that day. Like I said before, Cory always posts the courses for the week on here (in this Forum) and on the website, but it's much easier to keep track if you have the paper in your hand...it's totally you to you how you keep track, but please do it someway. There's nothing more maddening than playing a round on a course not designated for that day, especially if you hit a pin or hole a shot.
WEEK 1
BEST OF BRANDON PAR 3
PEBBLE BEACH
THE OLYMPIC CLUB
VAHALLA
MERION
WEEK 2
PINEHURST NO.2
HARBOUR TOWN
KIAWAH ISLAND
ROYAL ST. GEORGE
CONGRESSIONAL
WEEK 3
OAKMONT
ST. ANDREWS
BALI HAI
CELTIC MANOR                                                                                                      BETHPAGE BLACK
WEEK 4
PINEHURST NO. 8
WOLF CREEK
CHALLANGE AT MANELE
EXPERIENCE AT KOELE
HILVERSUMSCHE

WEEK 5
EDGEWOOD TAHOE
BEST OF WATER SHOTS
BEST OF FAMOUS SHOTS
BEST OF PUTTING
CHAMBERS BAY
That does it....3 easy steps to join up and play:
1) PM Cory so he can add you to the roster
2) Play your round for the day on the course designated

3) Post your score on the website

If anyone has any questions or are confused in any way, just PM me, Cory or Paul and we'll answer you and get you straightened out. You can also post in this thread if you want....either way we'll get you an answer. I hope to see you all there...we currently have 6 members who play and are always looking for more...IT REALLY IS ADDICTING!!!!! Jim
***If you are a mobile user, please get a hold of Cory about specifics about how to play these. All of the he blitz courses are supported in the web based version (PC' s / Laptops), but some courses aren't for mobile users and some other courses need an additional step to play. Cory will give you the info you need to enjoy these. Cory, in addition to running the Blitz, is also our Director of "All Things Mobile"...he's a wealth of information!!!!
Last edited by Paul on Thu 27 Aug 2020, 19:03; edited 1 time in total
I want to play in the Blitz. How do I sign up???  daja1012

daja1012




Posts

: 11


Join date

: 2017-05-20



@daja1012

wrote:I want to play in the Blitz. How do I sign up???  daja1012
  First read this daja 
" HOW TO PLAY OUR BLITZ "
  Then message Cory
---
Permissions in this forum:
You
cannot
reply to topics in this forum