THAT'S ENTERTAINMENT
CLICK ON ANY OF THESE LINKS TO FIND OUR EXTREME ENTERTAINMENT
Statistics
We have
423
registered users
The newest registered user is
networthtalks
Our users have posted a total of
11680
messages in
2895
subjects
August 2022
| Mon | Tue | Wed | Thu | Fri | Sat | Sun |
| --- | --- | --- | --- | --- | --- | --- |
| 1 | 2 | 3 | 4 | 5 | 6 | 7 |
| 8 | 9 | 10 | 11 | 12 | 13 | 14 |
| 15 | 16 | 17 | 18 | 19 | 20 | 21 |
| 22 | 23 | 24 | 25 | 26 | 27 | 28 |
| 29 | 30 | 31 | | | | |
Calendar
71 WGT TUTORIALS & 32 YOUNG46 TUTORIALS
CLICK HERE
TO SEE OVER 100 YOUTUBE VIDEO TUTORIALS . FROM WGTers , WGT & YOUNG46
FORUM UPDATE
THIS FORUM IS FOR YOU ALL . PLEASE FEEL LIKE IT IS YOURS . READ THE FORUMS. POST COMMENTS . ASK QUESTIONS . IF YOU HAVE A COMPLAINT POST IT . MAKE SUGGESTIONS . READ SOME TUTORIALS . READ SOME GOLF TIPS . CHECK RECENT TOURNEY WINNERS . BROWSE OUR OLD FORUM ARCHIVES . LOG IN TO THE CHAT AND MESSAGE SOMEONE TO MEET YOU THERE AND ARRANGE A MATCH . LOG IN TO THE CHAT TO SEE IF SOMEONE IS THERE JUST TO SAY HI . MESSAGE ME IF YOU WANT TO GET ON THE DAILY BLITZ .
THE BLITZ SCORECARD IS ON
Page 3
PLEASE CLICK
HERE
TO FIND THE COURSE OF THE DAY AND SEE
THE WEEKLY STANDINGS .
PLEASE POST
YOUR SCORES HERE. IN THIS
KWIK KLIK TO YOUR FAV FORUM
Owner's Objectives
It's been a while since I expressed some of my objectives for the CC . First of all I like and respect everyone that joins our club . I realize that not everyone knows what a CC is all about . Many have different reasons for joining . I really don't know how many of the other clubs are run . They are all different . What I want to emphasize in our CC is that whatever tier you are . That you feel comfortable here , part of a team of players that come here to find conditions that enable them to improve their game , hone their skills , lower their scores ,lower their averages , move up in tiers . Enjoyably and comfortably with the conditions that challenge them enough to keep that drive without the frustrationsof regular game play . All that is completely possible by either creating those tourneys yourself or by messaging me about it . Or someone else in your tier that has been creating tourneys . Any kind of information that you need to know should be provided here , any kind of appp , calculator , help , tutorial , tournament , statistic , message , opinion , gripe , compliment , etc , etc . Should able to be aqcuired here ( or in our website , as it may be easier there ). With your help , all of this can be done easily . We already have a good start . I am going to be here for a very long time trying to achieve all this . For any of you that think it's a good direction for your CC to go in . Then lets keep on keepin on . Sincerely , Your Co team member PDB1 , Paul ( sitting here on a rare rainy day ) May the SUN always be with you
POST OF THE WEEK
Re:
Where are the Flags ?By Bertasion in Valley of the Sun Casual Club The other day upon the heather fair I hit a flagstick that was not there. I saw it's shadow and heard the clank but where it stood was just a blank. It was not there again today. I wonder when it will come back and stay. Brian
BLITZ LIST
HERE IS THE LIST OF BLITZ COURSES IN THE ORDER THEY ARE PLAYED EVERY WEEK OF EVERY SEASON .
DAILY BLITZ WEEKLY SCHEDULE



WEEK 1

BEST OF BANDON PAR 3
PEBBLE BEACH
THE OLYMPIC CLUB
VAHALLA
MERION


WEEK 2

PINEHURST NO.2
HARBOUR TOWN
KIAWAH ISLAND
ROYAL ST. GEORGE
CONGRESSIONAL


WEEK 3

ERIN HILLS
ST. ANDREWS
BALI HAI
CELTIC MANOR
BETHPAGE BLACK


WEEK 4

PINEHURST NO. 8
WOLF CREEK
CHALLANGE AT MANELE
EXPERIENCE AT KOELE
HILVERSUMSCHE


WEEK 5

EDGEWOOD TAHOE
BEST OF WATER SHOTS
BEST OF FAMOUS SHOTS
BEST OF PUTTING
CHAMBERS BAY
TIER & AVERAGE REQUIREMENTS
BASIC LEVEL AND AVERAGE REQUIREMENTS , AND SATURATION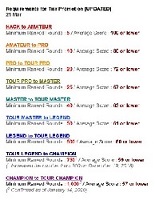 WHAT YOU CAN DO TO ABOUT IT
WHAT'SUP WHATSAP AND OTHER APPS . HERE IN THIS SITE . THE SKY IS YOUR LIMIT . IF YOU WANT TO PROMOTE , GROW , SHARE , IMPROVE , UPDATE POST AND LEARN ABOUT YOUR PRODUCT OR ANY PRODUCT . YOU CAN DO ALL OF THE ABOVE . JUST DO IT .
NOTE:HITTING IRON SHOTS USING THE % OF POWER
Your power meter for putting may be used, if the alignment of the hash marks for 0% and 100% line up.
If not you must make a second meter as you did for the putting, aligning those 5% increments with the iron  shot WGT meter, just as you did for putting.
Calculations for percent of power to hit a selected iron requires some information available to you.  On the green you are hitting to is most of the information needed.
Distance to the hole in yards
The elevation of the green surface is relationship to your ball.  Usually listed in feet or inches
The direction of the wind in reference to your shot line.
The listed maximum distance the club selected will travel if hit properly ( found on the lower left side next to the iron selected)
Note:  The true distance to the hole is affected by the elevation of the green.  If a green is above the ball it will take more power to reach than if a green is below the hole.  This is just simple physics.
ADJUTMENT for Elevation: for every 3 feet change you must add or subtract one yard
Example 1:  You are 167 yards away from the flag the green is also 15 feet above the ball
15ft. div by 3 =  + 5 extra yds. needed to reach the pin or a total of 167+ 5= 172 yds.
  Example 2:  You are 154 yds. from the pin and the green is 37 feet below the ball.
37 ft. div. by 3 =  - 12.3 yds. Needed to reach the pin or a total of 154 yds. – 12.3 yds.=  141.7 yds.
THE FORMULA:
Dist. To the pin +/- elevation div by max. distance club will hit
Example:   159 yds to the green with a rise in elevation of 8 feet.  8div by 3 = + 2.7 yds
159 yds + 2.7 yds = 161.7 yd shot div by 175 yds (5 iron that goes 175 yds) = 92.4% power
(must adjust distance if wind will affect distance of ball)
Other Examples:  127 yds with drop of 21 feet  ..21div by 3 = - 7 yds
137 – 7 = 120 shot to pin 
120 div by 130 (9 iron max. dist) = 92.30% power.  Draw meter to 92.3% and hit the ding
For reference:
Rough and sand affect distance: 
To factor this into the distance use the following chart:
Rough                               Sand
20-30% add 7%       15-20% add 5%
25-30% add 10%     30-40% add 20%
30-40% add 15%     50-60% add 25%
All else pitch to fairway and suck it up 
EXAMPLE:  143 yds to pin in  20-30% rough.  Green is above ball by 19 ft. (6.3 yds) 
using a 7 iron (160yd)
143 + 6.3 div by 160 = 85.3% + 7% (ruff) = 92.3% power to reach the pin..hit the ding ..
PERCENT OF POWER FOR WGT PUTTING
The calculating of the % of power needed is based on the use of a handmade paper % gauge that is placed on your monitor directly above or below the WGT meter.
MAKING THE GUAGE:
While on a green place a full size sheet of white paper under the WGT meter.
Mark the exact start and finish of the WGT meter, with hash marks, onto the edge of this paper.
Remove the paper and cut a long strip at least 3/8' wide and ¼" longer than the two marks.  Fold this paper in half lining up both hash marks exactly and repeat by folding again into fourths.  
Unfold this strip of paper and place has marks on the creases made.
This is the start of your hand made meter.
You now need to mark the hashes as follows: 0%    25%   50%   75%   100%
Now carefully determine the exact placement between 0% and 25% of 4 more hash marks (these must be exactly equal in spacing.  
Now you will mark these new hash marks with 5%  10%  15%  20%.
Copy these hash marks onto a separate small piece of paper and fill in all open spaces between the other marks made from the creases.
Your meter will look like this:
I        I       I        I       I       I        I        I      I        I >>>>>>>>>> I
0% 10% 15% 20% 25% 30% 35% 40% 45% 50%>>>>>>>>100%
Tape this onto your monitor lining up the 0% & 100% marks exactly with the start and max on you WGT meter
How to calculate % of power need to reach the hole
5 pieces of information are needed: 
3 are found in the box located over the pin
The distance to the hole from your ball  (usually in feet or yards)
The elevation of the ball in regards to the hole (usually in inches, but could be feet also)
The drop or rise indicated by which way the small green arrow head is pointing.
(up means the ball will go up hill – down means the ball will drop.)
The fourth variable number is found on your WGT putting gauge. It is the number located in the box to the far right on the meter. It is usually listed in feet or yards.  This number will vary depending on the quality of the putter you are using.
The formula:
Note: there is a constant that must be inputted on each calculation.  That is the green speed assigned for the game and it will not change for the entire game. 
Write these down:
Tournement Greens: factor 0.75%
Very Fast Greens: factor 0.9%
Fast Greens: 1.0%
Standard Greens: factor 1.1%
Slow Greens: factor 1.2%
EXAMPLE:  (for every one inch of elevation change the distance to the hole will be affected by one foot)
If the ball drops 4 inches you must subtract 4 feet from the putt distance – if it rises you must add 4 feet in distance)
ON THE GREEN: 
27 feet to the pin on very fast greens and the ball drops 4 inches to the hole
27ft – 4inches = 23ft.  Since the ball will roll freely downhill this will adjust for that.
23ft X 0.9(grn spd factor) = 20.7 ft to cup. 
WGT meter shows maximum putt distance of 40 ft.
20.7ft Div 40ft = 51.57%
To hit the ball to the cup will require bringing you wgt meter to as close to 51.75% on your paper gauge. Adjust for the curve (sideways roll) and hit the ding.
This putt should stop within 2 feet of the hole or in the cup.  I always add like 2-3% to be sure I reach the hole.
PRACTICE -  PRACTICE – N- PRACTICE 
If you also wish to use the meter to make iron shots I can give you the calculations needed for those also.  The results are accurate but the clubs you use will affect the results along with adjusting for wind speed and hitting the ding of course.
These are not cheat sheets as you still must use judgment and eye finger co-ordination
Confused?
john - azdewars
Do you recommend grid locked or unlocked?

NEXT260




Posts

: 17


Join date

: 2016-09-04



---
Permissions in this forum:
You
cannot
reply to topics in this forum