THAT'S ENTERTAINMENT
CLICK ON ANY OF THESE LINKS TO FIND OUR EXTREME ENTERTAINMENT
Statistics
We have
383
registered users
The newest registered user is
AQUAWRAP
Our users have posted a total of
10376
messages in
2706
subjects
July 2021
| Mon | Tue | Wed | Thu | Fri | Sat | Sun |
| --- | --- | --- | --- | --- | --- | --- |
| | | | 1 | 2 | 3 | 4 |
| 5 | 6 | 7 | 8 | 9 | 10 | 11 |
| 12 | 13 | 14 | 15 | 16 | 17 | 18 |
| 19 | 20 | 21 | 22 | 23 | 24 | 25 |
| 26 | 27 | 28 | 29 | 30 | 31 | |
Calendar
71 WGT TUTORIALS & 32 YOUNG46 TUTORIALS
CLICK HERE
TO SEE OVER 100 YOUTUBE VIDEO TUTORIALS . FROM WGTers , WGT & YOUNG46
FORUM UPDATE
THIS FORUM IS FOR YOU ALL . PLEASE FEEL LIKE IT IS YOURS . READ THE FORUMS. POST COMMENTS . ASK QUESTIONS . IF YOU HAVE A COMPLAINT POST IT . MAKE SUGGESTIONS . READ SOME TUTORIALS . READ SOME GOLF TIPS . CHECK RECENT TOURNEY WINNERS . BROWSE OUR OLD FORUM ARCHIVES . LOG IN TO THE CHAT AND MESSAGE SOMEONE TO MEET YOU THERE AND ARRANGE A MATCH . LOG IN TO THE CHAT TO SEE IF SOMEONE IS THERE JUST TO SAY HI . MESSAGE ME IF YOU WANT TO GET ON THE DAILY BLITZ .
THE BLITZ SCORECARD IS ON
Page 3
PLEASE CLICK
HERE
TO FIND THE COURSE OF THE DAY AND SEE
THE WEEKLY STANDINGS .
PLEASE POST
YOUR SCORES HERE. IN THIS
KWIK KLIK TO YOUR FAV FORUM
Owner's Objectives
It's been a while since I expressed some of my objectives for the CC . First of all I like and respect everyone that joins our club . I realize that not everyone knows what a CC is all about . Many have different reasons for joining . I really don't know how many of the other clubs are run . They are all different . What I want to emphasize in our CC is that whatever tier you are . That you feel comfortable here , part of a team of players that come here to find conditions that enable them to improve their game , hone their skills , lower their scores ,lower their averages , move up in tiers . Enjoyably and comfortably with the conditions that challenge them enough to keep that drive without the frustrationsof regular game play . All that is completely possible by either creating those tourneys yourself or by messaging me about it . Or someone else in your tier that has been creating tourneys . Any kind of information that you need to know should be provided here , any kind of appp , calculator , help , tutorial , tournament , statistic , message , opinion , gripe , compliment , etc , etc . Should able to be aqcuired here ( or in our website , as it may be easier there ). With your help , all of this can be done easily . We already have a good start . I am going to be here for a very long time trying to achieve all this . For any of you that think it's a good direction for your CC to go in . Then lets keep on keepin on . Sincerely , Your Co team member PDB1 , Paul ( sitting here on a rare rainy day ) May the SUN always be with you
POST OF THE WEEK
Re:
Where are the Flags ?By Bertasion in Valley of the Sun Casual Club The other day upon the heather fair I hit a flagstick that was not there. I saw it's shadow and heard the clank but where it stood was just a blank. It was not there again today. I wonder when it will come back and stay. Brian
BLITZ LIST
HERE IS THE LIST OF BLITZ COURSES IN THE ORDER THEY ARE PLAYED EVERY WEEK OF EVERY SEASON .
DAILY BLITZ WEEKLY SCHEDULE



WEEK 1

BEST OF BANDON PAR 3
PEBBLE BEACH
THE OLYMPIC CLUB
VAHALLA
MERION


WEEK 2

PINEHURST NO.2
HARBOUR TOWN
KIAWAH ISLAND
ROYAL ST. GEORGE
CONGRESSIONAL


WEEK 3

ERIN HILLS
ST. ANDREWS
BALI HAI
CELTIC MANOR
BETHPAGE BLACK


WEEK 4

PINEHURST NO. 8
WOLF CREEK
CHALLANGE AT MANELE
EXPERIENCE AT KOELE
HILVERSUMSCHE


WEEK 5

EDGEWOOD TAHOE
BEST OF WATER SHOTS
BEST OF FAMOUS SHOTS
BEST OF PUTTING
CHAMBERS BAY
TIER & AVERAGE REQUIREMENTS
BASIC LEVEL AND AVERAGE REQUIREMENTS , AND SATURATION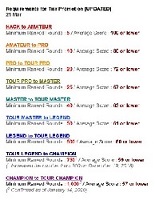 Hi everyone...here are a few jokes to give you a few chuckles today. Some are really good, some lame and some are repeats (I'm old enuf to forgot which one's I've already posted). Also, if you're blonde, please don't take offense!!! There are no real off-color jokes here so I'm going to rate this post PG13....read at your own risk though. As always, please don't shoot the messenger (me!!!)....Jim

Q: How do you know a woman is having a bad day?
A: Her tampon is behind her ear, and she can't find her pencil.
*******************************
A blonde was swerving all over the road so she got pulled over by a cop.
The cop asked, "Miss, why are you driving so recklessly?"
The blonde said, "I'm sorry, sir, but wherever I go, there's always a tree in front of me, and I can't seem to get away from it!"
The cop told her, "Lady, that's your air freshener."
*******************************
A doctor tells a group of patients, "The material we put into our stomachs is terrible. Red meat is awful. Soft drinks corrode your stomach lining. Chinese food is loaded with MSG. High-fat diets can be disastrous, and none of us realizes the long-term harm caused by the germs in our drinking water. But there is one thing that is the most dangerous of all. Can anyone here tell me what food it is that causes the most grief and suffering for years after eating it?" An old man raises his hand and says, "Wedding cake."
*******************************
Q: What has 75 balls and screws old ladies?
A: Bingo.
*******************************
Q: Why did the mirror have holes in it?
A: A moron kept trying to shoot himself.
*******************************
A man comes home from work to find his wife sliding down the banister.
"What are you doing?" he asks.
She answers, "Warming up your dinner."
*******************************
Q: What does sex have in common with a savings account?
A: You're really excited when you make a deposit and you're really sad when you make a withdrawal.
*******************************
I sent away for a penis enlarger. The smart a**es sent me back a magnifying glass.
*******************************
Q: Why did the chicken cross the basketball court?
A: He heard the ref was blowing fowls.
*******************************
A little boy and a little girl are in the bathtub together. The little girl looks down at the boy and asks, "Can I touch it?"
He answers, "No way -- you broke yours off!"
*******************************
Ted and Julie go to bed with each other for the first time.
Julie: "I should warn you, I've got acute angina."
Ted: "Your breasts aren't bad either."
*******************************
A woman tells her doctor, "My husband is 300% impotent.
The doctor asks her, "I'm not quite sure what you mean. Could you elaborate?"
She replies, "Well, the first part you can imagine, but he also burned his tongue and broke his finger."
*******************************
Q: What's the downside to bigamy?
A: More than one mother-in-law.
*******************************
Q: If the dove is the bird of peace, what is the bird of true love?
A: The swallow.
*******************************
A little boy with two black eyes walks into church one Sunday. The priest notices him and is very concerned.
"What happened, my child?"
"I was singing in the choir, Father, and I noticed that the girl in front of me had a wedgie. So I pulled it out, and she punched me in the eye."
"Okay. But how did you get the other black eye?"
"Well, I thought I'd done something wrong. So I put her wedgie back."
*******************************
Q: Why does a blonde dog have lumps on his head?
A: He's been chasing parked cars.
*******************************
A not so bright man and his wife were happily married and about to have a baby. One day, the wife started having contractions, so the husband rushed her to the hospital, and she gave birth to two baby boys.
The man turned to his wife and yelled, "Dammit Sue, I knew you're cheating on me.....who's the other father?"
*******************************
A woman gets a new cell phone from her husband.
The next day she goes to Wal-mart and her phone rings, so she answers it.
It was her husband. He says, "How's the new cell phone?"
She replied, "Great...but how did you know I was at Wal-mart?"
*******************************
Q: A blonde and a brunette jumped off a cliff. Who hit bottom first?
A: The brunette -- the blonde had to stop and ask for directions.
*******************************
A blonde orders a pizza and is asked if she wants it cut into six or 12 pieces.
She responds, "Six, please. I could never eat 12 pieces."
*******************************
What are a blonde's first words after 4 years of college?
"Would you like fries with that?"
*******************************
Q: What is every womans's ambition?
A: To be like Vanna White and learn the alphabet.
*******************************
A blonde who really needed a job saw an ad in the newspaper for an opening job at an Tickle Me Elmo factory. She applied, but the manager told her that she wouldn't want the job because it was so boring.
The blonde begged him and told him she would do anything because she really needed the money. Finally the manager hired her.
After a few hours, the manager noticed that the conveyor belt was backed up. He went downstairs to find out what was wrong.
He saw that the blonde was sewing two marbles into the crotch of every Elmo.
The manager told her, "I said to give each Elmo two test tickles -- not two testicles!"
*******************************
Q: How do you make a man's brain the size of a pea?
A: Inflate it.
*******************************
A blonde goes to the doctor with burns on both of her ears and her right hand. "Sit down and tell me how it happened," says the doctor.
"I was ironing my clothes when I received a call. Instead of picking up the phone, I picked up the iron and burned my ear."
"'What about the other ear and your hand?" the doctor asked.
She replied, "I tried to call for an ambulance."
*******************************
Q: What do you call a woman with a chainsaw?
A: Stumpy.
*******************************
A blonde says to her doctor, "Each time I try to sip my coffee, I get a sharp pain in my eye."
The doctor says, "Maybe you should take the stirrer out of the cup first."
*******************************
Q: Why can't a blonde count to 70?
A: Because 69 is a bit of a mouthful for her.
*******************************
A blonde sees a flier on a bulletin board that reads, "Cruise -- Only $5." She goes to the address on the flier and hands the receptionist $5. The receptionist nods to a burly man reading a newspaper. He walks over to the blonde and knocks her unconscious.
The blonde wakes up horrified to find she's been tied to a log floating down a river. To her right, she sees one of her blonde friends. "Do you think they're going to feed us on this trip?" she asks.
Her friend replies, "Nope, they didn't last year."

JimQ916




Posts

: 379


Join date

: 2014-12-31



---
Permissions in this forum:
You
cannot
reply to topics in this forum