THAT'S ENTERTAINMENT
CLICK ON ANY OF THESE LINKS TO FIND OUR EXTREME ENTERTAINMENT
May 2021
| Mon | Tue | Wed | Thu | Fri | Sat | Sun |
| --- | --- | --- | --- | --- | --- | --- |
| | | | | | 1 | 2 |
| 3 | 4 | 5 | 6 | 7 | 8 | 9 |
| 10 | 11 | 12 | 13 | 14 | 15 | 16 |
| 17 | 18 | 19 | 20 | 21 | 22 | 23 |
| 24 | 25 | 26 | 27 | 28 | 29 | 30 |
| 31 | | | | | | |
Calendar
71 WGT TUTORIALS & 32 YOUNG46 TUTORIALS
CLICK HERE
TO SEE OVER 100 YOUTUBE VIDEO TUTORIALS . FROM WGTers , WGT & YOUNG46
Gallery
Click on Gallery in toolbar above to see Galleries
FORUM UPDATE
THIS FORUM IS FOR YOU ALL . PLEASE FEEL LIKE IT IS YOURS . READ THE FORUMS. POST COMMENTS . ASK QUESTIONS . IF YOU HAVE A COMPLAINT POST IT . MAKE SUGGESTIONS . READ SOME TUTORIALS . READ SOME GOLF TIPS . CHECK RECENT TOURNEY WINNERS . BROWSE OUR OLD FORUM ARCHIVES . LOG IN TO THE CHAT AND MESSAGE SOMEONE TO MEET YOU THERE AND ARRANGE A MATCH . LOG IN TO THE CHAT TO SEE IF SOMEONE IS THERE JUST TO SAY HI . MESSAGE ME IF YOU WANT TO GET ON THE DAILY BLITZ .
KWIK KLIK TO YOUR FAV FORUM
THE BLITZ SCORECARD IS ON
Page 3
PLEASE CLICK
HERE
TO FIND THE COURSE OF THE DAY AND SEE
THE WEEKLY STANDINGS .
PLEASE POST
YOUR SCORES HERE. IN THIS
Owner's Objectives
It's been a while since I expressed some of my objectives for the CC . First of all I like and respect everyone that joins our club . I realize that not everyone knows what a CC is all about . Many have different reasons for joining . I really don't know how many of the other clubs are run . They are all different . What I want to emphasize in our CC is that whatever tier you are . That you feel comfortable here , part of a team of players that come here to find conditions that enable them to improve their game , hone their skills , lower their scores ,lower their averages , move up in tiers . Enjoyably and comfortably with the conditions that challenge them enough to keep that drive without the frustrationsof regular game play . All that is completely possible by either creating those tourneys yourself or by messaging me about it . Or someone else in your tier that has been creating tourneys . Any kind of information that you need to know should be provided here , any kind of appp , calculator , help , tutorial , tournament , statistic , message , opinion , gripe , compliment , etc , etc . Should able to be aqcuired here ( or in our website , as it may be easier there ). With your help , all of this can be done easily . We already have a good start . I am going to be here for a very long time trying to achieve all this . For any of you that think it's a good direction for your CC to go in . Then lets keep on keepin on . Sincerely , Your Co team member PDB1 , Paul ( sitting here on a rare rainy day ) May the SUN always be with you
POST OF THE WEEK
Re:
Where are the Flags ?By Bertasion in Valley of the Sun Casual Club The other day upon the heather fair I hit a flagstick that was not there. I saw it's shadow and heard the clank but where it stood was just a blank. It was not there again today. I wonder when it will come back and stay. Brian
BLITZ LIST
HERE IS THE LIST OF BLITZ COURSES IN THE ORDER THEY ARE PLAYED EVERY WEEK OF EVERY SEASON .
DAILY BLITZ WEEKLY SCHEDULE



WEEK 1

BEST OF BANDON PAR 3
PEBBLE BEACH
THE OLYMPIC CLUB
VAHALLA
MERION


WEEK 2

PINEHURST NO.2
HARBOUR TOWN
KIAWAH ISLAND
ROYAL ST. GEORGE
CONGRESSIONAL


WEEK 3

ERIN HILLS
ST. ANDREWS
BALI HAI
CELTIC MANOR
BETHPAGE BLACK


WEEK 4

PINEHURST NO. 8
WOLF CREEK
CHALLANGE AT MANELE
EXPERIENCE AT KOELE
HILVERSUMSCHE


WEEK 5

EDGEWOOD TAHOE
BEST OF WATER SHOTS
BEST OF FAMOUS SHOTS
BEST OF PUTTING
CHAMBERS BAY
TIER & AVERAGE REQUIREMENTS
BASIC LEVEL AND AVERAGE REQUIREMENTS , AND SATURATION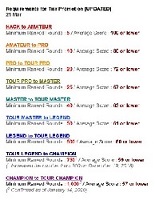 THE WEEK THAT WAS BULLETIN No7
Mca19670
385 Posts

Mon, Apr 17 2017 3:08 PM

   Welcome to the 7th VOTSCC weekly bulletin folks. Not much club news this week what with no CC clash and thankfully no dramas, Quiet week in gereral. You all must be too busy tucking into your Easter eggs you all got off the Easter bunny. One thing that did pop up in the forum that I think is a great idea by Bossman Paul is that he has set up a post that everyones replays can be viewed for everyones enjoyment. The post can be found in the Commonly Used Or Interesting Posts section of the forum. Its the 2nd top post, cant miss it. So all you PC users (unfortunately tablet users cant save replays) get saving those top shots. It also makes my job easier picking the shot of the week so I'm a happy chappie also.


    The TWTW6 JT's Cooking On The Bay tournament was won by the man himself with a score of 26. Congratulations Jeff and thanks to the other 12 participants also.


   INS AND OUTS-- No ins this week and we lost Ladyfromdallas(again) and Br1an so we are now at 40 members.


   ACHIEVEMENTS.
SeeRizz reached Level 60
Dosser53 hit the 100,000 points mark.


   ROUND OF THE WEEK-- A day after he was awarded the round of the week in the last bulletin, Jtcooki obviously was that thrilled that he decided to play Lynns Kick Ass Set of the Week tournament again and this time shot a 27, 1 shot better than what he shot that previous week. Now there was a couple other 27s this week but again the fact that Jeff was playing with unfamiliar clubs edges it again this week. Well done Jeff, but you must be a sick man to even attempt to play with those clubs a 2nd time. Lol.


   SHOTS OF THE WEEK.
JimQ916 49yds at Chambers Bay
Donnymac3 131yds at Best of Hardest
Micamills 145yds at Bethpage
But the shot of the week goes to JimQ916 for his 133yd HIO at the 15th at Chambers Bay and this week we do have a replay of it. Check it out below. Congratulations Jim.replay.aspx?ID=11f88101 fba9 427e a91f a75701329676


   MEMBER V MEMBER-- CoryGRobinson defeated WhiskeyRenegade in a 9 hole strokeplay match.
The highest golf course in the world sits 14,335ft above sea level at its lowest point at the Tactu Golf Club in Morococha, Peru.
I'm the best, I just haven't played it yet. Muhammad Ali.



MCA19670 QUEST FOR A HOLE IN ONE-5 WORD REPORT.
Hit the feckin pin yesterday.


   JIMS JOKE OF THE WEEK.
Whats the difference between a golfer and a fisherman.
When a golfer lies he doesn't have to bring anything home to prove it.


   AND ONE FOR THE LADIES.
Why does it take a million sperm to fertilize one egg.
They really are too damm  proud to stop and ask for directions.


   THIS DAY IN HISTORY-- 1937. Daffy Duck made his debut in Porkys Duck Hunt.

SPONSORED BY DONOTGOOGLEIT.COM.
   1. RULES OF GOLF--True or False--The maximum amount of clubs permitted in a golf bag is 15.


   2. HISTORY OF GOLF--Who was the most successful Zimbabwean golfer of all time.


   3. WHO AM I-- I was born in Carmichael, California in 1966. I have 20 professional wins to my name. I am the only golfer from either Europe or the USA to win 2 Majors but never participate in the Ryder Cup.
POLL-- If you had to go back to starter balls, do you think you could score as good as when you used purchased balls. Maybes Aye or Maybes Naw.
Last weeks poll, The 17th at St.Andrews when the pin is at the top left of green behind the bunker. Is it the hardest hole WGT has to offer. The result was 1 Maybes Aye and 4 Maybes Naw.
JimQ916 requested the artist for this week. Jim gave me about 7 reasons why this band should be included, however one would have been enough. Jim definitely sounded like this bands superfan. So heres a bit of Rush for you Jim. Hope ive picked a good one for you.




REFRESHMENT OF THE WEEK.
Jack Daniels is being served at the 19th this week. Don't know whos buying but I know DufferJohn7 is drinking them along with a cold beer. The top selling American whiskey in the world. It is produced in Lynchburg Tennessee and was founded in1875. Cheers folks and Happy Easter.


   Well that's it for another week. Probably have a CC Clash to get our teeth into next week. Please keep up the requests for songs, drinks anything folks. This doesn't work without your participation so please get those requests in. I'm away to set up this weeks touournament which will be called " Jims Right On Q At Chambers. I will leave you in the capable hands of Hamish McTavish to tell you the conditions.
Right laddies and lassies. Cos its the same course as last week am gonny make it a bit harder this week. So its back tae the default tees and itll be a wee bit more blowy. The greens are as slow as the bloke behind the bar in ma local pub when am wantin a drink served. In fact I'm away there the noo. Might see yis there.
Last edited by Paul on Fri 25 Dec 2020, 22:02; edited 2 times in total
---
Permissions in this forum:
You
cannot
reply to topics in this forum