THAT'S ENTERTAINMENT
CLICK ON ANY OF THESE LINKS TO FIND OUR EXTREME ENTERTAINMENT
May 2021
| Mon | Tue | Wed | Thu | Fri | Sat | Sun |
| --- | --- | --- | --- | --- | --- | --- |
| | | | | | 1 | 2 |
| 3 | 4 | 5 | 6 | 7 | 8 | 9 |
| 10 | 11 | 12 | 13 | 14 | 15 | 16 |
| 17 | 18 | 19 | 20 | 21 | 22 | 23 |
| 24 | 25 | 26 | 27 | 28 | 29 | 30 |
| 31 | | | | | | |
Calendar
71 WGT TUTORIALS & 32 YOUNG46 TUTORIALS
CLICK HERE
TO SEE OVER 100 YOUTUBE VIDEO TUTORIALS . FROM WGTers , WGT & YOUNG46
Gallery
Click on Gallery in toolbar above to see Galleries
FORUM UPDATE
THIS FORUM IS FOR YOU ALL . PLEASE FEEL LIKE IT IS YOURS . READ THE FORUMS. POST COMMENTS . ASK QUESTIONS . IF YOU HAVE A COMPLAINT POST IT . MAKE SUGGESTIONS . READ SOME TUTORIALS . READ SOME GOLF TIPS . CHECK RECENT TOURNEY WINNERS . BROWSE OUR OLD FORUM ARCHIVES . LOG IN TO THE CHAT AND MESSAGE SOMEONE TO MEET YOU THERE AND ARRANGE A MATCH . LOG IN TO THE CHAT TO SEE IF SOMEONE IS THERE JUST TO SAY HI . MESSAGE ME IF YOU WANT TO GET ON THE DAILY BLITZ .
KWIK KLIK TO YOUR FAV FORUM
THE BLITZ SCORECARD IS ON
Page 3
PLEASE CLICK
HERE
TO FIND THE COURSE OF THE DAY AND SEE
THE WEEKLY STANDINGS .
PLEASE POST
YOUR SCORES HERE. IN THIS
Owner's Objectives
It's been a while since I expressed some of my objectives for the CC . First of all I like and respect everyone that joins our club . I realize that not everyone knows what a CC is all about . Many have different reasons for joining . I really don't know how many of the other clubs are run . They are all different . What I want to emphasize in our CC is that whatever tier you are . That you feel comfortable here , part of a team of players that come here to find conditions that enable them to improve their game , hone their skills , lower their scores ,lower their averages , move up in tiers . Enjoyably and comfortably with the conditions that challenge them enough to keep that drive without the frustrationsof regular game play . All that is completely possible by either creating those tourneys yourself or by messaging me about it . Or someone else in your tier that has been creating tourneys . Any kind of information that you need to know should be provided here , any kind of appp , calculator , help , tutorial , tournament , statistic , message , opinion , gripe , compliment , etc , etc . Should able to be aqcuired here ( or in our website , as it may be easier there ). With your help , all of this can be done easily . We already have a good start . I am going to be here for a very long time trying to achieve all this . For any of you that think it's a good direction for your CC to go in . Then lets keep on keepin on . Sincerely , Your Co team member PDB1 , Paul ( sitting here on a rare rainy day ) May the SUN always be with you
POST OF THE WEEK
Re:
Where are the Flags ?By Bertasion in Valley of the Sun Casual Club The other day upon the heather fair I hit a flagstick that was not there. I saw it's shadow and heard the clank but where it stood was just a blank. It was not there again today. I wonder when it will come back and stay. Brian
BLITZ LIST
HERE IS THE LIST OF BLITZ COURSES IN THE ORDER THEY ARE PLAYED EVERY WEEK OF EVERY SEASON .
DAILY BLITZ WEEKLY SCHEDULE



WEEK 1

BEST OF BANDON PAR 3
PEBBLE BEACH
THE OLYMPIC CLUB
VAHALLA
MERION


WEEK 2

PINEHURST NO.2
HARBOUR TOWN
KIAWAH ISLAND
ROYAL ST. GEORGE
CONGRESSIONAL


WEEK 3

ERIN HILLS
ST. ANDREWS
BALI HAI
CELTIC MANOR
BETHPAGE BLACK


WEEK 4

PINEHURST NO. 8
WOLF CREEK
CHALLANGE AT MANELE
EXPERIENCE AT KOELE
HILVERSUMSCHE


WEEK 5

EDGEWOOD TAHOE
BEST OF WATER SHOTS
BEST OF FAMOUS SHOTS
BEST OF PUTTING
CHAMBERS BAY
TIER & AVERAGE REQUIREMENTS
BASIC LEVEL AND AVERAGE REQUIREMENTS , AND SATURATION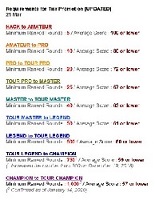 Mca19670
433 Posts

Mon, Apr 24 2017 2:37 PM
THE WEEK THAT WAS BULLETIN No8
  Welcome all to the 8th VOTSCC weekly bulletin. Was a quiet week to start with in the shots and achievement  sections but thankfully they came to life over the weekend so ill crack on with it.
We had another CC Clash this week this time playing for umbrella tee boxes and flags as well as the custom course cards. Again another fine result for this small CC of ours coming in a respectable 66th place. Well done to all that took part (23 members I think) and again to the ones that rack up huge scores and play non stop. Was also a tough 2 days of high winds so scoring high points was difficult.


  A couple of posts that appeared on the forum id like to bring up and bring to everyones attention. Firstly director Jim put up a post asking members to say wether they play PC or mobile or both. If everyone could try and respond that would be great. Jim will then put the device we use beside our names in his members list. This would be a good list to check up on. Weve had a few mobile players joining lately also so it lets people see whos playing on what.
Secondly, one of our newer members WhiskeyRenegade put up a post asking for 16 players to play an ambitious format that requires 4 teams of 4. Its at its early stages but all suggestions on how we could pull this off are welcomed. Please give it a wee look in the forum.


  This weeks TWTW tournament Jims Right On Q At Chambers was won by CoryGRobinson with a score of 29. Well done to Cory and the other 12 participants.


  INS AND OUTS-- Fossilboy left the club this week but we were joined by 2 new members. Big welcome to SweetPoppy and Kittykat2017. May you both have fun in the sun. We are now at 41 members.


  ACHIEVEMENTS.
WhiskeyRenegade reached Level 60.
AggieHockey57 reached Level 50.
Micamills hit a 403 yard drive. Hope it found the middle of the fairway Mike.


  ROUND OF THE WEEK--When I first suggested this idea of this bulletin and the round of the week in particular to Paul, I did say its not only about your top players hitting 25 or 26 shot rounds but also the lower tier members who might shoot a round that they thought they couldn't achieve yet or something else along those lines. Well this week I'm going to award the round of the week to our newest member to the club Kittykat2017. Kathryn is just not new to the club but to WGT in gereral so this couldve been a bit daunting for her. However she chose to enter her 1st CC club tournament and chose the CTTH 2 ROUNDERS tournament. She may have hit a score of 300 but the fact she completed the 9 holes without quitting which weve all done in that format shows a great commitment. So well done Kat and we can all promise you, as you progress up the levels, your game will improve immensely.


  SHOTS OF THE WEEK.
CoryGRobinson 81yds at Merion.
McDad90 86yds at St.Andrews.
SChoitz 106yds at BOP5s
RitRitenour 118yds at Pinehurst
JimQ916 179yds at St.Andrews.
Now we had 3 HIOs this week. Two at the same hole.
JimQ916 151yds HIO at Wolf Creek Hole 11.
JJtcooki HIO at Pebble Beach Hole 5. Unfortunately don't know the yardage.
But the shot of the week goes to that man again JimQ916 with his third HIO in 2 weeks. A 198 yd ace to the 5th at Pebble Beach also. You can watch it below. well done to all.


replay.aspx?ID=32b2e85a e807 4643 9b86 a75c017859c7
  MEMBER V MEMBER--Mca1967 defeated Textor in a 9 hole strokeplay match.
Golf is the only sport that has been played on the moon. On 6th Feb 1971, Alan Shephard hit 2 golf balls while on the lunar surface.
He who has the fastest golf cart never has a bad lie. Mickey Mantle.



  MCA19670 QUEST FOR A HOLE IN ONE-5 WORD REPORT.
Nothing to report, move on.


  JIMS JOKE OF THE WEEK.
Whats the problem with an Asian pet store.
Theres always a kitchen in the back.


  AND ONE FOR THE LADIES.
Whats the best way to find a truly committed man.
Visit the closest mental hospital.


  THIS DAY IN HISTORY-- 1916. The Easter rebellion begins in Dublin, Ireland. Although unsuccessful, the uprising was an important symbolic event leading to the establishment of the Republic of Ireland.
SPONSORED BY DONOTGOOGLEIT.COM.

  1. RULES OF GOLF--True or False--A player is entitled to see his ball when making a stroke.


  2. HISTORY OF GOLF-- When was the Ryder Cup first played.


  3. WHO AM I-- I was born in 1959 in Seattle, Washington. I have 64 professional wins and 1 major to my name and I am one of the few golfers who do not use a glove at any time.
POLL-- The 15th at Merion .Is it about time we got a new pin position instead of the one right on top of that hill. Maybes Aye or are you Maybes Naw. You actually like the challenge of that green and where the pin is situated.


  Last weeks poll. If you had to go back to starter balls, do you think you could score as good as when you used purchased balls. The result was 5 Maybes Naw to 1 Maybes Aye.
As I'm typing this bulletin on the day of my birthday I think you all wont mind if I get to choose this weeks artist. I am a massive U2 fan. Saw them when they were just starting out in small bars in Glasgow and have toured the land ever since attending their gigs. Love this song that much I have some of the lyrics tattooed on my arm.




REFRESHMENT OF THE WEEK.

  Well seeing that its my birthday, I'm gonna  blow all my birthday cash at the 19th, buying you all my favourite drink. Tennents Lager is Scotlands favourite drink. Brewed in Glasgow since 1885, it is Scotlands best selling lager with approx. 60% of the market. The cans were famous for its design which featured a female model known as a lager lovely on the side, although that design stopped in 1989. However those cans are much sought after now and could fetch a bit of money if you ever come across one. So cheers everyone, Happy birthday to me, see you all at the 19th. Who says a Scotsman is tight with their money.


  Well another week passes. I'm off to set up this weeks tournament which again celebrates JimQ916s achievements. The tournament will be called JIMS BANG ON Q AGAIN. Ill leave you in the capable hands of Hamish McTavish to explain the conditions.
Well halo laddies and lassies. This weeks tourney is a bit of a mixed bag. The front 9 oan that beach across the pond and I'm hearin its a bonnie day tae hing oot your washin and super slippery greens. However cos your Uncle Hamish is a decent bloke, ive made it the easy peasy tees. And if it pours doon, ive also left yies brollies to keep your heid dry. See yies all next week.
Last edited by Paul on Fri 25 Dec 2020, 22:13; edited 2 times in total
---
Permissions in this forum:
You
cannot
reply to topics in this forum