THAT'S ENTERTAINMENT
CLICK ON ANY OF THESE LINKS TO FIND OUR EXTREME ENTERTAINMENT
May 2021
| Mon | Tue | Wed | Thu | Fri | Sat | Sun |
| --- | --- | --- | --- | --- | --- | --- |
| | | | | | 1 | 2 |
| 3 | 4 | 5 | 6 | 7 | 8 | 9 |
| 10 | 11 | 12 | 13 | 14 | 15 | 16 |
| 17 | 18 | 19 | 20 | 21 | 22 | 23 |
| 24 | 25 | 26 | 27 | 28 | 29 | 30 |
| 31 | | | | | | |
Calendar
71 WGT TUTORIALS & 32 YOUNG46 TUTORIALS
CLICK HERE
TO SEE OVER 100 YOUTUBE VIDEO TUTORIALS . FROM WGTers , WGT & YOUNG46
Gallery
Click on Gallery in toolbar above to see Galleries
FORUM UPDATE
THIS FORUM IS FOR YOU ALL . PLEASE FEEL LIKE IT IS YOURS . READ THE FORUMS. POST COMMENTS . ASK QUESTIONS . IF YOU HAVE A COMPLAINT POST IT . MAKE SUGGESTIONS . READ SOME TUTORIALS . READ SOME GOLF TIPS . CHECK RECENT TOURNEY WINNERS . BROWSE OUR OLD FORUM ARCHIVES . LOG IN TO THE CHAT AND MESSAGE SOMEONE TO MEET YOU THERE AND ARRANGE A MATCH . LOG IN TO THE CHAT TO SEE IF SOMEONE IS THERE JUST TO SAY HI . MESSAGE ME IF YOU WANT TO GET ON THE DAILY BLITZ .
KWIK KLIK TO YOUR FAV FORUM
THE BLITZ SCORECARD IS ON
Page 3
PLEASE CLICK
HERE
TO FIND THE COURSE OF THE DAY AND SEE
THE WEEKLY STANDINGS .
PLEASE POST
YOUR SCORES HERE. IN THIS
Owner's Objectives
It's been a while since I expressed some of my objectives for the CC . First of all I like and respect everyone that joins our club . I realize that not everyone knows what a CC is all about . Many have different reasons for joining . I really don't know how many of the other clubs are run . They are all different . What I want to emphasize in our CC is that whatever tier you are . That you feel comfortable here , part of a team of players that come here to find conditions that enable them to improve their game , hone their skills , lower their scores ,lower their averages , move up in tiers . Enjoyably and comfortably with the conditions that challenge them enough to keep that drive without the frustrationsof regular game play . All that is completely possible by either creating those tourneys yourself or by messaging me about it . Or someone else in your tier that has been creating tourneys . Any kind of information that you need to know should be provided here , any kind of appp , calculator , help , tutorial , tournament , statistic , message , opinion , gripe , compliment , etc , etc . Should able to be aqcuired here ( or in our website , as it may be easier there ). With your help , all of this can be done easily . We already have a good start . I am going to be here for a very long time trying to achieve all this . For any of you that think it's a good direction for your CC to go in . Then lets keep on keepin on . Sincerely , Your Co team member PDB1 , Paul ( sitting here on a rare rainy day ) May the SUN always be with you
POST OF THE WEEK
Re:
Where are the Flags ?By Bertasion in Valley of the Sun Casual Club The other day upon the heather fair I hit a flagstick that was not there. I saw it's shadow and heard the clank but where it stood was just a blank. It was not there again today. I wonder when it will come back and stay. Brian
BLITZ LIST
HERE IS THE LIST OF BLITZ COURSES IN THE ORDER THEY ARE PLAYED EVERY WEEK OF EVERY SEASON .
DAILY BLITZ WEEKLY SCHEDULE



WEEK 1

BEST OF BANDON PAR 3
PEBBLE BEACH
THE OLYMPIC CLUB
VAHALLA
MERION


WEEK 2

PINEHURST NO.2
HARBOUR TOWN
KIAWAH ISLAND
ROYAL ST. GEORGE
CONGRESSIONAL


WEEK 3

ERIN HILLS
ST. ANDREWS
BALI HAI
CELTIC MANOR
BETHPAGE BLACK


WEEK 4

PINEHURST NO. 8
WOLF CREEK
CHALLANGE AT MANELE
EXPERIENCE AT KOELE
HILVERSUMSCHE


WEEK 5

EDGEWOOD TAHOE
BEST OF WATER SHOTS
BEST OF FAMOUS SHOTS
BEST OF PUTTING
CHAMBERS BAY
TIER & AVERAGE REQUIREMENTS
BASIC LEVEL AND AVERAGE REQUIREMENTS , AND SATURATION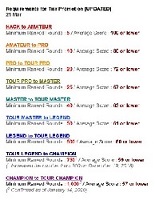 Mca19670
433 Posts

Mon, May 1 2017 2:24 PM
THE WEEK THAT WAS BULLETIN No9
  Welcome to the 9th VOTSCC weekly bulletin folks. Few things I need to get through so I best get on with it.
Firstly id like to talk about shots of the week. I just discovered today thanks to Paul that shots in CTTH, Blitz ,Alternate shot and basic matchplay don't show up in my news feed. Now folks I try my best not to miss all your great shots. I always joke on here if I miss one of your shots, or for that matter a great round of yours that you think should have been round of the week, then give me a good telling off and also mention it in a reply to this bulletin below. That way everyone gets to hear about it one way or the other. However, there is also another way that helps me out that I mentioned in a previous bulletin. Paul has set up a post where you can post all your replays in the forum.VOTSCC KICK ASS SHOTS OF THE WEEK and put it in there. Theres some good viewing in there already. It would be good to see a few more. Anyway sorry for going on, I just don't want anyone feeling as if ive left out a shot of theirs deliberately that's all.
Talking of useful posts, Jims still waiting on replies for his post on whos playing on PCs and whos on mobiles. please let him know as it would be useful for him setting up tournaments but also helpful for us all if we want to set up a match against a fellow member.


  I have not mentioned the mobile turf wars on here since it started so I feel its about time the mobile squad from this club got a mention. Every time I find myself checking out how the club is getting on in these wars, they seem to be kicking ass, with some of the members massing incredible scores. The club is sitting in 82nd position as I write this so well done to the mobile crew.


  Oakmont GC disappeared this week from our screens I felt with not much notice. The poll further down will ask you all how you feel about losing this, but on a positive note, we look forward to playing a full 18 at Erin Hills hopefully some time this May.


  This week also saw a few crazy going ons in WGT world. Lots of players seem to be winning loads of awards that they've probably won years ago, consecutive days have been changed to 3 days but with XP not being affected, and a mobile update now allows mobile users the chance to enter club bracket tournaments without using any tricks. The bracket also comes up as a leaderboard style where a player can see their opponents score before they play which I totally don't agree with. Strange days. I know the powers that be know about these problems so hopefully alls back to normal soon.


  Talking about getting back to normal, this weeks winner of TWTW Jims Bang On Q Again was won by Dschom5 with a score of 28. Well done again Turd and to the other 17 participants. Good turn out folks. Thanks.


  INS AND OUTS-- 2 outs this week.Twindaddy129 and sadly we finally had to let  Nansting go through no fault of hers or the club I may add. We did get 1 replacement though. We welcome Stormysab123558 to the club.


  ACHIEVEMENTS.
Dschom5 reached 600,000 club points.
SChoitz reached 200,000 club points.
KittyKat2017 is now at Level 15.
Robert744 moved up to Tour Master tier.
Textor completed 365 consecutive days. Well done all.


  ROUND OF THE WEEK-- CoryGRobinson shot a 26 at Bethpage this week, but I'm gonna give this weeks round of the week to Micamills who shot a 81.62 followed by a 63.22 in the latest CTTH tournament for a total of 144.84. He finished 50.00 ahead of 2nd place so that shows how good those 2 rounds were. Well done Mike.


  SHOTS OF THE WEEK.
Textor 53yds at Pebble Beach.
BigAl1957 56yds at St.Andrews.
Robert744 130yds Pebble Beach.
Jtcooki 116yds and 134yds at Bethpage.
Pdb1 130yds at Chambers Bay.
Donnymac3 150yds BOP4s.
Shot of the week however goes to SChoitz with this lovely shot to get him an albatross on the 17th at the Olympic Club. Check it out.


replay.aspx?ID=86d1fdec 3ab2 4b14 a3cd a76400c923e5
  MEMBER V MEMBER-- No match ups this week folks, not even myself v Textor Lol. Come on, lets get some matches together. theyre great fun. And remember mobile players. Your matches don't show up on the news feed, so if you do play a game or have played a game, post it here.
In 1957,Doug Ford predicted that he'd win the Masters with a score of 283. Amazingly he not only won the tournament,t he got the score he predicted too.
You don't know what pressure is until you play for 5 bucks with only 2 bucks in your pocket. Lee Trevino.



  MCA19670 QUEST FOR A HOLE IN ONE-5 WORD REPORT.
One year older, still waiting.


  JIMS JOKE OF THE WEEK.
A wife asked her husband " What do you like most in me, my pretty face or my sexy body?." He looked at her from head to toe and replied " I like your sense of humour".


  AND ONE FOR THE LADIES.
Why did God make Adam before Eve.
Everyone needs a rough draft before they make the final copy.


  THIS DAY IN HISTORY-- 1931. The Empire State Building opened in New York City. At 102 stories it would be the worlds tallest building for the next 41 years.
SPONSORED BY DONOTGOOGLEIT.COM.

  1. RULES OF GOLF--True or false.-- A yellow line or stake defines an out of bounds area.


  2. HISTORY OF GOLF-- What golfer hit Ben Crenshaw on the head with his putter in 1986, forcing Crenshaw to head for the hospital.


  3. WHO AM I-- I was born in Largs Scotland in 1953. I have 43 professional wins but no majors. However I appeared in 8 Ryder Cups and sank the winning putt in 1985 at the Belfry to give the Europeans their first win in the competition.
POLL-- Oakmont GC. are you missing it already. Maybes Aye. Or are you glad to see the back of it. 
  Maybes Naw.


  Last weeks poll. The 15th at Merion. Would you like to see a new pin position instead of the one right on top of the hill. 5 Maybes aye and 1 Maybes Naw. Although when I played Merion last week the pin was in a different position. First time ive saw that so don't know if weve always had the option of other pin positions or not.


  This weeks artist was requested by Dschom5. In fact if no one else requests an artist it might be Turds choices for the next umpteen weeks hes gave me that many, Only kidding Turd. The more the merrier. Anyway this week is the song he says is his theme song. Ladies and gentlemen, I give you Steppenwolf.




REFRESHMENT OF THE WEEK.

  This weeks drink at the 19th is Rakia. Rakia is a fruit brandy popular in Eastern Europe especially Bulgaria. The alcohol content is normally 40% but home brewed Rakia can go as high as 90%. Someone better book an ambulance for us members I think. Naz Dra Vey everyone.


  That's me off folks. Look out for another CC clash this week. Away to set up this weeks tournament which is called TWTW.SCOTT IS TO HOTT FOR THE CLUB after SCoitz's albatross. Ill let Hamish McTavish explain the conditions. See y'all.

Well halo laddies and lassies. Were all goin to San Francisco. Scuse the singin. Seein as the fairways are as tight as ma mate Archie when it comes tae him buyin a roond at the bar, am gonna set it to medium tees, nae wind and very fast greens. Right I'm aff tae find that pal o mine. Gonna try wan o they home brewed Rakia drinks or maybe 5. Aw ra best.
Last edited by Paul on Fri 25 Dec 2020, 22:27; edited 1 time in total
[*]
Hey Martin me and ladyfrom dallas played 3 holes, but she had to forfeit so I won by default. 
Also one of your polls asked about the hardest hole a week or so ago, I consider olympic course hole 18 to be the second hardest hole, and pebble beach hole 14 to be way ahead as number 1 hardest. Could you poll them and ask for suggestion on harder holes I'd love to try any out and compare.
[*]
Mca19670
433 Posts

Mon, May 1 2017 11:03 PM
Thanks for letting me know about your match Whiskey. Unfortunately Ladyfromdallas is no longer a member of the club so I wouldn't have put that in but keep trying to play fellow members and let me know if you do.
As for hardest hole, you should open this up in a new post. I did one not that long ago about favourite holes and got a good response back. For the record the hardest hole for me is that 15th hole at Merion. A tough drive and if the pins at the front on that hill, I'm happy to walk away with a par. Only birdied it once and have had loads of bogeys on it.
Martin
[*]

Martin,
As usual a good and enjoyable read.  This week I decided not to put off getting back to you LOL.  Ahh, Steppenwolf, good high times for sure.  Reminded me of a tattoo gone very wrong: "Born Too Loose"
For sure a maybes aye losing Oakmont.  A great course, challenge to play and now I'll never figure out the 9th green.  The most galling part was the way it was announced.  Real lack of professionalism by TG/WGT.  Makes me wonder and worry about the future here.
Oh well, I'll keep having fun, hitting 'em someplace and looking forward to next week's edition.
John
[*]
Me and Jeff just played, tied at 7 under on 9 holes of chambers bay.
I basically had a top 3 set of my life and was able to keep up with him, ahhhhhh I'm so proud!
It wasn't chambers bay I tin it's was some kind of random holes best 5 pars, Idk, I'm to pumped up about challenging him even thoughave he was 2 tee box's behind me. 
[*]
Mca19670
433 Posts

Tue, May 2 2017 1:59 AM
Nice one Whiskey. I'll include that in next weeks bulletin. I'm guessing with the 2 of you on 7 under it was the best of Par 5s you played. Good stuff.
[*]
Mca19670
433 Posts

Tue, May 2 2017 3:57 PM
Just played 15 holes at Erin Hills there ( another bug stopped me playing 18) and gies, it's a long course, so my answer to the poll is Maybes Aye. I am missing Oakmont already.
Martin
[*]

JimQ916
4,844 Posts

Wed, May 3 2017 8:08 AM
Maybe Aye....I miss that course......don't know the answers to the 3 questions tough.....Jim
Great Job once again Martin!!!!!!
[*]
Jtcooki
173 Posts

Wed, May 3 2017 1:35 PM
Nicely done Martin,
Sorry I only had 2 hole outs this week...lol. It was actually on the same hole during the Bethpage CC event. 
Yes, whiskey sent me a 9 hole challenge and it was Par 5's. gotta give him credit as he played very well (even if he was drinking...maybe that's the key Whiskey!
[*]
Mca19670
433 Posts

Wed, May 3 2017 2:26 PM
Still looking out for a game against you Jeff. Will meet up 1 day.
[*]
pdb1
14,963 Posts

Wed, May 3 2017 9:24 PM
  Made a little correction . This is the one for current good shots . Sorry . 
  Oh and I activated your links . You can too . 
 Mca19670:
Jims still waiting on replies for his post
  Frustrating isn't it ? Come on all . let Jim know .
Mobile / PC Play or Both
 Mca19670:
The club is sitting in 82nd position as I write this so well done to the mobile crew.
UPDATE POST FOR ALL TURF WAR POSTS
 Mca19670:
INS AND OUTS--
 Mca19670:
We welcome Stormysab123558
  Yes welcome Stormy .
  Don't know why I am just now hearing about this shot of Scott's .?
 Mca19670:
1. RULES
True ?
 Mca19670:
2. HISTORY
IDK
 Mca19670:
3. WHO
IDK
 Mca19670:
POLL-
Naw 
 Mca19670:
This weeks artist
  All have been good . I'de like to put in a request for some Stevie Ray Vaughn .
  Bingo again on BULLETIN # 9 Martin . 
  Thank you   
[*]

 pdb1:
All have been good . I'de like to put in a request for some Stevie Ray Vaughn .
Second this nomination!
[*]
Mca19670
433 Posts

Thu, May 4 2017 4:58 AM
Cheers  Paul. I'll put him in this week.
[*]

dschom5
1,103 Posts

Thu, May 4 2017 3:56 PM
Thanks for the Steppenwolf Martin.  Loved it.  Played my first round on   Erin Hills and shot a -10. 62, have to learn the course just like all the others it has it's little glitches.  Don't miss  Oakmont greens at all.  Another good bulletin.
Well done 
Turd
[*]
Textor
82 Posts

Sat, May 6 2017 10:18 AM
I know you've been waiting on me, so here goes:
I'll miss Oakmont. It had many challenging holes. Besides, it is sad to lose any course. We all want more courses to play, not fewer. Erin Hills will be an exciting addition to our course catalog. It'll be long and difficult. One can imagine playing the 670 yd 18 with a 20 mph wind blowing in our face. Eagles will be a premium. By the way, I shot even par, 2 over on the front and 2 under coming back. Without knowing the course, I thought I played well. I clearly gained from my early blunders, playing the last 12 holes 4 under. 
Congratulations members on the outstanding golf shots this week. You guys are really good. How is your dart game?
Par 3 challenge:
     1. False
     2. In a moment of pique, Ben Crenshaw tossed his putter into the air. It landed on his head. So, Ben Crenshaw.
     3. Now, my head contains a lot of useless information. The answer to this question isn't one of them. My initial thought was Tony Blair, who was born in Scotland in 1963, but I don't believe it was in Largs. He may have attended a Ryder Cup event, but he wasn't a participant. 
Tuesday night the Nashville Predators hosted the St. Louis Blues for game 4 of a 2nd round playoff. The Predators won to take a 3 games to 1 lead in the best of 7 series. Brandt Snedeker, a Vanderbilt graduate and resident of Nashville, played on the 2016 Ryder Cup team. To motivate the team and the fans, as if any was needed, he brought the Ryder Cup Trophy to the game. It sent shivers through a raucous hockey crowd. The Preds lost last night 2 - 1 in St. Louis, forcing a game 6 Sunday afternoon in Nashville.
#SmashvilleReigns
.
Textor
Mca19670
433 Posts

Sat, May 6 2017 7:06 PM
Correct on the first 2 Textor but question 3 seems to have got you all stumped. It's was Sam Torrance who lifted his hands triumphantly to win the 1985 Ryder Cup. There's a crackin photo in the pub he owns in Scotland where I have also shared a drink with the man. He's got a few stories to tell. 
Martin
---
Permissions in this forum:
You
cannot
reply to topics in this forum