THAT'S ENTERTAINMENT
CLICK ON ANY OF THESE LINKS TO FIND OUR EXTREME ENTERTAINMENT
Statistics
We have
383
registered users
The newest registered user is
AQUAWRAP
Our users have posted a total of
10376
messages in
2706
subjects
July 2021
| Mon | Tue | Wed | Thu | Fri | Sat | Sun |
| --- | --- | --- | --- | --- | --- | --- |
| | | | 1 | 2 | 3 | 4 |
| 5 | 6 | 7 | 8 | 9 | 10 | 11 |
| 12 | 13 | 14 | 15 | 16 | 17 | 18 |
| 19 | 20 | 21 | 22 | 23 | 24 | 25 |
| 26 | 27 | 28 | 29 | 30 | 31 | |
Calendar
71 WGT TUTORIALS & 32 YOUNG46 TUTORIALS
CLICK HERE
TO SEE OVER 100 YOUTUBE VIDEO TUTORIALS . FROM WGTers , WGT & YOUNG46
FORUM UPDATE
THIS FORUM IS FOR YOU ALL . PLEASE FEEL LIKE IT IS YOURS . READ THE FORUMS. POST COMMENTS . ASK QUESTIONS . IF YOU HAVE A COMPLAINT POST IT . MAKE SUGGESTIONS . READ SOME TUTORIALS . READ SOME GOLF TIPS . CHECK RECENT TOURNEY WINNERS . BROWSE OUR OLD FORUM ARCHIVES . LOG IN TO THE CHAT AND MESSAGE SOMEONE TO MEET YOU THERE AND ARRANGE A MATCH . LOG IN TO THE CHAT TO SEE IF SOMEONE IS THERE JUST TO SAY HI . MESSAGE ME IF YOU WANT TO GET ON THE DAILY BLITZ .
THE BLITZ SCORECARD IS ON
Page 3
PLEASE CLICK
HERE
TO FIND THE COURSE OF THE DAY AND SEE
THE WEEKLY STANDINGS .
PLEASE POST
YOUR SCORES HERE. IN THIS
KWIK KLIK TO YOUR FAV FORUM
Owner's Objectives
It's been a while since I expressed some of my objectives for the CC . First of all I like and respect everyone that joins our club . I realize that not everyone knows what a CC is all about . Many have different reasons for joining . I really don't know how many of the other clubs are run . They are all different . What I want to emphasize in our CC is that whatever tier you are . That you feel comfortable here , part of a team of players that come here to find conditions that enable them to improve their game , hone their skills , lower their scores ,lower their averages , move up in tiers . Enjoyably and comfortably with the conditions that challenge them enough to keep that drive without the frustrationsof regular game play . All that is completely possible by either creating those tourneys yourself or by messaging me about it . Or someone else in your tier that has been creating tourneys . Any kind of information that you need to know should be provided here , any kind of appp , calculator , help , tutorial , tournament , statistic , message , opinion , gripe , compliment , etc , etc . Should able to be aqcuired here ( or in our website , as it may be easier there ). With your help , all of this can be done easily . We already have a good start . I am going to be here for a very long time trying to achieve all this . For any of you that think it's a good direction for your CC to go in . Then lets keep on keepin on . Sincerely , Your Co team member PDB1 , Paul ( sitting here on a rare rainy day ) May the SUN always be with you
POST OF THE WEEK
Re:
Where are the Flags ?By Bertasion in Valley of the Sun Casual Club The other day upon the heather fair I hit a flagstick that was not there. I saw it's shadow and heard the clank but where it stood was just a blank. It was not there again today. I wonder when it will come back and stay. Brian
BLITZ LIST
HERE IS THE LIST OF BLITZ COURSES IN THE ORDER THEY ARE PLAYED EVERY WEEK OF EVERY SEASON .
DAILY BLITZ WEEKLY SCHEDULE



WEEK 1

BEST OF BANDON PAR 3
PEBBLE BEACH
THE OLYMPIC CLUB
VAHALLA
MERION


WEEK 2

PINEHURST NO.2
HARBOUR TOWN
KIAWAH ISLAND
ROYAL ST. GEORGE
CONGRESSIONAL


WEEK 3

ERIN HILLS
ST. ANDREWS
BALI HAI
CELTIC MANOR
BETHPAGE BLACK


WEEK 4

PINEHURST NO. 8
WOLF CREEK
CHALLANGE AT MANELE
EXPERIENCE AT KOELE
HILVERSUMSCHE


WEEK 5

EDGEWOOD TAHOE
BEST OF WATER SHOTS
BEST OF FAMOUS SHOTS
BEST OF PUTTING
CHAMBERS BAY
TIER & AVERAGE REQUIREMENTS
BASIC LEVEL AND AVERAGE REQUIREMENTS , AND SATURATION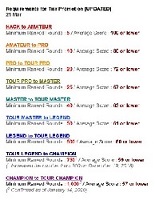 Hi everyone....here are a few jokes to make you smile. Some of these a a little (not too much though) off color so read at your own risk. As always, please don't shoot the messenger (me):
**********************************************
A couple married forty years were revisiting the same places they went to on their honeymoon. Driving through the secluded countryside, they passed a ranch with a tall deer fence running along the road.
The woman said, "Sweetheart, let's do the same thing we did here forty years ago."

The guy stopped the car. His wife backed against the fence, and he immediately jumped her bones like a bass on a junebug. They made love like never before.

Back in the car, the guy says, "Darlin', you sure never moved like that forty years ago--or any time since that I can remember!"

The woman says, "Forty years ago that damn fence wasn't electrified!"
**********************************************
On the night of a Halloween costume party a couple were having trouble picking suitable outfits. After a while the wife got mad and stormed out of the room. Fifteen minutes later she came back completely naked execpt for a lemon between her legs.
The husband looked at her for a moment and then stormed out of the room himself. Twenty minutes passed and then he came back himself with a potato around his dick. The wife gave him a wierd look and then the husband replied "If your going as a sour-puss, I going as a dictator".
**********************************************
There was this guy who really took care of his body and jogged six miles every day. One morning he looked into the mirror and admired his body and noticed that he was suntanned all over with the exception of his penis, which he readily decided to do something about it.
He went to the beach, completely undressed, buried himself in the sand, except for his penis, which he left sticking out. About that time two little old ladies came strolling along the beach, one using a cane.

On seeing the thing sticking out of the sand, she began to move it round with he cane, remarking to the other little old lady saying,

"There is no justice in the world."

The other little old lady said, "What do you mean by that?"

The first little old lady said, "look at that."

When I was 20..... I was curious about it
When I was 30..... I enjoyed it

When I was 40..... I asked for it

When I was 50..... I paid for it

When I was 60..... I prayed for it

When I was 70..... I forgot about it

And now that I am 80, the damned thing is growing wild, and I'm too old to squat."

**********************************************
One day a little Indian boy walked up to the chief and said "Me ready for women."
The chief said "Before you can have a real women, you must go into the woods and practice on the trees for three days"

The Indian boy said "Ok," and went off into the woods.

Three days later, he returns and says "Me ready for women."

The Indian cheif says "Pick out any woman you want and take her inside the teepee."

The boy picked a women, escorted her into the teepee and said "Take off all your clothes, bend over and grab your ankles." The women asked "Why?", but the boy told her to just to bend over.

The women bent over, and the boy kicked her in the ass. "Why the hell did you do that?" she asked.

"Just checking for bees." replied the boy.
**********************************************
An escaped convict, imprisoned for 1st degree murder, had spent 25 years of his life sentence in prison. While on the run, he broke into a house and tied up a young couple who had been sleeping in the bedroom. He tied the man to a chair on one side of the room and his wife on the bed on the other side of the room. The convict got on the bed and it appeared to the husband that he may have been kissing her neck. Suddenly the convict got up and left the room. As soon as he had a chance, the husband made his way across the room with the chair in tow, and turned to his pretty young wife, bound up on the bed in a skimpy nightgown. He whispered, "Honey, this guy hasn't seen a woman in years. I saw him kissing on your neck and then he left in a hurry. Just cooperate with anything he wants. If he wants to have sex with you, just go along with it and pretend you like it. Whatever you do don't fight him or make him mad. Our lives depend on it."

"Oh honey", the wife said, spitting out her gag, "I'm so relieved you feel that way. You're right, he hasn't seen a woman in years. But he wasn't kissing my neck... he was whispering in my ear. He told me he thinks you're really cute and asked if we kept the Vaseline in the bathroom."

**********************************************
An older man had met a younger woman, but unfortunately he was unable to last very long before he would orgasm during sex. A caring man, he was concerned that he was disappointing his new lover,so he called his doctor for advice.
The doc told him that masturbating before sex often helped men last longer during the act. The man decided, "What the hell, I'll try it."
He spent the rest of the day thinking about where to do it. He couldn't
doit in his office. He thought about the restroom, but that was too open.
He considered an alley, but figured that was too unsafe. Finally, he realized
his solution. On his way home, he pulled his truck over on the side of the highway. He got out and crawled underneath as if he was examining the truck. Satisfied with the privacy, he undid his pants and started to masturbate.He closed his eyes tight and fantasized of his naked lover. As he grew closer to orgasm, he felt a quick tug at the bottom of his pants. Not wanting to lose his mental fantasy or the orgasm, he kept his eyes shut and replied, "What?"
He heard, "This is the police. What the hell are you doing?" The man replied, "I'm checking out the rear axle, it's busted." The cop says, "Well, you better check your brakes too, because your truck rolled down the hill 5 minutes ago.
**********************************************
Bob joins a very exclusive nudist colony. On his first day he takes off
his clothes and starts wandering around. A gorgeous petite blonde walks by him and the man immediately gets an erection. The woman notices his erection,comes over to him grinning sweetly and says: "Sir, did you call for me?"
Bob replies: "No, what do you mean?" She says: "You must be new here; let me explain. It's a rule here that if I give you an erection, it implies you called for me." Smiling, she then leads him to the side of a pool, lays down on a towel, eagerly pulls him to her and happily lets him have his way with her. Bob continues exploring the facilities. He enters a sauna, sits down, and farts. Within a few seconds a huge, horribly corpulent, hairy man with a firm erection lumbers out of the steam towards him. The Huge Man says: "Sir, did you call for me?" Bob replies: "No, what do you mean?" The Huge Man: "You must be new here; it is a rule that when you fart, it implies you called for me." The huge man then easily spins Bob around, bends him over the bench and has his way with him. Bob rushes back to the colony office. He is greeted by the smiling naked receptionist: "May I help you?" Bob says: "Here is your card and key back. You can keep the $500 joining fee." Receptionist: "But Sir, you've only been here a couple of hours; you only saw a small fraction of our facilities....."Bob replies: "Listen lady, I am 58 years old, I get a
hard-on twice a month, but I fart 15 times a day. No thanks.
**********************************************
A man went to have plastic surgery on his penis.
The surgeon examined him and asked, "What happened?"
"Well, doc, I live in a trailer camp," the man explained, "And from where I am I can see this lovely chick next door. She's blonde and built like a brick *** house. She's so horny that every night I see her take a hot dog from the refrigerator and stick it in a hole in the floor of her trailer. Then she gets down and masturbates herself on the hot dog."

"And?" prompted the doctor.

"Well, I felt this was a lot of wasted ***, so one day I got under the trailer and when she put the hot dog in the hole, I removed it and substituted my dick."

"It was a great idea and everything was going well. Then someone knocked at the door, she jumped off my hot dog and tried to kick it under the stove."

**********************************************
The vice-president of a local company had quite a problem. He was told by his boss to lay off one of his employees, either Mary or Jack. His choice was a tough one because Mary had been a devoted employee for 10 years and Jack was a fine worker who had a family to support. At night the VP tossed and turned in his sleep trying to decide which of his employees he would lay off. Finally he decided, the first one to come to work tomorrow would be the one. Morning finally comes and the VP waits at the office for one of the two employees to arrive. At 8:55 Mary walks into the office. "I've got a difficult decision" the VP says, "I either have to lay you or Jack off." "Oh, go ahead and jack-off" Mary says, "I've got a headache."
**********************************************
This man was walking through the park one day when he couldn't help but notice a woman crying.
"What's wrong?" he asked. "Shultz is dead! Shultz is dead!" she sobbed.
He didn't know who Shultz was so he just continued on. Then he came upon another woman.
"Shultz is dead!," she too sobbed. He just passed by.
Then another. And another. And another! Then he came upon a site which made him stop. What he saw was hundreds of women crowded around a street car, which had apparently been involved in an accident, who were all crying "Shultz is dead! Shultz is dead!".
He went up to it and there he saw the street car had ran into a man
and literally torn him to pieces. All that was left of him that you could see was his arms, legs and his penis.

Well he was just startled by all this so he decided to go home. When he got home, he said to his wife: "Hey Honey, you know I just saw the darndest thing. Out on Mill Street a street car had ran into a man and cut off his penis and I swear it had to be a foot and a half long!".

"Oh no! Shultz is dead! Shultz is dead!" she sobbed.
**********************************************
"How did it happen?" the doctor asked the middle-aged farmhand as he set the man's broken leg.
"Well, doc, 25 years ago ..."

"Never mind the past. Tell me how you broke your leg this morning."

"Like I was saying...25 years ago, when I first started working on the farm, that night, right after I'd gone to bed, the farmer's beautiful daughter came into my room. She asked me if there was anything I wanted.

I said no, everything is fine. "Are you sure?", she asked. "I'm sure, I said.

"Isn't there anything I can do for you?" she wanted to know. "I reckon not" I replied ...

"Excuse me," said the doctor, "What does this story have to do with your leg?"

"Well, this morning," the farmhand explained, "when it dawned on me what she meant, I fell off the roof!"
**********************************************
A man and a woman were waiting at the hospital donation center.
Man: "What are you doing here today?"

Woman: "Oh, I'm here to donate some blood. They're going to give me $5 for it."

Man: "Hmm, that's interesting. I'm here to donate sperm, myself. But they pay me $25."

The woman looked thoughtful for a moment and they chatted some more before going their separate ways.

Several months later, the same man and woman meet again in the donation center.

Man: "Oh, hi there! Here to donate blood again?"

Woman: [shaking her head with mouth closed] "Unh unh."

**********************************************
There are three guys drinking in a pub, when another man comes in and starts drinking at the bar. After a while, he approaches the group of lads and pointing at the one in the middle shouts, "I've shagged your mum!"
The three guys look bewildered as the man resumes his drinking at the bar. Ten minutes later he comes back.
"Your mum's sucked my ***!" The same thing happens - he then continues to drink, alone at the bar.
Ten minutes later he's back again and announces, "Oi! I've had your mum up the ***!"
By now the young guys have had enough, and the one in the middle stands up and shouts, "Look dad, you're drunk, now piss off home!"
**********************************************
Little Johnny is taking a shower with his mother and says, "Mom, what are those things on your chest?"
Unsure of how to reply, she tells Johnny to ask his dad at breakfast tomorrow, quite certain the matter would be forgotten. Johnny didn't forget. The following morning he asked his father the same question. His father, always quick with the answers, says, "Why Johnny, those are balloons. When your mommy dies, we can blow them up and she'll float to heaven."

Johnny thinks that's neat and asks no more questions. A few weeks later, Johnny's dad comes home from work a few hours early. Johnny runs out of the house crying hysterically, "Daddy! Daddy! Mommy's dying!"

His father says, "Calm down, son! Why do you think Mommy's dying?"

"Uncle Harry is blowing up Mommy's balloons and she's screaming, 'Oh God, I'm coming!'"

**********************************************
Two men from Texas were sitting at a bar, when a young lady nearby began to choke on a hamburger. She gasped and gagged, and one Texan turned to the other and said, That little gal is havin' a bad time. I'm agonna go over there and help."
He ran over to the young lady, held both sides of her head in his big, Texan hands, and asked, "Kin ya swaller?" Gasping, she shook her head no. He asked, "Kin ya breathe?" Still gasping, she again shook her head no.

With that, he yanked up her skirt, pulled down her panties and licked her on the butt. The young woman was so shocked that she coughed up the piece of hamburger and began to breathe on her own. The Texan sat back down with his friend and said, "Ya know, it's sure amazin' how that hind-lick maneuver always works."

JimQ916




Posts

: 379


Join date

: 2014-12-31



---
Permissions in this forum:
You
cannot
reply to topics in this forum