THAT'S ENTERTAINMENT
CLICK ON ANY OF THESE LINKS TO FIND OUR EXTREME ENTERTAINMENT
Statistics
We have
393
registered users
The newest registered user is
immortalGoku1452
Our users have posted a total of
10638
messages in
2747
subjects
October 2021
| Mon | Tue | Wed | Thu | Fri | Sat | Sun |
| --- | --- | --- | --- | --- | --- | --- |
| | | | | 1 | 2 | 3 |
| 4 | 5 | 6 | 7 | 8 | 9 | 10 |
| 11 | 12 | 13 | 14 | 15 | 16 | 17 |
| 18 | 19 | 20 | 21 | 22 | 23 | 24 |
| 25 | 26 | 27 | 28 | 29 | 30 | 31 |
Calendar
71 WGT TUTORIALS & 32 YOUNG46 TUTORIALS
CLICK HERE
TO SEE OVER 100 YOUTUBE VIDEO TUTORIALS . FROM WGTers , WGT & YOUNG46
FORUM UPDATE
THIS FORUM IS FOR YOU ALL . PLEASE FEEL LIKE IT IS YOURS . READ THE FORUMS. POST COMMENTS . ASK QUESTIONS . IF YOU HAVE A COMPLAINT POST IT . MAKE SUGGESTIONS . READ SOME TUTORIALS . READ SOME GOLF TIPS . CHECK RECENT TOURNEY WINNERS . BROWSE OUR OLD FORUM ARCHIVES . LOG IN TO THE CHAT AND MESSAGE SOMEONE TO MEET YOU THERE AND ARRANGE A MATCH . LOG IN TO THE CHAT TO SEE IF SOMEONE IS THERE JUST TO SAY HI . MESSAGE ME IF YOU WANT TO GET ON THE DAILY BLITZ .
THE BLITZ SCORECARD IS ON
Page 3
PLEASE CLICK
HERE
TO FIND THE COURSE OF THE DAY AND SEE
THE WEEKLY STANDINGS .
PLEASE POST
YOUR SCORES HERE. IN THIS
KWIK KLIK TO YOUR FAV FORUM
Owner's Objectives
It's been a while since I expressed some of my objectives for the CC . First of all I like and respect everyone that joins our club . I realize that not everyone knows what a CC is all about . Many have different reasons for joining . I really don't know how many of the other clubs are run . They are all different . What I want to emphasize in our CC is that whatever tier you are . That you feel comfortable here , part of a team of players that come here to find conditions that enable them to improve their game , hone their skills , lower their scores ,lower their averages , move up in tiers . Enjoyably and comfortably with the conditions that challenge them enough to keep that drive without the frustrationsof regular game play . All that is completely possible by either creating those tourneys yourself or by messaging me about it . Or someone else in your tier that has been creating tourneys . Any kind of information that you need to know should be provided here , any kind of appp , calculator , help , tutorial , tournament , statistic , message , opinion , gripe , compliment , etc , etc . Should able to be aqcuired here ( or in our website , as it may be easier there ). With your help , all of this can be done easily . We already have a good start . I am going to be here for a very long time trying to achieve all this . For any of you that think it's a good direction for your CC to go in . Then lets keep on keepin on . Sincerely , Your Co team member PDB1 , Paul ( sitting here on a rare rainy day ) May the SUN always be with you
POST OF THE WEEK
Re:
Where are the Flags ?By Bertasion in Valley of the Sun Casual Club The other day upon the heather fair I hit a flagstick that was not there. I saw it's shadow and heard the clank but where it stood was just a blank. It was not there again today. I wonder when it will come back and stay. Brian
BLITZ LIST
HERE IS THE LIST OF BLITZ COURSES IN THE ORDER THEY ARE PLAYED EVERY WEEK OF EVERY SEASON .
DAILY BLITZ WEEKLY SCHEDULE



WEEK 1

BEST OF BANDON PAR 3
PEBBLE BEACH
THE OLYMPIC CLUB
VAHALLA
MERION


WEEK 2

PINEHURST NO.2
HARBOUR TOWN
KIAWAH ISLAND
ROYAL ST. GEORGE
CONGRESSIONAL


WEEK 3

ERIN HILLS
ST. ANDREWS
BALI HAI
CELTIC MANOR
BETHPAGE BLACK


WEEK 4

PINEHURST NO. 8
WOLF CREEK
CHALLANGE AT MANELE
EXPERIENCE AT KOELE
HILVERSUMSCHE


WEEK 5

EDGEWOOD TAHOE
BEST OF WATER SHOTS
BEST OF FAMOUS SHOTS
BEST OF PUTTING
CHAMBERS BAY
TIER & AVERAGE REQUIREMENTS
BASIC LEVEL AND AVERAGE REQUIREMENTS , AND SATURATION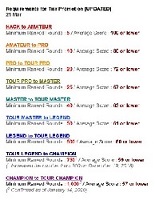 Congressional CC Course Walk Through
22 Feb 2012 at 8:38 PM

Hole 1


This hole is a slight dogleg left. Most hitters will be aiming past the dogleg from this tee and landing the ball a bit crosswise to the fairway. Even though the fairway is wide, this angle of approach narrows the fairway down quite a bit. Unless you have confidence in your ability to hit the ding, avoid putting backspin on the ball here. Backspin amplifies the effects of a mishit, and there's just not that much room to miss. The landing area is a half dozen feet below the tee box, so plan on your shot being a little long anyway.

On the right, just past the dogleg, there's a big bunker just waiting for a bad shot. Pulled shots will usually find the 30-40% rough with no look at the pin. The best position is on the right side of the fairway as far up as you can get it.

The Approach

From a good fairway lie, this is usually a short iron into an upsloping green that's 5' or 6' above you. The green has a fair amount of room in front if your coming in with a mid iron, but don't expect a lot of run. The upslope of the green causes many approaches to stop short of their intended target. This is not necessarily a bad thing.

The danger of this back left pin placement is in being long or being off line and pin high. Long shots will have a very fast putt coming back and often roll 5' or 6' past the hole. Shots that go off line are dealing with that slope from a profile view. Approaches that land short usual have a heavy, but safe putt up the hill for an easy two putt.

If you're approaching from the sand or the 40% rough, you can still make this GIR, but you have to be smart about it. Run it up the throat of the fairway and roll it onto the green. You're not going to have an easy two putt to save par, but it's not unreasonably difficult either. What is unreasonably difficult, is trying to save par from the greenside bunker which you had no hope in hell of carrying, but went for anyway because the laws of physics don't apply to you. Run it up the fairway please.

Hole 2


Tee Shot

Club up and add backspin.

A long iron at least. This is maybe the hardest par 3 of all the courses to birdie, but not necessarily difficult to par. The green is 20' above you, so your shot is going to come in low and flat and have all the bite of an elderly sea cucumber. You'll skip right through this green and into the 30-40% rough that Congressional uses as fringe, probably.

With a strong headwind and a high trajectory club with lots of backspin, you might hold the green. The risk in this scenario is drifting left or short which will most likely put you in a deep greenside bunker.

Another option is to run this tee shot up the mouth of the green and try to get it to stop within 20' for a long, severe right to left breaking putt for birdie. Overall, I think this is the smarter play when the wind is coming from right to left. If it's blowing the ball away from the hole, it's a coin flip.

Assuming you're around the green, but not on it. Remember the thickness of the rough and the slope of the green. The rough is going to kill any backspin you put on a pitch or a flop, and you'll most likely be attempting from somewhere above the hole, so it's going to run fast and far. If you take those two factors into account, this is a makeable shot. I've holed out pitches from the rough on this hole several times and come close a dozen more. Play it as a lag and try to get the ball to stop at the hole. It's easy to run it 6'-8' by the hole.

From the bunker, par is still well within reach. If you're high in the bunker, you can pitch it onto the perfectly flat green between you and the pin. If you're deeper in the bunker, a full swing or flop is in order.

Hole 3


This hole is a long par 4 that gives up very few birdies. The tee box is as much as 35' above the fairway so look for a tailwind, add a little backspin, a dash of salt and you'll be looking at a 300+ yard drive. It's a wide fairway and forgiving. Avoid the rough, what do you want me to say?

The best lie is on the right side of the fairway to get a good look at the back left pin placement. From there, you can bump and run it up to the pin, which is the safer shot.

The Approach

Almost invariably, this is a long iron approach shot. Depending on the wind and your irons, you can fly it up to the hole or run it up the fairway. The green is probably about 15'-20' above you, but don't interpret that as automatically clubbing up. Much of the distance between you and the pin is green. If you bump and run, the ball rolling on the long green is going to make up for the distance lost to the elevation. You can play this shot pretty close to the rated distance of your irons and a centerball hit. This is a nice option to have when there is a strong crosswind and you want to keep the ball down.

Flying to the pin is the other option, but because of the elevation, you have to allow for a shorter ball flight and a longer roll out.

Hole 4


A dogleg right long par 4. Birdies are rare. Pars are well done.

Most likely, the landing area will be very close to the knee of the dogleg, maybe a little past. You're goal is to be as far right as possible, but still in the fairway. This will test your driving accuracy. Missing the fairway will put you in 40-50% rough. The upside to that result is you are no longer faced with the insecurity of figuring out how to hit a good approach. Just lay up. You're decision is made.

For the Legends, just try not to hit the big tree some idiot planted right in front of the tee box.

The Approach

At a buck and a half, you're probably a mid-iron away. But wait, the green is 20' up, but it looks perfectly level on my screen, maybe a half dozen feet, but surely not 20'! This is the problem I think most golfers have on this hole, because every single damned one of them ends up short and in the bunker.

It really is 20' up, you really do need to club up, and it really is going to come in low and flat. Be careful of tailwinds because you need to keep the ball between you and the pin. Running past this pin will result in a very fast downhill putt, though probably not with a lot of break.

Left to right winds also bring the tree into play. Which tree? Why, the magic tree of course. The tree so strong that a single outstretched twig, no thicker than a pencil, can stop a careening golf ball dead in its tracks and drop it back to earth like expelled bluejay poop. Anyway, if you over correct left, or otherwise miss left, you'll bring it into play.

It's really a very simple shot, just adjust for elevation, add backspin, correct for the wind, keep it below the hole, carry the bunker, and hit the ding. Easy right? This shot on this hole is one of the more difficult shots in golf.

From the bunker, it's not a difficult up and down. If you're going to miss, there are worse situations to be in. Just hit every shot on this hole perfectly and you should be ok.

Hole 5


A genuine birdie chance, short par 4.

The tee shot on this hole is just a joy. A nice wide fairway that sits below you 10' or so and makes a graceful arc to the left. Usually, the wind will help you here by coming somewhere from the right. If it's behind you a little, all the better. Just give your drive a half ball of backspin and miss the ding just a hair with the wind. You'll be rewarded with a nice long drive that seems to be following the centerline of the fairway around the bend. It's really a nice drive to watch.

The Approach

This is where it gets a little trickier. The hole is below you 5'-7'. If there's any kind of tailwind, trying to stick the ball by using backspin is likely to cause your approach to sail past the hole 6 yards. If the pin is in the front right location (I think that's the only location, but I'm not sure), then come at it from the left. The green slopes away from you and to the right toward the pin, so a better shot is a short iron that lands a few yards short and left, then trickles to the hole.

Because the hole is below you, your ball will hit Earth at a little steeper angle than normal which will cause it to roll a little less than normal, so take that into account too.

Hole 6


Easily birdied, sometimes eagled par 5.

The fairway is like 30' below you. If you have a tailwind, add some backspin and pick a spot 30 yards farther than usual to land your ball. Don't cheat the fairway here, play for the middle. If the wind is in your face, just hit it in the middle.

The only mistakes to be made on this tee shot are not expecting the ball to travel that far and missing the ding.

The 2nd and 3rd shots, lay up or approach?

Again, elevation is going to come into play. The fairway and green are both below you. That means with any kind of tailwind and full backspin with your 3w (or even sometimes 3i) you can add some serious carry. Whether or not that means you can reach the green is up to you. If you can, you have a real shot at eagle.

If you're not sure, play it to land in the throat, or simply lay up next to the water and take a full wedge into the green. It depends on the wind. If the wind is blowing left to right, try and ride that wind around the water and up to the green. If the wind is blowing right to left, lay up to your best wedge distance. As always, it's easier to hit a 60 yard full swing than a 35 yards half swing.

Hole 7


An uphill par 3 with a two tiered green.

It's 20+ feet above you, so the instinct is to club up. Not necessarily. Much depends on the ball flight of your irons and the spin your ball will accept, but I rarely club up from what the caddy offers me. I use full backspin and a 185 4i to get it to fly 170 ish and roll the last 6 yards. If there's a headwind of any kind, then you do need to club up, maybe even more than once if it's especially strong.

The real danger is missing left of the pin. The green runs toward you at about 45 degrees from right to left. The back half of the green is the upper portion, the front half is the lower portion. Bisecting the two halves is a steep 2'-3' rise. The pin is on the edge of the precipice on the upper half. If you miss left, you will have to putt up a 2' wall and the end of your putt.

On the other hand, shots that go long or right will have a very fast downhill putt coming back to the hole. Now here's the fun part. If you misjudge the speed coming down hill and overshoot the cup by more than a foot or so, yup, it's going to fall off the edge of that two foot wall and roll 20' away.

This is often when your stroke play opponent will quit.

Hole 8


A short, birdiable par 4.

This hole is the reward for making it through 7. Most golfers will be cutting the corner of this slight dogleg right at which point you'll be faced with a short iron or wedge into this green.

The only real difficulty on this hole is figuring out where and how to hit the green.

The green is probably 8-10' above you and there is the wind to deal with. With the green above you, your shot will land a little shorter and run a little longer. a quarter or half ball of backspin is usually enough get your irons to act normal again, now just correct for the wind and then it's target practice. Don't over think this hole and you should walk away with either a birdie or a lame excuse about why you didn't.

Hole 9


A very long par 5 that you can't reach in two so just don't even try.

Unless you're teeing off from the Legend tees with a subpar driver like me, there's really no reason for the average golfer to try and squeeze every last yard out of this drive. Your second shot is going to be a long iron or hybrid lay up anyway, so why risk the danger of an errant shot by adding all sorts of english to the ball. Just a clean center ball hit right down the middle. Nice and boring like.

The Approach

Your second shot is where you have to be precise. You want to be as far up the fairway as possible, but one foot past the end of the fairway is 40-50% rough. To make matters worse, the farthest point of the fairway turns into a downhill funnel that looks remarkably like the pourspout to a tupperware pitcher. Anyway, if your ball rolls too far, the fairway will "pour" you into the rough.

It's generally a good idea to hit your second shot with full backspin to get it a high and land as soft as possible. Because the fairway is far above you, plan on a lot of roll. If you hit this shot well, you'll be about 105 yards out and 6' below the hole.

The approach, a simple wedge to the hole. As with all uphill shots, plan on a shorter flight and longer roll. A little backspin will control the roll and extend the flight, but there's really nothing complicated about this final approach shot. The green is mostly flat but slightly up hill.

So long as you didn't do anything stupid like try to bounce it off the cart path, this is a very birdiable par 5. It just seems difficult because it rewards prudence and punishes risky shots.
---
Permissions in this forum:
You
cannot
reply to topics in this forum