THAT'S ENTERTAINMENT
CLICK ON ANY OF THESE LINKS TO FIND OUR EXTREME ENTERTAINMENT
Statistics
We have
383
registered users
The newest registered user is
AQUAWRAP
Our users have posted a total of
10376
messages in
2706
subjects
July 2021
| Mon | Tue | Wed | Thu | Fri | Sat | Sun |
| --- | --- | --- | --- | --- | --- | --- |
| | | | 1 | 2 | 3 | 4 |
| 5 | 6 | 7 | 8 | 9 | 10 | 11 |
| 12 | 13 | 14 | 15 | 16 | 17 | 18 |
| 19 | 20 | 21 | 22 | 23 | 24 | 25 |
| 26 | 27 | 28 | 29 | 30 | 31 | |
Calendar
71 WGT TUTORIALS & 32 YOUNG46 TUTORIALS
CLICK HERE
TO SEE OVER 100 YOUTUBE VIDEO TUTORIALS . FROM WGTers , WGT & YOUNG46
FORUM UPDATE
THIS FORUM IS FOR YOU ALL . PLEASE FEEL LIKE IT IS YOURS . READ THE FORUMS. POST COMMENTS . ASK QUESTIONS . IF YOU HAVE A COMPLAINT POST IT . MAKE SUGGESTIONS . READ SOME TUTORIALS . READ SOME GOLF TIPS . CHECK RECENT TOURNEY WINNERS . BROWSE OUR OLD FORUM ARCHIVES . LOG IN TO THE CHAT AND MESSAGE SOMEONE TO MEET YOU THERE AND ARRANGE A MATCH . LOG IN TO THE CHAT TO SEE IF SOMEONE IS THERE JUST TO SAY HI . MESSAGE ME IF YOU WANT TO GET ON THE DAILY BLITZ .
THE BLITZ SCORECARD IS ON
Page 3
PLEASE CLICK
HERE
TO FIND THE COURSE OF THE DAY AND SEE
THE WEEKLY STANDINGS .
PLEASE POST
YOUR SCORES HERE. IN THIS
KWIK KLIK TO YOUR FAV FORUM
Owner's Objectives
It's been a while since I expressed some of my objectives for the CC . First of all I like and respect everyone that joins our club . I realize that not everyone knows what a CC is all about . Many have different reasons for joining . I really don't know how many of the other clubs are run . They are all different . What I want to emphasize in our CC is that whatever tier you are . That you feel comfortable here , part of a team of players that come here to find conditions that enable them to improve their game , hone their skills , lower their scores ,lower their averages , move up in tiers . Enjoyably and comfortably with the conditions that challenge them enough to keep that drive without the frustrationsof regular game play . All that is completely possible by either creating those tourneys yourself or by messaging me about it . Or someone else in your tier that has been creating tourneys . Any kind of information that you need to know should be provided here , any kind of appp , calculator , help , tutorial , tournament , statistic , message , opinion , gripe , compliment , etc , etc . Should able to be aqcuired here ( or in our website , as it may be easier there ). With your help , all of this can be done easily . We already have a good start . I am going to be here for a very long time trying to achieve all this . For any of you that think it's a good direction for your CC to go in . Then lets keep on keepin on . Sincerely , Your Co team member PDB1 , Paul ( sitting here on a rare rainy day ) May the SUN always be with you
POST OF THE WEEK
Re:
Where are the Flags ?By Bertasion in Valley of the Sun Casual Club The other day upon the heather fair I hit a flagstick that was not there. I saw it's shadow and heard the clank but where it stood was just a blank. It was not there again today. I wonder when it will come back and stay. Brian
BLITZ LIST
HERE IS THE LIST OF BLITZ COURSES IN THE ORDER THEY ARE PLAYED EVERY WEEK OF EVERY SEASON .
DAILY BLITZ WEEKLY SCHEDULE



WEEK 1

BEST OF BANDON PAR 3
PEBBLE BEACH
THE OLYMPIC CLUB
VAHALLA
MERION


WEEK 2

PINEHURST NO.2
HARBOUR TOWN
KIAWAH ISLAND
ROYAL ST. GEORGE
CONGRESSIONAL


WEEK 3

ERIN HILLS
ST. ANDREWS
BALI HAI
CELTIC MANOR
BETHPAGE BLACK


WEEK 4

PINEHURST NO. 8
WOLF CREEK
CHALLANGE AT MANELE
EXPERIENCE AT KOELE
HILVERSUMSCHE


WEEK 5

EDGEWOOD TAHOE
BEST OF WATER SHOTS
BEST OF FAMOUS SHOTS
BEST OF PUTTING
CHAMBERS BAY
TIER & AVERAGE REQUIREMENTS
BASIC LEVEL AND AVERAGE REQUIREMENTS , AND SATURATION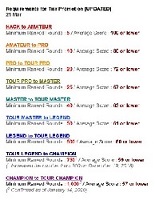 Hi all....here are a few golf jokes to tell your life partner or partners on the tees....I posted a few of these a long time ago, but they're funny (at least to me) and need repeating....I still get a good chuckle out of them. Enjoy....Jim


Four old men went into the pro shop after playing 18 holes of golf.

The pro asked, "Did you guys have a good game today?"

The first old guy said, "Yes, I had three riders today."

The second old guy said, "I had the most riders ever. I had five."

The third old guy said, "I had seven riders, the same as last time."

The last old man said, "I beat my old record. I had 12 riders today."

After they went into the locker room, another golfer who had heard the old guys talking about their game went to the pro and said, "I've been playing golf for a long time and thought I knew all the terminology of the game, but what's a rider?"
The pro said, "A rider is when you hit the ball far enough to actually get in the golf cart and ride to it."
***********************
I was playing with this 85-year-old man recently on a course that I was unfamiliar with. On the third hole, I asked him what's the best part of the fairway to be on, and he replied, "the top."
**********************
A guy on vacation finishes his round, goes into the clubhouse. The head pro says, "Did you have a good time out there?"

The man replied "Fabulous, thank you."

"You're welcome," said the pro. "How did you find the greens?"
Said the man: "Easy. I just walked to the end of the fairways and there they were!"
**********************
Last words of a golfer standing in the woods? "I can see a gap."
**********************
Four retired men play golf together once a week for many years. One day on 16th hole that runs along side the highway, a funeral procession drives by. One man says to the others, "Stop and remove your hats, show some respect."

Afterward, one of the other men asked him what got into him. "I have never seen you show anybody any respect."
The first man replied: "I was married to her for 65 years."
**********************
"Bad day at the course," a guy tells his wife. "Charlie had a heart attack on the third hole."

"That's terrible!" she says.
"You're telling me," the husband replies. "All day long, it was hit the ball, drag Charlie."
**********************
Guy gets to a long par 3 over water. A voice from above says, "Hit the new Titleist Pro V."

The guy tees up the Titleist and takes a mighty swing and hits the middle of the lake.
The voice comes back, "Never mind, I meant hit a range ball."
**********************
A U.S. citizen is vacationing on his own in Ireland. He decides to play a round of golf and is paired with three local gents.

He takes a few practice swings, steps up to the first tee, and proceeds to hook the ball out of bounds. He shakes his head, reaches in his pocket, and re-tees another ball. He tells his playing partners that he is taking a Mulligan. He pounds one down the center of the fairway about 280 yards out.

With a big smile, he asks the others "In the U.S., we call that a Mulligan; was wondering what you called it here in Ireland."
After a moment of silence, one of the locals replies, "Hitting three."
**********************
A golfer walks off the 18th green, hands his putter to his caddie and says, "Kid, you've got to be the worst caddie in the world."

The caddie replies, "Sir, that would be too much of a coincidence."
**********************
A man was addressing the ball when an announcement came over the loud-speaker: "Will the gentleman on hole number one please not hit from the Ladies' tee box."

The man backs away, a little distracted, then approaches his ball again. As he does, the same announcement comes over the loud-speaker: "Will the gentleman on hole number one please not hit from the Ladies' tee box."

The man is getting irritated now, and after backing away from his shot again, approaches his ball one more time. This time the announcement came: "We really need the gentleman on hole number one to move off of the Ladies' tee box!"
To which the man turns around and yells: "And I really need the announcer to shut up and let me play my second shot!"
**********************
A married couple played golf together everyday.

One day the man and his wife were on the first tee of their local course. He was on the white tee and she was waiting in front of him by the ladies tee.

He teed off and caught the ball perfectly; unfortunately it hit his wife smack in the back of the head killing her instantly.

She fell face down on the tee, didn't know what hit her.

They had an inquest on the wife's death, the coroner said it was clear how she died, she was killed by a golf ball, and that there was a perfect imprint of a golf ball on the back of her head.

The husband said, "Yes, that was my ball."

The coroner then went on to say that he was a bit concerned to find a ball inserted up the woman's backside, and could the husband throw some light on this?
The husband said, "Oh that must have been my provisional. I wondered where it went."
***********************
Two men ran out to the course for a quick nine after work. They get to the tee and see two ladies playing ahead of them.

One of the men complains that the ladies will slow them down and says he is going to ask if they can play through. He goes halfway to the ladies and turns back.

The other man asked what was wrong. The man said, "I can't go up there that's my wife and my mistress."
So the other man says he will go. He goes halfway and comes back. His partner asked what happened and the man replied, "Small world, huh?"
***********************
A Baptist pastor decides to play sick on a Sunday to play golf. He's playing the best golf of his life when an angel asks God, "Are you going to let this slide? Do something!"

So God says, "Watch this."

The pastor hits a 425-yard tee shot and the ball goes in the hole for a double eagle. The angel asks, "Why did you reward him?"

God says, "Who is he gonna tell?"

JimQ916




Posts

: 379


Join date

: 2014-12-31



---
Permissions in this forum:
You
cannot
reply to topics in this forum