September 2023
| Mon | Tue | Wed | Thu | Fri | Sat | Sun |
| --- | --- | --- | --- | --- | --- | --- |
| | | | | 1 | 2 | 3 |
| 4 | 5 | 6 | 7 | 8 | 9 | 10 |
| 11 | 12 | 13 | 14 | 15 | 16 | 17 |
| 18 | 19 | 20 | 21 | 22 | 23 | 24 |
| 25 | 26 | 27 | 28 | 29 | 30 | |
Calendar
Statistics
We have
464
registered users
The newest registered user is
kumarsharma91910
Our users have posted a total of
33940
messages in
5056
subjects
THAT'S ENTERTAINMENT
CLICK ON ANY OF THESE LINKS TO FIND OUR EXTREME ENTERTAINMENT

71 WGT TUTORIALS & 32 YOUNG46 TUTORIALS
CLICK HERE
TO SEE OVER 100 YOUTUBE VIDEO TUTORIALS . FROM WGTers , WGT & YOUNG46
FORUM UPDATE
TO THE MANY WELCOME GUESTS . THIS FORUM IS NO LONGER A COUNTRY CLUB WEBSITE FOR A WGT COUNTRY CLUB . PLEASE FEEL FREE TO READ THE FORUMS.

THERE ARE MANY TOPICS OF INTEREST . OR NOT . THIS WEBSITE IS AN INFORMATION AND ENTERTAINMENT WEBSITE ONLY .

MUCH OF THE CONTENT IS ARCHIVES OF PURPOSES PAST .

THERE ARE SOME MORE CURRENT TOPICS .
REGISTRATION IS NOT NECESSARY TO READ THROUGHOUT .

REGISTRATION IS EASY AND FREE . THIS IS AN AD FREE WEBSITE . NOTHING IS EVER REQUESTED FROM REGISTERED MEMBERS .
REGISTRATION ENABLES COMMENTING ON TOPICS . POSTING NEW TOPICS . FULL ACCESS TO THE WEBSITE IMAGE HOST . WHICH IS A VERY COMPLETE AND CONVENIENT TOOL .

PLEASE ENJOY .

ALL NEW
TIER & AVERAGE REQUIREMENTS
BASIC LEVEL AND AVERAGE REQUIREMENTS , AND SATURATION
WHILE YOUR HERE
WHILE YOUR HERE :
CHECK OUT THE INCREDIBLE PHOTOGRAPHY IN

MY SERIES

&

& MORE . ALL IN THE FORUM
THIS USED TO BE THE HOME OF OUR WORLD CLOCK . WHICH CAN NOW BE FOUND IN ITS OWN FORUM ON THE MAIN PAGE ..
THERE ARE MORE WORLD CLOCKS INSIDE HERE .
BLITZ 16
Supposedly . We'll see .

I don't like to play dirty . And i never will . But there are plenty out there that will .
  She began here by posting that the profile picture was one of her in her youth .
  I got a barrage of letters about that . It turns out the picture is that of a hair coloring model .
  A very popular one at that .
  That would mean that she is our first female who's picture was that of another . No big deal really .
  But i then have to wonder about the letters telling me that not only is she not married .
  Some think she is not a female at all .
  And a multi accounter to boot .
  You all remember this post of hers in
PLEASE WELCOME NEW RECRUIT SCOTTISHXPRIDE
  It has been pointed out that someone that tries that hard to convince . Is probably hiding something very big .
  I have no idea .
  I'm just sayin
  I wish her no harm .
  But there are others that could care less about her

pdb1 wrote
on 04 Dec 2017 at 5:53 AM


  If you don't know by now . Felicia is making a Secret Santa list . Something I and many of us like to do this time of year . For it to work we need all members to report one way or another . So she knows who to match up with who .
  At the same time . i am trying to do a friendly roll call . This is necessary periodically . Just to keep a line of communication with all of you and myself .
  This is all friendly .
  Felicia needs to hear from all members no later than December 15th .
  The easiest and best way to this is to respond in ROLL CALL PLEASE TO CONTINUE WITH US IN 2018 .
  For some reason . I cannot get the attention of the 26 very cool and awesome members below .
  This is very frustrating for administrators like felicia and myself .
  Please just click on the roll call and help us finish the list .
  Thank you .
 
AggieHockey57
ajpatruzzi
azdewars
BigAl57
CoryGRobinson
DirtyDuffer
donnymac3
Dosser53
doveruk
dryspot
goldenbear128
GuntDustafson
Howcho
Jarhead2LT
jcm51
Jtcooki\
kishoph
macmanred
Mcdad90
mrgain
robsalascr
SCOTTISHxPRIDE
SeeRizz
ShivaNC
Shnig19
Textor
wishman51


pdb1 wrote
on 04 Dec 2017 at 7:07 PM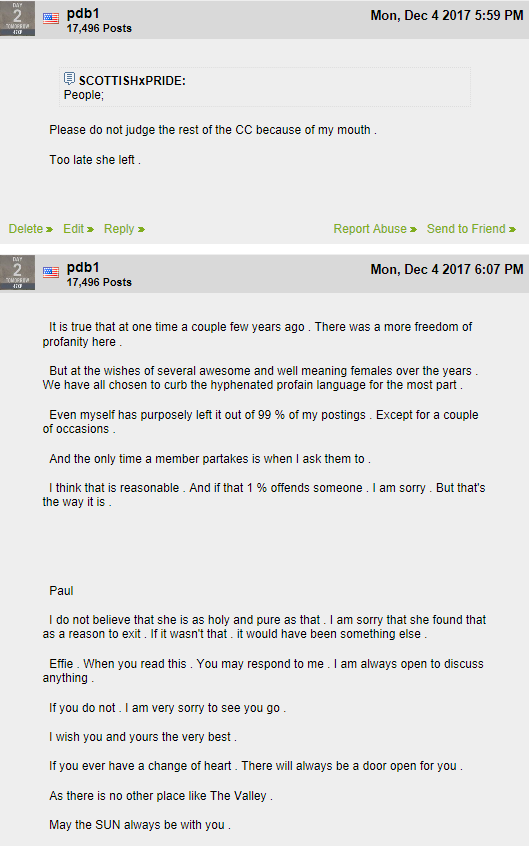 it is not easy . In fact many people cannot handle being ignored by 1 person . much less a dozen or 2 .
  I can handle it . And i do . With only 1 profane word uttered . As a rule . We do not use profanity in VOTSCC .
  There is one light hearted traditional exception . Humorous and harmless . And the owners occasional human slip .
  I do not apologize for this . I would likle to apologize if you were not happy . I am sorry to see you go .
  Paul

pdb1 wrote
on 04 Dec 2017 at 11:11 PM

  I am going to remind you that i have only been very polite and mature to you . And that is the way I / we conduct ourselves in VOTSCC . 
  The blog on your wall is out of line . Along with completely false . 
  I am going to ask you to please take down the blog on your wall . 
  I will ask you please now and give you a day or 2 . 
  . 
Thank you
Paul

pdb1 wrote
on 05 Dec 2017 at 12:11 AM

 What am I going to do about it ? Nothing . I don't play that way .
But there are many that do .
From your 1st day . I got a barrage of letters about the profile pic you claimed to be you in your youth . It turns out it is a famous hair color model . No big deal .
  You remember this post in


PLEASE WELCOME NEW RECRUIT SCOTTISHXPRIDE


Some said that someone that tries so hard to convince . has something very big to hide .
Some say you are not even married .
Some say you are not even female .
Some are sure you are a multi accounter
I don't believe any of it .
It doesn't matter what I believe . Even if I believe in you .
 
But I and my CC did nothing to warrant public berating . No one has spoken ill of you in public .
So please take down that blog post .
SCOTTISHxPRIDE
wrote
on 06 Dec 2017 at 6:40 PM
Paul;
I am asking nicely for you to stop contacting me. Nice, cobra's are nice, just do not get to close to them. you remind me of a cobra...only its your mouth that going to get you into trouble. 
Anything i would have put up picture wise would have been scoffed at...So, i put a picture up. Never said it was me, I said, looked like me in my youth...you stand corrected. 
I see now why you C.C. is in the shape its in. Do it a favor, and pick someone else to run. You border on being a control freak, and if, people don't do it your way, you will aggravate the living daylights out of them. 
Glad i found this out sooner, rather than later.
Now, leave me alone. Donot contact me again, or, i'll report you for harressment. 
You've been warned.
LEAVE ME ALONE!
eFFIE. 

pdb1
wrote
on 06 Dec 2017 at 6:55 PM
  No need to report anything .
You have me so wrong . That is okay . You took down the blog . I won't be contacting you .
  About the picture I didn't even notice or care . other people messaged me about it . I was only informing you that if there was any trouble . I would not be a party to it at all . I do not play that way . But others do .
  You can choose not to believe me . but I have never had a reason to deceive or lie .
  Have a nice life .
---
Permissions in this forum:
You
cannot
reply to topics in this forum