THAT'S ENTERTAINMENT
CLICK ON ANY OF THESE LINKS TO FIND OUR EXTREME ENTERTAINMENT
Statistics
We have
393
registered users
The newest registered user is
immortalGoku1452
Our users have posted a total of
10638
messages in
2747
subjects
October 2021
| Mon | Tue | Wed | Thu | Fri | Sat | Sun |
| --- | --- | --- | --- | --- | --- | --- |
| | | | | 1 | 2 | 3 |
| 4 | 5 | 6 | 7 | 8 | 9 | 10 |
| 11 | 12 | 13 | 14 | 15 | 16 | 17 |
| 18 | 19 | 20 | 21 | 22 | 23 | 24 |
| 25 | 26 | 27 | 28 | 29 | 30 | 31 |
Calendar
71 WGT TUTORIALS & 32 YOUNG46 TUTORIALS
CLICK HERE
TO SEE OVER 100 YOUTUBE VIDEO TUTORIALS . FROM WGTers , WGT & YOUNG46
FORUM UPDATE
THIS FORUM IS FOR YOU ALL . PLEASE FEEL LIKE IT IS YOURS . READ THE FORUMS. POST COMMENTS . ASK QUESTIONS . IF YOU HAVE A COMPLAINT POST IT . MAKE SUGGESTIONS . READ SOME TUTORIALS . READ SOME GOLF TIPS . CHECK RECENT TOURNEY WINNERS . BROWSE OUR OLD FORUM ARCHIVES . LOG IN TO THE CHAT AND MESSAGE SOMEONE TO MEET YOU THERE AND ARRANGE A MATCH . LOG IN TO THE CHAT TO SEE IF SOMEONE IS THERE JUST TO SAY HI . MESSAGE ME IF YOU WANT TO GET ON THE DAILY BLITZ .
THE BLITZ SCORECARD IS ON
Page 3
PLEASE CLICK
HERE
TO FIND THE COURSE OF THE DAY AND SEE
THE WEEKLY STANDINGS .
PLEASE POST
YOUR SCORES HERE. IN THIS
KWIK KLIK TO YOUR FAV FORUM
Owner's Objectives
It's been a while since I expressed some of my objectives for the CC . First of all I like and respect everyone that joins our club . I realize that not everyone knows what a CC is all about . Many have different reasons for joining . I really don't know how many of the other clubs are run . They are all different . What I want to emphasize in our CC is that whatever tier you are . That you feel comfortable here , part of a team of players that come here to find conditions that enable them to improve their game , hone their skills , lower their scores ,lower their averages , move up in tiers . Enjoyably and comfortably with the conditions that challenge them enough to keep that drive without the frustrationsof regular game play . All that is completely possible by either creating those tourneys yourself or by messaging me about it . Or someone else in your tier that has been creating tourneys . Any kind of information that you need to know should be provided here , any kind of appp , calculator , help , tutorial , tournament , statistic , message , opinion , gripe , compliment , etc , etc . Should able to be aqcuired here ( or in our website , as it may be easier there ). With your help , all of this can be done easily . We already have a good start . I am going to be here for a very long time trying to achieve all this . For any of you that think it's a good direction for your CC to go in . Then lets keep on keepin on . Sincerely , Your Co team member PDB1 , Paul ( sitting here on a rare rainy day ) May the SUN always be with you
POST OF THE WEEK
Re:
Where are the Flags ?By Bertasion in Valley of the Sun Casual Club The other day upon the heather fair I hit a flagstick that was not there. I saw it's shadow and heard the clank but where it stood was just a blank. It was not there again today. I wonder when it will come back and stay. Brian
BLITZ LIST
HERE IS THE LIST OF BLITZ COURSES IN THE ORDER THEY ARE PLAYED EVERY WEEK OF EVERY SEASON .
DAILY BLITZ WEEKLY SCHEDULE



WEEK 1

BEST OF BANDON PAR 3
PEBBLE BEACH
THE OLYMPIC CLUB
VAHALLA
MERION


WEEK 2

PINEHURST NO.2
HARBOUR TOWN
KIAWAH ISLAND
ROYAL ST. GEORGE
CONGRESSIONAL


WEEK 3

ERIN HILLS
ST. ANDREWS
BALI HAI
CELTIC MANOR
BETHPAGE BLACK


WEEK 4

PINEHURST NO. 8
WOLF CREEK
CHALLANGE AT MANELE
EXPERIENCE AT KOELE
HILVERSUMSCHE


WEEK 5

EDGEWOOD TAHOE
BEST OF WATER SHOTS
BEST OF FAMOUS SHOTS
BEST OF PUTTING
CHAMBERS BAY
TIER & AVERAGE REQUIREMENTS
BASIC LEVEL AND AVERAGE REQUIREMENTS , AND SATURATION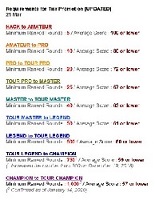 Take your place on the podium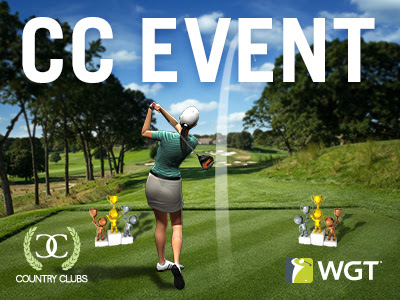 Compete now in CC Event #67 through Fri, 2/23 for your chance to win these Podium tees and flags.
With that big winter sporting event going on, we figured we'd bring out the competitor in you and put you on the podium.
Plus, the top 500 clubs will also receive Course Builder currency for 
custom courses.
Play Now
Did you know: You can earn up to 2X Country Club XP, carry even more CC Passes and generate Passes faster with a WGT Plus or Premier Membership? Upgrade now and the benefits last for an entire year!
CC Event #67 runs 2/22-2/23 with multiple 4-hour Clashes, so be sure to play as many games as you can for your club and keep your eyes on the leaderboard.
Well here is another CLASH . For those of you that are unfamiliar with these events .
They are WGT's version of CC vs CC .

  In which during a 48 hour period . We are matched up with 11 different CC's for a 4 hour CLASH each .

  Each  4 hour CLASH that you use a free pass your free pass will renew at the same time of the next 4 hour CLASH .. But only if you use it .
  This is an exploitive event for WGT in that it sucks in many to buy many passes and balls . A big cash cow . And somewhat controversial . 

  There are about 20 of us that enjoy these events . One is not required to play at all . 
  But remember your free pass renews at each 4 hour Clash that you play in.

  All participants that are on a low budget can receive extra passes and balls .
  You can message Jeff , Cory , Dan , Ron , Myself , or this thread . They will either take care of you or let me know or both . Speed boosts are also available through me if you cannot afford them .

  If you play . I suggest you play your ass off . Which for some mean 4 , 5 , 6 rounds or more in each 4 hour CLASH  But try to spread your time equally throughout the 48 hour event . Try to save some of yourself for the later rounds . Which could be crunch time . Which will be Friday evening . between 6:00 PM to 10: 00 PM .

  Some players feel the need to amass 2,000 , 3,000 , 4, 000 points in each event . That is up to them . They enjoy the event a lot . There does not have to be any pressure on one that participates . Even if one only plays the one free pass in each CLASH . That would give them over 200 points . That is with out trying , with out any extra effort , without purchasing a single pass .

 
   Winning a 4 hour CLASH is only important in that there is a 500 point bonus for winning . And adds to overall point total .. 


   If you are broke and want to play more . Please just post here . You will receive more passes quickly . 
   We do extremely well in these . This is where we win all of our Flag and Tee markers for our tournaments .

  For those of you that are not very familiar with this format . Take every philosophy you have ever heard and throw it out the window . The uniqueness of this event will write you a new book . Never before have you been faced with these scenarios and decisions and conclusions that go against all logic .




   MY SELF AND MANY OF YOU CANNOT BE HERE THROUGHOUT THE ENTIRE EVENT . WE NEED ALL OF YOU PARTICIPANTS TO PLEASE BE ATTENTIVE TO THE END AND RESTARTING OF EACH 4 HOUR CLASH . WHEN EACH CLASH ENDS SOMEONE , ANYONE PLEASE CLICK TO START THE SEARCH FOR THE NEXT MATCH .
  This weeks SuperPasses are assigned to 

Charles1553N

CoryGRobinson

JimQ916

pdb1

dschom5

Next260
felimac
  NEW CONFIRMATION ON HOW MANY SUPERPASSES OUR DIRECTORS RECEIVE .
  We start each 1st CLASH with the total of passes for our level plus any if any extra won by the turfwars . This week that number is 21
. We gain 2 more at the beginning of each CLASH after the first CLASH . If we play 10 more CLASHes . That = 21 + 20 = 41 . That is equivalent to 6 passes each for our 7 officers . If we each plan on using 6 each . It will work out . Please keep track of your SP usage . Especially at the end of the event . Some directors wait until the very end to use theirs . So a lot of SP's at the end . Does not mean there are extras .
  Thank you
Last edited by Paul on Sat Feb 24, 2018 12:04 am; edited 4 times in total
Last edited by Paul on Fri Feb 23, 2018 11:26 pm; edited 1 time in total
We here at VOTSCC enjoyed our CLASH with your CC in CLASH # 67.
 We would like thank  
Sherwood Greens
 and wish you the best of luck
_______
May the SUN always be with you
 home of
https://www.valleyofthesuncc.com/
_________________
Last edited by Paul on Thu Mar 15, 2018 1:39 pm; edited 1 time in total
likesmallbutts13 Feb 2018 @ 2:03 PM
"Thank you " 
We had fun and enjoyed playing you in the clashes also,,,
 
Donna

littlejohn61
25 Feb 2018 @ 9:24 AM
"THANK YOU" 
We always enjoy playing you guys, You are our best motivator. We have our issues with health and all but I refuse to lay down. I am one of the best recruiters out there and will continue to find the best with a small club. It dont take 250 to go where we are going. TY PDB1 for the warm wishes I appreciate that. LJ 

Wood4Woody wrote "Sorry for late reply" 
at 7:22 AM on March 9, 2018
Only just got round to checking profile page and read your comment on my wall regards CC67.
Many Many thanks  from Dawn and myself.
As a new club - I only started it after CC64 - with only 2 players, at the moment most of our time is spent racking up the club xp, with the Clashes coming as a nice break in the tedium.
3 events under our belt and currently sitting 288, a few more players and we could be a good challenge later on.
Hope to meet again in next clash.
Take care and may the Great God " Holey Putt - Putt " bear riches down on you and your fellow players.
Cheers again
Woody
Oh yeah, have sent you friend invite, I hope you will accept it and we can meet out on the greens.
---
Permissions in this forum:
You
cannot
reply to topics in this forum