THAT'S ENTERTAINMENT
CLICK ON ANY OF THESE LINKS TO FIND OUR EXTREME ENTERTAINMENT
Statistics
We have
382
registered users
The newest registered user is
theshawno
Our users have posted a total of
10300
messages in
2688
subjects
July 2021
| Mon | Tue | Wed | Thu | Fri | Sat | Sun |
| --- | --- | --- | --- | --- | --- | --- |
| | | | 1 | 2 | 3 | 4 |
| 5 | 6 | 7 | 8 | 9 | 10 | 11 |
| 12 | 13 | 14 | 15 | 16 | 17 | 18 |
| 19 | 20 | 21 | 22 | 23 | 24 | 25 |
| 26 | 27 | 28 | 29 | 30 | 31 | |
Calendar
71 WGT TUTORIALS & 32 YOUNG46 TUTORIALS
CLICK HERE
TO SEE OVER 100 YOUTUBE VIDEO TUTORIALS . FROM WGTers , WGT & YOUNG46
FORUM UPDATE
THIS FORUM IS FOR YOU ALL . PLEASE FEEL LIKE IT IS YOURS . READ THE FORUMS. POST COMMENTS . ASK QUESTIONS . IF YOU HAVE A COMPLAINT POST IT . MAKE SUGGESTIONS . READ SOME TUTORIALS . READ SOME GOLF TIPS . CHECK RECENT TOURNEY WINNERS . BROWSE OUR OLD FORUM ARCHIVES . LOG IN TO THE CHAT AND MESSAGE SOMEONE TO MEET YOU THERE AND ARRANGE A MATCH . LOG IN TO THE CHAT TO SEE IF SOMEONE IS THERE JUST TO SAY HI . MESSAGE ME IF YOU WANT TO GET ON THE DAILY BLITZ .
THE BLITZ SCORECARD IS ON
Page 3
PLEASE CLICK
HERE
TO FIND THE COURSE OF THE DAY AND SEE
THE WEEKLY STANDINGS .
PLEASE POST
YOUR SCORES HERE. IN THIS
KWIK KLIK TO YOUR FAV FORUM
Owner's Objectives
It's been a while since I expressed some of my objectives for the CC . First of all I like and respect everyone that joins our club . I realize that not everyone knows what a CC is all about . Many have different reasons for joining . I really don't know how many of the other clubs are run . They are all different . What I want to emphasize in our CC is that whatever tier you are . That you feel comfortable here , part of a team of players that come here to find conditions that enable them to improve their game , hone their skills , lower their scores ,lower their averages , move up in tiers . Enjoyably and comfortably with the conditions that challenge them enough to keep that drive without the frustrationsof regular game play . All that is completely possible by either creating those tourneys yourself or by messaging me about it . Or someone else in your tier that has been creating tourneys . Any kind of information that you need to know should be provided here , any kind of appp , calculator , help , tutorial , tournament , statistic , message , opinion , gripe , compliment , etc , etc . Should able to be aqcuired here ( or in our website , as it may be easier there ). With your help , all of this can be done easily . We already have a good start . I am going to be here for a very long time trying to achieve all this . For any of you that think it's a good direction for your CC to go in . Then lets keep on keepin on . Sincerely , Your Co team member PDB1 , Paul ( sitting here on a rare rainy day ) May the SUN always be with you
POST OF THE WEEK
Re:
Where are the Flags ?By Bertasion in Valley of the Sun Casual Club The other day upon the heather fair I hit a flagstick that was not there. I saw it's shadow and heard the clank but where it stood was just a blank. It was not there again today. I wonder when it will come back and stay. Brian
BLITZ LIST
HERE IS THE LIST OF BLITZ COURSES IN THE ORDER THEY ARE PLAYED EVERY WEEK OF EVERY SEASON .
DAILY BLITZ WEEKLY SCHEDULE



WEEK 1

BEST OF BANDON PAR 3
PEBBLE BEACH
THE OLYMPIC CLUB
VAHALLA
MERION


WEEK 2

PINEHURST NO.2
HARBOUR TOWN
KIAWAH ISLAND
ROYAL ST. GEORGE
CONGRESSIONAL


WEEK 3

ERIN HILLS
ST. ANDREWS
BALI HAI
CELTIC MANOR
BETHPAGE BLACK


WEEK 4

PINEHURST NO. 8
WOLF CREEK
CHALLANGE AT MANELE
EXPERIENCE AT KOELE
HILVERSUMSCHE


WEEK 5

EDGEWOOD TAHOE
BEST OF WATER SHOTS
BEST OF FAMOUS SHOTS
BEST OF PUTTING
CHAMBERS BAY
TIER & AVERAGE REQUIREMENTS
BASIC LEVEL AND AVERAGE REQUIREMENTS , AND SATURATION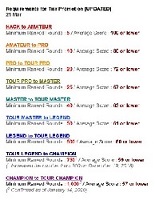 AZWIZ
a minute ago
  The story about the time I received a lifetime banishment .
   Back in 2014 . I really don't know what I thought I was doing . Thinking I could create my own website / Forum .
   Through one of the many free website / forum providers .
   I had no prior forum experience . Had only briefly visited a few . Maybe only joined one before this point in time .
   But here I was signing in to create what I thought was going to be piece of cake .
   Until I saw this topic in the follow 3 topics to join DISQUS topic list . I had almost forgotten about the adventure that I had then . I now wish that I had saved some of the many incidents along the way . To assist with the telling of this story . I will have to trust my memory for that .
   So here I was . Staring at a blank homepage of my new forum . All of it completely foreign to me .
   HTML may as well,been a hole in the ground .
   Java script ? I like mine with cream and sugar . Thank you .
   Coding ? Oh you mean like the Navajo code talkers ? Maybe they mean Morse code . Yeah that's it .
   I was obviously
forumly challenged
. I actually was born that way .
   It was obvious that I needed to put up a banner . Learn how to create a topic . How to post . Where are all these little widgets that are suppposed to be running around ?
   I finally found a link to " free forum support " . Okay GR8 . Now were getting somewhere . I clicked on a few topics to get in and ask some questions . But they all kept saying
" Sorry, but only users granted special access can post topics in this forum. "
   What ? Oh oh .
   Hmmm there's a search feature . Lets see what we can find . We were all there that day . Me , myself , and I . A rare day
.
   I start to read this stuff . It is in English . But it is different . Everything was described with vocabulary that I thought I knew the meaning to . But that's not what I called it . That word doesn't mean that .
   And something else . A lot of it was contradictory .
" to enable , click to disallow "

   What ? Uh oh I am in some different kind of English .
   I later found out that this was all written in UK . That explained a lot . Lol . This was going to be even harder than I first imagined . No wonder this vocabulary had so many descriptions using words that I had been taught meant something else entirely . Now I had to learn UK . Is there a Rosetta Stone for that ? Lol . I wish .
   Some how I finally was able to find out how to create a post for discussion .
   I had hundreds of questions .
   I did everything wrong . From the titles not being specific to the point . HOW DO I .......?
   To inquiring multiple topics in each post . They were all related so why not address them all ?
   Not waiting the minimal 24 hours for a response Reposting and double posting all over the place .
   And not getting answers to a single one of them .
   NO CAPITALIZING
   No color changing
   NO
italics

   These were all reserved for these special moderators
   I kept getting no answers to anything I posted .
  But I got this
Also note that warnings are adding up on your profile and you will get banned if you:
- Receive 3 reminders (Turns into a warning)
- Receive 1 warning + a serious warning
- Receive 2 warnings + a serious warning
- Receive 2 serious warnings
- If you spam you will be banned on the spot without any warning .
   OMG . All I want is to get some answers so I can build my fing forum .
   At this point . According to what I now find out are all volunteer moderators .
   I was on the verge of getting banned .
   That's all I needed . The last thing I needed was to have stay in the penalty box for a week or something .
  Which I later learned was not a penalty box at all . Just simply banishment for life . With the possibility of deleting my forum altogether .
   Still clueless to the above . I still took the warnings seriously . And tried very hard to be a good doobie .
   I would post a full title . Not capitalized . On topic . I would try to stay on one topic in each post . No more coloring of important words , no more italics , no more yelling I mean capitalizing . Patiently waiting for replies .
   This is when the vocabulary definitions started to completely destroy any bridge of communication that was so necessary .
   Not to mention that nearly every question I submitted was met with a question of their own . Questions with words that I didn't know were part of what I was doing .
   But knowing I was already walking on thin ice with baseball cleats on . I kept my cool . I learned one little thing at a time .
   Things started to make some sense . And within a few months . I had worked with the design crew to create the banner and themes of my dreams .
   This was after I learned that the AP they kept mentioning . Was not the corner Quick Mart . But my own "AMINISTRATION PANEL " . Yeehaw ! In which to create all of this stuff I knew nothing about .
   I read hundreds of tutorials . But still had 10 questions in each one .
6 months into it . I had created a semblance of a forum .
   Being a regular of the support forum for such a big part of that learning process . I would make little sarcastic remarks to the moderators .Usually completely harmless a little humorous in an ironic sort of way .
   But one day upon entering the support forum and observing one of the current discussions . With the head moderator completely shredding a new posters composition and everything about his post .
   Just like he had done with me months earlier . It also,seemed to me that this head moderator had become even more insensitive . Pretty close to rude and mean to this poor guy . Cutting him no slack at all .
   I decided to chime in . ( big mistake ) . I only said something like .
" There he goes again . You would think he would have some manners ."
   I didn't find out till a couple days later . When I tried to log into the support forum and could not do so . That something was not right .
   I tried everything . But nothing . Nothing . I was a little freaked out . I didn't know yet that I had been banned .
   A couple weeks went by and I received a PM message . That I was banned from the support forum .
   I tried to contact the sender . Corporate I think . To try and find out how I could rectify this . And or how long of a sentence I was looking at .
This is what I got back .
***************************************
Hi,
If the staff decided to ban your profile, we cannot help you further.This is a permanent ban .
Best regards
*******************************************************
   So I panicked . I still had a forum to build . I still knew nothing about anything . I needed that support forum . Badly .
   I started to send letters of apology . Month after month . I tried to research how to undo this permanent ban
.
   I found out that it was out of the hands of the support department . That a corporate litigation team was who makes all final decisions .
   I continued to send these letters of apology . That I had been ignorant . I had unintentionally broken the rules and meant no disrespect . And I was at a loss . A dead standstill of any further progress for continuing to build my own forum .
   That I had learned my lesson . Served my time . And promised to be of my best behavior and completely respect the rules and the moderators .
   If they would kindly lift my ban .
   Over a period of about 8 months . That seemed like years . I sent at least 10 of those messages or similar .
Here is one of them .
  I am offering my most sincerest apologies . For the uncalled for
comment or comments that ultimately led to my banishment . I understand
exactly why . Therefore assuring I could never again infringe in any way the
proper behaviors of support . This is an honest and sincere
and serious apology .
Thank you for your time
I finally received my reprieve .
****************************************
Hi Paul,
We can understand your frustration but if the staff banned you, you probably didn't respect the support rules.
We have decided to unbaned your profile on the support and turn your warning level to the red colour.
If any other requests, thanks for contacting the support forum.
Best regards
**************************************************************
   That was almost 3 years ago . I have been appreciative and respectful .
  I was able to complete a very incredible website / forum . It was my baby in progress for a couple of years .
Last edited by Paul on Sun 30 Aug 2020, 21:25; edited 5 times in total
There was another incident . Some months after that .
   I received another PM from the same head moderator .
  Your forum is being considered for deletion or ban for questionable content because of this type of violation of the Terms of Service.
Illicit contents , pornography
I guess he had been spying and dug up a pair of breasts and turned me in .
I cleared it up .
To this day . Years later . I still have the pleasure of his assistance . When I have a support question .
***************************************
i HAD TOPICS WITH LOTS , HUNDREDS OF QUESTIONABLE CONTENT .
  Since this mitigation team was the ones reviewing the content .
  There is no place to hide from them . They can even see my secret forum .
MY SHIT I DON'T WANT YOU TO SEE
  So I took a chance . i created a forum that only members of the site could see .
  I figured that members could keep their kids out of one forum in the whole site .
   I put it all in this forum and blocked it to guests.
VALLEY OF THE FUN
  Been 3 years . I think we are all good .
Last edited by Paul on Fri 02 Mar 2018, 14:23; edited 1 time in total
Story 3
Azwiz2u • 2 days ago
  Let me try again . See if we can shorten it up a bit .
  THE NEXT FORUM BAN was in a sports open forum with little to none moderation . So most of us felt free to push the envelope a lot . .
   Every once in a while someone would slip up and talk religion or politics . And get the whole thread deleted . Or there was always a guy that insisted on CAPITALIZING . That eventually got him a lifetime ban from the forums . He would still sometimes comment on the emails of the posts he was active in . And one of us would copy and paste it into the thread .
  The moderators did basically nothing to anyone for 8 or 10 years . Seemed like they couldn;'t get out of the back room doing bong hits long enough to moderate .  
  Who knows what they were doing ?
  Then all of a sudden every once in a while . A popular OP would get moderated . Out of the blue . ( posts would be moderated , reviewed before being released a day or 2 later . )
  Really a pain in the ass for the poster .
  So we figured that they were just randomly selecting us . Moderating us for a few months . Just to catch up and say they had done their job .
  My turn came . A few months went by . Very irritating because I posted so much in dozens of topics . That some would never get posted because they couldn't keep up with the overload of posts in the moderating que .
  On the day that first moderation was lifted . I ended up calling a guy a jack ass . Which would normally be overlooked . Not any longer . Right back on moderation .
Awe crap . This sucked . 3 months went by . I messaged and asked to be released .
  No answer .
  6 months went by . I messaged again . Like enough's enough .
  I got a response this time . " Judging from your past . That's not going to happen . "
  Lol what ? me ? you have got to be kidding me right now right ?
  Response said . " maybe in a year in 2018 we will consider it . "
  WoW !
  That was a long damn year . But it finally came . And as they said they would . 
  Lifted my moderation .
---
Permissions in this forum:
You
cannot
reply to topics in this forum