THAT'S ENTERTAINMENT
CLICK ON ANY OF THESE LINKS TO FIND OUR EXTREME ENTERTAINMENT
June 2020
| Mon | Tue | Wed | Thu | Fri | Sat | Sun |
| --- | --- | --- | --- | --- | --- | --- |
| 1 | 2 | 3 | 4 | 5 | 6 | 7 |
| 8 | 9 | 10 | 11 | 12 | 13 | 14 |
| 15 | 16 | 17 | 18 | 19 | 20 | 21 |
| 22 | 23 | 24 | 25 | 26 | 27 | 28 |
| 29 | 30 | | | | | |
Calendar
Forum Updated Index
If you wanted to look at the Magic Star . You will see that it is in the forum F6 . If you click F6 you wiil see just those 12 forums . Then you can look in each one at all the topics in them .
F1 ALL MEMBERS BRIEFLY INTRODUCE YOURSELF
F2 Valley of the Sun CC SITE AND FORUM GUILDELINES
VOTSCC TOURNAMENT MAKING GUIDE
VOTSCC OUR WGT CC BASIC PROTOCO
L
F3 Valley of the Sun CC HALL OF FAME REPLAY BLOOPERS
Valley of the Sun CC BEST OF REPLAYS
F5 RECENT TOURNEY WINNERS
VOTSCC "KICK ASS" 100,000 POINT CLUB MEMBERS
F6 FORUM FOR PAGE 3 & SAT & SUN BRACKETS & TOURNEY INFO HERE
FLASH MOB & ECGA POKER & MY LEAGUE POOL HALL PROS
LEXMARK 2500 CREDIT TOURNEY
VOTSCC INTERPLAY CC VS CC MATCHES
ACE'S " Best of the Alternate Shot Championship "
JUNE28 RATTLESNAKE ALT SHOT
DON"T CHOKE IT "JOKE IT "
TIPS FROM THE DOCTOR OF TECHNOLOGY AZDEWARS
F9 Current Events ,,Announcemets , Bulletin Board Part 1
AZ "HOT SHOTS" REMEMBERED
RANDOM SELFLESS ACTS OF KINDNESS
F11 CHAT ? ANYONE HERE TO CHAT WITH ?
DAVID LANES KICK ASS GALLERY OF ART
FORUM OF OLD WGT FORUM POST'S (archives)
OFF THE WALL , THX FOR A WALL OF A GOOD TIME
Gallery
Click on Gallery in toolbar above to see Galleries
FORUM UPDATE
THIS FORUM IS FOR YOU ALL . PLEASE FEEL LIKE IT IS YOURS . READ THE FORUMS. POST COMMENTS . ASK QUESTIONS . IF YOU HAVE A COMPLAINT POST IT . MAKE SUGGESTIONS . READ SOME TUTORIALS . READ SOME GOLF TIPS . CHECK RECENT TOURNEY WINNERS . BROWSE OUR OLD FORUM ARCHIVES . LOG IN TO THE CHAT AND MESSAGE SOMEONE TO MEET YOU THERE AND ARRANGE A MATCH . LOG IN TO THE CHAT TO SEE IF SOMEONE IS THERE JUST TO SAY HI . MESSAGE ME IF YOU WANT TO GET ON THE DAILY BLITZ .
KWIK KLIK TO YOUR FAV FORUM
THE BLITZ SCORECARD IS ON
Page 3
PLEASE CLICK
HERE
TO FIND THE COURSE OF THE DAY AND SEE
THE WEEKLY STANDINGS .
PLEASE POST
YOUR SCORES HERE. IN THIS
Owner's Objectives
It's been a while since I expressed some of my objectives for the CC . First of all I like and respect everyone that joins our club . I realize that not everyone knows what a CC is all about . Many have different reasons for joining . I really don't know how many of the other clubs are run . They are all different . What I want to emphasize in our CC is that whatever tier you are . That you feel comfortable here , part of a team of players that come here to find conditions that enable them to improve their game , hone their skills , lower their scores ,lower their averages , move up in tiers . Enjoyably and comfortably with the conditions that challenge them enough to keep that drive without the frustrationsof regular game play . All that is completely possible by either creating those tourneys yourself or by messaging me about it . Or someone else in your tier that has been creating tourneys . Any kind of information that you need to know should be provided here , any kind of appp , calculator , help , tutorial , tournament , statistic , message , opinion , gripe , compliment , etc , etc . Should able to be aqcuired here ( or in our website , as it may be easier there ). With your help , all of this can be done easily . We already have a good start . I am going to be here for a very long time trying to achieve all this . For any of you that think it's a good direction for your CC to go in . Then lets keep on keepin on . Sincerely , Your Co team member PDB1 , Paul ( sitting here on a rare rainy day ) May the SUN always be with you
POST OF THE WEEK
Re:
Where are the Flags ?By Bertasion in Valley of the Sun Casual Club The other day upon the heather fair I hit a flagstick that was not there. I saw it's shadow and heard the clank but where it stood was just a blank. It was not there again today. I wonder when it will come back and stay. Brian
BLITZ LIST
HERE IS THE LIST OF BLITZ COURSES IN THE ORDER THEY ARE PLAYED EVERY WEEK OF EVERY SEASON .
DAILY BLITZ WEEKLY SCHEDULE



WEEK 1

BEST OF BANDON PAR 3
PEBBLE BEACH
THE OLYMPIC CLUB
VAHALLA
MERION


WEEK 2

PINEHURST NO.2
HARBOUR TOWN
KIAWAH ISLAND
ROYAL ST. GEORGE
CONGRESSIONAL


WEEK 3

ERIN HILLS
ST. ANDREWS
BALI HAI
CELTIC MANOR
BETHPAGE BLACK


WEEK 4

PINEHURST NO. 8
WOLF CREEK
CHALLANGE AT MANELE
EXPERIENCE AT KOELE
HILVERSUMSCHE


WEEK 5

EDGEWOOD TAHOE
BEST OF WATER SHOTS
BEST OF FAMOUS SHOTS
BEST OF PUTTING
CHAMBERS BAY
TIER & AVERAGE REQUIREMENTS
BASIC LEVEL AND AVERAGE REQUIREMENTS , AND SATURATION
You need to play at least 5 ranked rounds as hack to saturate & be eligible for Amateur.
When your average score is equal or smaller than 100 you go from Hack to Amateur.
You need to play at least 10 ranked rounds as amateur to saturate & be eligible for Pro.
When your average score is equal or smaller than 80 you go from Amateur to Pro..
You need to play at least 20 ranked rounds as Pro
to saturate & be eligible for
Tour Pro.
When
your average score is
equal or smaller than 72 you go from pro to Tour Pro.
You need to play at least 25 ranked rounds as Tour pro
to saturate & be eligible for
Master.
When
your average score is
equal or smaller than 67 you go from Tour Pro to Master.
You need to play at least 40 ranked rounds as Master
to saturate & be eligible for
Tour Master.
When
your average score is
equal or smaller than 63 you go from Master to Tour Master.
You need to play at least 50 ranked rounds as Tour Master
to saturate & be eligible for
Legend.
When
your average score is
equal or smaller than 61 you go from Tour Master to Legend.
You need to play at least 500 ranked rounds as Legend to
to saturate & be eligible
for Tour Legend.
When
your average score
is equal or smaller than 60 you go from Legend to Tour Legend.
You need to play at least 200 ranked rounds as Tour Legend to
to saturate & be eligible for Champion .
When
your average score
is equal or smaller than 59 you go from Tour Legend to Champion .
You need to play another 200 ranked rounds as a Champion to saturate .
You need to jump through 10,000 hoops before you receive an exclusive personal invitation before reaching Tour Champion.
May the SUN always be with you
Considering what Karen and I went through last year . We really thought we had weathered the storm and gotten through a nightmare we never saw coming . We thought it could only get better . Until we received 2 new pieces of paper this week .
  Here it is 13 months after my Left Shoulder Reverse Arthroplasty . ( shoulder replacement ) . 13 months since we were evicted from our home . 19 months since my injuries were so bad I had to stop work . . 1st surgery was 1 month later . A shoulder repair that failed . Leading to the prosthetic shoulder .
  For the first 5 months after I tore my left shoulder on September 21st 2017 . My employer pushed it aside . Ignoring me . I continued to work . Stating my pain regularly . On a friends advice after 4 months . I filed a claim with the Industrial Commission of Arizona , ICA . My employer took notice then . First they tried to deny it to me that it happened on their job . But when they realized I had been telling them all along . They got more supportive .
  My employer told me that they would take care of everything . Medical bills , Wages from lost work , and more .
  Then the ICA hearing started . I got a good lawyer . So I thought .
  My employer offered me $5000.00 to settle .
  My lawyer advised me to decline . He said I would get much more than that . He said that he doesn't take cases he doesn't win .
  I went along . But I didn't like the way he tried to control my testimony . What I could say and what I couldn't . He said we would win .
  I thought there was no way we wouldn't . Cut and dry . Open and shut . No reason for worry .
  19 months later . After my testimony . My Dr's testimony . The doctor for the defenses testimony .
  The final decision FINDINGS AND AWARD FOR NONCOMPENSABLE CLAIM .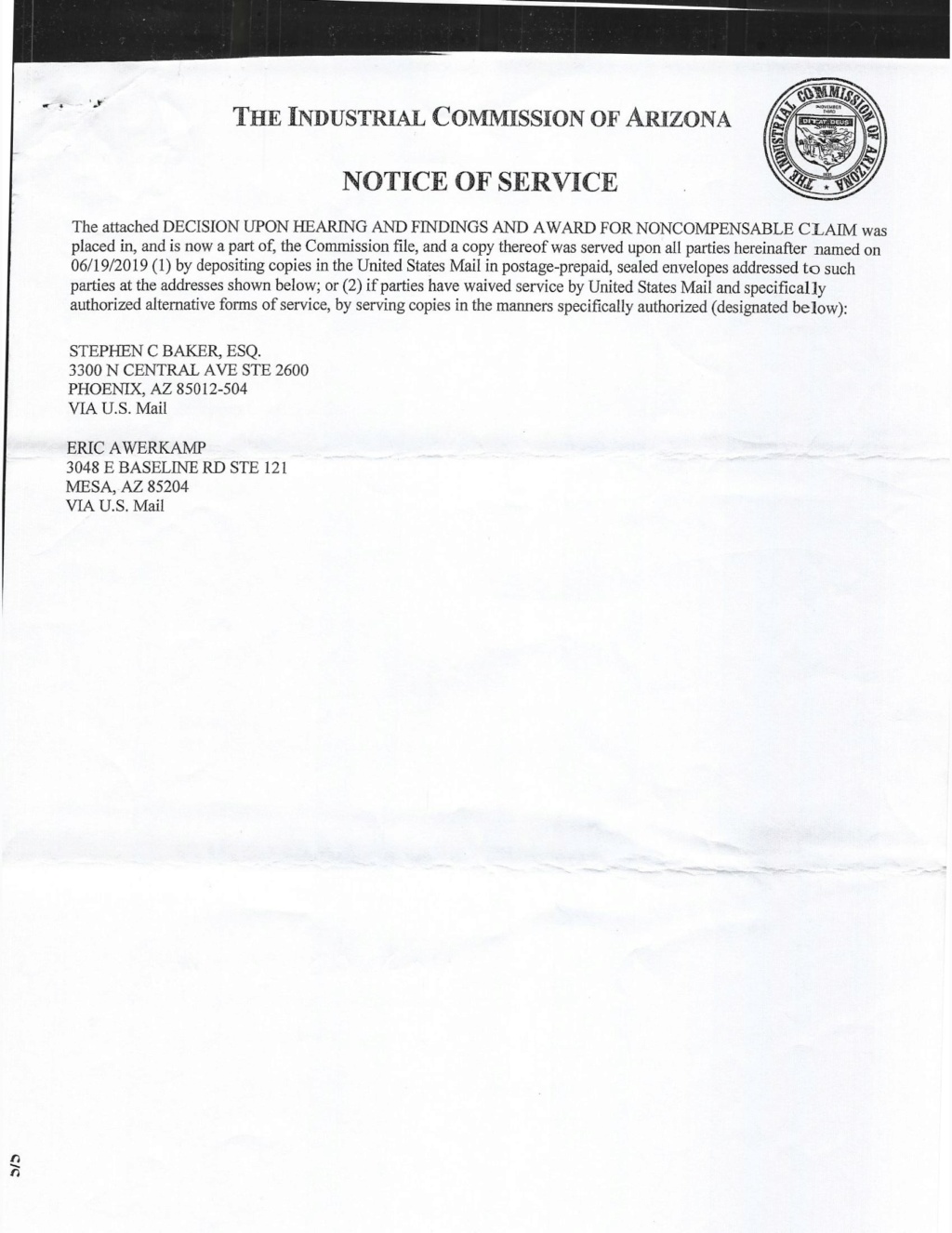 I get nothing . Nothing for the injury that caused me to lose my left shoulder . Nothing for the year and a half of pain and medical . Not able to work . With no income . Living in poverty . Barely hanging on .  
  That was yesterday . July 10th 2019 .
  On the 9th I went down to Mountain View Medical Center . To get my EKG , chest x-ray , and blood work . For my scheduled Right arm rotator cuff repair . An injury from 2016 . That was as serious as the left arm . Was getting therapy for it and was about to schedule surgery for . When the left arm accident occurred . The right arm got put on hold .
  After my physical therapy for the left arm was over . I returned to a low paying , maintenance electrician job . Which allowed me to pace myself and try to manage the dislocations and tenderness of my left arm . And the ever increasing wear and pain of my right arm .
  By April 15th 2019 . The day that new owners took over my work place . The managers , the plumber , and the electrician ( myself ) were let go , fired . We were not needed on their team .
  So anyway by then my right arm had been re aggravated to the point I could barely even move it . So I set up the long overdue surgery .
  At the same time I was now without a job . I began applying for jobs . Even out of my trade . But with 2 worthless arms and being 60 . No one was going to hire me . I also attempted the Handyman field . And even bonded myself . I could only find very small jobs . With clients that had only $20 , $40 , or $60 to pay for labor . Not nearly enough to pay my rent , gas , phone .
  Not for lack of trying . I was and not finding any gainful employment .
  My heart sunk to its lowest that I thought it could go today . July 11th 2019 . When the landlord knocked on the door . And handed me a 7 day eviction notice .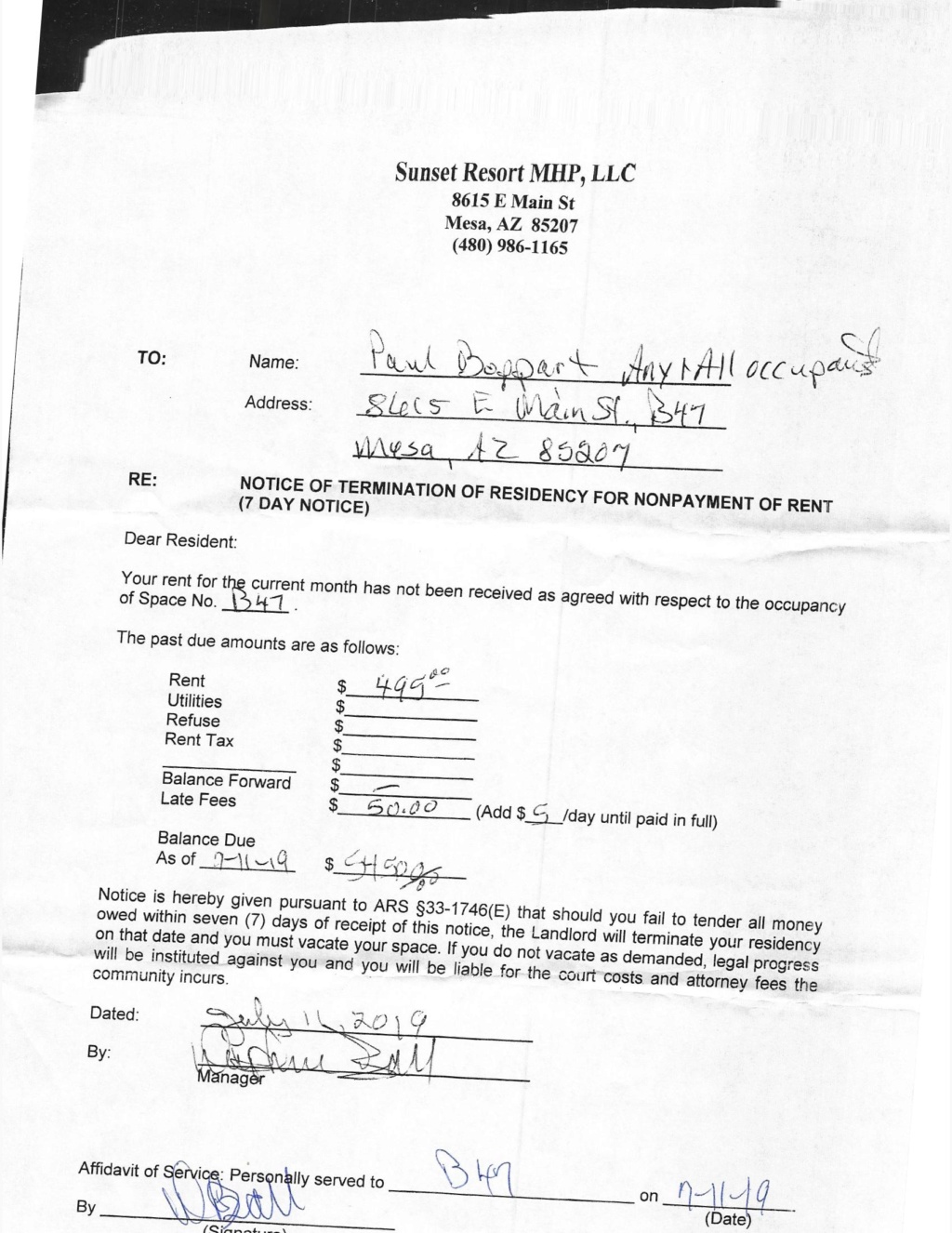 Which is doubly bad . Because we only purchased this very nice mobile home . Just a few months ago . We aren't even done unpacking yet . Even though it is my trailer . Upon eviction . The park will take over ownership . We will get nothing except gone .
  So my thoughts are that I absolutely have to continue with the surgery . If it is successful . I will be able to put this medical nightmare behind me forever I hope .
  Last year we were evicted on the day of my left shoulder replacement surgery . June 15th 2018 . We had 2 friends help us move . Another friend rented a POD for us to keep about 1/10th of our belongings . Another friend paid for 1 week at the cheapest weekly in town . Bless those 4 friends . We were sure lucky to have them .
  This time we got no clue what to do . We gave away the crates and tubs that we emptied when we moved in here . And Poor Karen has just barely got her living room in order . There are 3 hutches completely packed with figurines and knick knacks . Somehow we will have to repack it all .
  It is a really beautiful place .
  How in the hell can this shit happen . Lied to by my exemployer . Lied to by my own attorney . Fired and then evicted from a lowly trailer park . There is no further down we can go . No money . No hope . This time we are truly fucked . How can this even be possible ? We certainly don't deserve this .
  I don't know if anyone has wondered what ever became of me . I have pretty much abandoned this wonderful website . I still don't have anyway to play WGT . We have had a few moments of happiness and comfort . But not many .
  Not likely anyone will see this but this is my update .
  Take care everyone .
  Paul and Karen
Saturday July 13th 2019 . I paid my rent yesterday . . Had little help . But it's done . 

  The hospital called to move my surgery time from 10:00 AM to 7:30 AM Monday . But then they called me back about an hour later to remind me to be sure and bring my $650.00 . Well that is the first I heard of it . So I just cancelled the surgery .
Similar topics
---
Permissions in this forum:
You
cannot
reply to topics in this forum