THAT'S ENTERTAINMENT
CLICK ON ANY OF THESE LINKS TO FIND OUR EXTREME ENTERTAINMENT
Statistics
We have
389
registered users
The newest registered user is
apkguru
Our users have posted a total of
10634
messages in
2745
subjects
September 2021
| Mon | Tue | Wed | Thu | Fri | Sat | Sun |
| --- | --- | --- | --- | --- | --- | --- |
| | | 1 | 2 | 3 | 4 | 5 |
| 6 | 7 | 8 | 9 | 10 | 11 | 12 |
| 13 | 14 | 15 | 16 | 17 | 18 | 19 |
| 20 | 21 | 22 | 23 | 24 | 25 | 26 |
| 27 | 28 | 29 | 30 | | | |
Calendar
71 WGT TUTORIALS & 32 YOUNG46 TUTORIALS
CLICK HERE
TO SEE OVER 100 YOUTUBE VIDEO TUTORIALS . FROM WGTers , WGT & YOUNG46
FORUM UPDATE
THIS FORUM IS FOR YOU ALL . PLEASE FEEL LIKE IT IS YOURS . READ THE FORUMS. POST COMMENTS . ASK QUESTIONS . IF YOU HAVE A COMPLAINT POST IT . MAKE SUGGESTIONS . READ SOME TUTORIALS . READ SOME GOLF TIPS . CHECK RECENT TOURNEY WINNERS . BROWSE OUR OLD FORUM ARCHIVES . LOG IN TO THE CHAT AND MESSAGE SOMEONE TO MEET YOU THERE AND ARRANGE A MATCH . LOG IN TO THE CHAT TO SEE IF SOMEONE IS THERE JUST TO SAY HI . MESSAGE ME IF YOU WANT TO GET ON THE DAILY BLITZ .
THE BLITZ SCORECARD IS ON
Page 3
PLEASE CLICK
HERE
TO FIND THE COURSE OF THE DAY AND SEE
THE WEEKLY STANDINGS .
PLEASE POST
YOUR SCORES HERE. IN THIS
KWIK KLIK TO YOUR FAV FORUM
Owner's Objectives
It's been a while since I expressed some of my objectives for the CC . First of all I like and respect everyone that joins our club . I realize that not everyone knows what a CC is all about . Many have different reasons for joining . I really don't know how many of the other clubs are run . They are all different . What I want to emphasize in our CC is that whatever tier you are . That you feel comfortable here , part of a team of players that come here to find conditions that enable them to improve their game , hone their skills , lower their scores ,lower their averages , move up in tiers . Enjoyably and comfortably with the conditions that challenge them enough to keep that drive without the frustrationsof regular game play . All that is completely possible by either creating those tourneys yourself or by messaging me about it . Or someone else in your tier that has been creating tourneys . Any kind of information that you need to know should be provided here , any kind of appp , calculator , help , tutorial , tournament , statistic , message , opinion , gripe , compliment , etc , etc . Should able to be aqcuired here ( or in our website , as it may be easier there ). With your help , all of this can be done easily . We already have a good start . I am going to be here for a very long time trying to achieve all this . For any of you that think it's a good direction for your CC to go in . Then lets keep on keepin on . Sincerely , Your Co team member PDB1 , Paul ( sitting here on a rare rainy day ) May the SUN always be with you
POST OF THE WEEK
Re:
Where are the Flags ?By Bertasion in Valley of the Sun Casual Club The other day upon the heather fair I hit a flagstick that was not there. I saw it's shadow and heard the clank but where it stood was just a blank. It was not there again today. I wonder when it will come back and stay. Brian
BLITZ LIST
HERE IS THE LIST OF BLITZ COURSES IN THE ORDER THEY ARE PLAYED EVERY WEEK OF EVERY SEASON .
DAILY BLITZ WEEKLY SCHEDULE



WEEK 1

BEST OF BANDON PAR 3
PEBBLE BEACH
THE OLYMPIC CLUB
VAHALLA
MERION


WEEK 2

PINEHURST NO.2
HARBOUR TOWN
KIAWAH ISLAND
ROYAL ST. GEORGE
CONGRESSIONAL


WEEK 3

ERIN HILLS
ST. ANDREWS
BALI HAI
CELTIC MANOR
BETHPAGE BLACK


WEEK 4

PINEHURST NO. 8
WOLF CREEK
CHALLANGE AT MANELE
EXPERIENCE AT KOELE
HILVERSUMSCHE


WEEK 5

EDGEWOOD TAHOE
BEST OF WATER SHOTS
BEST OF FAMOUS SHOTS
BEST OF PUTTING
CHAMBERS BAY
TIER & AVERAGE REQUIREMENTS
BASIC LEVEL AND AVERAGE REQUIREMENTS , AND SATURATION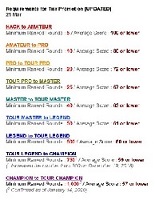 Page 2 of 2 •
1, 2
1

hpurey wrote "Trailblazer award"
15 Apr 2021 at 5:31 AM
Love it man, thanks!   The forum threads you post with it are spectacularly special.   
Super cool my friend!
Hazen

hpurey wrote "Sleeve"
16 Apr 2021 at 3:59 PM
Thanks for the sleeve P!   unnecessary but very much appreciated.  
Hazen

xxxhogheadxxx wrote "puzzles"
17 Apr 2021 at 7:41 PM
No worries pdb1 about the puzzle guess game.  I think that is what you wrote about on my wall.  I'm not looking for any prizes and such.  Just playing along for fun.  Thank you much.
1

YouLostToALoser wrote "Country Club"
07 May 2021 at 8:23 AM
I noticed you aren't in. Country Club at the moment.
Your talents could be put to good use at our growing club. We are Level 13 on Sunday May 9th.
To sweeten the deal, I'll see if our Owner will let me give up my Director position for you as I'm only on day 212 so lack experience, but you have a wealth of knowledge being active in the forums.
Lets give it a go, see how it goes...
Please let me know so I can speak with my Owner, Mrmac.
Whatever you decide, I wish you a good life on the links
YouLostToALoser

pdb1
07 May 2021 @ 9:48 AM
"THANK YOU"
For your kind words and your CC invite . A very generous offer . Looks to be a very good CC . I will respectfully keep it in mind . At this time , however I am not able or ready to commit myself to a group such as this .
  The best to you .
1
Mattiago
Profile

pdb1
pdb1
24 Jun 2021 @ 9:02 PM
"NOT COOL"
 There are some of us that have just a little slower load rendering before the tee . That is the only delay . Mine is about 45 seconds . If you would have waited 5 more seconds . We could have played our round . But a glitch in the system . Unfortunately gives the quitters the win . And in your case , my 100,000 . Coins .
 In the future please be more patient . So a round can be played .
1

YouLostToALoser
09 Jul 2021 @ 7:42 AM
"Message for Ladychipper (if you don't want to read, could you cut & paste it on her wall? Thanks"
Hi, sorry to bother you, but your message is on Ladychippers wall and I can't seam to write on it.
I merely enquirer about the Xmas trees & messages & why she doesn't do it for July 4th for her American friends. A lot of my friends have a huge Xmas tree from her and with it being July 5th, I was looking at someone's stats who I was engaging with in the forums and there was the tree.
So I clicked on her profile and, I thought, asked her quite politely why this was. In hindsight it may be a stupid question, but she wrote me back explaining why, at first quite polite, then ended it quite annoyed asking who I was and what's it got to do with me.
Of course she's correct, but if possible, could you just message her saying I was just curious seeing all these Xmas trees and being the day after another huge US holiday, why she didn't leave messages...which she pointed out why, and I think I even asked in the question if it was cos of the non-Americans and filtering.
I was just asking an off the cuff question whilst I was messing about on the forums, so please tell her I'm sorry if I felt like I was intrusive in anyway.
Thanks, and sorry for involving you. Maybe just cut and paste this onto her wall
Whatever he wrote to Ladychipper . She responed to him with .

Ladychipper
07 Jul 2021 @ 11:47 AM
"Answer To Your Question"
Of course July 4th or independence day is important to me, but Christmas is by far much more important to me and it is worldwide.
I have over 240 friends on here so it is quite an undertaking to post holiday wishes to all of them.
I am wondering how you found me in the first place and what business it is of yours what I do or do not do on WGT?
Which should have been enough . I did PM message Marion . And told her I would tell him to leave her alone ,
1

WillCrushU
09 Aug 2021 @ 10:02 AM
""Thank YOU ""
Thank you for the game and thank you for the info. I've added a 9 hole TIER BUSTER Tourney to the club.
You are always welcome to join the club  as a ghost - member and pick up the free shot pal and putter pal.
Also, if you wanted I could appoint you as a Director with permission to create courses, update messages, etc.
Take care -

pdb1
08 Aug 2021 @ 1:47 PM
"HEY BUD GOOD GAME "
Thank you for the CC offer . But I have to decline . I am not ready to be in a CC group setting at the moment .
TIP OF THE DAY : WGT has doubled the score of 9 hole ranked rounds . To equal an 18 hole round .
IE :
18 = 72
 9 = 72
  This cuts in half the tiering up time .
Paul
home of
valleyofthesuncc.com
an information and entertainment only website .
1
1

Leggoman13
17 Aug 2021 @ 6:52 PM
"Andyson Tourney - Match Play"
Looks like we are matched up agains one another.
looking forward to a fun f9 on Kiawah
I am in eastern time zone
I am available weekdays from 9 am to 11h30 am.
or late at night 11h30 pm after my evening shift
otherwise I am flexible with some notice on weekends.
Pierre
)
1

pdb1
19 Aug 2021 @ 5:54 AM
"Friend Request Sent"
Looks like a 3 hr difference .

1

Shedlite
17 Aug 2021 @ 7:56 PM
"andyson"
After deleting my request to friend him . From his wall . I was going to try and straighten out some of the misinformation he was getting from a particular thread . He then left me this message on my wall .

el3n1
25 Aug 2021 @ 1:49 PM
"F R"
Paul -
I will contemplate your friend request - but you have at times showed little restraint in the forum by your own admission, citing the countless post that don't get approved. So, to be honest, it would feel like opening Pandora's Box to friend you.  I am not sure I really have the time or patience to do so.
And when you start out accusing me of being hypocritical and making assumptions - you really think that is going to win me over?  Where do you think that is going to get you?
My knowledge of the game is backed up by my improvement over the years both in coin rooms and desktop version.  I have been a very good student of the game, actually learning things that could be reflected in my play.  For all you claim to know and share - your game does not reflect that.
It does not make me perfect or without fault or an expert in any facet of the game, but it can suggest I have learned far more than 90% of the people that play the game-- possibly.  But that is a stat I can't confirm, because I don't have inside info from WGT - it is merely a reasonable estimate.
Unlike you I don't claim to be an expert even when I am very knowledgeable on a topic/issue - and for me that is problematic if you can't see grasp that.
give me time, I will weigh your request.
To which I responded with this

pdb1
25 Aug 2021 @ 8:10 PM
"WHY AM I NOT SURPRISED "
 It was an offer to discuss a very many things that I felt had been misconstrued . As is now becoming a common discovery  . I find that you are another arrogant , condescending , hater . That has no desire to discuss with me or any interest in the truth of my intentions . Which is not possible in the public forums . 
  So do not worry any about it . I'm sure friending is not possible .
  I then followed with this :

pdb1
25 Aug 2021 @ 8:26 PM
"I WAS HOPING IT WOULD GET US A CONVERSATION"
@el3n1
And when you start out accusing me of being hypocritical and making assumptions - you really think that is going to win me over?  Where do you think that is going to get you?
@pdb1
  First I did not accuse you at that time . But your forum posts were presumptuous and condescending at the very least . I had no idea that you are as bad as the trolls . Until I read your response on my wall .
  Everything in that thread ( and others ) has been baited and misconstrued and taken out of context . And there is no fixing that in the forums .
  But now I do not want to fix it with you .

el3n1
25 Aug 2021 @ 9:32 PM
"Forget it..."
I was genuinely weighing the option of hearing you out, but your rash and hateful wall post, suggest my concerns were quite valid.
I dont need my wall cluttered with hate.  I have been honest and sympathetic to your plight but you can not even see that.  You just closed a door, i considered opening.  Nice job, you pushed another person away.
Allqvie
28 Aug 2021 @ 4:28 PM
"friend request"
Hi mate, Ive sent you a friend request. Are you on discord or Skype? Easier to communicate anywhere but here lol. Looking forward to our match..
Freddie

pdb1
28 Aug 2021 @ 1:11 AM
"HOWDY"
I got the last 2nd chance spot in the match play vs you Merion bk 9 . Look forward to setting it up .
Page 2 of 2 •
1, 2
---
Permissions in this forum:
You
cannot
reply to topics in this forum