THAT'S ENTERTAINMENT
CLICK ON ANY OF THESE LINKS TO FIND OUR EXTREME ENTERTAINMENT
Statistics
We have
382
registered users
The newest registered user is
theshawno
Our users have posted a total of
10300
messages in
2688
subjects
July 2021
| Mon | Tue | Wed | Thu | Fri | Sat | Sun |
| --- | --- | --- | --- | --- | --- | --- |
| | | | 1 | 2 | 3 | 4 |
| 5 | 6 | 7 | 8 | 9 | 10 | 11 |
| 12 | 13 | 14 | 15 | 16 | 17 | 18 |
| 19 | 20 | 21 | 22 | 23 | 24 | 25 |
| 26 | 27 | 28 | 29 | 30 | 31 | |
Calendar
71 WGT TUTORIALS & 32 YOUNG46 TUTORIALS
CLICK HERE
TO SEE OVER 100 YOUTUBE VIDEO TUTORIALS . FROM WGTers , WGT & YOUNG46
FORUM UPDATE
THIS FORUM IS FOR YOU ALL . PLEASE FEEL LIKE IT IS YOURS . READ THE FORUMS. POST COMMENTS . ASK QUESTIONS . IF YOU HAVE A COMPLAINT POST IT . MAKE SUGGESTIONS . READ SOME TUTORIALS . READ SOME GOLF TIPS . CHECK RECENT TOURNEY WINNERS . BROWSE OUR OLD FORUM ARCHIVES . LOG IN TO THE CHAT AND MESSAGE SOMEONE TO MEET YOU THERE AND ARRANGE A MATCH . LOG IN TO THE CHAT TO SEE IF SOMEONE IS THERE JUST TO SAY HI . MESSAGE ME IF YOU WANT TO GET ON THE DAILY BLITZ .
THE BLITZ SCORECARD IS ON
Page 3
PLEASE CLICK
HERE
TO FIND THE COURSE OF THE DAY AND SEE
THE WEEKLY STANDINGS .
PLEASE POST
YOUR SCORES HERE. IN THIS
KWIK KLIK TO YOUR FAV FORUM
Owner's Objectives
It's been a while since I expressed some of my objectives for the CC . First of all I like and respect everyone that joins our club . I realize that not everyone knows what a CC is all about . Many have different reasons for joining . I really don't know how many of the other clubs are run . They are all different . What I want to emphasize in our CC is that whatever tier you are . That you feel comfortable here , part of a team of players that come here to find conditions that enable them to improve their game , hone their skills , lower their scores ,lower their averages , move up in tiers . Enjoyably and comfortably with the conditions that challenge them enough to keep that drive without the frustrationsof regular game play . All that is completely possible by either creating those tourneys yourself or by messaging me about it . Or someone else in your tier that has been creating tourneys . Any kind of information that you need to know should be provided here , any kind of appp , calculator , help , tutorial , tournament , statistic , message , opinion , gripe , compliment , etc , etc . Should able to be aqcuired here ( or in our website , as it may be easier there ). With your help , all of this can be done easily . We already have a good start . I am going to be here for a very long time trying to achieve all this . For any of you that think it's a good direction for your CC to go in . Then lets keep on keepin on . Sincerely , Your Co team member PDB1 , Paul ( sitting here on a rare rainy day ) May the SUN always be with you
POST OF THE WEEK
Re:
Where are the Flags ?By Bertasion in Valley of the Sun Casual Club The other day upon the heather fair I hit a flagstick that was not there. I saw it's shadow and heard the clank but where it stood was just a blank. It was not there again today. I wonder when it will come back and stay. Brian
BLITZ LIST
HERE IS THE LIST OF BLITZ COURSES IN THE ORDER THEY ARE PLAYED EVERY WEEK OF EVERY SEASON .
DAILY BLITZ WEEKLY SCHEDULE



WEEK 1

BEST OF BANDON PAR 3
PEBBLE BEACH
THE OLYMPIC CLUB
VAHALLA
MERION


WEEK 2

PINEHURST NO.2
HARBOUR TOWN
KIAWAH ISLAND
ROYAL ST. GEORGE
CONGRESSIONAL


WEEK 3

ERIN HILLS
ST. ANDREWS
BALI HAI
CELTIC MANOR
BETHPAGE BLACK


WEEK 4

PINEHURST NO. 8
WOLF CREEK
CHALLANGE AT MANELE
EXPERIENCE AT KOELE
HILVERSUMSCHE


WEEK 5

EDGEWOOD TAHOE
BEST OF WATER SHOTS
BEST OF FAMOUS SHOTS
BEST OF PUTTING
CHAMBERS BAY
TIER & AVERAGE REQUIREMENTS
BASIC LEVEL AND AVERAGE REQUIREMENTS , AND SATURATION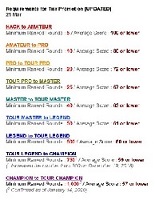 azdewars

362 Posts


Thu, Feb 4 2016 4:05 PM
Adobe
Flash
, the world's most hated software, is finally dead. Technically, it's 
been on its way out for years
, but today it received one of its final blows which will go down in history.
Google officially killed
Flash
advertising in its browser. Any advertising that uses the technology requires the user to click it to play — it'll otherwise remain frozen.
A new setting, 
enabled by default in Chrome
 automatically optimizes plugins to save battery power and CPU cycles and specifically targeting autoplaying advertising.
The change comes as 
Google AdWords now makes it possible to automatically convert advertisements
 created using
Flash
into HTML5, a friendlier and safer format for playback.
In recent times, browser support for modern formats, such as HTML5 video, have finally become widespread enough to make such a move.
The majority of users are able to ditch
Flash
already, although time of death can't truly be called until streaming providers drop it entirely — but that's already on the horizon for many.
The hated software has been plagued by problems over the years ranging from 
poor performance
 to 
massive, recurring security holes
. It's time for it to die. Today's move feels like lowering the lid on its coffin.
You'll be 
automatically updated to Chrome 42 today
, which changes the default
Flash
setting to "detect and run important plugin content."
Update: Adobe reached out saying that Adobe Flash creators can export their creations directly to HTML5 within the app.Wait, This just in:
Well, the name is, anyway.
The platform that was until yesterday known as
Adobe
Flash
Professional CC is now
Adobe
Animate CC. What does that mean? According to an
Adobe
statement announcing the change, it's part of an ongoing commitment to "evolve to support multiple standards," specifically HTML5. In practice, though, the answer is: not much. Meet the new
Flash
, same as the old
Flash
, and still 
a security-addled, closed-off
 mess.
The good news, at least, is
Adobe
seems to acknowledge the inevitability of an HTML5 world. A simple rebranding, though, doesn't do much to get us there.
Not Dead Yet
When
Adobe
Animate CC debuts early next year, it will introduce features like new vector art brushes, easy access to high-quality stock art, and the ability to rotate the canvas 360 degrees from any pivot point. Fun stuff!
What it won't do, though, is fix the various security problems that have plagued
Flash
for years.
Flash
the platform has a new name, but
Flash
the development tool lives on. It's just no longer the focus, both because of the negative associations clouding the brand, and because it's no longer the primary weapon in a developer's arsenal. It's had to make room for the future, and so has
Adobe
.
"
Adobe
's strategy is to make money regardless of what happens in the market," says Forrester Research principal analyst Jeffrey Hammonds. "They understand that there's a slow transition to HTML5 going on." Online advertising, for instance, once a
Flash
stronghold, has increasingly shifted to HTML5. "At some point you have to embrace the change," says Hammond. "The rebranding is a visible sign of that, but the internal focus on supporting technologies like HTML5 has been going on a while."
Why go to the trouble of supporting
Flash
at all, then? It's as resource-heavy and security-addled and closed-off as ever, and hiding it behind a more anodyne name doesn't solve what pulling the plug altogether would. Earlier this year, Facebook called for an end date, some mutually agreed upon moment when 
Flash
simply stopped. Why not do that, instead?
"There continues to be a huge amount of
Flash
content out there, especially video and gaming content, and we plan to do all we can to keep
Flash
Player
stable and secure because it is the responsible thing to do," an
Adobe
rep says. Even Facebook seems inclined to agree; the social network is working more closely with
Adobe
to identify and patch any security holes in games hosted on its platform. Facebook declined to comment, but Hammond notes that the collaboration doesn't necessarily mean it has warmed to long-term viability of
Flash
.
"Even if you have an end-of-life date, that would probably be a couple of years into the future," the analyst says. "Why would you not continue to address security gaps as they come up between now and then?"
In fact, if anything the Facebook collaboration underscores just how little the existence of
Adobe
Animate mitigates the mounting concerns about
Adobe
Flash
Professional. Being out of the spotlight doesn't make it any less unsafe. And without an end-of-life date, the surest bet is to resign yourself to constant, indefinite maintenance.
What Comes Next
So no,
Flash
isn't dead, or really any closer to it. At the very least, though,
Adobe
seems to have acknowledged its eventual marginalization as a development tool, if not outright demise. In some ways, that may be preferable to a swift execution. When
Flash
does go away, it will exact a cost.
"I think a lot of older websites that have not been updated will be broken on laptops and desktops, because a lot of folks have been building on mobile over the last couple of years," says Hammond. "I actually think we're going to see a bigger impact in the enterprise world than in the consumer world, because a lot of the technologies behind the firewall are a lot slower to evolve."
The Web already is littered with the artifacts of outdated standards, though; it's an unfortunate but predictable side effect of barreling into the future. And the workloads that currently fall to
Flash
—those videos and games—should be manageable in HTML5 at some point, especially given
Adobe
's commitment to the open standard. "We've always been at the forefront of HTML5 design and development," says the
Adobe
rep," "and have embraced it as the future of the web platform."
The trick, though, will be making sure that when HTML5 does supplant
Flash
, it doesn't repeat its predecessor's mistakes.
"There are differences in HTML5 and
Flash
, the former being open source while the latter is closed source," says Malwarebytes security researcher Jérôme Segura. "In theory, this means the code can go through more scrutiny, but that doesn't necessarily translate to better security."
Maintaining HTML5's security could also become even more difficult as it evolves to replace current
Flash
strongholds.
"The other concern to watch for would be any alterations to HTML5 to accommodate the needs of the ad or gaming industry," continues Segura. "A piece of technology can start with the best intentions, but as new features and requirements come along developers may have to make concessions, which often have a security impact."
It sounds like, for better or worse, they've got plenty of time to figure it out.
Adobe
Flash
is dead.
Adobe
Flash
lives. For now.
Damn.. 
John - azdewars
---
Permissions in this forum:
You
cannot
reply to topics in this forum