THAT'S ENTERTAINMENT
CLICK ON ANY OF THESE LINKS TO FIND OUR EXTREME ENTERTAINMENT
Statistics
We have
423
registered users
The newest registered user is
networthtalks
Our users have posted a total of
11680
messages in
2895
subjects
August 2022
| Mon | Tue | Wed | Thu | Fri | Sat | Sun |
| --- | --- | --- | --- | --- | --- | --- |
| 1 | 2 | 3 | 4 | 5 | 6 | 7 |
| 8 | 9 | 10 | 11 | 12 | 13 | 14 |
| 15 | 16 | 17 | 18 | 19 | 20 | 21 |
| 22 | 23 | 24 | 25 | 26 | 27 | 28 |
| 29 | 30 | 31 | | | | |
Calendar
71 WGT TUTORIALS & 32 YOUNG46 TUTORIALS
CLICK HERE
TO SEE OVER 100 YOUTUBE VIDEO TUTORIALS . FROM WGTers , WGT & YOUNG46
FORUM UPDATE
THIS FORUM IS FOR YOU ALL . PLEASE FEEL LIKE IT IS YOURS . READ THE FORUMS. POST COMMENTS . ASK QUESTIONS . IF YOU HAVE A COMPLAINT POST IT . MAKE SUGGESTIONS . READ SOME TUTORIALS . READ SOME GOLF TIPS . CHECK RECENT TOURNEY WINNERS . BROWSE OUR OLD FORUM ARCHIVES . LOG IN TO THE CHAT AND MESSAGE SOMEONE TO MEET YOU THERE AND ARRANGE A MATCH . LOG IN TO THE CHAT TO SEE IF SOMEONE IS THERE JUST TO SAY HI . MESSAGE ME IF YOU WANT TO GET ON THE DAILY BLITZ .
THE BLITZ SCORECARD IS ON
Page 3
PLEASE CLICK
HERE
TO FIND THE COURSE OF THE DAY AND SEE
THE WEEKLY STANDINGS .
PLEASE POST
YOUR SCORES HERE. IN THIS
KWIK KLIK TO YOUR FAV FORUM
Owner's Objectives
It's been a while since I expressed some of my objectives for the CC . First of all I like and respect everyone that joins our club . I realize that not everyone knows what a CC is all about . Many have different reasons for joining . I really don't know how many of the other clubs are run . They are all different . What I want to emphasize in our CC is that whatever tier you are . That you feel comfortable here , part of a team of players that come here to find conditions that enable them to improve their game , hone their skills , lower their scores ,lower their averages , move up in tiers . Enjoyably and comfortably with the conditions that challenge them enough to keep that drive without the frustrationsof regular game play . All that is completely possible by either creating those tourneys yourself or by messaging me about it . Or someone else in your tier that has been creating tourneys . Any kind of information that you need to know should be provided here , any kind of appp , calculator , help , tutorial , tournament , statistic , message , opinion , gripe , compliment , etc , etc . Should able to be aqcuired here ( or in our website , as it may be easier there ). With your help , all of this can be done easily . We already have a good start . I am going to be here for a very long time trying to achieve all this . For any of you that think it's a good direction for your CC to go in . Then lets keep on keepin on . Sincerely , Your Co team member PDB1 , Paul ( sitting here on a rare rainy day ) May the SUN always be with you
POST OF THE WEEK
Re:
Where are the Flags ?By Bertasion in Valley of the Sun Casual Club The other day upon the heather fair I hit a flagstick that was not there. I saw it's shadow and heard the clank but where it stood was just a blank. It was not there again today. I wonder when it will come back and stay. Brian
BLITZ LIST
HERE IS THE LIST OF BLITZ COURSES IN THE ORDER THEY ARE PLAYED EVERY WEEK OF EVERY SEASON .
DAILY BLITZ WEEKLY SCHEDULE



WEEK 1

BEST OF BANDON PAR 3
PEBBLE BEACH
THE OLYMPIC CLUB
VAHALLA
MERION


WEEK 2

PINEHURST NO.2
HARBOUR TOWN
KIAWAH ISLAND
ROYAL ST. GEORGE
CONGRESSIONAL


WEEK 3

ERIN HILLS
ST. ANDREWS
BALI HAI
CELTIC MANOR
BETHPAGE BLACK


WEEK 4

PINEHURST NO. 8
WOLF CREEK
CHALLANGE AT MANELE
EXPERIENCE AT KOELE
HILVERSUMSCHE


WEEK 5

EDGEWOOD TAHOE
BEST OF WATER SHOTS
BEST OF FAMOUS SHOTS
BEST OF PUTTING
CHAMBERS BAY
TIER & AVERAGE REQUIREMENTS
BASIC LEVEL AND AVERAGE REQUIREMENTS , AND SATURATION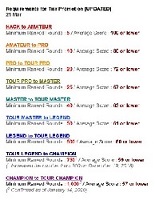 WHAT YOU CAN DO TO ABOUT IT
WHAT'SUP WHATSAP AND OTHER APPS . HERE IN THIS SITE . THE SKY IS YOUR LIMIT . IF YOU WANT TO PROMOTE , GROW , SHARE , IMPROVE , UPDATE POST AND LEARN ABOUT YOUR PRODUCT OR ANY PRODUCT . YOU CAN DO ALL OF THE ABOVE . JUST DO IT .
1
A Gift...2019 Andyson Memorial
Follow this link to see the full thread 
mrcaddie
2,429 Posts
Mon, Nov 25 2019 3:40 PM
(Edit- posted wrong proof, above picture is correct)
Hi everyone,
Sadly it's that time of year again...the end of the annual Andyson Memorial Tournament, run brilliantly, once again, by Shedlite. I wasn't able to play this year due to personal reasons but a lot of my friends did and they haven't stopped talking about it, they all said they had a great time and made some new friends. So again, kudos to Shedlite for a wonderful event.
On the bright-side, those participants that finished the first two rounds of stroke-play will receive a little memento to remember this years event by. So, each of those participants (listed below) will receive a real life golf ball marker (shown above) in the mail. You can use it on the golf course in real life if you play, if you don't play you can keep it in the corner of your monitor to remember our friend by as you play the game.
A quick note about the marker design for those of you not in the know. Dennis "Andyson" Anderson's obituary asked that in lieu of flowers...donations be sent to springerrescue.org. Hence the cute dog with the floppy ears and the url.
I would personally like the thank whooshdangit for graciously donating his time to help design this years marker...thank you Rich!
Here is the list of players that will be receiving a marker this year. Read through the list carefully, it's in alphabetical order, but there are a few names at the bottom that are out of order-
1963Bubba      
1irony            
375golfer00     
akatiger74     
alanti      
amateur4sure     
Beryman             
bigcountry317     
Biggunky     
BillyHighbeams     
Bluey403     
borntobesting 
Borat74             
Breezybaby1811
Chris1973M     
chunter26     
claremoreblue     
conveyorguy     
dacrash             
dandycap      
dekronk             
Donaldkey8798     
drmoose             
Duckster789     
DufferJohn7     
ElseMonica      
FLYERBT             
garyk49             
giraldin     
GirnBlanston     
golfdawg01     
hpurey             
ibprime
IvaThongon     
javito1             
JessicaHill21 
K7JBQ             
Leggoman13     
lonniescott711
Melonhead66630     
mgsvz         
mikeyb6           
MioKontic     
Next260             
opyeuclid     
overthedge     
palopalante     
perkadan     
Phippo20040     
Qputts        
RANGER1988
ri99        
RockSteady
RoggRR
Rossembo     
rotund57
RUSAVED        
Shedlite     
shing1          
stashb            
sticketttight
STICKY63     
terwyl1      
thegoosebag
Tiewaz     
Tomr789     
twinponds169
txzdave      
VamboRools
VEM9000     
wleiss
WUISENRIKE
Wutpa     
xxDannyxxo
xz05fm     
YancyCan
Yiannis1970
bg444out
Tdotdoba
Chooki15
MGB01    
whooshdangit 
young46
HOW DO I GET MY MARKER-UK players
-If your name is on the list above and you reside in the UK, please send your postal address to
whooshdangit
. If he is not on your friends list then send him a friend invite, he will accept your invite and then you can send him your info.
DO NOT POST YOUR PERSONAL INFO ON HIS WALL OR IN THIS THREAD!AU & NZ players
-
If your name is on the list above and you reside in AU or NZ, please send your postal address to
alanti
. If he is not on your friends list then send him a friend invite, he will accept your invite and then you can send him your info.
DO NOT POST YOUR PERSONAL INFO ON HIS WALL OR IN THIS THREAD!US & ROTW (Rest of the World) players
-
If your name is on the list above and you reside in the US or the ROTW, please send your postal address to me,
mrcaddie
. If I am not on your friends list then send me a friend invite, I will accept your invite and then you can send me your info.
DO NOT POST YOUR PERSONAL INFO ON MY WALL OR IN THIS THREAD!
Now some of you may be leery about sending a total stranger your personal info...I get it. If you're uncomfortable with sharing your info, you can respectfully decline our offer in this thread and we'll find another player to send your marker to.This is the third year markers have been sent out and we have NEVER had a problem with anyone's personal information being used for nefarious reasons.
Lastly, this years marker is brought to you by the following players- opyeuclid (Rick), conveyorguy (Mike), gonfission (Joe) and myself. It was truly a collaborative effort. 
In closing...thanks to Shedlite for putting together another wonderful event, thanks to whooshdangit for designing this years marker, thanks to all the players that participated this year, congrats to the winners of the tournaments this year and thanks to Opy, Mike and Joe for sponsoring this years marker.
We hope you'll all be really excited when you open the package you find at your doorstep.
MC

_________________

May the SUN always be with you
Please enjoy

Paul
---
Permissions in this forum:
You
cannot
reply to topics in this forum