THAT'S ENTERTAINMENT
CLICK ON ANY OF THESE LINKS TO FIND OUR EXTREME ENTERTAINMENT
Statistics
We have
400
registered users
The newest registered user is
don121
Our users have posted a total of
10775
messages in
2770
subjects
December 2021
| Mon | Tue | Wed | Thu | Fri | Sat | Sun |
| --- | --- | --- | --- | --- | --- | --- |
| | | 1 | 2 | 3 | 4 | 5 |
| 6 | 7 | 8 | 9 | 10 | 11 | 12 |
| 13 | 14 | 15 | 16 | 17 | 18 | 19 |
| 20 | 21 | 22 | 23 | 24 | 25 | 26 |
| 27 | 28 | 29 | 30 | 31 | | |
Calendar
71 WGT TUTORIALS & 32 YOUNG46 TUTORIALS
CLICK HERE
TO SEE OVER 100 YOUTUBE VIDEO TUTORIALS . FROM WGTers , WGT & YOUNG46
FORUM UPDATE
THIS FORUM IS FOR YOU ALL . PLEASE FEEL LIKE IT IS YOURS . READ THE FORUMS. POST COMMENTS . ASK QUESTIONS . IF YOU HAVE A COMPLAINT POST IT . MAKE SUGGESTIONS . READ SOME TUTORIALS . READ SOME GOLF TIPS . CHECK RECENT TOURNEY WINNERS . BROWSE OUR OLD FORUM ARCHIVES . LOG IN TO THE CHAT AND MESSAGE SOMEONE TO MEET YOU THERE AND ARRANGE A MATCH . LOG IN TO THE CHAT TO SEE IF SOMEONE IS THERE JUST TO SAY HI . MESSAGE ME IF YOU WANT TO GET ON THE DAILY BLITZ .
THE BLITZ SCORECARD IS ON
Page 3
PLEASE CLICK
HERE
TO FIND THE COURSE OF THE DAY AND SEE
THE WEEKLY STANDINGS .
PLEASE POST
YOUR SCORES HERE. IN THIS
KWIK KLIK TO YOUR FAV FORUM
Owner's Objectives
It's been a while since I expressed some of my objectives for the CC . First of all I like and respect everyone that joins our club . I realize that not everyone knows what a CC is all about . Many have different reasons for joining . I really don't know how many of the other clubs are run . They are all different . What I want to emphasize in our CC is that whatever tier you are . That you feel comfortable here , part of a team of players that come here to find conditions that enable them to improve their game , hone their skills , lower their scores ,lower their averages , move up in tiers . Enjoyably and comfortably with the conditions that challenge them enough to keep that drive without the frustrationsof regular game play . All that is completely possible by either creating those tourneys yourself or by messaging me about it . Or someone else in your tier that has been creating tourneys . Any kind of information that you need to know should be provided here , any kind of appp , calculator , help , tutorial , tournament , statistic , message , opinion , gripe , compliment , etc , etc . Should able to be aqcuired here ( or in our website , as it may be easier there ). With your help , all of this can be done easily . We already have a good start . I am going to be here for a very long time trying to achieve all this . For any of you that think it's a good direction for your CC to go in . Then lets keep on keepin on . Sincerely , Your Co team member PDB1 , Paul ( sitting here on a rare rainy day ) May the SUN always be with you
POST OF THE WEEK
Re:
Where are the Flags ?By Bertasion in Valley of the Sun Casual Club The other day upon the heather fair I hit a flagstick that was not there. I saw it's shadow and heard the clank but where it stood was just a blank. It was not there again today. I wonder when it will come back and stay. Brian
BLITZ LIST
HERE IS THE LIST OF BLITZ COURSES IN THE ORDER THEY ARE PLAYED EVERY WEEK OF EVERY SEASON .
DAILY BLITZ WEEKLY SCHEDULE



WEEK 1

BEST OF BANDON PAR 3
PEBBLE BEACH
THE OLYMPIC CLUB
VAHALLA
MERION


WEEK 2

PINEHURST NO.2
HARBOUR TOWN
KIAWAH ISLAND
ROYAL ST. GEORGE
CONGRESSIONAL


WEEK 3

ERIN HILLS
ST. ANDREWS
BALI HAI
CELTIC MANOR
BETHPAGE BLACK


WEEK 4

PINEHURST NO. 8
WOLF CREEK
CHALLANGE AT MANELE
EXPERIENCE AT KOELE
HILVERSUMSCHE


WEEK 5

EDGEWOOD TAHOE
BEST OF WATER SHOTS
BEST OF FAMOUS SHOTS
BEST OF PUTTING
CHAMBERS BAY
TIER & AVERAGE REQUIREMENTS
BASIC LEVEL AND AVERAGE REQUIREMENTS , AND SATURATION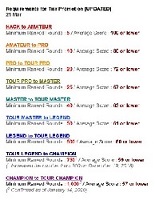 So I had to decide between posting the scorecards , which you could barely see who the winner was . But could not read the opponents name . Or posting the match ups . Which doesn't show the winner . But you can clearly read the names .
 I actually prefer the seeing the matchups . And seeing that in 1000 match ups . I only saw 1 player 2 times . That is from the time I started playing Coin Rooms and recording them . To the present . Which I estimate there are several hundred that I played before I decided to screen shot them .
 Which I now have proof that what I have been saying about players that encounter a rude player . Then make a big deal about blocking him or her . Fearing that they will pop up again . Is dead wrong . The statistics and odds say that you are not likely to see that player ever again .
 Also basing the 7000 plus multiplayer rounds I played in FLASH . Also never seeing the same player twice in 8 years .
 When I confronted a rude coin game player . He completely apologized . Saying it was an isolated incident , just having an exceptionally bad day . I believed him .
 So to make efforts to block a player that you will never run into in a match again . Is a completely wasted effort . And simply not necessary .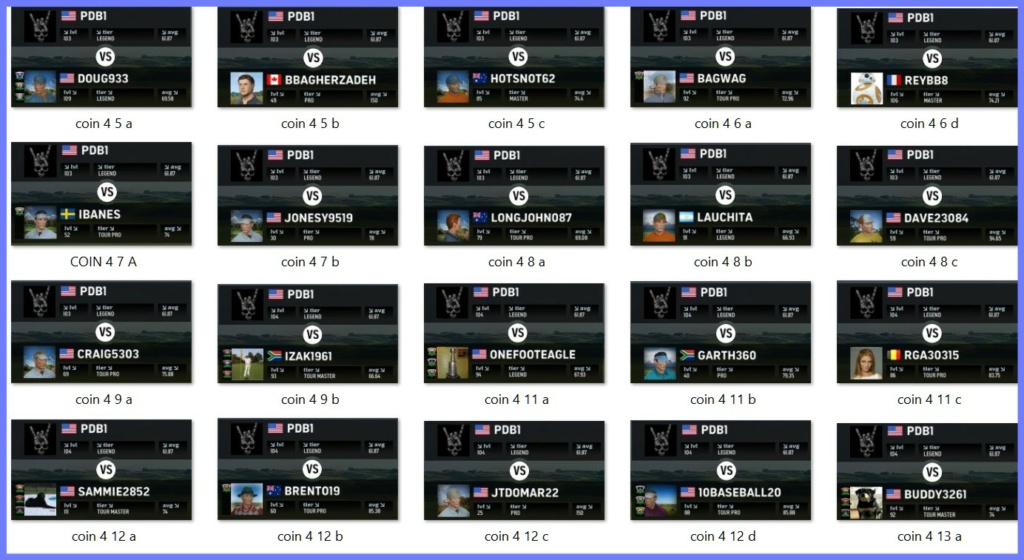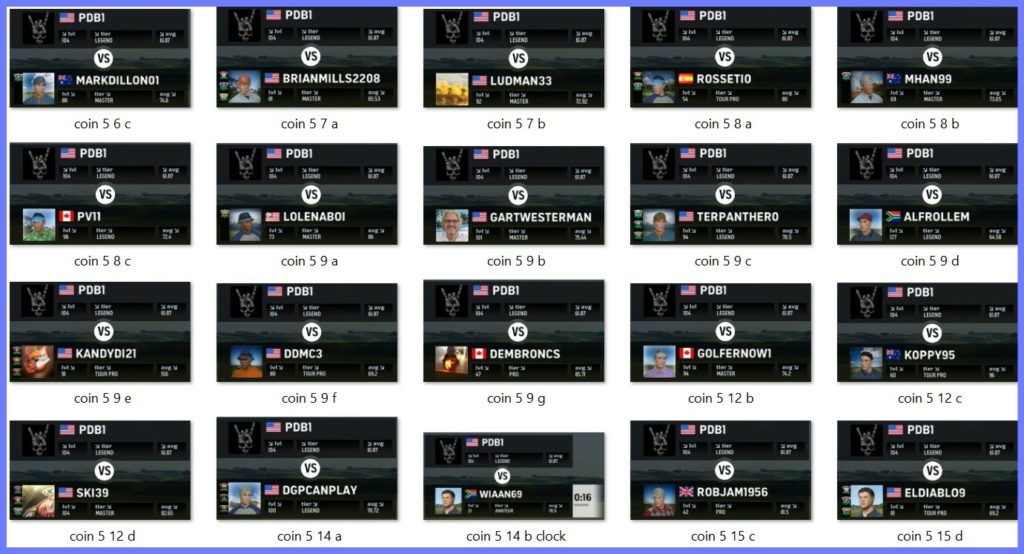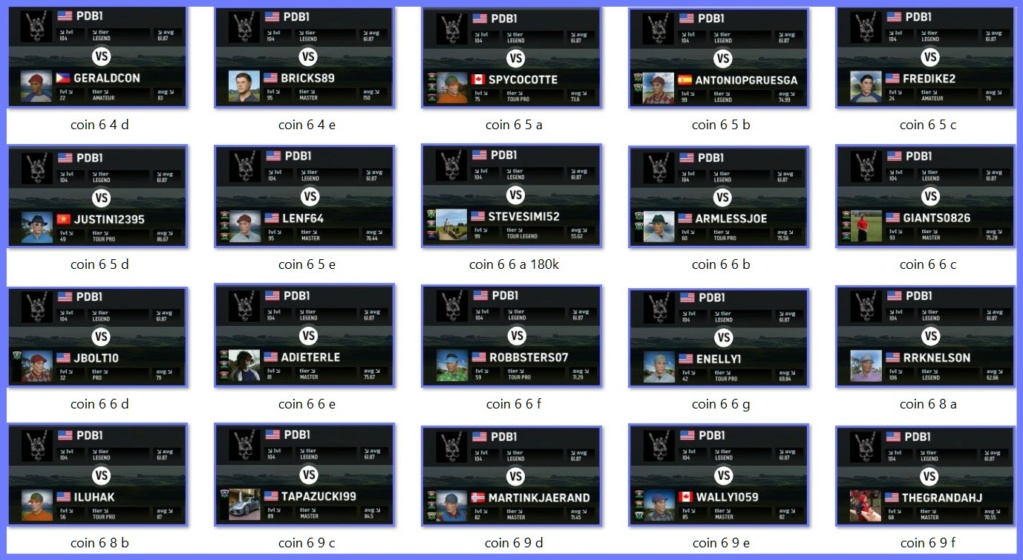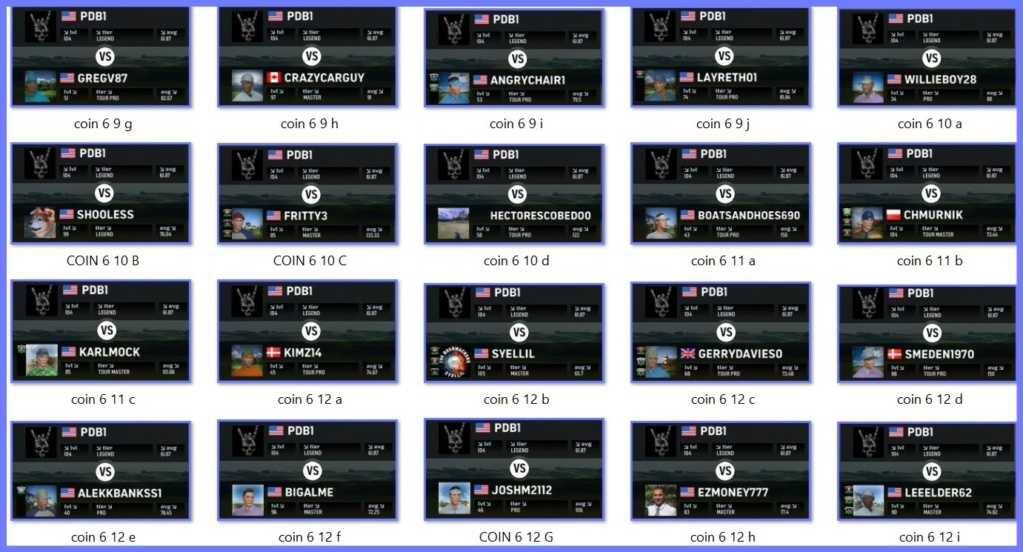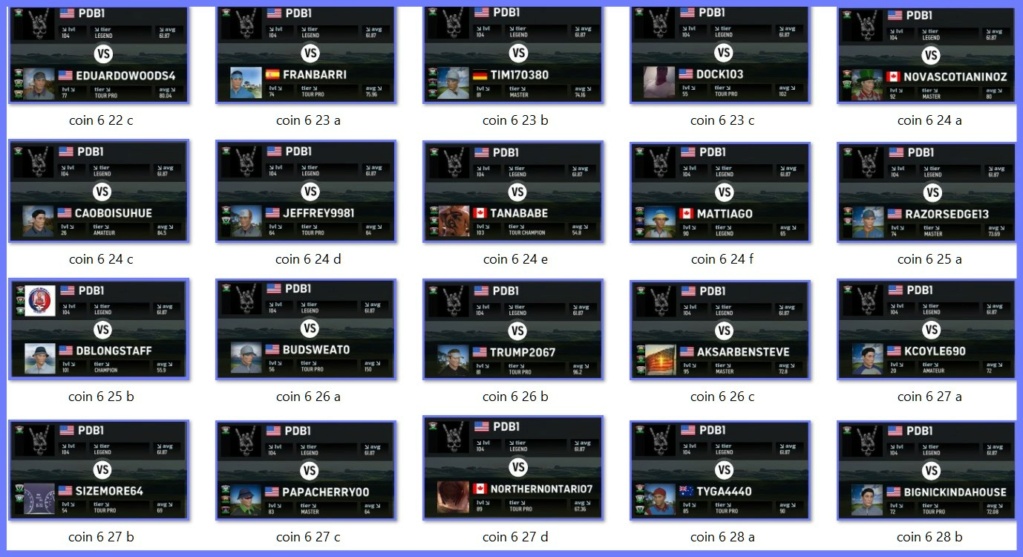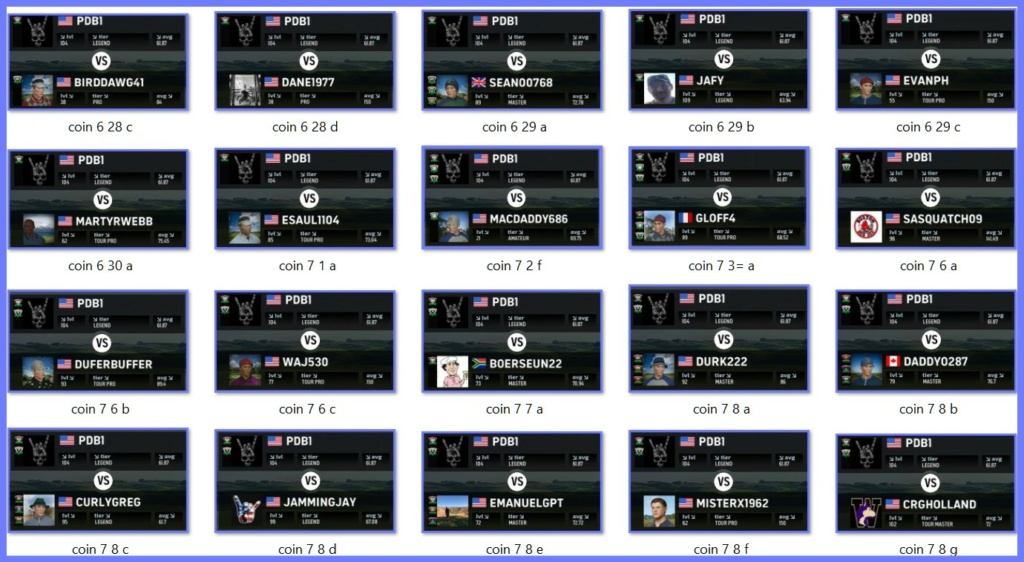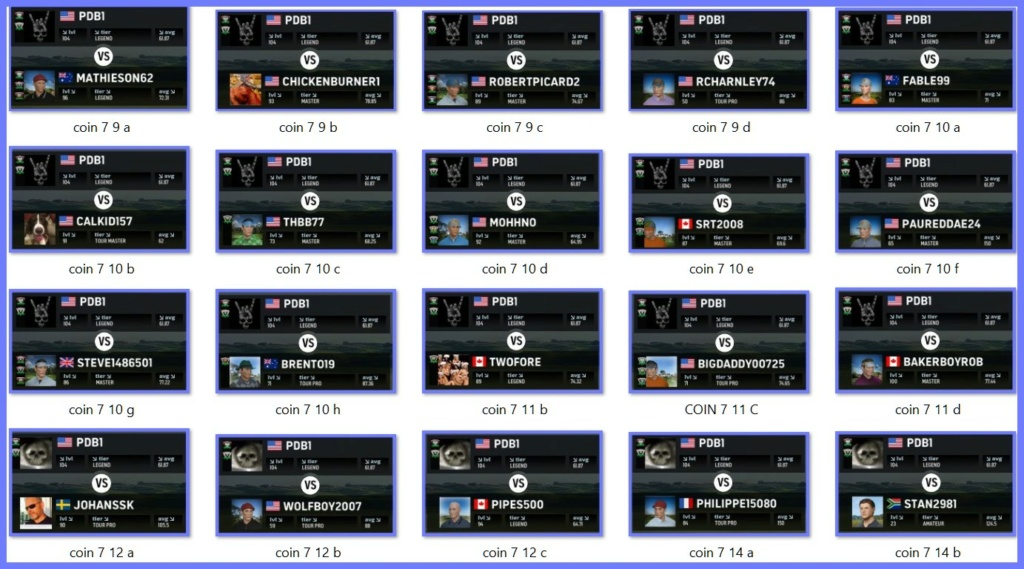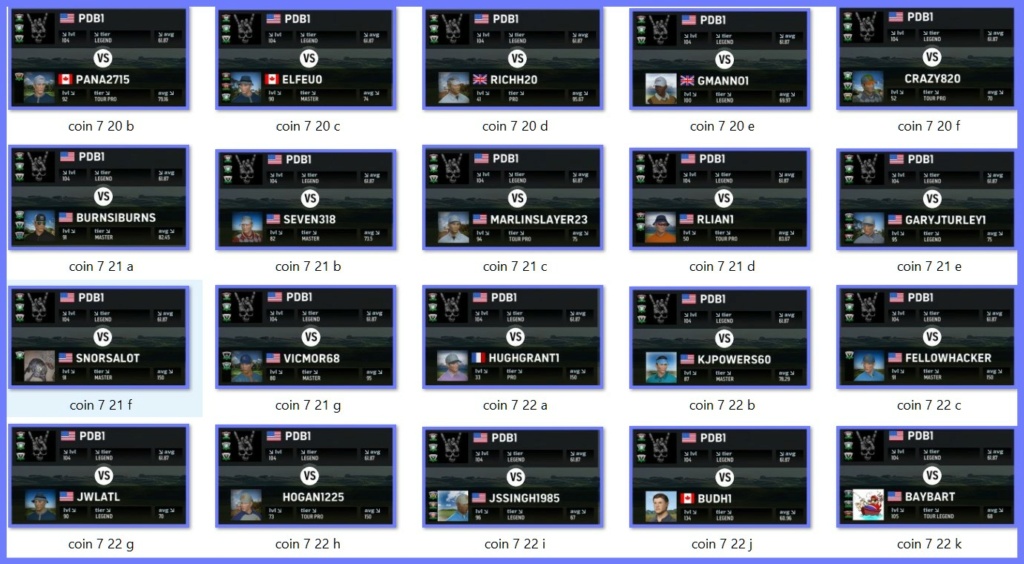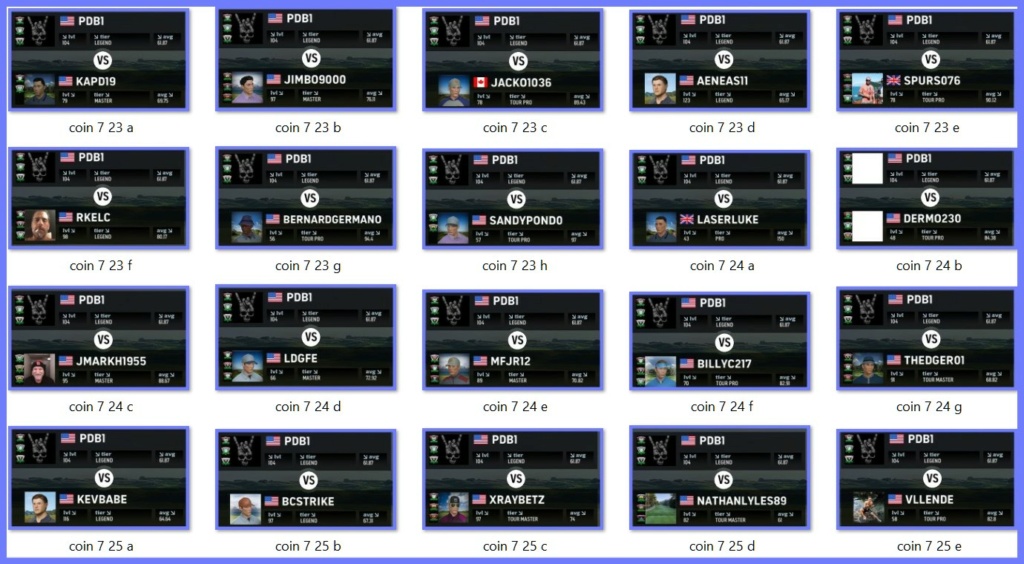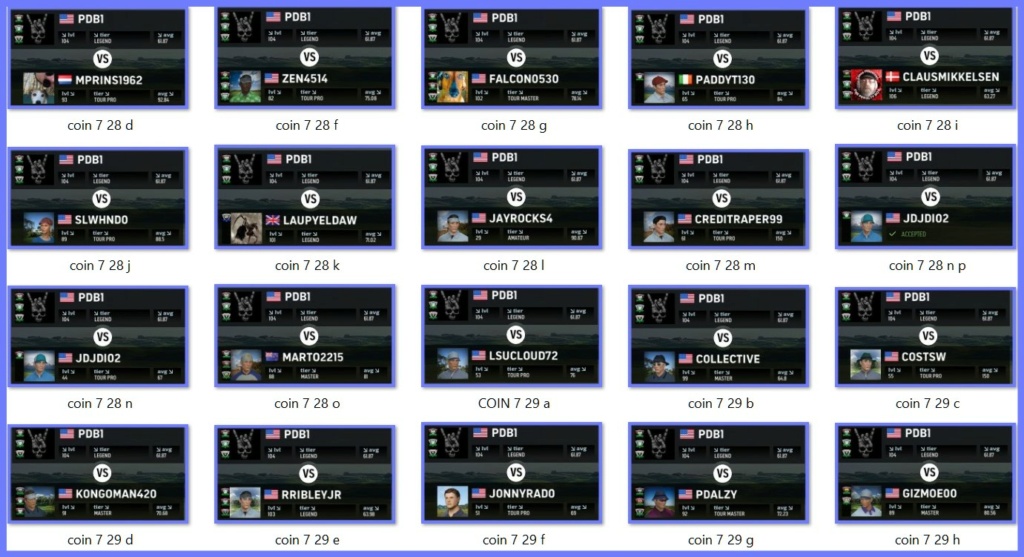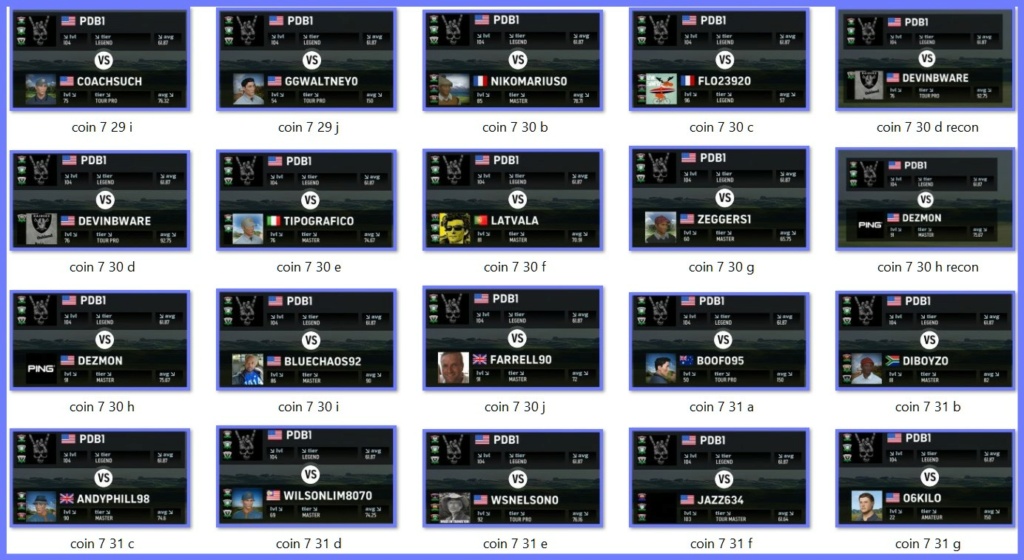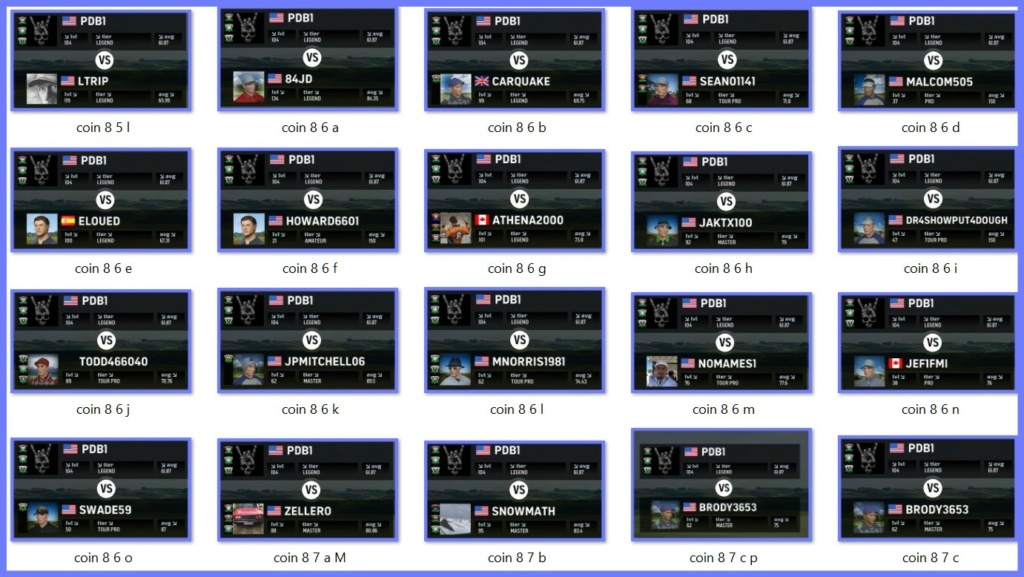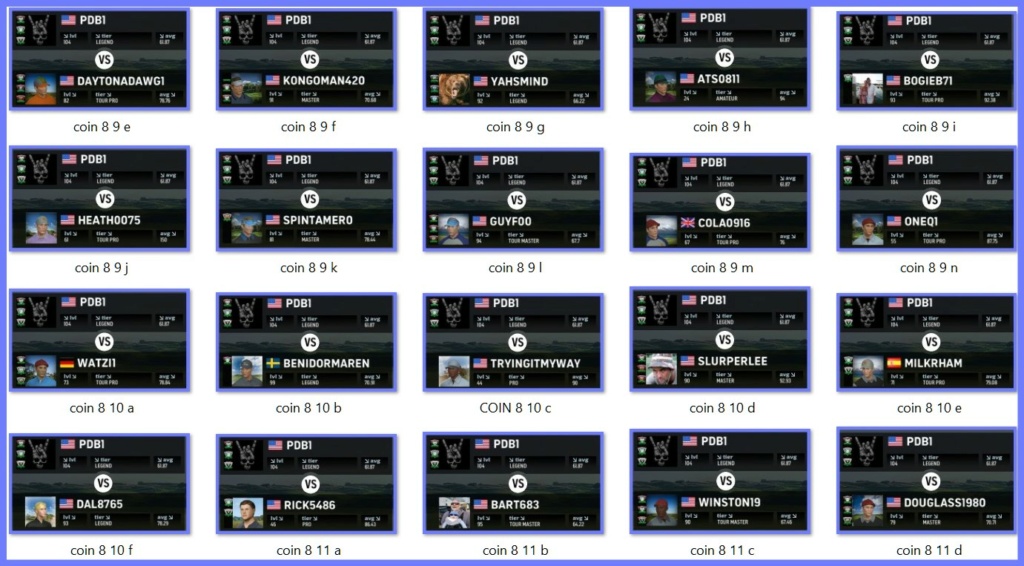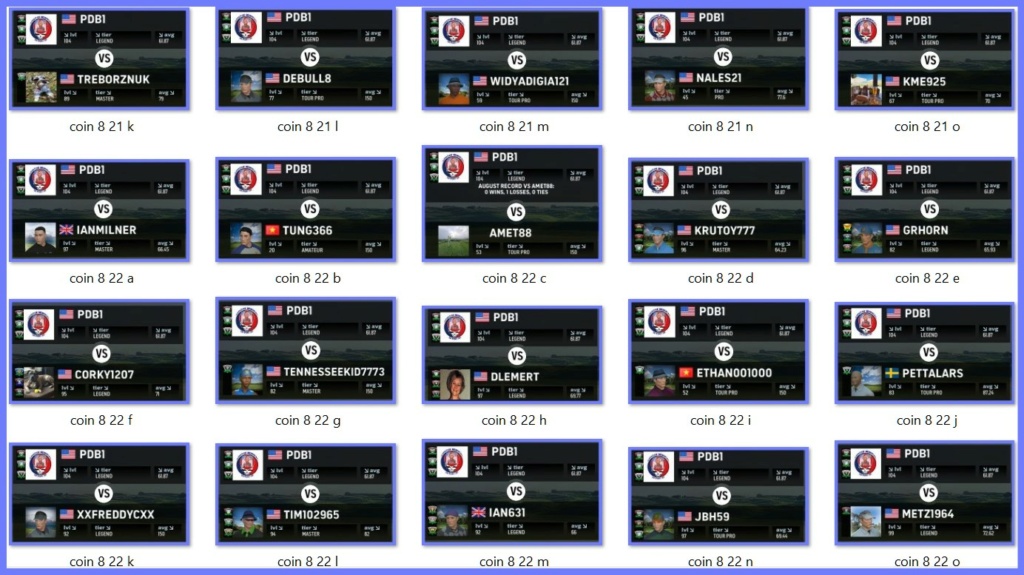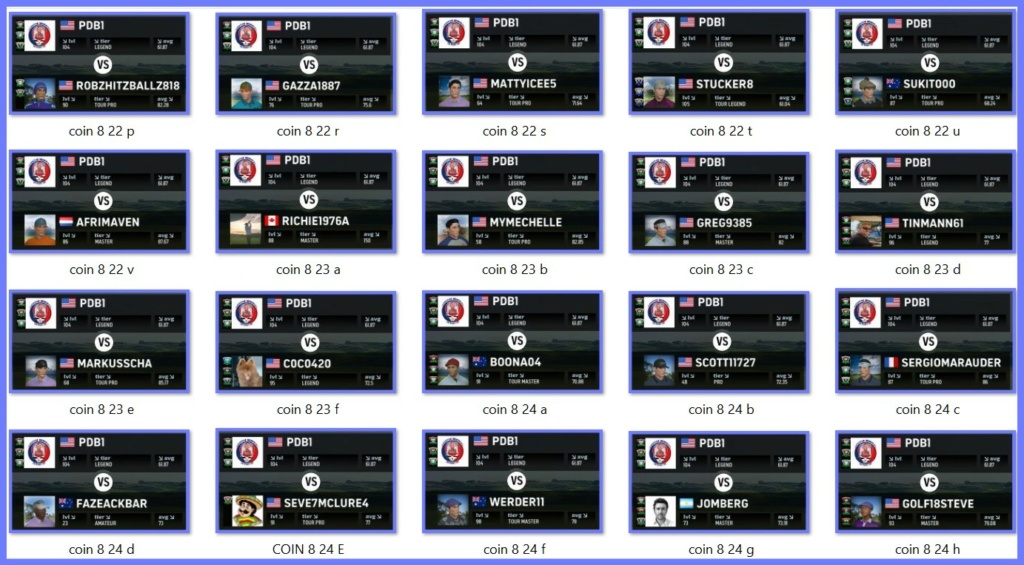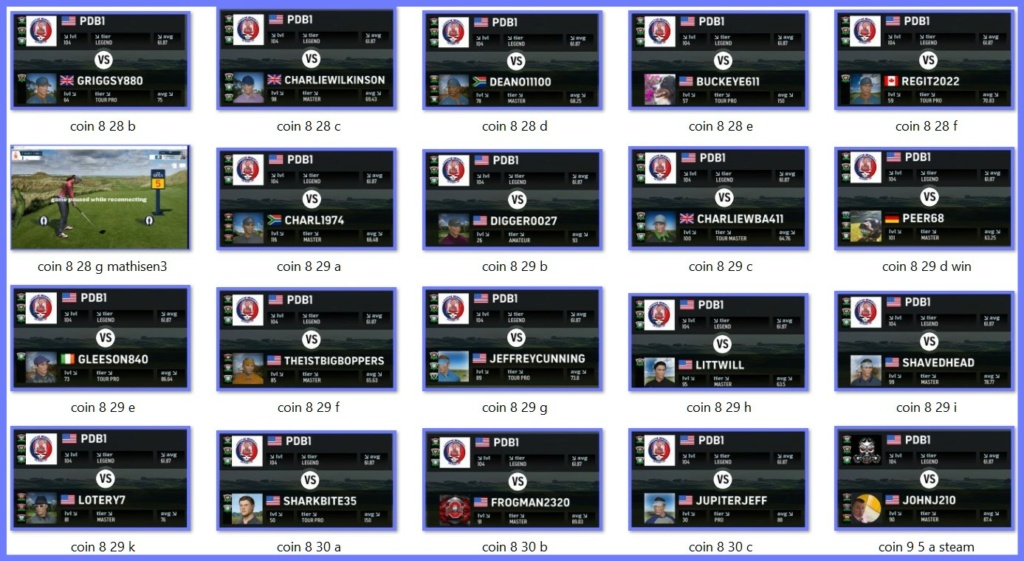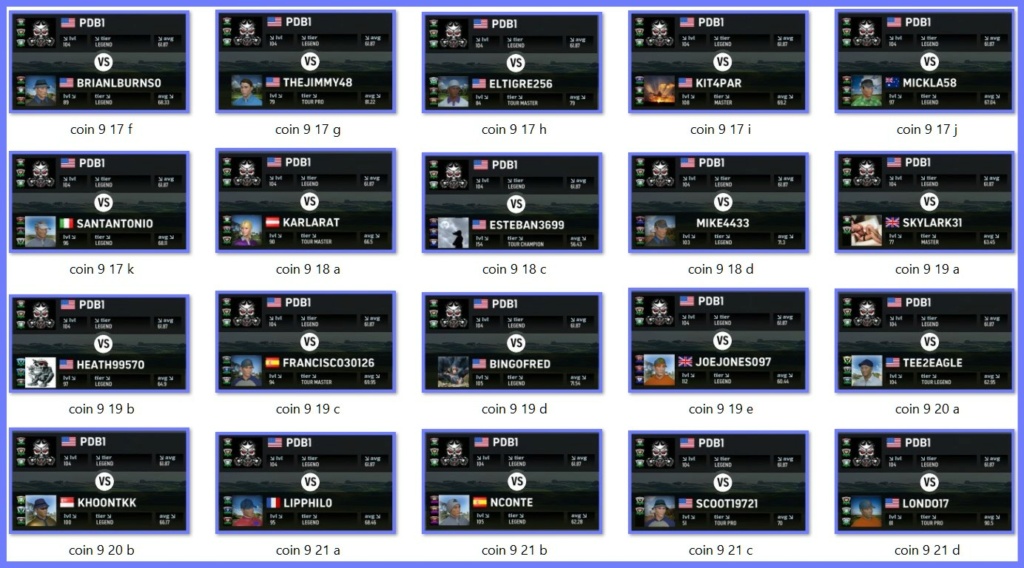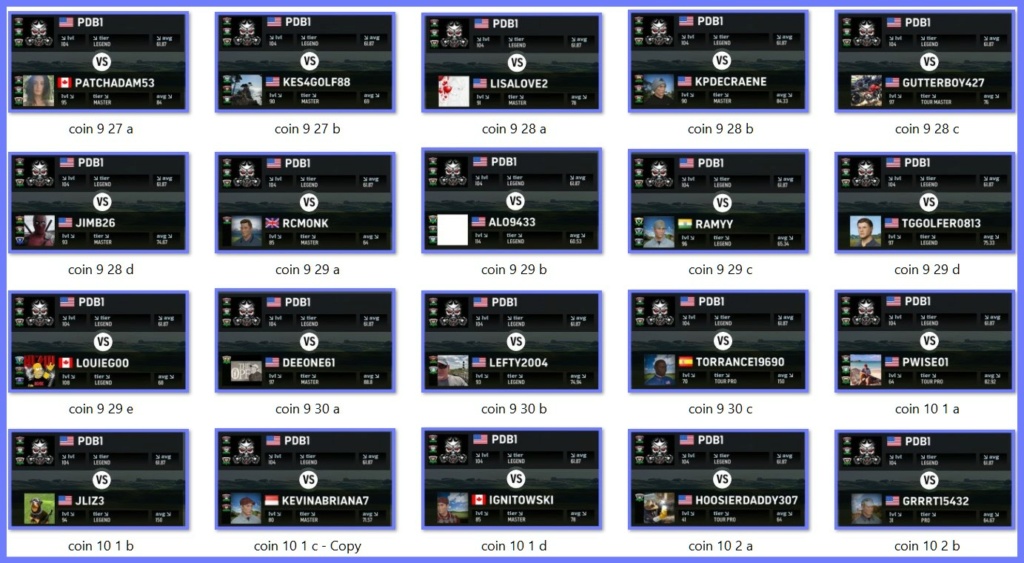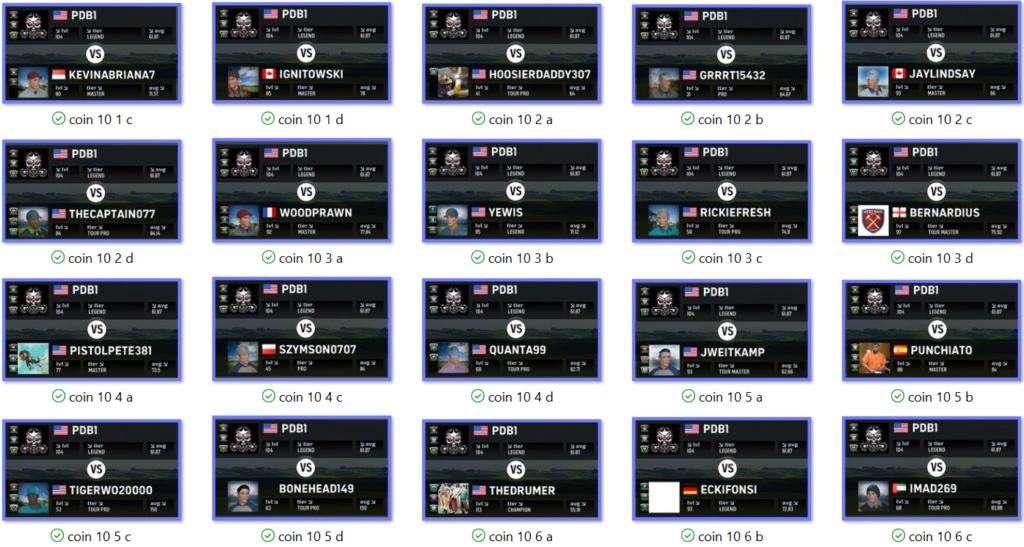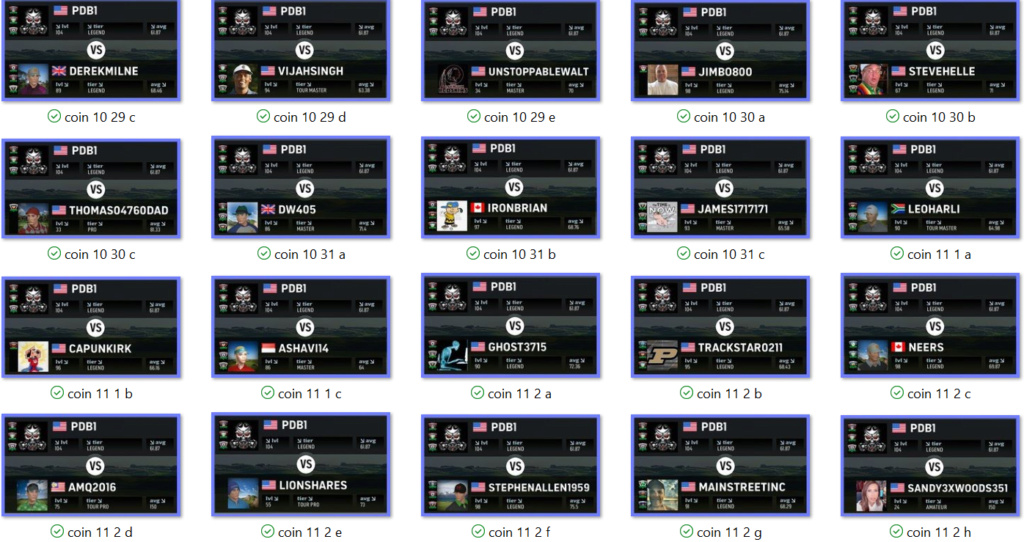 1000 as of this post
Last edited by Paul on Thu Nov 25, 2021 3:33 am; edited 7 times in total
Originally it wasn't just the match up screen and the score card saved for each match .
  There would also be the error screens for each match .
IE : These are random examples and may not match .
The " PAUSED FOR RECONNECTION " Happens when the players get to the tee . Usually following a long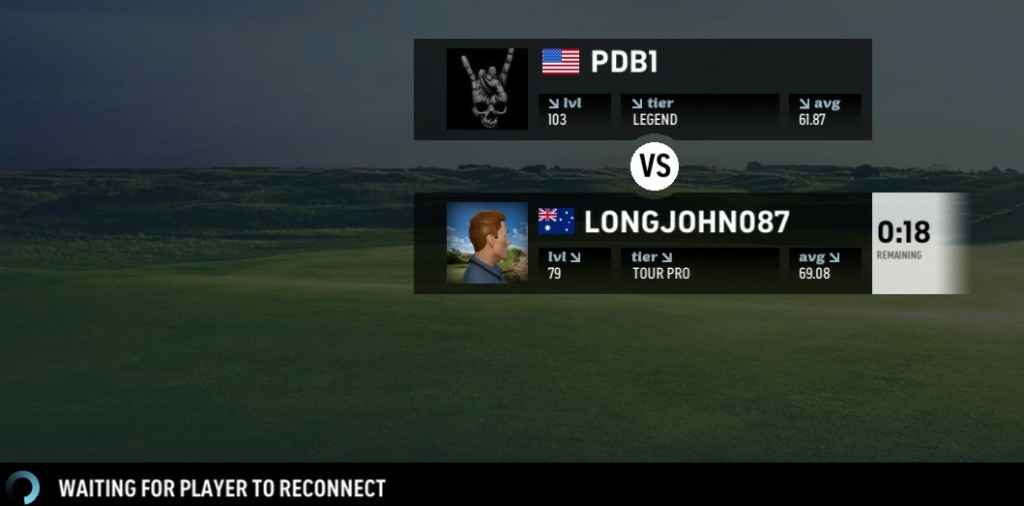 Then another

Then another " PAUSED FOR RECONNECTION " once back at the tee .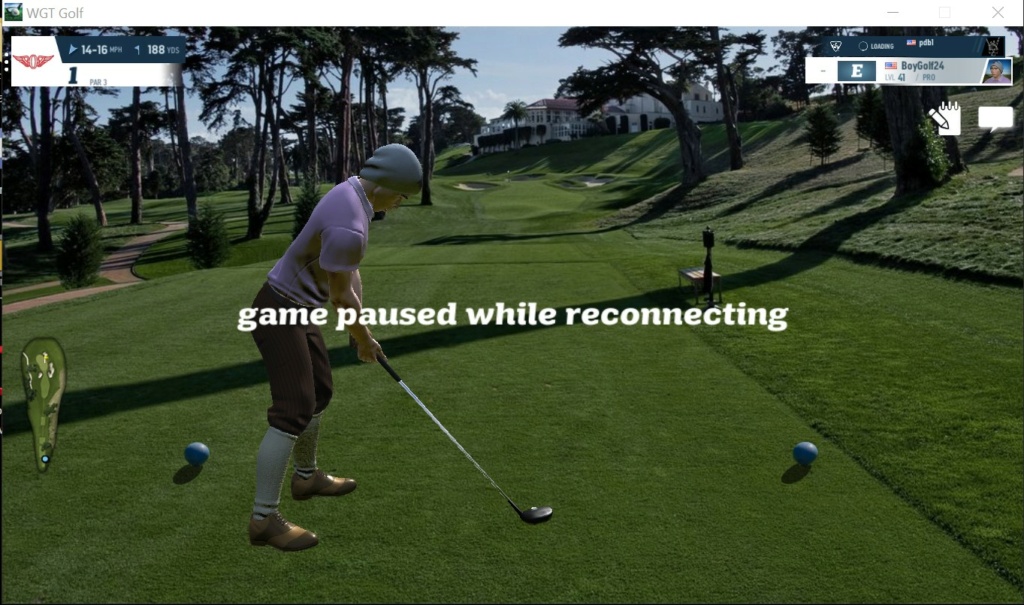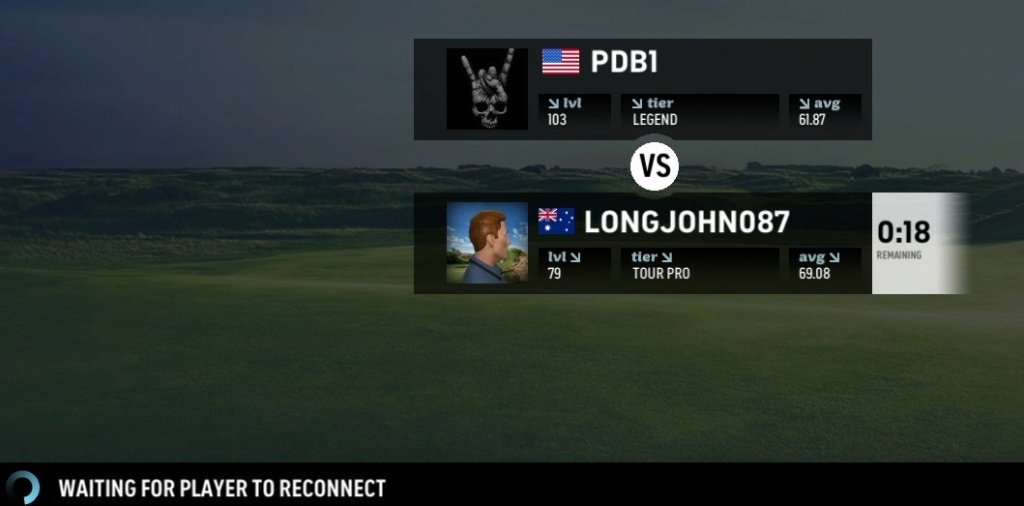 Then either one of these will appear

or
In these scenarios the win is given to 1 of the players . When no one even played a hole . I call them " FALSE FORFEITS " .
  In other scenarios you will even see them claim the opponent as the winner .
Which is clearly wrong .
Not to mention the all to frequent:
Which usually gives the win to the opponent .
Then are the always irritating ERROR screens . Of which there are many of every type .
LOADING ISSUES ( many types of them :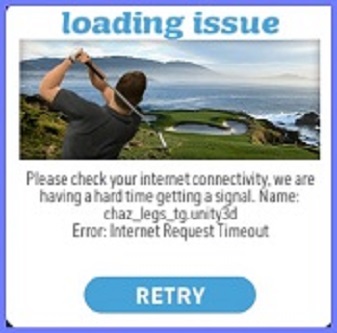 OOPS ERRORS many types of them :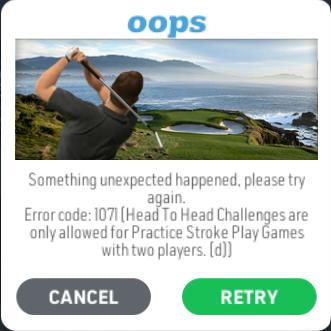 And there are many more different screens and errors that can and do pop up in just 1 round .
  And for dozens and dozens of these rounds . I was not the recipient of the win .
  In fact for all rounds ended before the tee . There should be no winner .
  For rounds interrupted by game glitches and or the opponent performing extracurrucular actions to trigger " END of GAME " .
Because my computer has more of a trigger internet connection and may not reconnect as fast . The opponent would get the win .
  That is why I started screen shotting every round . To submit to WGT the sequence of events that led to the opponent getting the win .
  WGT was actully very appreciative of this . Admittedly did not know the extent of these issues I started reporting .
WGT Member Services (WGT)
Nov 16, 2021, 5:45 PM CST
Hi Paul, 
Thank you for contacting World Golf Tour. 
After a review of this matter, we determined that a refund was due and credited your WGT account. 
If you have any other questions or concerns, please don't hesitate to contact us and we will be glad to help. 
Thank you for playing World Golf Tour. 
Regards,
WGT Member Services
  Having submitted over 60 rounds . I have been reimbursed for 100 % of them . Totalling 2,278,000 coins .
See :
  So anyway my original point was that each round could have anywhere from 1 to 6 screen shots . All having to be labelled as the same round but not duplicated . Just 1 letter or number different . But the date and the exact round ( opponent ) must be the same .
  Not easy to do . But I did it .
  Which then led to separating each type of error , screen shot into their own categories .
  By that time I was mostly also trying to record the scorecard and the opponent .
  I didn't realize at the time that I separated everything . That the text in the scorecards is too small to see the names of the players . Even when enlarged .
  That sucked because I wanted to post the scorecards here in the website . For a couple of reasons .
  It has never been about the w or the l for me . I just record the event . However each scorecard is marked with a w if I win and an l if I lose .
1) Just to show the number of rounds played .
2) To also show that what I had observed in FLASH was also true in PCEA . That no matter how many rounds you play . You will never ( maybe once ) ever encounter the same player again .
  Proving that blocking a player is a useless action . Since you would never see the player again anyway . NEVER . The odds are totally against it .
  On the couple of occasions that I have confronted abusive or rude players . I found them to be apologetic . Sincerely sorry and claimed to just be having a bad day . I believed them .
  Which also goes along with missing invites , not able to accept invites , invite system glitched . Causing players to miss playing rounds with players they will never NEVER have an oppportunity to play again . You missed it . The odds are against ever having the chance to play that player again .
  I'm just saying .
  Anyway . I am going to change the way I post these match ups . The over 1000 that have already been separated would be impossible to recombine . So from now on I will not separate them .
IE :

---
Permissions in this forum:
You
cannot
reply to topics in this forum