THAT'S ENTERTAINMENT
CLICK ON ANY OF THESE LINKS TO FIND OUR EXTREME ENTERTAINMENT
Statistics
We have
420
registered users
The newest registered user is
Jumshaid
Our users have posted a total of
11443
messages in
2883
subjects
June 2022
| Mon | Tue | Wed | Thu | Fri | Sat | Sun |
| --- | --- | --- | --- | --- | --- | --- |
| | | 1 | 2 | 3 | 4 | 5 |
| 6 | 7 | 8 | 9 | 10 | 11 | 12 |
| 13 | 14 | 15 | 16 | 17 | 18 | 19 |
| 20 | 21 | 22 | 23 | 24 | 25 | 26 |
| 27 | 28 | 29 | 30 | | | |
Calendar
71 WGT TUTORIALS & 32 YOUNG46 TUTORIALS
CLICK HERE
TO SEE OVER 100 YOUTUBE VIDEO TUTORIALS . FROM WGTers , WGT & YOUNG46
FORUM UPDATE
THIS FORUM IS FOR YOU ALL . PLEASE FEEL LIKE IT IS YOURS . READ THE FORUMS. POST COMMENTS . ASK QUESTIONS . IF YOU HAVE A COMPLAINT POST IT . MAKE SUGGESTIONS . READ SOME TUTORIALS . READ SOME GOLF TIPS . CHECK RECENT TOURNEY WINNERS . BROWSE OUR OLD FORUM ARCHIVES . LOG IN TO THE CHAT AND MESSAGE SOMEONE TO MEET YOU THERE AND ARRANGE A MATCH . LOG IN TO THE CHAT TO SEE IF SOMEONE IS THERE JUST TO SAY HI . MESSAGE ME IF YOU WANT TO GET ON THE DAILY BLITZ .
THE BLITZ SCORECARD IS ON
Page 3
PLEASE CLICK
HERE
TO FIND THE COURSE OF THE DAY AND SEE
THE WEEKLY STANDINGS .
PLEASE POST
YOUR SCORES HERE. IN THIS
KWIK KLIK TO YOUR FAV FORUM
Owner's Objectives
It's been a while since I expressed some of my objectives for the CC . First of all I like and respect everyone that joins our club . I realize that not everyone knows what a CC is all about . Many have different reasons for joining . I really don't know how many of the other clubs are run . They are all different . What I want to emphasize in our CC is that whatever tier you are . That you feel comfortable here , part of a team of players that come here to find conditions that enable them to improve their game , hone their skills , lower their scores ,lower their averages , move up in tiers . Enjoyably and comfortably with the conditions that challenge them enough to keep that drive without the frustrationsof regular game play . All that is completely possible by either creating those tourneys yourself or by messaging me about it . Or someone else in your tier that has been creating tourneys . Any kind of information that you need to know should be provided here , any kind of appp , calculator , help , tutorial , tournament , statistic , message , opinion , gripe , compliment , etc , etc . Should able to be aqcuired here ( or in our website , as it may be easier there ). With your help , all of this can be done easily . We already have a good start . I am going to be here for a very long time trying to achieve all this . For any of you that think it's a good direction for your CC to go in . Then lets keep on keepin on . Sincerely , Your Co team member PDB1 , Paul ( sitting here on a rare rainy day ) May the SUN always be with you
POST OF THE WEEK
Re:
Where are the Flags ?By Bertasion in Valley of the Sun Casual Club The other day upon the heather fair I hit a flagstick that was not there. I saw it's shadow and heard the clank but where it stood was just a blank. It was not there again today. I wonder when it will come back and stay. Brian
BLITZ LIST
HERE IS THE LIST OF BLITZ COURSES IN THE ORDER THEY ARE PLAYED EVERY WEEK OF EVERY SEASON .
DAILY BLITZ WEEKLY SCHEDULE



WEEK 1

BEST OF BANDON PAR 3
PEBBLE BEACH
THE OLYMPIC CLUB
VAHALLA
MERION


WEEK 2

PINEHURST NO.2
HARBOUR TOWN
KIAWAH ISLAND
ROYAL ST. GEORGE
CONGRESSIONAL


WEEK 3

ERIN HILLS
ST. ANDREWS
BALI HAI
CELTIC MANOR
BETHPAGE BLACK


WEEK 4

PINEHURST NO. 8
WOLF CREEK
CHALLANGE AT MANELE
EXPERIENCE AT KOELE
HILVERSUMSCHE


WEEK 5

EDGEWOOD TAHOE
BEST OF WATER SHOTS
BEST OF FAMOUS SHOTS
BEST OF PUTTING
CHAMBERS BAY
TIER & AVERAGE REQUIREMENTS
BASIC LEVEL AND AVERAGE REQUIREMENTS , AND SATURATION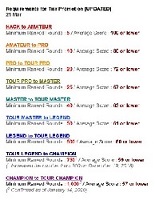 WHAT YOU CAN DO TO ABOUT IT
WHAT'SUP WHATSAP AND OTHER APPS . HERE IN THIS SITE . THE SKY IS YOUR LIMIT . IF YOU WANT TO PROMOTE , GROW , SHARE , IMPROVE , UPDATE POST AND LEARN ABOUT YOUR PRODUCT OR ANY PRODUCT . YOU CAN DO ALL OF THE ABOVE . JUST DO IT .
pdb1

1,512 Posts


11-28-2014 7:13 PM
darwood67 sent you the following message:
---------------------------------- 
Subject:complaint,
 
why that when I have had 5 under twice now for most of the time allowed for tourney and some 1 ties me and I get second place money this is twice now 1st and 2nd money should be added together and divided evenly don't ya think
 
----------------------------------
How are ties handled?
In the event of a tie, the better scoring entrant between or among the tied entrants will be the entrant with the lowest combined score for the final nine (9) holes of the Game. If any ties remain, the better scoring entrant between or among the remaining tied entrants will be the entrant with the lowest combined score for the final six (6) holes for such Game. If any ties remain, the better scoring entrant between or among the remaining tied entrants will be the entrant with the lowest combined score for the final three (3) holes for such Game. If any ties remain, the better scoring entrant between or among the remaining tied entrants will be the entrant with the lowest score for the 18th hole (9th for nine hole games) in such Game, and any remaining ties will be determined by identifying the lowest scoring entrant for each individual game hole, in sequence from 17th (8th for nine hole games) through to 1st, as is necessary to determine a winner, and if any ties remain at that point, the earlier-submitted entry between or among the tied entries will be deemed the better scoring entry.

If multiple people tie for a place, the percentages for those places will be added up and divided by the number of people who tied for the place. For example, if three people tie for 2nd place, the percentages for 2nd, 3rd and 4th place will be totaled up and divided by three. Each player would receive the same amount. 5th place will then get the correct 5th place percentage.
What are the payout rules if fewer than 70 players are entered?
If there are fewer than 70 players entered in a tier, the payout rules are as follows:



Money (or credits) will be paid out as normal to the winners as if there were 70 people in the tier.

For each position that doesn't exist, the money (or credits) will be put into a pool as unawarded.

Total up the money that was awarded.

Calculate the percentage of the money each person received that was awarded.

Give each person that percentage of the unawarded pool.

[size]
The entire tournament purse will be paid out regardless of how many entrants there are in the tournament.
Hope this answers your question . These are the WGT rules that for the most part we should all abide by . You had a fair question . This is how ties are handled .
Paul[/size]
Similar topics
---
Permissions in this forum:
You
cannot
reply to topics in this forum