THAT'S ENTERTAINMENT
CLICK ON ANY OF THESE LINKS TO FIND OUR EXTREME ENTERTAINMENT

Statistics
We have
451
registered users
The newest registered user is
daviddzr2
Our users have posted a total of
17154
messages in
3447
subjects
March 2023
| Mon | Tue | Wed | Thu | Fri | Sat | Sun |
| --- | --- | --- | --- | --- | --- | --- |
| | | 1 | 2 | 3 | 4 | 5 |
| 6 | 7 | 8 | 9 | 10 | 11 | 12 |
| 13 | 14 | 15 | 16 | 17 | 18 | 19 |
| 20 | 21 | 22 | 23 | 24 | 25 | 26 |
| 27 | 28 | 29 | 30 | 31 | | |
Calendar
71 WGT TUTORIALS & 32 YOUNG46 TUTORIALS
CLICK HERE
TO SEE OVER 100 YOUTUBE VIDEO TUTORIALS . FROM WGTers , WGT & YOUNG46
FORUM UPDATE
THIS FORUM IS FOR YOU ALL . PLEASE FEEL LIKE IT IS YOURS . READ THE FORUMS. POST COMMENTS . ASK QUESTIONS . IF YOU HAVE A COMPLAINT POST IT . MAKE SUGGESTIONS . READ SOME TUTORIALS . READ SOME GOLF TIPS . CHECK RECENT TOURNEY WINNERS . BROWSE OUR OLD FORUM ARCHIVES . LOG IN TO THE CHAT AND MESSAGE SOMEONE TO MEET YOU THERE AND ARRANGE A MATCH . LOG IN TO THE CHAT TO SEE IF SOMEONE IS THERE JUST TO SAY HI . MESSAGE ME IF YOU WANT TO GET ON THE DAILY BLITZ .
Owner's Objectives
It's been a while since I expressed some of my objectives for the CC . First of all I like and respect everyone that joins our club . I realize that not everyone knows what a CC is all about . Many have different reasons for joining . I really don't know how many of the other clubs are run . They are all different . What I want to emphasize in our CC is that whatever tier you are . That you feel comfortable here , part of a team of players that come here to find conditions that enable them to improve their game , hone their skills , lower their scores ,lower their averages , move up in tiers . Enjoyably and comfortably with the conditions that challenge them enough to keep that drive without the frustrationsof regular game play . All that is completely possible by either creating those tourneys yourself or by messaging me about it . Or someone else in your tier that has been creating tourneys . Any kind of information that you need to know should be provided here , any kind of appp , calculator , help , tutorial , tournament , statistic , message , opinion , gripe , compliment , etc , etc . Should able to be aqcuired here ( or in our website , as it may be easier there ). With your help , all of this can be done easily . We already have a good start . I am going to be here for a very long time trying to achieve all this . For any of you that think it's a good direction for your CC to go in . Then lets keep on keepin on . Sincerely , Your Co team member PDB1 , Paul ( sitting here on a rare rainy day ) May the SUN always be with you
POST OF THE WEEK
Re:
Where are the Flags ?By Bertasion in Valley of the Sun Casual Club The other day upon the heather fair I hit a flagstick that was not there. I saw it's shadow and heard the clank but where it stood was just a blank. It was not there again today. I wonder when it will come back and stay. Brian
TIER & AVERAGE REQUIREMENTS
BASIC LEVEL AND AVERAGE REQUIREMENTS , AND SATURATION
WHAT YOU CAN DO TO ABOUT IT
WHAT'SUP WHATSAP AND OTHER APPS . HERE IN THIS SITE . THE SKY IS YOUR LIMIT . IF YOU WANT TO PROMOTE , GROW , SHARE , IMPROVE , UPDATE POST AND LEARN ABOUT YOUR PRODUCT OR ANY PRODUCT . YOU CAN DO ALL OF THE ABOVE . JUST DO IT .
IDK anything
Is what you probably think about me and my newest interjection into the topic about cheaters .
That I just don't know anything .
That's what they all say . That I don't know . So I should just stay out of it
" They all " meaning the high end , spoiled never had this problem and that . Always top running machines and the very best connections available .
Yes those . The vast minority . The ones that I wasn't even talking to , to begin with .
Of course they don't agree with what I say . They have never experienced it . And therefore think it doesn't exist . Lol .
The truth is . I did learn much about WGT in the 5000 ranked rounds I played and then I learned even more in the 3000 coin games I played after that .
How could I not ?
The truth is that there are many cheaters . All over . Always there . Always trying to come up with ways to crack the system.
Another fact is that PCEA is overflowing with sensitive glitches and errors . That can cause havoc at any turn .
It is also true that a GR8 many players have top level machines to play with . And for the most part play other players with the same .
 Much less likely to encounter many of these game/ round ending glitches and errors .
But especially in this newer generation . But even all along since the start of WGT there are high and even higher numbers of players with not so GR8 connections and lesser devices . That is more normal than the elite will believe .
That is why they are elite . There aren't that many of them . So their upitty ( negative ) opinions don't mean much .
That would be most of WGTers . That could not and would not ever be able to obtain a worthy device .Equivalent to the ones used to test . And the ones used by the elite .
People know this because from the beginning there have been 365/24/7/ year round in CC giveaways .
And a couple few in the Forums each year .
But most are not in a CC or ever go to the Forums . And come from every corner of the world .
Players that struggle with buying another pack of balls . Much less consider an upgrade .
 You can't ask the wife about it . She aready thinks you're married to the game . And love it more than her . This has been confirmed by many .
What do you think would happen if you said you needed to get a computer with more than 2 g ram ? Preferably at least 16 . **** would hit the fan .
And you would never lie to her . Except maybe that last little upgrade .
Others it is completely an economic , monetary nothing left after the budget concern . They just don't have the money .
These majority of players have a completely different WGT experience than the other fortunate high end players .
I know . I've been there .
Especially PC players . I am sure the same is true for phones as well .
 Most of us/them know that they can't say anything or complain knowing they are playing on a rust bucket computer .
I repeat that also .
The truth is that there are many cheaters . All over . Always there . Always trying to come up with ways to crack the system.
But this WGT system as you know is very precise and one must have extreme controlled accuracy .
It doesn't take much to shank a shot or crash the game . Especially in this joke for a platform PCEA .
 That is the main point I have on this .
It is my opinion that much of what chaos we see and hear about is the results of . Players with slow machines and weak internet . Playing a highly precise system . Designed and tested by high end devices . ( riddled with glitches ) . Set up for failure to many .
It is obvious to me that the very tiny % of cheaters are exploiting and giving a bad name to players that have a hard time even connecting and completing 1 round .
All these various glitches and errors have already existed forever . That's why they already have hundreds of specific error codes already written for them .
I believe they take these very seriously . And are resticted and denied the resources necessary resolve these matters .
The latest report is that the tech that  basically created and managed the Mobile Algorythm . Is no longer around .
If their R & D department is that small . And the departure of just one tech . Causes a halt on what is right now . A very critical issue . Then they are a hurting bunch .
When
they
first mistakenly decided  to isolate the Coin format from the established WGT.com protocol . By letting some guy create a separate Algorythm . Excluding ranked rounds and normal tier progression . Using high numbers of Coin rounds as a measure .
They used no foresight .
Now they are in a big bind . Recent enlightenment has brought to their attention . That after a certain low number of ranked rounds played by these exclusively Coin players .
The Mobile Algorythm disables it self . Now providing no means for progression for these exclusive Coin players . That dabbled in the ranked rounds .
Other than the normal WGT.com written in stone , good as gold , only valid path for progression known .
Which if that is the case ? Why then did they not inform them of these established protocols . Years ago when they ran across the app on their phone ?
And now the guy is gone . . When the need to create an all new algorythm . That tries to mesh the two different Algorythms . To try and quell the inevitable upcoming storm brewing . When all these mobile players are forced to take this game even more seriously than they could have ever imagined .
Oh buddy . I sure hope they figure that one out .
But judging by history . Looking at these PCEA errors below . And that they may even be getting worse .
For example :
LOADING ISSUES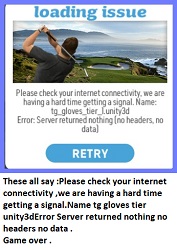 There are so many of these . I recorded only a small fraction of them .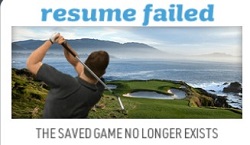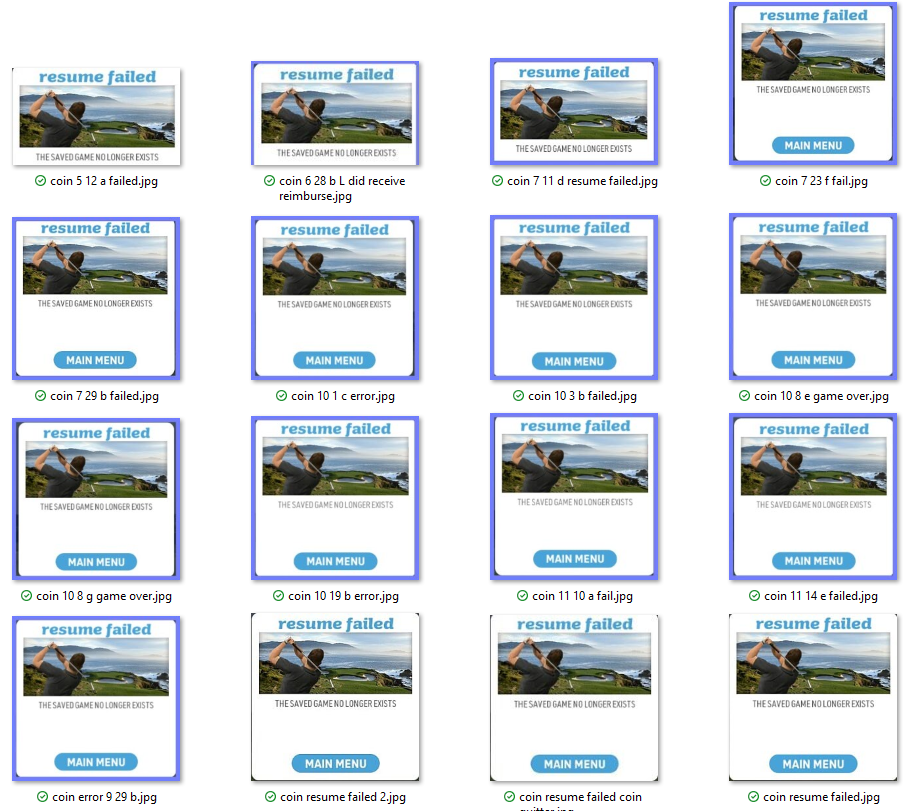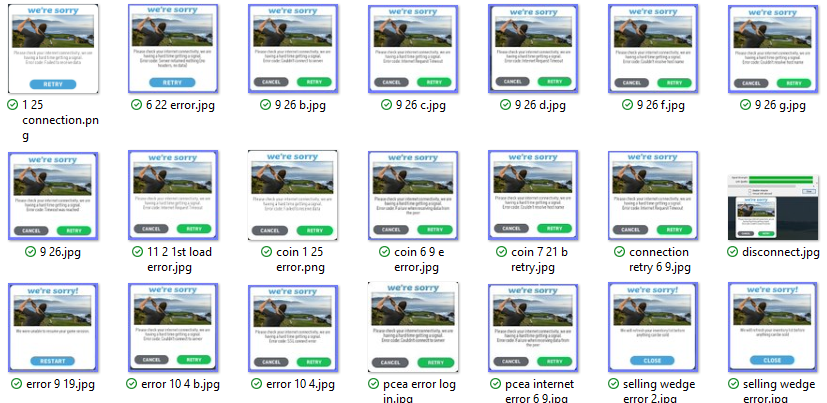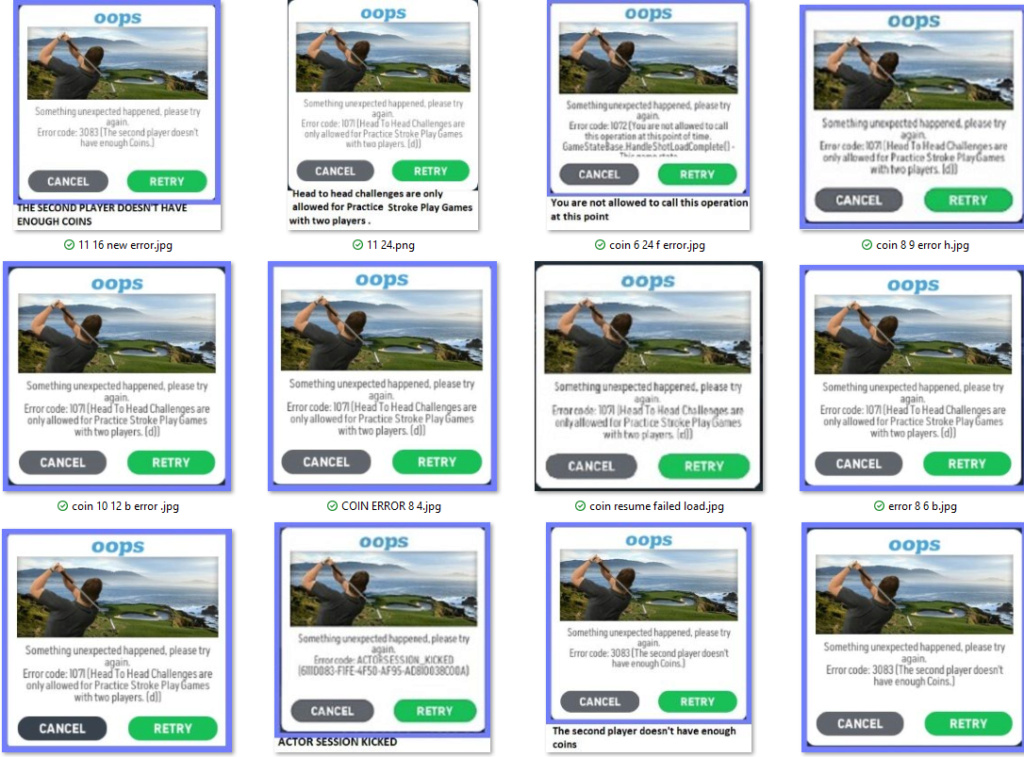 GAME OVER
These occur when your opponent leaves the game . And after 1 or 2 cycles of

And this

This is the default

Lol this one is the same as above . I never left , I sat there and watched these happen . If I left how could I see that screen ?
Also the opponent left . I have never forfeited . EVER .
Who knows ?
Again another mystery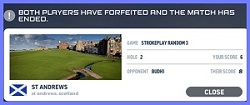 SHOWDOWN ERRORS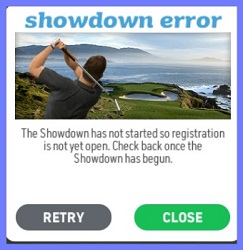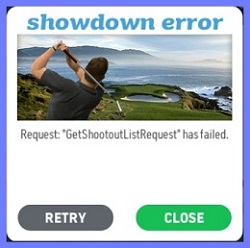 GAME LAGS





There are many more error screens and codes .
The above are some of the most common in PCEA .
What I have screen shotted is a small fraction of the errors I have received .
Some of the above are part of the couple hundred , one at a time submittals of false forfeits that occurred during coin games I reported to Member Services . To review .
They did review them and reimbursed my entry fees . Every single one of them . I provided more than enough to check the timeline to verify my claims .
Totalling 2,278,000 coins .
Many of them , they reported to me that . These results were never supposed to happen . That the game was set up to avoid these . And they were working on it .
Similar topics
---
Permissions in this forum:
You
cannot
reply to topics in this forum