THAT'S ENTERTAINMENT
CLICK ON ANY OF THESE LINKS TO FIND OUR EXTREME ENTERTAINMENT

Statistics
We have
451
registered users
The newest registered user is
daviddzr2
Our users have posted a total of
17154
messages in
3447
subjects
March 2023
| Mon | Tue | Wed | Thu | Fri | Sat | Sun |
| --- | --- | --- | --- | --- | --- | --- |
| | | 1 | 2 | 3 | 4 | 5 |
| 6 | 7 | 8 | 9 | 10 | 11 | 12 |
| 13 | 14 | 15 | 16 | 17 | 18 | 19 |
| 20 | 21 | 22 | 23 | 24 | 25 | 26 |
| 27 | 28 | 29 | 30 | 31 | | |
Calendar
71 WGT TUTORIALS & 32 YOUNG46 TUTORIALS
CLICK HERE
TO SEE OVER 100 YOUTUBE VIDEO TUTORIALS . FROM WGTers , WGT & YOUNG46
FORUM UPDATE
THIS FORUM IS FOR YOU ALL . PLEASE FEEL LIKE IT IS YOURS . READ THE FORUMS. POST COMMENTS . ASK QUESTIONS . IF YOU HAVE A COMPLAINT POST IT . MAKE SUGGESTIONS . READ SOME TUTORIALS . READ SOME GOLF TIPS . CHECK RECENT TOURNEY WINNERS . BROWSE OUR OLD FORUM ARCHIVES . LOG IN TO THE CHAT AND MESSAGE SOMEONE TO MEET YOU THERE AND ARRANGE A MATCH . LOG IN TO THE CHAT TO SEE IF SOMEONE IS THERE JUST TO SAY HI . MESSAGE ME IF YOU WANT TO GET ON THE DAILY BLITZ .
Owner's Objectives
It's been a while since I expressed some of my objectives for the CC . First of all I like and respect everyone that joins our club . I realize that not everyone knows what a CC is all about . Many have different reasons for joining . I really don't know how many of the other clubs are run . They are all different . What I want to emphasize in our CC is that whatever tier you are . That you feel comfortable here , part of a team of players that come here to find conditions that enable them to improve their game , hone their skills , lower their scores ,lower their averages , move up in tiers . Enjoyably and comfortably with the conditions that challenge them enough to keep that drive without the frustrationsof regular game play . All that is completely possible by either creating those tourneys yourself or by messaging me about it . Or someone else in your tier that has been creating tourneys . Any kind of information that you need to know should be provided here , any kind of appp , calculator , help , tutorial , tournament , statistic , message , opinion , gripe , compliment , etc , etc . Should able to be aqcuired here ( or in our website , as it may be easier there ). With your help , all of this can be done easily . We already have a good start . I am going to be here for a very long time trying to achieve all this . For any of you that think it's a good direction for your CC to go in . Then lets keep on keepin on . Sincerely , Your Co team member PDB1 , Paul ( sitting here on a rare rainy day ) May the SUN always be with you
POST OF THE WEEK
Re:
Where are the Flags ?By Bertasion in Valley of the Sun Casual Club The other day upon the heather fair I hit a flagstick that was not there. I saw it's shadow and heard the clank but where it stood was just a blank. It was not there again today. I wonder when it will come back and stay. Brian
TIER & AVERAGE REQUIREMENTS
BASIC LEVEL AND AVERAGE REQUIREMENTS , AND SATURATION
WHAT YOU CAN DO TO ABOUT IT
WHAT'SUP WHATSAP AND OTHER APPS . HERE IN THIS SITE . THE SKY IS YOUR LIMIT . IF YOU WANT TO PROMOTE , GROW , SHARE , IMPROVE , UPDATE POST AND LEARN ABOUT YOUR PRODUCT OR ANY PRODUCT . YOU CAN DO ALL OF THE ABOVE . JUST DO IT .
17 Beautiful Observations From Marcel Proust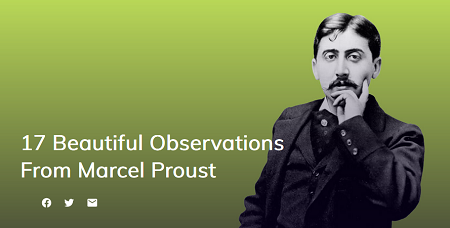 In 1909 at age 38, Marcel Proust began writing
In Search of Lost Time
, and he would continue writing his monumental work until his death a century ago in 1922. In total,
In Search of Lost Time
spanned seven volumes containing around 3,200 pages and more than 2,000 characters. Despite initial reticence from publishers, Proust's masterpiece went on to become one of the defining works in modern literature. Critics and authors alike were quick to praise his style and substance. Virginia Woolf was a huge fan, writing in 1922, "Proust so titillates my own desire for expression that I can hardly set out the sentence. Oh if I could write like that!"
Like Woolf, Proust helped shape modernist literature. His work often rejected chronological and narrative continuity, and his themes of time, memory, and the nature of art were very much at the heart of modernism. Memory, perhaps more than any other theme, is central to
In Search of Lost Time
. In the famous madeleine scene in the first volume,
Swann's Way
, Proust writes how the smell and taste of a little cake floods the mind of his narrator with involuntary memories of his aunt Léonie and associated recollections.
Proust left us with an incredible body of work, in which he comments and philosophizes quite beautifully on many topics. Here are 17 of his greatest quotes, covering everything from love and writing to time, memory, and the nature of reality itself.
Thanks to art, instead of seeing a single world, our own, we see it multiply until we have before us as many worlds as there are original artists.
If a little dreaming is dangerous, the cure for it is not to dream less but to dream more, to dream all the time.
The only true voyage of discovery… would be not to visit strange lands but to possess other eyes.
The places that we have known belong now only to the little world of space on which we map them for our own convenience.
When we come to examine the thoughts, the actions of a woman whom we love, we are as completely at a loss as must have been, face to face with the phenomena of nature, the world's first natural philosophers, before their science had been elaborated and had cast a ray of light over the unknown.
We are not provided with wisdom, we must discover it for ourselves, after a journey through the wilderness which no one else can take for us, an effort which no one can spare us.
What matters in life is not whom or what one loves, it is the fact of loving.
Nine-tenths of the ills from which intelligent people suffer spring from their intellect.
I realized that the essential book, the one true book, is one that the great writer does not need to invent, in the current sense of the word, since it already exists in every one of us — he has only to translate it. The task and the duty of a writer are those of a translator.
Sometimes in this life, under the stress of an exceptional emotion, people do say what they think.
There are perhaps no days of our childhood that we lived as fully as the days we think we left behind without living at all: the days we spent with a favorite book.
Love is space and time rendered perceptible by the heart.
The creation of the world did not occur at the beginning of time, it occurs every day.
The impression is for the writer what experiment is for the scientist, with the difference that in the scientist the work of intelligence precedes the experiment and in the writer it comes after the impression.
We feel in one world, we think and name in another. Between the two we can set up a system of references, but we cannot fill the gap.
An hour is not merely an hour, it is a vase full of scents and sounds and projects and climates.
Always try to keep a patch of sky above your life.
Similar topics
---
Permissions in this forum:
You
cannot
reply to topics in this forum