THAT'S ENTERTAINMENT
CLICK ON ANY OF THESE LINKS TO FIND OUR EXTREME ENTERTAINMENT
Statistics
We have
400
registered users
The newest registered user is
don121
Our users have posted a total of
10775
messages in
2770
subjects
December 2021
| Mon | Tue | Wed | Thu | Fri | Sat | Sun |
| --- | --- | --- | --- | --- | --- | --- |
| | | 1 | 2 | 3 | 4 | 5 |
| 6 | 7 | 8 | 9 | 10 | 11 | 12 |
| 13 | 14 | 15 | 16 | 17 | 18 | 19 |
| 20 | 21 | 22 | 23 | 24 | 25 | 26 |
| 27 | 28 | 29 | 30 | 31 | | |
Calendar
71 WGT TUTORIALS & 32 YOUNG46 TUTORIALS
CLICK HERE
TO SEE OVER 100 YOUTUBE VIDEO TUTORIALS . FROM WGTers , WGT & YOUNG46
FORUM UPDATE
THIS FORUM IS FOR YOU ALL . PLEASE FEEL LIKE IT IS YOURS . READ THE FORUMS. POST COMMENTS . ASK QUESTIONS . IF YOU HAVE A COMPLAINT POST IT . MAKE SUGGESTIONS . READ SOME TUTORIALS . READ SOME GOLF TIPS . CHECK RECENT TOURNEY WINNERS . BROWSE OUR OLD FORUM ARCHIVES . LOG IN TO THE CHAT AND MESSAGE SOMEONE TO MEET YOU THERE AND ARRANGE A MATCH . LOG IN TO THE CHAT TO SEE IF SOMEONE IS THERE JUST TO SAY HI . MESSAGE ME IF YOU WANT TO GET ON THE DAILY BLITZ .
THE BLITZ SCORECARD IS ON
Page 3
PLEASE CLICK
HERE
TO FIND THE COURSE OF THE DAY AND SEE
THE WEEKLY STANDINGS .
PLEASE POST
YOUR SCORES HERE. IN THIS
KWIK KLIK TO YOUR FAV FORUM
Owner's Objectives
It's been a while since I expressed some of my objectives for the CC . First of all I like and respect everyone that joins our club . I realize that not everyone knows what a CC is all about . Many have different reasons for joining . I really don't know how many of the other clubs are run . They are all different . What I want to emphasize in our CC is that whatever tier you are . That you feel comfortable here , part of a team of players that come here to find conditions that enable them to improve their game , hone their skills , lower their scores ,lower their averages , move up in tiers . Enjoyably and comfortably with the conditions that challenge them enough to keep that drive without the frustrationsof regular game play . All that is completely possible by either creating those tourneys yourself or by messaging me about it . Or someone else in your tier that has been creating tourneys . Any kind of information that you need to know should be provided here , any kind of appp , calculator , help , tutorial , tournament , statistic , message , opinion , gripe , compliment , etc , etc . Should able to be aqcuired here ( or in our website , as it may be easier there ). With your help , all of this can be done easily . We already have a good start . I am going to be here for a very long time trying to achieve all this . For any of you that think it's a good direction for your CC to go in . Then lets keep on keepin on . Sincerely , Your Co team member PDB1 , Paul ( sitting here on a rare rainy day ) May the SUN always be with you
POST OF THE WEEK
Re:
Where are the Flags ?By Bertasion in Valley of the Sun Casual Club The other day upon the heather fair I hit a flagstick that was not there. I saw it's shadow and heard the clank but where it stood was just a blank. It was not there again today. I wonder when it will come back and stay. Brian
BLITZ LIST
HERE IS THE LIST OF BLITZ COURSES IN THE ORDER THEY ARE PLAYED EVERY WEEK OF EVERY SEASON .
DAILY BLITZ WEEKLY SCHEDULE



WEEK 1

BEST OF BANDON PAR 3
PEBBLE BEACH
THE OLYMPIC CLUB
VAHALLA
MERION


WEEK 2

PINEHURST NO.2
HARBOUR TOWN
KIAWAH ISLAND
ROYAL ST. GEORGE
CONGRESSIONAL


WEEK 3

ERIN HILLS
ST. ANDREWS
BALI HAI
CELTIC MANOR
BETHPAGE BLACK


WEEK 4

PINEHURST NO. 8
WOLF CREEK
CHALLANGE AT MANELE
EXPERIENCE AT KOELE
HILVERSUMSCHE


WEEK 5

EDGEWOOD TAHOE
BEST OF WATER SHOTS
BEST OF FAMOUS SHOTS
BEST OF PUTTING
CHAMBERS BAY
TIER & AVERAGE REQUIREMENTS
BASIC LEVEL AND AVERAGE REQUIREMENTS , AND SATURATION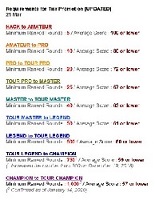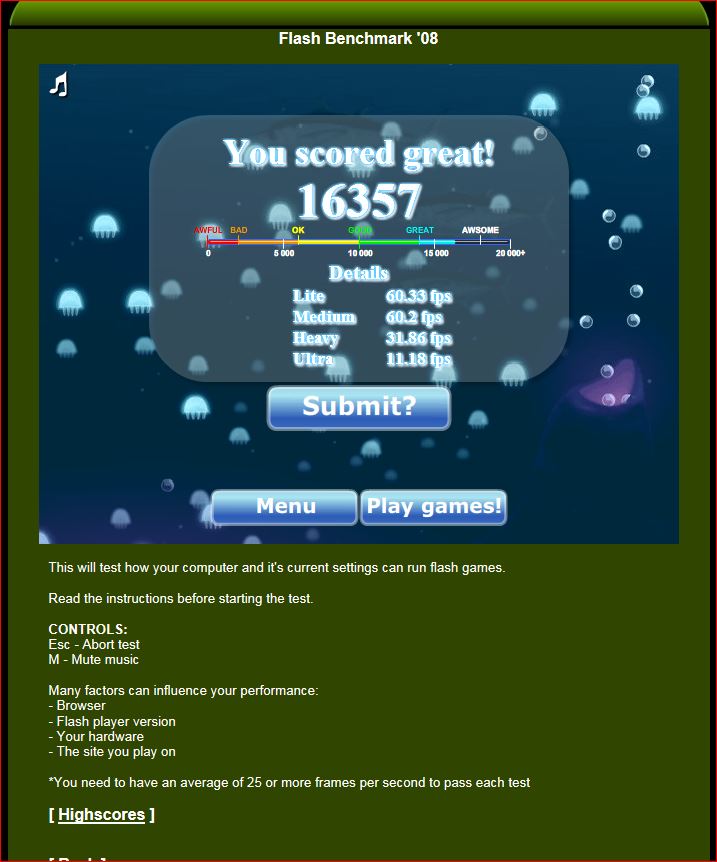 tHIS FLASHPLYER BENCHMARK TEST IS VERY OLD . 2008 . iT STILL WORKS FOR THE MOST PART BUT WILL NOT RECORD YOUR SCORES 
THE FIRST RESULT IS WITH IE ONLY . THE SECOND RESULT IS WITH MAXTHON . I STILL USE MAXTHON FOR ALMOST EVERYTHING BECAUSE IT IS SO USER FRIENDLY . I COULD NOT PASS THE ULTRA TEST FOR SOME REASON IDK .
FLASH BENCHMARK TEST - How well does your computer run Flash? 
12-13-2014 6:47 AM by andyson. 133 replies.








andyson
5,473 Posts

04-13-2013 8:07 AM


I came across a Flash Benchmark Test site that tells us how well our computer runs Flash games. 
The site runs increasingly complex Flash animations and measures how well your computer displays the animations.
It measures how many Frames Per Second  your computer can draw on the display.  The more FPS, the better the animations look.  Any FPS greater than 25 FPS passes the test.
It also gives a numerical score representing the overall Flash performance of your system.
Any score between 10,000 and 14,000 is rated Good.
Any score between 14,000 and 18,000 is rated Great!
Any score above 18,000 is rated Awesome!!
I tested several browsers this morning and here are my results:

Here's all the browser and flash versions:

I ran these tests under the same conditions I would play WGT.  Hardware acceleration enabled, No other browser window open. But Skype, Excel, a Paint program, Windows Live Mail, Notepad, all running.  A total of 96 processes.(Sure, I know, too much stuff running blah, blah, blah.  Don't bother telling me, thats the way I like it.) And as I've said before, my WGT meter is good in single play with a rare stutter.  But I get an occasional freeze or RPM (Rocket Propelled Meter) in multi-player. 
My laptop has an Intel I5 quad core processor with 4G ram and a dedicated GPU. I run Win7 64bit.   My ISP provides 25+Mbps down, 10+Mbps up.
Waterfox, my current browser of choice for playing WGT, came out on top. It was the only browser to pass the Heavy test providing 26FPS.   WF is tailored for 64bit systems, which I have.  I'm not surprised by this result
I find the other results a bit surprising. 
Chrome with the hated Pepperflash came in second.  I thought Pepper had trouble running flash?
My old version of FF (the latest is v18) did pretty good with the latest flash.  I used to run this browser before switching to WaterFox.
Chrome w/o Pepperflash and the highly touted Maxthon browser bring up the rear.  (I had to go to the Maxthon forum to find out how to get it to run the latest version of Flash.  Pfffft runs worse!)
Them's MY results.  What's your's?


Last edited by Paul on Wed Sep 30, 2020 5:54 pm; edited 1 time in total
  THIS TOP RESULT IS TODAY JUNE 27 IN MAXTHON BROWSER
  THIS BOTTOM RESULT TODAY JUNE 27 IE BROWSER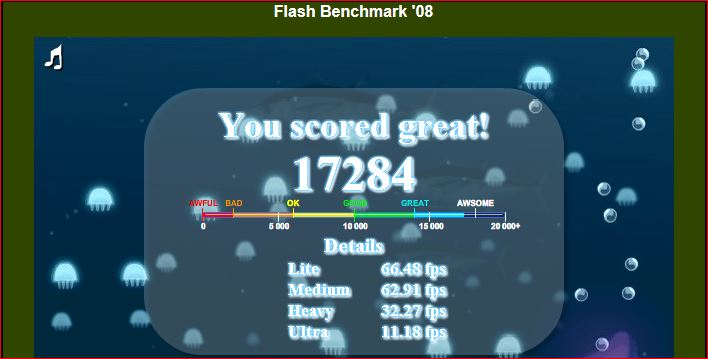 ALTHOUGH THERE ARE SCORES FOR THE ULTRA TEST . BOTH BROWSERS OR MY COMPUTER SHOWED FAILURE FOR THE ULTRA TESTS .
                             LET'S SEE HOW YOURS DOES
20,411 - Firefox, Windows 7, Intel i7-3770k
Ultra 23.26fps
everything else was 60+

Beren




Posts

: 137


Join date

: 2015-06-04



screen capture
" />

Beren




Posts

: 137


Join date

: 2015-06-04



  THAT'S THE BEST SCORE i HAVE EVER SEEN BER3N . QUITE A MACHINE YOU ARE RUNNING THERE . MAKES ME WONDER HOW YOU EVER MISS A SHOT AT ALL . LOL.
THIS IS ALL I HAVE TO WORK WITH
---
Permissions in this forum:
You
cannot
reply to topics in this forum