THAT'S ENTERTAINMENT
CLICK ON ANY OF THESE LINKS TO FIND OUR EXTREME ENTERTAINMENT
Statistics
We have
421
registered users
The newest registered user is
wizard
Our users have posted a total of
11516
messages in
2885
subjects
July 2022
| Mon | Tue | Wed | Thu | Fri | Sat | Sun |
| --- | --- | --- | --- | --- | --- | --- |
| | | | | 1 | 2 | 3 |
| 4 | 5 | 6 | 7 | 8 | 9 | 10 |
| 11 | 12 | 13 | 14 | 15 | 16 | 17 |
| 18 | 19 | 20 | 21 | 22 | 23 | 24 |
| 25 | 26 | 27 | 28 | 29 | 30 | 31 |
Calendar
71 WGT TUTORIALS & 32 YOUNG46 TUTORIALS
CLICK HERE
TO SEE OVER 100 YOUTUBE VIDEO TUTORIALS . FROM WGTers , WGT & YOUNG46
FORUM UPDATE
THIS FORUM IS FOR YOU ALL . PLEASE FEEL LIKE IT IS YOURS . READ THE FORUMS. POST COMMENTS . ASK QUESTIONS . IF YOU HAVE A COMPLAINT POST IT . MAKE SUGGESTIONS . READ SOME TUTORIALS . READ SOME GOLF TIPS . CHECK RECENT TOURNEY WINNERS . BROWSE OUR OLD FORUM ARCHIVES . LOG IN TO THE CHAT AND MESSAGE SOMEONE TO MEET YOU THERE AND ARRANGE A MATCH . LOG IN TO THE CHAT TO SEE IF SOMEONE IS THERE JUST TO SAY HI . MESSAGE ME IF YOU WANT TO GET ON THE DAILY BLITZ .
THE BLITZ SCORECARD IS ON
Page 3
PLEASE CLICK
HERE
TO FIND THE COURSE OF THE DAY AND SEE
THE WEEKLY STANDINGS .
PLEASE POST
YOUR SCORES HERE. IN THIS
KWIK KLIK TO YOUR FAV FORUM
Owner's Objectives
It's been a while since I expressed some of my objectives for the CC . First of all I like and respect everyone that joins our club . I realize that not everyone knows what a CC is all about . Many have different reasons for joining . I really don't know how many of the other clubs are run . They are all different . What I want to emphasize in our CC is that whatever tier you are . That you feel comfortable here , part of a team of players that come here to find conditions that enable them to improve their game , hone their skills , lower their scores ,lower their averages , move up in tiers . Enjoyably and comfortably with the conditions that challenge them enough to keep that drive without the frustrationsof regular game play . All that is completely possible by either creating those tourneys yourself or by messaging me about it . Or someone else in your tier that has been creating tourneys . Any kind of information that you need to know should be provided here , any kind of appp , calculator , help , tutorial , tournament , statistic , message , opinion , gripe , compliment , etc , etc . Should able to be aqcuired here ( or in our website , as it may be easier there ). With your help , all of this can be done easily . We already have a good start . I am going to be here for a very long time trying to achieve all this . For any of you that think it's a good direction for your CC to go in . Then lets keep on keepin on . Sincerely , Your Co team member PDB1 , Paul ( sitting here on a rare rainy day ) May the SUN always be with you
POST OF THE WEEK
Re:
Where are the Flags ?By Bertasion in Valley of the Sun Casual Club The other day upon the heather fair I hit a flagstick that was not there. I saw it's shadow and heard the clank but where it stood was just a blank. It was not there again today. I wonder when it will come back and stay. Brian
BLITZ LIST
HERE IS THE LIST OF BLITZ COURSES IN THE ORDER THEY ARE PLAYED EVERY WEEK OF EVERY SEASON .
DAILY BLITZ WEEKLY SCHEDULE



WEEK 1

BEST OF BANDON PAR 3
PEBBLE BEACH
THE OLYMPIC CLUB
VAHALLA
MERION


WEEK 2

PINEHURST NO.2
HARBOUR TOWN
KIAWAH ISLAND
ROYAL ST. GEORGE
CONGRESSIONAL


WEEK 3

ERIN HILLS
ST. ANDREWS
BALI HAI
CELTIC MANOR
BETHPAGE BLACK


WEEK 4

PINEHURST NO. 8
WOLF CREEK
CHALLANGE AT MANELE
EXPERIENCE AT KOELE
HILVERSUMSCHE


WEEK 5

EDGEWOOD TAHOE
BEST OF WATER SHOTS
BEST OF FAMOUS SHOTS
BEST OF PUTTING
CHAMBERS BAY
TIER & AVERAGE REQUIREMENTS
BASIC LEVEL AND AVERAGE REQUIREMENTS , AND SATURATION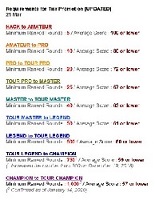 WHAT YOU CAN DO TO ABOUT IT
WHAT'SUP WHATSAP AND OTHER APPS . HERE IN THIS SITE . THE SKY IS YOUR LIMIT . IF YOU WANT TO PROMOTE , GROW , SHARE , IMPROVE , UPDATE POST AND LEARN ABOUT YOUR PRODUCT OR ANY PRODUCT . YOU CAN DO ALL OF THE ABOVE . JUST DO IT .
Golf Humor 3/7
_____________________________________________________________
After a particularly poor game of golf, a popular club member skipped the clubhouse and started to go home. As he was walking to the parking lot to get his car, a policeman stopped him and asked, "Did you tee off on the sixteenth hole about twenty minutes ago?" "Yes," the golfer responded. "Did you happen to hook your ball so that it went over the trees and off the course?" "Yes, I did. How did you know?" he asked. "Well," said the policeman very seriously, "Your ball flew out onto the highway and crashed through a driver's windshield. The car went out of control, crashing into five other cars and a fire truck. The fire truck couldn't make it to the fire, and the building burned down. So, what are you going to do about it?" The golfer thought it over carefully and responded "I think I'll close my stance a little bit, tighten my grip and lower my right thumb."
________________________________________________________________________
A married man was having an affair with his secretary. One day, their passions overcame them and they took off for her house, where they made passionate love all afternoon. Exhausted from the wild sex, they fell asleep, awakening around 8.00 p.m. As the man threw on his clothes, he told the woman to take his shoes outside and rub them through the grass and dirt. Mystified, she nonetheless complied. He slipped into his shoes and drove home. Where have you been!" demanded his wife when he entered the house. "Darling, I can't lie to you. I've been having an affair with my secretary, and we've been having sex all afternoon. I fell asleep and didn't wake up until 8.00 p.m." The wife glanced down at his shoes and said, "You lying bastard! You've been playing golf haven't you!!"
______________________________________________________________________
Q:
What are the three worst words you could hear during a round of golf?
A
: You're still away
_____________________________________________________________________
Every Saturday morning he has an early tee time. He gets up early and eager, golfs all day long, sometimes 36 holes. Well, one Saturday morning he gets up early, dresses quietly, gets his clubs out of the closet and goes to his car to drive to the course. Coming out of his garage rain is pouring down - torrential downpour. There is snow mixed in with the rain, and the wind is blowing 50 mph. He returns to the garage. He comes back into the house and turns the TV to the weather channel. He finds it's going to be bad weather all day long, so he puts his clubs back into the closet, quietly undresses and slips back into bed. There he cuddles up to his wife's back, now with a different anticipation, and whispers, "The weather out there is terrible." To which she sleepily replies, "Can you believe my stupid husband is out golfing in that crap?"
____________________________________________________________________
Sid and Barney head out for a quick round of golf. Since they are short on time, they decide to play only 9 holes. Sid offers Barney, "let's say we make the time worth the while, at least for one of us, and spot $5 on the lowest score for the day." Barney agrees and they enjoy a great game. After the 8th hole, Barney is ahead by 1 stroke, but cuts his ball into the rough on the 9th. "Help me find my ball, you look over there," he says to Sid. After 5 minutes, neither has had any luck, and since a lost ball carries a two-point penalty, Barney pulls a ball from his pocket and tosses it to the ground. "I've found my ball!" he announces triumphantly. Sid looks at him forlornly, "After all the years we've been friends, you'd cheat me on golf for a measly five bucks?!?" "What do you mean cheat? I found my ball sitting right here!" "And a liar, too!!!" Sid says with amazement. "I'll have you know I've been standing on your ball for the last five minutes!"
_______________________________________________________________________
One day a man decided to retire...
He booked himself on a Caribbean cruise and proceeded to have the time of his life, that is, until the ship sank.
He soon found himself on an island with no other people, no supplies, nothing, only bananas and coconuts. After about four months, he is lying on the beach one day when the most gorgeous woman he has ever seen rows up to the shore. In disbelief, he asks, "Where did you come from?  How did you get here?"
She replies, "I rowed over from the other side of the island where I landed when my cruise ship sank." " Amazing," he notes. "You were really lucky to have a row boat wash up with you." "Oh, this thing?" explains the woman. "I made the boat out of some raw material I found on the island.
The oars were whittled from gum tree branches. I wove the bottom from palm tree branches, and the sides and stern came from a Eucalyptus tree."
" But, where did you get the tools?" " Oh, that was no problem," replied the woman. "On the south side of the island, a very unusual stratum of alluvial rock is exposed.  I found that if I fired it to a certain temperature in my kiln, it melted into ductile iron I used that to make tools and used the tools to make the hardware." 
The guy is stunned.
" Let's row over to my place," she says. So after a short time of rowing, she soon docks the boat at a small wharf. As the man looks to shore, he nearly falls off the boat. Before him is a long stone walk leading to an cabin and tree house. While the woman ties up the rowboat with an expertly woven hemp rope, the man can only stare ahead, dumb struck.  As they walk into the house, she says casually, " It's not much, but I call it home.  Sit down, please." "Would you like a drink?"
" No!  No thank you," the man blurts out, still dazed. "I can't take another drop of coconut juice." "It's not coconut juice," winks the woman. "I have a still.  How would you like a Tropical Spritz?"
Trying to hide his continued amazement, the man accepts, and they sit down on her couch to talk. After they exchange their individual survival stories, the woman announces, "I'm going to slip into something more comfortable.  Would you like to take a shower and shave?  There's a razor in the bathroom cabinet upstairs." No longer questioning anything, the man goes upstairs into the bathroom.  There, in the cabinet is a razor made from a piece of tortoise bone.  Two shells honed to a hollow ground edge are fastened on to its end inside a swivel mechanism. "This woman is amazing," he muses.  "What's next?"
When he returns, she greets him wearing nothing but some small flowers on tiny vines, each strategically positioned, she smelled faintly of gardenias.
She then beckons for him to sit down next to her.
" Tell me," she begins suggestively, slithering closer to him, "We've both been out here for many months. You must have been lonely. There's something I'm certain you feel like doing right now, something you've been longing for, right?"  She stares into his eyes.
He can't believe what he's hearing. "You mean..." he swallows excitedly as tears start to form in his eyes, "You've built a Golf Course ?"
_____________________________________________________________________

JimQ916




Posts

: 379


Join date

: 2014-12-31



Similar topics
---
Permissions in this forum:
You
cannot
reply to topics in this forum