THAT'S ENTERTAINMENT
CLICK ON ANY OF THESE LINKS TO FIND OUR EXTREME ENTERTAINMENT

Statistics
We have
459
registered users
The newest registered user is
chefcurry3irty
Our users have posted a total of
22038
messages in
3936
subjects
May 2023
| Mon | Tue | Wed | Thu | Fri | Sat | Sun |
| --- | --- | --- | --- | --- | --- | --- |
| 1 | 2 | 3 | 4 | 5 | 6 | 7 |
| 8 | 9 | 10 | 11 | 12 | 13 | 14 |
| 15 | 16 | 17 | 18 | 19 | 20 | 21 |
| 22 | 23 | 24 | 25 | 26 | 27 | 28 |
| 29 | 30 | 31 | | | | |
Calendar
71 WGT TUTORIALS & 32 YOUNG46 TUTORIALS
CLICK HERE
TO SEE OVER 100 YOUTUBE VIDEO TUTORIALS . FROM WGTers , WGT & YOUNG46
FORUM UPDATE
TO THE MANY WELCOME GUESTS . THIS FORUM IS NO LONGER A COUNTRY CLUB WEBSITE FOR A WGT COUNTRY CLUB . PLEASE FEEL FREE TO READ THE FORUMS.

THERE ARE MANY TOPICS OF INTEREST . OR NOT . THIS WEBSITE IS AN INFORMATION AND ENTERTAINMENT WEBSITE ONLY .

MUCH OF THE CONTENT IS ARCHIVES OF PURPOSES PAST .

THERE ARE SOME MORE CURRENT TOPICS .
REGISTRATION IS NOT NECESSARY TO READ THROUGHOUT .

REGISTRATION IS EASY AND FREE . THIS IS AN AD FREE WEBSITE . NOTHING IS EVER REQUESTED FROM REGISTERED MEMBERS .
REGISTRATION ENABLES COMMENTING ON TOPICS . POSTING NEW TOPICS . FULL ACCESS TO THE WEBSITE IMAGE HOST . WHICH IS A VERY COMPLETE AND CONVENIENT TOOL .

PLEASE ENJOY .

Owner's Objectives
ARCHIVES 2014 It's been a while since I expressed some of my objectives for the CC . First of all I like and respect everyone that joins our club . I realize that not everyone knows what a CC is all about . Many have different reasons for joining . I really don't know how many of the other clubs are run . They are all different . What I want to emphasize in our CC is that whatever tier you are . That you feel comfortable here , part of a team of players that come here to find conditions that enable them to improve their game , hone their skills , lower their scores ,lower their averages , move up in tiers . Enjoyably and comfortably with the conditions that challenge them enough to keep that drive without the frustrations of regular game play . All that is completely possible by either creating those tourneys yourself or by messaging me about it . Or someone else in your tier that has been creating tourneys . Any kind of information that you need to know should be provided here , any kind of appp , calculator , help , tutorial , tournament , statistic , message , opinion , gripe , compliment , etc , etc . Should able to be aqcuired here ( or in our website , as it may be easier there ). With your help , all of this can be done easily . We already have a good start . I am going to be here for a very long time trying to achieve all this . For any of you that think it's a good direction for your CC to go in . Then lets keep on keepin on . Sincerely , Your Co team member PDB1 , Paul ( sitting here on a rare rainy day ) May the SUN always be with you
POST OF THE WEEK
Re:
Where are the Flags ?By Bertasion in Valley of the Sun Casual Club The other day upon the heather fair I hit a flagstick that was not there. I saw it's shadow and heard the clank but where it stood was just a blank. It was not there again today. I wonder when it will come back and stay. Brian
TIER & AVERAGE REQUIREMENTS
BASIC LEVEL AND AVERAGE REQUIREMENTS , AND SATURATION
WHAT YOU CAN DO TO ABOUT IT
WHAT'SUP WHATSAP AND OTHER APPS . HERE IN THIS SITE . THE SKY IS YOUR LIMIT . IF YOU WANT TO PROMOTE , GROW , SHARE , IMPROVE , UPDATE POST AND LEARN ABOUT YOUR PRODUCT OR ANY PRODUCT . YOU CAN DO ALL OF THE ABOVE . JUST DO IT .
WHILE YOUR HERE
WHILE YOUR HERE :
CHECK OUT THE INCREDIBLE PHOTOGRAPHY IN

MY SERIES

&

& MORE . ALL IN THE FORUM
General
The Definitive Guide to Different Types of Chocolate
12 | 18 | 2020
It's pretty rare to find someone who doesn't like chocolate, although those unicorn people do exist. And some types of chocolate elicit a very strong reaction — for example, there doesn't seem to be a lot of gray area around white chocolate (which even some chocolate lovers
refuse to acknowledge
as
real
chocolate). But whether you like yours milky, dark, or in a warm mug with marshmallows, we've broken down what makes chocolate
chocolate
in all its various forms.
What Is Chocolate?
Credit:
Fortyforks
/ Shutterstock
Chocolate — regardless of form — is
derived from the cacao plant
. Specifically, chocolate as we know it comes from roasting and grinding cacao beans. This process yields a dense liquid known as chocolate liquor. Then, depending on what ingredients and the amount of sugar that is added, chocolate makers can create various types of chocolate.
The Core Trio
Credit:
Pixel-Shot
/ Shutterstock
There are
three main types of chocolate
: milk chocolate, dark chocolate, and white chocolate.
Dark chocolate: This type of chocolate is close to its original chocolate liquor form. As its name implies, dark chocolate is visually darker in color. While some sugar may be added for taste or milk fat to improve texture, dark chocolate isn't as sweet as other types of chocolate. It has a higher cacao percentage compared to other chocolates.

Milk chocolate: The "cocoa" brown color that we all associate with most chocolate candies is milk chocolate. It includes milk solids that give it that signature color. To be considered "milk chocolate," the product must contain 10% chocolate liquor and 12% milk solids by weight.

White chocolate: Compared to other chocolates, white chocolate doesn't contain any cocoa solids but does contain cocoa butter. This is also why many people don't consider it to be real chocolate. To qualify as white chocolate, it must contain 20% cocoa butter, 14% milk solids, and a maximum of 55% sugar, but additional ingredients can include vanilla or other additives.

Chocolate and Cacao Percentages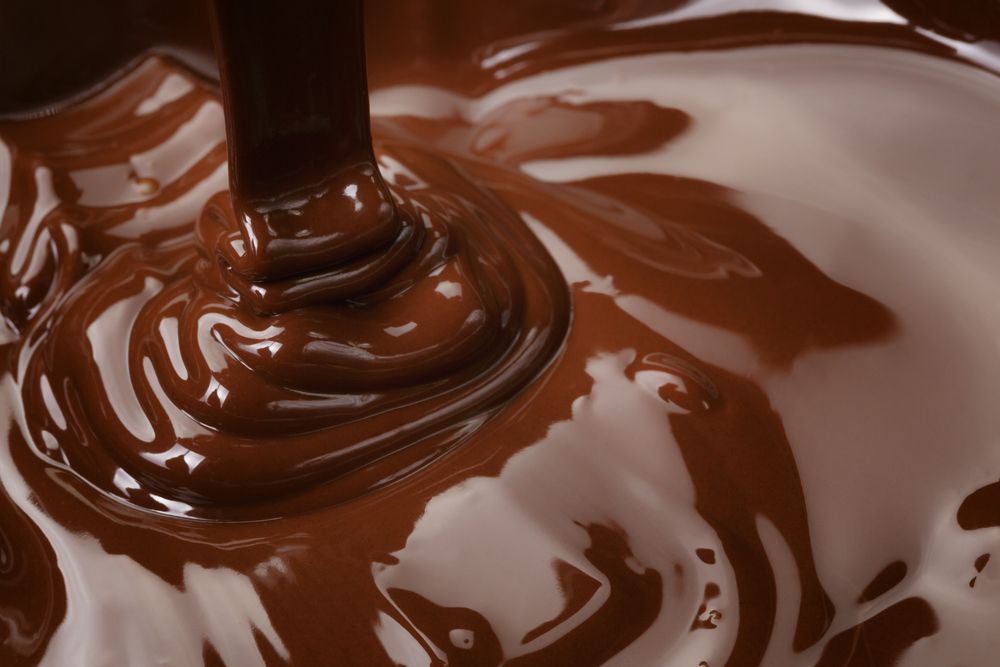 Credit:
GCapture
/ Shutterstock
So, now you know the basics of what constitutes chocolate. But a little thing called
percentages is going to be important
— especially if you're baking with chocolate. To be classified as dark, milk, or white chocolate, the final product has to meet certain ratio requirements. In particular, we're talking about the cacao percentage. While you won't always see this highlighted on mass chocolates like popular candy bars at your grocery store checkout lane, it's usually a big selling point for quality chocolate. White chocolate lacks cacao liquor, so for this portion, we're focusing on dark and milk chocolate. As a general rule, the higher the cacao liquor percentage, the more bitter the chocolate will be.
Baking chocolate is 100% cacao liquor and usually isn't eaten by itself. It lacks any sugar as it's meant for baking where sugar is added as a separate ingredient. Baking chocolate may also be listed as unsweetened chocolate.

Dark chocolate contains at least 70% cacao or higher, but depending on other ingredients, it can still be sweet.

Bittersweet chocolate is often substituted for baking chocolate since it is slightly sweet. It contains 70% cacao and 30% sugar.

Semi-sweet chocolate can be eaten by itself or used for baking. It contains 60% cacao and 40% sugar.

Milk chocolate must contain between 10 to 40% cacao and is typically mixed with sugar and milk solids. This sweeter chocolate is usually meant to be eaten as opposed to baking.

Cocoa Powder
Credit:
Avdeyukphoto
/ Shutterstock
So far, we've been talking about chocolate in solid or liquid form. But there's another form that's ideal for cooking and baking — cocoa powder. Cocoa powder contains 100% cacao, which makes it the powdered version of chocolate liquor. So, while it probably shouldn't be eaten by itself, it's perfect for making hot chocolate, molés, and traditional baking recipes.
Cocoa powder comes in two forms
: natural cocoa and Dutch-processed cocoa. Natural cocoa powder tends to be more acidic and has a bold chocolate flavor. In contrast, Dutch-processed cocoa powder is darker, less acidic, and has a milder flavor.
Don't Forget to Prioritize Quality
Credit:
beats1
/ Shutterstock
Chocolate sales predictably increase around the holidays. So, if you want to impress your paramour or family, get them quality chocolate. You might be asking, "How do I know the chocolate I want to buy is quality or not?" The answer is simple. Look for products in which cacao or cocoa is the first ingredient. When this ingredient appears farther down in the contents list, it means that fillers were added to reduce the cost and stretch the ingredients across more products. And no one wants to eat diluted chocolate. So splurge and get your honey something that shows you care!
---
Permissions in this forum:
You
cannot
reply to topics in this forum