THAT'S ENTERTAINMENT
CLICK ON ANY OF THESE LINKS TO FIND OUR EXTREME ENTERTAINMENT
Statistics
We have
400
registered users
The newest registered user is
don121
Our users have posted a total of
10775
messages in
2770
subjects
December 2021
| Mon | Tue | Wed | Thu | Fri | Sat | Sun |
| --- | --- | --- | --- | --- | --- | --- |
| | | 1 | 2 | 3 | 4 | 5 |
| 6 | 7 | 8 | 9 | 10 | 11 | 12 |
| 13 | 14 | 15 | 16 | 17 | 18 | 19 |
| 20 | 21 | 22 | 23 | 24 | 25 | 26 |
| 27 | 28 | 29 | 30 | 31 | | |
Calendar
71 WGT TUTORIALS & 32 YOUNG46 TUTORIALS
CLICK HERE
TO SEE OVER 100 YOUTUBE VIDEO TUTORIALS . FROM WGTers , WGT & YOUNG46
FORUM UPDATE
THIS FORUM IS FOR YOU ALL . PLEASE FEEL LIKE IT IS YOURS . READ THE FORUMS. POST COMMENTS . ASK QUESTIONS . IF YOU HAVE A COMPLAINT POST IT . MAKE SUGGESTIONS . READ SOME TUTORIALS . READ SOME GOLF TIPS . CHECK RECENT TOURNEY WINNERS . BROWSE OUR OLD FORUM ARCHIVES . LOG IN TO THE CHAT AND MESSAGE SOMEONE TO MEET YOU THERE AND ARRANGE A MATCH . LOG IN TO THE CHAT TO SEE IF SOMEONE IS THERE JUST TO SAY HI . MESSAGE ME IF YOU WANT TO GET ON THE DAILY BLITZ .
THE BLITZ SCORECARD IS ON
Page 3
PLEASE CLICK
HERE
TO FIND THE COURSE OF THE DAY AND SEE
THE WEEKLY STANDINGS .
PLEASE POST
YOUR SCORES HERE. IN THIS
KWIK KLIK TO YOUR FAV FORUM
Owner's Objectives
It's been a while since I expressed some of my objectives for the CC . First of all I like and respect everyone that joins our club . I realize that not everyone knows what a CC is all about . Many have different reasons for joining . I really don't know how many of the other clubs are run . They are all different . What I want to emphasize in our CC is that whatever tier you are . That you feel comfortable here , part of a team of players that come here to find conditions that enable them to improve their game , hone their skills , lower their scores ,lower their averages , move up in tiers . Enjoyably and comfortably with the conditions that challenge them enough to keep that drive without the frustrationsof regular game play . All that is completely possible by either creating those tourneys yourself or by messaging me about it . Or someone else in your tier that has been creating tourneys . Any kind of information that you need to know should be provided here , any kind of appp , calculator , help , tutorial , tournament , statistic , message , opinion , gripe , compliment , etc , etc . Should able to be aqcuired here ( or in our website , as it may be easier there ). With your help , all of this can be done easily . We already have a good start . I am going to be here for a very long time trying to achieve all this . For any of you that think it's a good direction for your CC to go in . Then lets keep on keepin on . Sincerely , Your Co team member PDB1 , Paul ( sitting here on a rare rainy day ) May the SUN always be with you
POST OF THE WEEK
Re:
Where are the Flags ?By Bertasion in Valley of the Sun Casual Club The other day upon the heather fair I hit a flagstick that was not there. I saw it's shadow and heard the clank but where it stood was just a blank. It was not there again today. I wonder when it will come back and stay. Brian
BLITZ LIST
HERE IS THE LIST OF BLITZ COURSES IN THE ORDER THEY ARE PLAYED EVERY WEEK OF EVERY SEASON .
DAILY BLITZ WEEKLY SCHEDULE



WEEK 1

BEST OF BANDON PAR 3
PEBBLE BEACH
THE OLYMPIC CLUB
VAHALLA
MERION


WEEK 2

PINEHURST NO.2
HARBOUR TOWN
KIAWAH ISLAND
ROYAL ST. GEORGE
CONGRESSIONAL


WEEK 3

ERIN HILLS
ST. ANDREWS
BALI HAI
CELTIC MANOR
BETHPAGE BLACK


WEEK 4

PINEHURST NO. 8
WOLF CREEK
CHALLANGE AT MANELE
EXPERIENCE AT KOELE
HILVERSUMSCHE


WEEK 5

EDGEWOOD TAHOE
BEST OF WATER SHOTS
BEST OF FAMOUS SHOTS
BEST OF PUTTING
CHAMBERS BAY
TIER & AVERAGE REQUIREMENTS
BASIC LEVEL AND AVERAGE REQUIREMENTS , AND SATURATION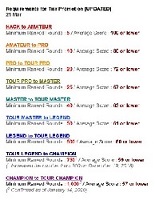 Wednesday 3/18 Golf Jokes
Wife to husband:
"What's your excuse for coming home at this time of the night?"
Husband to wife
: "Golfing with friends, my dear."
Wife to husband
: "What? At 2 a.m.?!"
Husband to wife
: "Yes, We used night clubs."
________________________________________________________________
This guy unexpectedly got the day off and decided he would spend it on the golf
course. After arriving at the club house, he was told that the only way he could play today was if he was willing to play along with three nuns. He agreed and set off with the nuns in tow. At the first hole he said, "After you", and the nuns insisted that he go first. He took a giant swing and sliced it into a nearby bunker. "Goddammit!" he said. "Oh, my, please refrain from using that kind of language around us," said the nun. "I'm so sorry, ma'am, it won't happen again." The nun gets up to the tee and her ball travels about twenty yards, hits a tree, and bounces back behind them. "Well shit, Goddamn, hell, fuck!" exclaims the nun. "Hey, what did you tell me about that?" asks the man. "Yeah, well, you didn't hit a fuckin' tree."
_______________________________________________________________
John and Brandon meet in the clubhouse of the golf course.  John says to Brandon, "I hear you had a tragedy while golfing last week."  Brandon says, "Yes, I was playing with David and at the end of the ninth hole he dropped dead!"  John says, "Someone told me you carried him back to the clubhouse. That must have been tough without a cart.  He weighed over two hundred pounds, right?"  Brandon says, "Well, the carrying part wasn't so hard.  It was putting David down for every stroke and picking him up again that got to me."
______________________________________________________________
A New York lawyer sent gifts to many of his clients.The gifts were sleeves of golf balls,
suitably inscribed with the donor lawyer's name.One of the recipients sent an e-mail of thanks back to the lawyer saying, "That's the first time I've ever had a lawyer buy the balls."
______________________________________________________________
Golf Difnitions
Amateur golfer
:  Someone who addresses the ball twice: once before swinging and once again after swinging.
Oxymoron
: An easy par three.
A Hack
: When your divot flies fur
ther than your ball.
Bad Golfer
: Someone who can take strokes off his game only with an eraser.
Duffer
: The only guy in the world who has an unplayable lie when he tees up.
Mexican Hat Dance
: Lots of spike marks around the hole.
In Jail
: Deep in the trees with no shot out.
Worm Burner
: a shot going a long way on the ground.
________________________________________________________________
A golfer hits his ball into a yard next to the golf course. As he goes to get it a man in the yard says, "Don't you see the sign? It says, 'Private property - Stay Out!'"
The golfer says, "I'm sorry I did not see it. That is my ball there. May I have it, please?"
The man says, "It's in my yard and so it's my ball now."
The golfer looks at the man and says, "I understand."
He then walks back to the golf cart, gets another golf ball, then walks back and throws it into the yard.
The man says, "What is that for?"
The golfer replies, "I consider myself a gentleman, and I believe every prick should have two balls."
_______________________________________________________________
A young couple gets married, and the groom asks his bride if he can have a dresser drawer of his own that she will never open. The bride agrees. After 30 years of marriage, she notices that his drawer has been left ajar. She peeks in and sees 3 golf balls and $6,000. She confronts her mate with her findings, and asks for an explanation. He explains "Every time I was unfaithful to you, I put a golf ball in the drawer." She figures 3 times in 30 years isn't bad. But what about the $6,000? He explains "Whenever I got a dozen golf balls, I sold 'em!"
_____________________________________________________________
An executive with a new young wife and a yen for golf decided about December one year that he couldn't take it any longer. So he said to his wife one evening, "Honey, next Friday we're going to Hilton Head for the weekend. We'll get a condo on the golf course and I'm going to play golf all weekend." "That sounds fine," she purred. And, sure enough, next Saturday morning at 6 a.m., found him on the golf course, all alone. After playing two holes, he noticed a man carrying a golf bag walking toward him across a fairway. The exec. waited, and the other man arrived, saying, "Mind if I play along?" The exec. said, "Fine. Glad to have the company." All went well for a couple of holes, until each approached the sixth green. When the new fellow laid down his clubs, the cover came off one club. The exec. noticed, however, that it wasn't a club at all. It was a high powered rifle.
"Whoa," he said. "That's a high powered rifle!" "Look," said the other man. "I'm not out to cause any trouble. If you want me to leave, I will. No hard feelings.""No. No," said the exec. "I'm just curious as to why you have a high-powered rifle in your bag." The other man pondered for a moment and then said, "Well, I'll tell you. It's my business. It's what I do for a living." "Wow," said the other. "I've heard about guys like you, but I've never met one before." "Still want me to play?" said the other. "Sure," said the Erie exec. "As a matter of fact, you know, I do a little hunting. Would you mind if I look at it?"
The other man showed him the rifle. It was beautiful--an inlaid Weatherby with a huge powerful scope mounted on it. The exec. picked it up, looked through the scope, and said, "Gee, I can see the window of my condo with this thing. Matter of fact, there's my wife." He lowered the gun for a moment and said, "she doesn't have any clothes on." He looked through the scope again. "Damn, there's a guy with her." The Erie exec. lowered the rifle and looked at the other man. "How much do you charge?" "$10,000 a bullet," said the man. The Erie man thought for a moment, and said, "Do it." "Which one?" said the hit man. "Both," said the exec. "That's $20,000, you know." "I don't care, hit 'em both."
The hit man took two cartridges from his bag and loaded the rifle. "Where do you want me to get the man?" he asked. "Blow his nuts off" said the exec. "How about the woman?" "In the mouth. She's always flapping her gums anyway." "Ok," said the hit man as he raised the rifle. Taking careful aim, he clicked off the safety, but then he paused and chuckled. "Mister," he said, "I think I'm going to be able to save you ten thousand dollars.....one shot is all I"m going to need to hit both targets"

JimQ916




Posts

: 379


Join date

: 2014-12-31



---
Permissions in this forum:
You
cannot
reply to topics in this forum