THAT'S ENTERTAINMENT
CLICK ON ANY OF THESE LINKS TO FIND OUR EXTREME ENTERTAINMENT
Statistics
We have
381
registered users
The newest registered user is
mnkylvr1114
Our users have posted a total of
9881
messages in
2662
subjects
June 2021
| Mon | Tue | Wed | Thu | Fri | Sat | Sun |
| --- | --- | --- | --- | --- | --- | --- |
| | 1 | 2 | 3 | 4 | 5 | 6 |
| 7 | 8 | 9 | 10 | 11 | 12 | 13 |
| 14 | 15 | 16 | 17 | 18 | 19 | 20 |
| 21 | 22 | 23 | 24 | 25 | 26 | 27 |
| 28 | 29 | 30 | | | | |
Calendar
71 WGT TUTORIALS & 32 YOUNG46 TUTORIALS
CLICK HERE
TO SEE OVER 100 YOUTUBE VIDEO TUTORIALS . FROM WGTers , WGT & YOUNG46
FORUM UPDATE
THIS FORUM IS FOR YOU ALL . PLEASE FEEL LIKE IT IS YOURS . READ THE FORUMS. POST COMMENTS . ASK QUESTIONS . IF YOU HAVE A COMPLAINT POST IT . MAKE SUGGESTIONS . READ SOME TUTORIALS . READ SOME GOLF TIPS . CHECK RECENT TOURNEY WINNERS . BROWSE OUR OLD FORUM ARCHIVES . LOG IN TO THE CHAT AND MESSAGE SOMEONE TO MEET YOU THERE AND ARRANGE A MATCH . LOG IN TO THE CHAT TO SEE IF SOMEONE IS THERE JUST TO SAY HI . MESSAGE ME IF YOU WANT TO GET ON THE DAILY BLITZ .
THE BLITZ SCORECARD IS ON
Page 3
PLEASE CLICK
HERE
TO FIND THE COURSE OF THE DAY AND SEE
THE WEEKLY STANDINGS .
PLEASE POST
YOUR SCORES HERE. IN THIS
KWIK KLIK TO YOUR FAV FORUM
Owner's Objectives
It's been a while since I expressed some of my objectives for the CC . First of all I like and respect everyone that joins our club . I realize that not everyone knows what a CC is all about . Many have different reasons for joining . I really don't know how many of the other clubs are run . They are all different . What I want to emphasize in our CC is that whatever tier you are . That you feel comfortable here , part of a team of players that come here to find conditions that enable them to improve their game , hone their skills , lower their scores ,lower their averages , move up in tiers . Enjoyably and comfortably with the conditions that challenge them enough to keep that drive without the frustrationsof regular game play . All that is completely possible by either creating those tourneys yourself or by messaging me about it . Or someone else in your tier that has been creating tourneys . Any kind of information that you need to know should be provided here , any kind of appp , calculator , help , tutorial , tournament , statistic , message , opinion , gripe , compliment , etc , etc . Should able to be aqcuired here ( or in our website , as it may be easier there ). With your help , all of this can be done easily . We already have a good start . I am going to be here for a very long time trying to achieve all this . For any of you that think it's a good direction for your CC to go in . Then lets keep on keepin on . Sincerely , Your Co team member PDB1 , Paul ( sitting here on a rare rainy day ) May the SUN always be with you
POST OF THE WEEK
Re:
Where are the Flags ?By Bertasion in Valley of the Sun Casual Club The other day upon the heather fair I hit a flagstick that was not there. I saw it's shadow and heard the clank but where it stood was just a blank. It was not there again today. I wonder when it will come back and stay. Brian
BLITZ LIST
HERE IS THE LIST OF BLITZ COURSES IN THE ORDER THEY ARE PLAYED EVERY WEEK OF EVERY SEASON .
DAILY BLITZ WEEKLY SCHEDULE



WEEK 1

BEST OF BANDON PAR 3
PEBBLE BEACH
THE OLYMPIC CLUB
VAHALLA
MERION


WEEK 2

PINEHURST NO.2
HARBOUR TOWN
KIAWAH ISLAND
ROYAL ST. GEORGE
CONGRESSIONAL


WEEK 3

ERIN HILLS
ST. ANDREWS
BALI HAI
CELTIC MANOR
BETHPAGE BLACK


WEEK 4

PINEHURST NO. 8
WOLF CREEK
CHALLANGE AT MANELE
EXPERIENCE AT KOELE
HILVERSUMSCHE


WEEK 5

EDGEWOOD TAHOE
BEST OF WATER SHOTS
BEST OF FAMOUS SHOTS
BEST OF PUTTING
CHAMBERS BAY
TIER & AVERAGE REQUIREMENTS
BASIC LEVEL AND AVERAGE REQUIREMENTS , AND SATURATION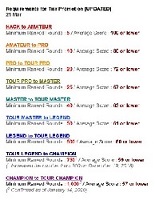 JCSneed


42 Posts

[size=13][size=13]11-07-2014 4:31 PM

[/size][/size]


Updates in bold below
I've read a lot of these tutorials and watched some of the videos attached to them and I have to shake my head and wonder how these people make putts with any consistency.
They miss the ding (and badly) most of the time.
Their methods of aiming are as much witchcraft as anything else (aim from the tip of your avatar's nose - align to the heel on your left foot - switch to chipping mode and aim using the chipping grid, although the chipping grid doesn't tell you anything more than the putting grid).
They fail to tell you how to adjust ball/swing speed.
They fail to tell you how to accurately account for the differing speeds of breaks or how elevation changes affect speed.
They fail to accurately describe how they arrived at their magical method.
Most of the videos show them dropping 30 footers that result more from luck than any method (if you can find any method).
Just like putting in real life, putting is this game is not a hard thing if you follow a set routine using the same method everytime and making the tiny adjustments the daily conditions of the course dictate you make. For instance, some days the results for the formula for putting speed presented below needs to be adjusted slightly, JUST SLIGHTLY, by adding to or subtracting one foot or less from it to nail the right speed. Take a couple of practice holes and figure out whether you need to add a foot or take away a half-foot. But trusting in the method is the key.
The Method:
1. Calculate the speed
2. Adjust that calculation based on daily conditions (add or take away).
3A. Read the break.
3B. Adjust the aiming point based on the distance to the hole and speed of the break determined by the dots moving horizontally on the Putting Grid, not the Chipping Grid. If you need to use the Chipping Grid to read multiple breaks because you're so far away from the hole to read the Putting Grid accurately, then you should chip the ball instead of putting it.
4. Make your swing and hit the ding.
If you have done the 4 steps above each and every time you putt, you'll be amazed how accurate your putting will improve. There is no Magic to it. Only numbers. Just have faith in the numbers presented to you by the game (but don't completely trust them - See #4 below "Catching the Game Messing With You"), make the necessary adjustments to them using the formulae provided below and watch your average drop.
Now, go ahead a take your time and read the details of this method below and put them into practice. They will only help you.
 
1. Make your own Putter Pal and use it to set up your swing strength for your clubs:
If you aren't a Country Club member, or if you are a member of a Country Club that hasn't earned a Putter/Swing Pal, or you are too cheap to waste credits buying a Putter/Swing Pal and would rather spend your credits on those sweet, accurate MAX Slow Meter Balls (600 credits per sleeve), then take out a ruler and measure the length of the swing meter on your monitor when you have the putter chosen as your club. The swing meter varies its location on your monitor for clubs other than the putter, but not by much. Still, you want to set up your own "putter pal" calibrated to the putter rather than calibrated to the other clubs. You can always offset your swing strength the slight difference needed for the other clubs once you've used your new homemade putter pal a little bit and see the difference between where 80% is for, say, your driver, and 80% for your putter is on your monitor. You'll see what I mean after you've followed these instructions. If your monitor doesn't show any difference in location or length between the swing meter for the putter and the swing meter for the other clubs, Bully for you!)
Once you know the exact length of your putter swing meter, draw your own swing meter on a piece of paper. Using your ruler, set a mark at the middle of your new meter and label below it "50%". Now, divide each half of the meter in half again, set a mark at each and label these (25% and 75%). Keep splitting these sections of your meter in half and marking them accordingly until you have a meter that will be helpful to you when setting your swing speeds. If you can do the math and choose to make your meter like mine, set up 5% and 10% markings from 0 thru 100%. (It's more accurate using a 5% and 10% meter). After you have your new meter drawn and labeled, carefully cut it out and place it on your monitor just below the actual putter swing meter and tape it into place using cellophane tape. You now have a pretty accurate putter pal and it didn't cost you any credits and it will never expire.

2. Calculating the Required Putting Speed: NO CHANGES TO THESE NUMBRS IN THIS UPDATE KEEP USING THIS FORMULA
This Putting Speed calculation was provided by a player named Lornar long ago, so I take no credit for it. Lornar, whoever and wherever you, God bless you, my son/daughter. But it is still accurate.

To calculate the speed (amount of power you need to set on your swing meter) of a putt use the following formula:
Putting Speed = Distance to Hole + (Distance to Hole * Green Speed Factor) + or – Elevation Change
Distance to Hole is in feet.  Elevation Change is in inches. (So watch out for those elevation changes that show up in feet on the greens! Convert them into inches before calculating.)
Green Speed Factors are:
 
+0.1 for Slow, 
 0 for Standard, 
-0.1 for Fast, 
-0.15 for Very Fast, 
-0.2 for Tournament and 
-0.3 for Championship.
So for a putt 14 feet from the hole on a Tournament speed green with an elevation change of up 2 inches, the putting speed needs to be:
14 + ((14*(-.2) + 2) =  13.2. 
Therefore, using a putting meter for 25 feet you need to use a little bit more than 50% power on your swing meter to putt for a 13.2 foot distance. (The more divisions you can mark on your homemade putter pal, the better your accuracy will be in setting swing speed. And not just for your putter, but for all your clubs.)
This works well for me on greens of all speeds.  I usually add an extra 1/2 foot to a one foot for short putts to avoid the "never up, never in" issue.
Also, I take about 5% to 10% off the calculated speed on tournament/championship greens for putts over 25 feet. These tend to keep rolling beyond the hole if you strictly follow the above formula. In those cases, the formula is just a starting point, then subtract the 5 to 10% off the putt the farther away you are. A little practice will give the feel for it that you need.
I have this formula calculated on an Excel spreadsheet for each green type, from 1 foot up to 400 feet, that I leave running in the background so I can calculate the speed (swing meter setting) quickly for each putt. All I have to do is enter the elevation change into the required distance.

3. Reading the Breaks: HEART OF THE UPDATE.
The dots on the grid give it away.
To make it clearer for everyone, I've revised my description below on how to read the breaks.
For each putt -

Reverse the view to behind the hole looking back at your player avatar. Notice where the closest to the hole dot on the closest to the hole horizontal grid line begins moving. It's always at the center point of the grid closest (left or right) to the hole on the horizontal gridline running through the hole,  right? This dot location is equal to 10 feet of putting length for average speed breaks. Or, you could also say the center point between the first vertical gridline and the hole running along the horizontal gridline closest to the hole or through the hole is equal to 10 feet of putting length for average speed breaks. The first VERTICAL grid line away from the hole equals 15 feet putting length for average speed breaks. So, the center of the next grid over is equal to 20 feet of putting length for average speed breaks. And, the center of the next grid over is equal to 30 feet of putting length for average speed breaks. Etc... 
If you have a 22 foot putt with average speed break, you would move your aiming point on the horizontal gridline running through the hole (or on an imaginary horizontal gridline running through the hole, if there isn't a horizontal gridline running through the hole) to the middle of the second grid away from the hole (20 feet), then move it a little bit further away from the hole (22 feet). Since the center of the grid is 20 feet, then the next VERTICAL grid line away from the hole equals 25 feet, so the distance for a 22 foot putt would be just less than halfway between the 20 foot spot and the second VERTICAL grid line (=25 feet putting of length for average speed breaks) away from the hole.
For a 33 foot putt with average speed break, go the third grid away from the hole aim a little closer to the third VERTICAL grid line (=35 feet of putting length for average speed breaks) away from the hole.
Knowing this, now you simply move your aiming triangle on the same horizontal plane as the hole (on an imaginary HORIZONTAL grid line that runs through the center of the hole, if there isn't a horizontal gridline running through the hole) to the number of feet your putt needs to travel to go in (the putting length the game says, not the adjusted putting speed you calculated using the putting speed formula detailed above).
Some breaks are slower and some are faster. A little trial and error and practice will fix this. Some slower breaks are only 1/2 the speed of average speed breaks, so you cut your putting length in half (the putting length the game says, not the adjusted length you calculated using the above putting speed formula) and use it as the target to aim at. So, using the first example above, if you have a 22 foot putt with 1/2 the average speed break, you would move your aiming point to the middle of the first grid away from the hole (10 feet), the move it a little bit further away from the hole (11 feet). Then putt using the speed you calculated using the putting speed formula above. Sometime it's only 1/4 the average speed break, so you would aim 5 to 6 feet away for that 22 foot putt. Get it?
For faster breaks, guess what? Yeah, you double the distance and move your aiming point to that amount.
Or sometimes it's a fraction:
For some fast breaks instead of doubling the distance, sometimes it's 1.5 or 1.25 or 1.75 times the distance, even triple or quadruple in rare cases.
You have to watch the speed of the dots and get a feel for what average speed looks like, what double speed looks like, what 1/2 speed looks like, etc...

Does this work 100% of the time? I honestly don't know. It hasn't failed me yet. You will be amazed how accurate it really is, though. it works well enough to improve your putting game to get you to start getting a feel for putting, drop some lllloooooonnnggg rainbows, and start cutting back on the dreaded 3 putt. For the 100 plus foot snakes, you're on your own.

4. Catching the Game Messing With You:
Sometimes, the game will try to mess with you by not accurately telling you the exact distance and elevation change. To avoid this, always reverse the view to behind the hole looking at your player avatar, and move the aiming triangle in a circle around the hole about one foot away from the hole. You will notice, more often than not, what the game said was a 12 ft. putt with -2 inch elevation change was actually a 12.8 ft putt with -2.9 inch elevation change. That slight difference is enough to throw your putt off a 1/2 foot left or right or leave you short by inches. So ALWAYS move that aiming triangle around the hole to make sure the game isn't messing with you.
Also, if you end up on the fringe 8 feet from the hole, the game automatically sets your putter to the 100 foot putter meter. So ALWAYS, ALWAYS, ALWAYS make sure you have the correct length putter meter you will need to be successful. This is also true for putts that are in the transition lengths between meters. e.g. game says 28 foot putt, but calculated to the putting speed formula offered above it is only a 19.5 foot putting speed. The game will automatically set your putter to the 50 foot putter meter, so be careful and ALWAYS, ALWAYS, ALWAYS check that club meter length to ensure you have the right distance meter. Otherwise your putts will rocket off into the bunkers or worse because the % for 19.5 feet on a 25 foot putter meter is 39 feet on the 50 foot putter meter. And finally, add one foot to your calculated putting speed to clear the fringe.

5. Practice:
Like anything else, practice makes perfect.

So, that's all I've got for now. I hope this helps you. I know it's made a big difference for myself.
Keep it in the short stuff!


---
Permissions in this forum:
You
cannot
reply to topics in this forum