THAT'S ENTERTAINMENT
CLICK ON ANY OF THESE LINKS TO FIND OUR EXTREME ENTERTAINMENT
Statistics
We have
411
registered users
The newest registered user is
kolkataff
Our users have posted a total of
11225
messages in
2865
subjects
May 2022
| Mon | Tue | Wed | Thu | Fri | Sat | Sun |
| --- | --- | --- | --- | --- | --- | --- |
| | | | | | | 1 |
| 2 | 3 | 4 | 5 | 6 | 7 | 8 |
| 9 | 10 | 11 | 12 | 13 | 14 | 15 |
| 16 | 17 | 18 | 19 | 20 | 21 | 22 |
| 23 | 24 | 25 | 26 | 27 | 28 | 29 |
| 30 | 31 | | | | | |
Calendar
71 WGT TUTORIALS & 32 YOUNG46 TUTORIALS
CLICK HERE
TO SEE OVER 100 YOUTUBE VIDEO TUTORIALS . FROM WGTers , WGT & YOUNG46
FORUM UPDATE
THIS FORUM IS FOR YOU ALL . PLEASE FEEL LIKE IT IS YOURS . READ THE FORUMS. POST COMMENTS . ASK QUESTIONS . IF YOU HAVE A COMPLAINT POST IT . MAKE SUGGESTIONS . READ SOME TUTORIALS . READ SOME GOLF TIPS . CHECK RECENT TOURNEY WINNERS . BROWSE OUR OLD FORUM ARCHIVES . LOG IN TO THE CHAT AND MESSAGE SOMEONE TO MEET YOU THERE AND ARRANGE A MATCH . LOG IN TO THE CHAT TO SEE IF SOMEONE IS THERE JUST TO SAY HI . MESSAGE ME IF YOU WANT TO GET ON THE DAILY BLITZ .
THE BLITZ SCORECARD IS ON
Page 3
PLEASE CLICK
HERE
TO FIND THE COURSE OF THE DAY AND SEE
THE WEEKLY STANDINGS .
PLEASE POST
YOUR SCORES HERE. IN THIS
KWIK KLIK TO YOUR FAV FORUM
Owner's Objectives
It's been a while since I expressed some of my objectives for the CC . First of all I like and respect everyone that joins our club . I realize that not everyone knows what a CC is all about . Many have different reasons for joining . I really don't know how many of the other clubs are run . They are all different . What I want to emphasize in our CC is that whatever tier you are . That you feel comfortable here , part of a team of players that come here to find conditions that enable them to improve their game , hone their skills , lower their scores ,lower their averages , move up in tiers . Enjoyably and comfortably with the conditions that challenge them enough to keep that drive without the frustrationsof regular game play . All that is completely possible by either creating those tourneys yourself or by messaging me about it . Or someone else in your tier that has been creating tourneys . Any kind of information that you need to know should be provided here , any kind of appp , calculator , help , tutorial , tournament , statistic , message , opinion , gripe , compliment , etc , etc . Should able to be aqcuired here ( or in our website , as it may be easier there ). With your help , all of this can be done easily . We already have a good start . I am going to be here for a very long time trying to achieve all this . For any of you that think it's a good direction for your CC to go in . Then lets keep on keepin on . Sincerely , Your Co team member PDB1 , Paul ( sitting here on a rare rainy day ) May the SUN always be with you
POST OF THE WEEK
Re:
Where are the Flags ?By Bertasion in Valley of the Sun Casual Club The other day upon the heather fair I hit a flagstick that was not there. I saw it's shadow and heard the clank but where it stood was just a blank. It was not there again today. I wonder when it will come back and stay. Brian
BLITZ LIST
HERE IS THE LIST OF BLITZ COURSES IN THE ORDER THEY ARE PLAYED EVERY WEEK OF EVERY SEASON .
DAILY BLITZ WEEKLY SCHEDULE



WEEK 1

BEST OF BANDON PAR 3
PEBBLE BEACH
THE OLYMPIC CLUB
VAHALLA
MERION


WEEK 2

PINEHURST NO.2
HARBOUR TOWN
KIAWAH ISLAND
ROYAL ST. GEORGE
CONGRESSIONAL


WEEK 3

ERIN HILLS
ST. ANDREWS
BALI HAI
CELTIC MANOR
BETHPAGE BLACK


WEEK 4

PINEHURST NO. 8
WOLF CREEK
CHALLANGE AT MANELE
EXPERIENCE AT KOELE
HILVERSUMSCHE


WEEK 5

EDGEWOOD TAHOE
BEST OF WATER SHOTS
BEST OF FAMOUS SHOTS
BEST OF PUTTING
CHAMBERS BAY
TIER & AVERAGE REQUIREMENTS
BASIC LEVEL AND AVERAGE REQUIREMENTS , AND SATURATION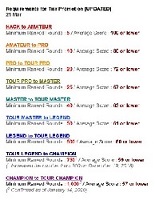 WHAT YOU CAN DO TO ABOUT IT
WHAT'SUP WHATSAP AND OTHER APPS . HERE IN THIS SITE . THE SKY IS YOUR LIMIT . IF YOU WANT TO PROMOTE , GROW , SHARE , IMPROVE , UPDATE POST AND LEARN ABOUT YOUR PRODUCT OR ANY PRODUCT . YOU CAN DO ALL OF THE ABOVE . JUST DO IT .
2
2015-06-19
13:43:51
  GUIDELINES FOR VOTSCC KICK ASS WEEK END EVENTS  
  THIS EDITION WILL BE SPECIFIC TO THE ALT SHOT FORMAT.
  EVERYONE WILL RECEIVE AN OFFICIAL INVITE FOR THE TOURNAMENT.
  HERE ARE SOME CRITICAL LINKS THAT YOU WILL BECOME VERY FAMILIAR WITH
http://challonge.com/
http://challonge.com/tournaments/signup/
  Challonge bracket page
http://challonge.com/????????
http://valleyofthesun.forumotion.com/
http://valleyofthesun.forumotion.com/portal?pid=2
( our page 3 )
Players MUST register to play on the challonge website at the link provided 
players must register for each tournament at the sign in link provided . sometime during the week prior to the tournament . As soon as possible . Helps determine attendance , match ups etc.
There is also a check in at challonge required no less than 1 hour  prior to the match . The automated bracket maker will automatically remove any registered player in the tournament if thet have not checked in prior to the START time of the tournament . As admin I can re enter you . But beleive me I have plenty to do . The more you step up the more likely this will be successful .
  Everyone must be green available for everyone , must be friends , must know how to set and create a match in WGT . Please be sure to have cleaned and or cleared or whatever helps  your computer  run optimally at least in reasonable time to check and test everything long before so there are no surprises when it comes to tournament time . Please read all of this guide and as much as you can in the site about our tourneys long before the tournament . Ask questions . Very reccommended long before tourney time . As there will be no time for me to stop for 1 second . Ask someone there in the chat room with you if you have still unanswered questions .
All tournaments similar to ours use a chat box for all players to meet for communicating and assembling . The precheck in prior to the tournament in our chat must be within 30 minures prior to the tournament . this is very important to determine attendance . Once all players have arrived and checked in to both challonge and our chat . As the start time nears but not before ( always late comers ). Admin (me ) can then go and set the final brackets and match ups .
  Communication : Communicating in the chat is very crucial to the succes of an event . Everyone must understand and respect that there are many others there and all are typing at the same time as you . While you were typing , someone else may have typed a question for you . It is up to you to scan the messages in the box and see if there is something asked of you and you must respond as everyone is expected to see what you have typed and respond also . This is very important . You just can't type and go .( examples of this in this forum please read mandatory ).  
The start time of the tournament is not the start time . 
  Embedded Brackets : In other tournaments similar to ours . Assemble in their chat and wait for URL's to be typed in so that you can then go to the challonge bracket page to see your brackets match ups etc. Then back to the chat . back and forth .NOT IN OURS .  
  I have embedded the live brackets into our website . Page 3 is where the live brackets are . As is the chat room you need to be in when we are having a tournament . We are all inthe chat . Right above us are the live brackets  . ( not live until I start the tournament ). 
  At the start time of the tournament . Once we have determined that no one else is going to show up . I will then go and set the final brackets and match ups and start the tournament . PRIOR TO THAT ANY OF OUR NAMES THAT YOU SEE IN THE BRACKETS ARE TEMPORARY FILL INS AND NOT CORRECT . YOU WILL BE MATCHED UP DIFFERENTLY WHEN I MAKE THE FINAL BRACKETS AND START THE TOURNAMENT . All other information will be valid so you will already know what courses are played in each round fr 9 or bk 9 , etc.
  After all the teams are set, you MAY receive an e-mail from challonge stating that you have been removed from the tournament (IGNORE THIS). DO NOT SIGN UP AGAIN! . This happens because I have to manually removed and replace some players to do the final re match up .  
  So when I return to the chat and announce that the tournament has started ( only takes a couple minutes to set depending on who showed up or not  ) The names in the brackets are the real match ups . You will see your name next to your partners name and the two names of the team you guys are matched up with . The frist name on the top bracket for each match up is the person responsible for setting the match . You go to WGT and create the alt shot match with the right course fr9 or bk9 , not in practice mode ( although we can if the match ups are too extreme , we would do that to be able to set green speeds . I try to avoid that and manually do the match ups . ) You invite the other three players and play your match . The winning team is responsible for recording or reporting the win and the scoring which I havn't decided yet . ( several scenarios ) . Then everyone must wait until the other matches have been turned in . There are more rounds .
  BREAKS: A maximum of 10 minutes is allowed for a break period in between rounds. The break period starts after the teams moving into the next round has been established. The break period is negotiable between the participating teams, NOT to exceed the 10 minute time limit.
  DISCONNECTS: If a disconnect occurs during the game and the game can be re-established within WGT time constraints, continue on with the match. If a disconnect occurs and game CANNOT be re-established, WGT rules apply and the team that cannot reconnect is forfeited. The other team wins, no matter what the score is. In our single player tournaments this does not have to be the case I/you/we can arbitrate other outcomes but not in team play .
  There is much more details involved with this whole adventure and I will be adding and amending continually as we go .
  WHEN TO KNOW IF YOUR DAY IS OVER AND YOU CAN LEAVE THE TOURNAMENT:  
 RULE OF THUMB : PLEASE NEVER LEAVE AN EVENT UNTIL YOU HAVE SPOKEN PERSONALLY TO MYSELF ( or another admin ) TO ESTABLISH THAT YOU DO NOT HAVE ANOTHER ROUND SCHEDULED .
   As the admin there are things I can do to help an individual or team to continue in our tournament play and enjoy more fun . But first you may not be aware that you already will be moving forward in a losers bracket .( with a larger field this is usually the case ). As it may not have been generated yet in the live brackets as matches are still being played . Some patience will be part of every event .
  A few scenarios are possible . One is that the current running tournament is nearing the end . If there are enough interested parties , A new tournament can be generated after the final scores are recorded in the first tournament . It takes me 2 & 2 . Two minutes and two seconds to generate a tournament .
  Other scenarios are possible but not likely . A very large field with many moving on and many already eliminated . I can quickly generate another tournament excluding all players in the current running event .
  None of any of this will  be possible without your knowledge of the whole process and protocol , patience , respect , communicative efforts and abilities , respect , love for the game , your awesome presence .
Last edited by PDB1 on Sun 21 Jun 2015, 10:30 am; edited 1 time in total

_________________

May the SUN always be with you
Please enjoy

Paul
---
Permissions in this forum:
You
cannot
reply to topics in this forum