THAT'S ENTERTAINMENT
CLICK ON ANY OF THESE LINKS TO FIND OUR EXTREME ENTERTAINMENT
Statistics
We have
389
registered users
The newest registered user is
apkguru
Our users have posted a total of
10634
messages in
2745
subjects
September 2021
| Mon | Tue | Wed | Thu | Fri | Sat | Sun |
| --- | --- | --- | --- | --- | --- | --- |
| | | 1 | 2 | 3 | 4 | 5 |
| 6 | 7 | 8 | 9 | 10 | 11 | 12 |
| 13 | 14 | 15 | 16 | 17 | 18 | 19 |
| 20 | 21 | 22 | 23 | 24 | 25 | 26 |
| 27 | 28 | 29 | 30 | | | |
Calendar
71 WGT TUTORIALS & 32 YOUNG46 TUTORIALS
CLICK HERE
TO SEE OVER 100 YOUTUBE VIDEO TUTORIALS . FROM WGTers , WGT & YOUNG46
FORUM UPDATE
THIS FORUM IS FOR YOU ALL . PLEASE FEEL LIKE IT IS YOURS . READ THE FORUMS. POST COMMENTS . ASK QUESTIONS . IF YOU HAVE A COMPLAINT POST IT . MAKE SUGGESTIONS . READ SOME TUTORIALS . READ SOME GOLF TIPS . CHECK RECENT TOURNEY WINNERS . BROWSE OUR OLD FORUM ARCHIVES . LOG IN TO THE CHAT AND MESSAGE SOMEONE TO MEET YOU THERE AND ARRANGE A MATCH . LOG IN TO THE CHAT TO SEE IF SOMEONE IS THERE JUST TO SAY HI . MESSAGE ME IF YOU WANT TO GET ON THE DAILY BLITZ .
THE BLITZ SCORECARD IS ON
Page 3
PLEASE CLICK
HERE
TO FIND THE COURSE OF THE DAY AND SEE
THE WEEKLY STANDINGS .
PLEASE POST
YOUR SCORES HERE. IN THIS
KWIK KLIK TO YOUR FAV FORUM
Owner's Objectives
It's been a while since I expressed some of my objectives for the CC . First of all I like and respect everyone that joins our club . I realize that not everyone knows what a CC is all about . Many have different reasons for joining . I really don't know how many of the other clubs are run . They are all different . What I want to emphasize in our CC is that whatever tier you are . That you feel comfortable here , part of a team of players that come here to find conditions that enable them to improve their game , hone their skills , lower their scores ,lower their averages , move up in tiers . Enjoyably and comfortably with the conditions that challenge them enough to keep that drive without the frustrationsof regular game play . All that is completely possible by either creating those tourneys yourself or by messaging me about it . Or someone else in your tier that has been creating tourneys . Any kind of information that you need to know should be provided here , any kind of appp , calculator , help , tutorial , tournament , statistic , message , opinion , gripe , compliment , etc , etc . Should able to be aqcuired here ( or in our website , as it may be easier there ). With your help , all of this can be done easily . We already have a good start . I am going to be here for a very long time trying to achieve all this . For any of you that think it's a good direction for your CC to go in . Then lets keep on keepin on . Sincerely , Your Co team member PDB1 , Paul ( sitting here on a rare rainy day ) May the SUN always be with you
POST OF THE WEEK
Re:
Where are the Flags ?By Bertasion in Valley of the Sun Casual Club The other day upon the heather fair I hit a flagstick that was not there. I saw it's shadow and heard the clank but where it stood was just a blank. It was not there again today. I wonder when it will come back and stay. Brian
BLITZ LIST
HERE IS THE LIST OF BLITZ COURSES IN THE ORDER THEY ARE PLAYED EVERY WEEK OF EVERY SEASON .
DAILY BLITZ WEEKLY SCHEDULE



WEEK 1

BEST OF BANDON PAR 3
PEBBLE BEACH
THE OLYMPIC CLUB
VAHALLA
MERION


WEEK 2

PINEHURST NO.2
HARBOUR TOWN
KIAWAH ISLAND
ROYAL ST. GEORGE
CONGRESSIONAL


WEEK 3

ERIN HILLS
ST. ANDREWS
BALI HAI
CELTIC MANOR
BETHPAGE BLACK


WEEK 4

PINEHURST NO. 8
WOLF CREEK
CHALLANGE AT MANELE
EXPERIENCE AT KOELE
HILVERSUMSCHE


WEEK 5

EDGEWOOD TAHOE
BEST OF WATER SHOTS
BEST OF FAMOUS SHOTS
BEST OF PUTTING
CHAMBERS BAY
TIER & AVERAGE REQUIREMENTS
BASIC LEVEL AND AVERAGE REQUIREMENTS , AND SATURATION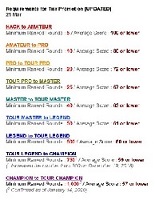 Windows 10 is spying on you
Windows 10 is amazing. Windows 10 is fantastic. Windows 10 is glorious. Windows 10 is faster, smoother and more user-friendly than any Windows operating system that has come before it. Windows 10 is everything Windows 8 should have been, addressing nearly all of the major problems users had with Microsoft's previous-generation platform in one fell swoop.But there's something you should know: As you read this article from your newly upgraded PC, Windows 10 is also spying on nearly everything you do
What's New In Destroy Windows 10 Spying v1.5 ?


The program is rewritten from scratch. Its size is reduced.


HOSTS forced changes. Problems should not occur.


hosts now use ip address 0.0.0.0 .


The program creates a system restore point.


The settings are divided into 2 types. Professional and normal.


Added check is enabled or disabled UAC.


A more expanded the Delete menu applications.


The utility adds a quick button system recovery.


Fix disable windows update.



How To Stop Windows 10 From Spying On You ?
[list="color: rgb(0, 0, 0); font-family: Arial, Helvetica, sans-serif; font-size: 12px; background-color: rgb(238, 238, 238);"]
[*]Download (Destroy Windows 10 Spying v1.5) from given link below
[*]Disable your antivirus 
(important)
[*]Extract it anywhere
[*]Open it & go to settings tab and tick the options as shown in screenshots
[*]Then go to main tab & click (Remove Windows 10 Spying) and wait till it say (restart your computer) restart it
[*]That's it, Now you stopped windows 10 spying on you 
[/list]
Shortcut to Website
http://onhax.net/how-to-stop-windows-10-spying-on-you-guide/
Downloads Links for Application
http://www.mirrorcreator.com/files/1RPSK8JZ/Destroy_Windows_10_Spying_v1.5.rar_links
John (azdewars)
 this is what i DO know:
  In general terms Google Chrome had a back door that was easily detected and wide open  to some serious vulnerabilities. Attacked using a exploit called the "zero day exploits" and the Italian hack group totally VIOLATED googleChrome anf Firefox plugins.
Firefox and google chrome are blocking all plugin pages.
   At this time there are NO PATCHES available in near future. Some say scratch the whole software pckg and start over.
  This is only an educated guess, as there is no  remedy. Your symtoms are evidence to me that ur infected and THEY can take over ur computrer. Little known fact to publ;ici is a keystroke app was installed as malware.  Thats huge...ofk
  DELETE ALL PLUIGINS associated with browsers.via internet options. Run "chkdisk /f /s"  from command prompt.
   Download  ULTRADEFRAG from non affected system and run FULL OPTIMIZE ( http://skylineservers.dl.sourceforge.net/project/ultradefrag/stable-release/6.1.0/ultradefrag-6.1.0.bin.i386.exe ) AND MALWAREBYTES both are freeware.  download onto USB flash drive and install. when completed, do a COLD SYSTEM REBOOT. shutdown and unplug from wall socket ~5 mins, plug back in n fire her up.  Best of luck. ill do some looking into further at how they resolve if possible
  Most exploits are designed to attack forward, however, they suck at watching their back. Thats why you load from usb and attack  them from behind.. Bigf misconception on anti-virus  ,  malware is that it already bypassed your on-board protection. running scan internally waste of time. but loading clean install from outside in gives you better odds of taken control back.
  ADDENDUM to my previous post. i would COMPLETELY delete your browser and ALL associated data. THEN run defrag. Now u can re-install with no plugins OR intall suggested windows open source browsers NOT affiliated with ones infected. I have personally used them  for evaluation and was impressed with the lightweight and speed for very small application
  Avant Browser
  Maxthon (my personal favorite )
  Midori (not good on heavy plugin sites, otherwise, its kicks but)
  Tor Browser (wow ,, whats there to say that hasnt already been said. This takes you to the OTHER internet)
  john
Last edited by pdb1 on Sat Aug 22, 2015 5:52 am; edited 1 time in total
Gotta pick on Microsoft, This is an section of the Windows 10 Privacy Policy.
  "Beware: here's one excerpt from Microsoft's WINDOWS 10 Privacy Policy ,
  "finally, we will access, disclose and preserve personal data, including your content (such as the content of your emails, other private communications or files in private folders), when we have a good faith belief that doing so is necessary to: 
  1.comply with applicable law or respond to valid legal process, including from law enforcement or other government agencies;
   2.protect our customers, for example to prevent spam or attempts to defraud users of the services, or to help prevent the loss of life or serious injury of anyone; 
  3.operate and maintain the security of our services, including to prevent or stop an attack on our computer systems or networks; or
   4.protect the rights or property of Microsoft, including enforcing the terms governing the use of the services – however, if we receive information indicating that someone is using our services to traffic in stolen intellectual or physical property of Microsoft, we will not inspect a customer's private content ourselves, but we may refer the matter to law enforcement..."


  WTF..spying on us .suggestions:


  1. open Settings and click on Privacy. There, you'll find 13 different screens — yes, 13 — to go through, and you'll want to disable anything that seems worrying.,


  2, consider dumping Cortana. Yes, the voice-driven assistant


  3. removing your Microsoft account from Windows 10 completely and using a newly made local account instead


  4. Search web for suggestions


  ONE WORLD ORDER SUCKS so far


  I posted on facebook  approx, 1k of emails between FBI and their sub-contractor for mainframe/database attacks.  : - )) if they didnt bury that company in the desert. Anyway there r around 12 15 emails between this so-called A! security company base out of italy. 
  Sounds familiar this groupemail between them and the Head of FB! and i suspect CIA where the ciontent was about install malware in ALL consumer products. This is no joke 
  Go to wiki leaks search fbi.


  John
 sinisavrc1:
Did some test and so Maxton comes on bottom of the food chain and still Mozilla is the fastest 
FLASH BENCHMARK TEST - How well does your computer run Flash?
 pdb1:
I had the same results from the test . However , on my computer , no question Maxthon is the fastest , smoothest , most responsive playing WGT . Which makes sense . Being that they are an award winning gaming browser that requires much less cookies and other interfering , slow down files to run . This test measures the general flash speeds . And measures very little related to WGT game play . So faster results here do not necessarily represent faster WGT game play speeds . That's a fact Jack .
  This is part of my problem . Not the shockwave . But my relunctence to let go of let go of my Maxthon love affair . I am using Edge right now . Many things I like about it .
   But bottom line Maxthon  has many more user friendly features that have spoiled me . 
  Speed , easy access to any amount of tabs . editability ( see edge screen shot not pixelled correctly ) , most importantly for me . Being fully consumed in my CC and website , 
  I could not live without the split screen feature .
  I have not figured out how to enable a search bar for any engine on my Edge browser .
   However , Edge is very close . The split screen is the deal breaker for me .
  Oh . How the hell do I get Adblocker , or Adfender enabled ? That is the biggest deal breaker of all . Have not seen an ad in two years . They are so nauseating . I recently got an email from Adblocker congratulating me for blocking 100,000 ads , I think 75,000 th place in their competition . Lol .
  Whatthefkever . On the fence much ? I think so .
  Notice the date of the shockwave player ? Very close to the date of the other first big  life changing WGT update .
  My issues John concern more with performance than security . 
Learn about the Get Started app, navigating your device, and support.
This email has been designed to work with Windows 10 devices.
[size=39]Welcome to Windows 10[/size]
[size=33]Getting Started Series[/size]
This is the first in a series of emails designed to help you get the most out of Windows 10. This email includes the info you need to get up and running quickly.
If you've opted out of receiving email, you'll only get one more in this series. See the bottom of this email if you'd like to opt back in.
[size=39]It's the Windows you know, only better[/size]
Windows 10 is so familiar and easy to use, you'll feel like an expert. Because updates are automatically enabled

1

, you'll have the very latest features when they're released, which means Windows will just keep getting better.
[size=39]Get to know the Get Started app[/size]
We've designed the Get Started app to help you get the most out of Windows 10. It can help you get on the web, navigate your device, move files, set up printers and hardware, and more. Any time we add new features to Windows 10, the app will automatically update

1

 to help you with those, too.
Open the Get Started app
[size=39]Meet Cortana[/size]
You now have your very own personal assistant. Cortana

2

 works across your day and your Windows 10 devices to help you get things done. By learning more about you over time, Cortana becomes more useful every day.
Just talk or type and Cortana will help you:
[size=39]Getting around your device[/size]
Search with the taskbar or Cortana

2
The easiest way to search the web, your device, and access and share the files on OneDrive is through the Windows search box on your taskbar or by simply asking Cortana.
Learn more
Touch

3

 or type
Interact with your device in the way that's most natural.
Learn more
[size=39]We're here to help[/size]
Have a question or need some info? Help is already built in. Just use the Windows search box and Windows 10 will use Cortana

2

 to get a quick answer, a step‑by‑step tutorial, or a connection to a real person through our Contact Support app.

4
[size=37]Discover everything your Microsoft account can do[/size]
With this one account, you can take your settings, preferences, and files you have backed up on OneDrive with you across all your devices – and not just Windows devices

5

. Plus, you'll only need to remember one user ID and password.
Update your Microsoft account
[size=39]Let's keep in touch[/size]
Get the Windows newsletter to learn about new features coming to Windows 10, entertainment and apps in the Windows Store, tips, tricks, and more.
Sign up now
Join the conversation about Windows 10.
1

 Additional software and/or hardware requirements may apply over time for updates.


2

 Cortana experience may vary by region and device. Some Cortana functionality requires Internet connection.


3

 Hardware dependent.


4

 Chat available in select markets. Free up-and-running phone and chat support available 24‍/7 in English only; available in most other languages during extended business hours. Fees apply for one-on-one technical support in China.


5

 Requires Internet connection to sync.
Microsoft respects your privacy. To learn more, please read our Privacy Statement.
Microsoft Corporation
‍One Microsoft Wa‍y
‍Redmond, WA 980‍52



Hey guys ..1 last word from me on this subject. Go to task manager and lookup what some of those apps running in background really are. You'll see my point and why your system gets bogged down and cpu usage sky-rocketing.
Respectfully,
John

Delete
Edit
Reply
Send to Friend
Report Abuse





They paint a pretty picture Paul. What they fail to show you starting with One Drive is the Keylogger thats attached to that nice application monitoring chosen keywords that raise a flag. Now ur on "THE LIST". I've shared the information. The hacked emails between FBI and Italian Internet Security outfit (who got hacked) where it is a written request to install malware (Keylogger being 1) in ALL consumer electronic devices effective immediately. This data has been posted on WiKiLeaks under FBI emails.
 
john

Delete
Edit
Reply
Send to Friend
Report Abuse






pdb1

4,413 Posts


08-21-2015 8:33 PM


  John . I am sure you are right about everything . But without the tech savvy knowledge that one would need to avoid and escape this inevitable infiltration . We are sitting ducks and have no where to go . Basically we accept our doom . As unfortunate as it is . As pathetic as it sounds our ignorance has chosen our untimely demise . 
  My suggestion is to play as many rounds as you can . May the COURSE be with you .
 

Delete
Edit
Reply
Send to Friend
Report Abuse





Amen my friend
john


   Microsoft Confirms Start Menu and Cortana Critical Error in Windows 10, Provides Fix


  Boot into Safe Mode if the Start menu doesn't launch!

   The Start menu and Cortana are two of the new features that are bundled into Windows 10, but for unknown reasons, both fail to work on some computers and for the moment, there's no patch to address this bug.

  The first time we reported about this issue was on August 4 and despite the fact that Microsoft confirmed it at that time, no fix is yet available.

Boot into Safe Mode, then boot normally

In a statement today, however, a company engineer publicly acknowledges the issue, revealing that the two features could stop working with one of these two errors displayed to the user: "Critical Error – Start menu and Cortana aren't working. 
   We'll try to fix it the next time you sign in." or "Critical Error – Your Start menu isn't working.  
  We'll try to fix it the next time you sign in."


  The easiest way to repair the problem, at least temporarily, is to boot into Safe Mode and then start your computer normally, according to Microsoft's own instructions.
  "We are aware that some customers are experiencing this error, and are actively investigating.  You may be able to temporarily resolve the issue by booting to Safe Mode, and then immediately booting back into normal mode.  This workaround may resolve your problem for a while, however the error may return later," a company support engineer said.


  Microsoft hasn't said anything about a potential fix that could be delivered via Windows Update, but given the fact that Redmond's rolling out cumulative updates every once in a while, a patch might arrive at any time.


  In the meantime, keep in mind that booting into Safe Mode is one easy fix, but Microsoft does not guarantee that this works every time and for every user. And yet, if nothing else works, you might consider giving it a try too.


  John
  Unfortunately, there are no alternatives for Windows based system. Many are realiszng that flash player need to be stopped,  if not the software is destroying the fun of watching videos and gaming on Internet.. 
  Bottom line: thats what is chewing up your systems and Windows 10 background apps running . Its a mess.
  I,ve been windows all my life until about 6 months ago i switched to mac, linux. So many Open source flash players available. Steve Jobs knew way back when NOT to partner or allow Adobe Flash on their OS's.
  The only 2 i can recommend is GNU Gnash and LightSpark (dont click on Pro version when popup. Loaded with adware).
  John
---
Permissions in this forum:
You
cannot
reply to topics in this forum