THAT'S ENTERTAINMENT
CLICK ON ANY OF THESE LINKS TO FIND OUR EXTREME ENTERTAINMENT
Statistics
We have
420
registered users
The newest registered user is
Jumshaid
Our users have posted a total of
11445
messages in
2883
subjects
June 2022
| Mon | Tue | Wed | Thu | Fri | Sat | Sun |
| --- | --- | --- | --- | --- | --- | --- |
| | | 1 | 2 | 3 | 4 | 5 |
| 6 | 7 | 8 | 9 | 10 | 11 | 12 |
| 13 | 14 | 15 | 16 | 17 | 18 | 19 |
| 20 | 21 | 22 | 23 | 24 | 25 | 26 |
| 27 | 28 | 29 | 30 | | | |
Calendar
71 WGT TUTORIALS & 32 YOUNG46 TUTORIALS
CLICK HERE
TO SEE OVER 100 YOUTUBE VIDEO TUTORIALS . FROM WGTers , WGT & YOUNG46
FORUM UPDATE
THIS FORUM IS FOR YOU ALL . PLEASE FEEL LIKE IT IS YOURS . READ THE FORUMS. POST COMMENTS . ASK QUESTIONS . IF YOU HAVE A COMPLAINT POST IT . MAKE SUGGESTIONS . READ SOME TUTORIALS . READ SOME GOLF TIPS . CHECK RECENT TOURNEY WINNERS . BROWSE OUR OLD FORUM ARCHIVES . LOG IN TO THE CHAT AND MESSAGE SOMEONE TO MEET YOU THERE AND ARRANGE A MATCH . LOG IN TO THE CHAT TO SEE IF SOMEONE IS THERE JUST TO SAY HI . MESSAGE ME IF YOU WANT TO GET ON THE DAILY BLITZ .
THE BLITZ SCORECARD IS ON
Page 3
PLEASE CLICK
HERE
TO FIND THE COURSE OF THE DAY AND SEE
THE WEEKLY STANDINGS .
PLEASE POST
YOUR SCORES HERE. IN THIS
KWIK KLIK TO YOUR FAV FORUM
Owner's Objectives
It's been a while since I expressed some of my objectives for the CC . First of all I like and respect everyone that joins our club . I realize that not everyone knows what a CC is all about . Many have different reasons for joining . I really don't know how many of the other clubs are run . They are all different . What I want to emphasize in our CC is that whatever tier you are . That you feel comfortable here , part of a team of players that come here to find conditions that enable them to improve their game , hone their skills , lower their scores ,lower their averages , move up in tiers . Enjoyably and comfortably with the conditions that challenge them enough to keep that drive without the frustrationsof regular game play . All that is completely possible by either creating those tourneys yourself or by messaging me about it . Or someone else in your tier that has been creating tourneys . Any kind of information that you need to know should be provided here , any kind of appp , calculator , help , tutorial , tournament , statistic , message , opinion , gripe , compliment , etc , etc . Should able to be aqcuired here ( or in our website , as it may be easier there ). With your help , all of this can be done easily . We already have a good start . I am going to be here for a very long time trying to achieve all this . For any of you that think it's a good direction for your CC to go in . Then lets keep on keepin on . Sincerely , Your Co team member PDB1 , Paul ( sitting here on a rare rainy day ) May the SUN always be with you
POST OF THE WEEK
Re:
Where are the Flags ?By Bertasion in Valley of the Sun Casual Club The other day upon the heather fair I hit a flagstick that was not there. I saw it's shadow and heard the clank but where it stood was just a blank. It was not there again today. I wonder when it will come back and stay. Brian
BLITZ LIST
HERE IS THE LIST OF BLITZ COURSES IN THE ORDER THEY ARE PLAYED EVERY WEEK OF EVERY SEASON .
DAILY BLITZ WEEKLY SCHEDULE



WEEK 1

BEST OF BANDON PAR 3
PEBBLE BEACH
THE OLYMPIC CLUB
VAHALLA
MERION


WEEK 2

PINEHURST NO.2
HARBOUR TOWN
KIAWAH ISLAND
ROYAL ST. GEORGE
CONGRESSIONAL


WEEK 3

ERIN HILLS
ST. ANDREWS
BALI HAI
CELTIC MANOR
BETHPAGE BLACK


WEEK 4

PINEHURST NO. 8
WOLF CREEK
CHALLANGE AT MANELE
EXPERIENCE AT KOELE
HILVERSUMSCHE


WEEK 5

EDGEWOOD TAHOE
BEST OF WATER SHOTS
BEST OF FAMOUS SHOTS
BEST OF PUTTING
CHAMBERS BAY
TIER & AVERAGE REQUIREMENTS
BASIC LEVEL AND AVERAGE REQUIREMENTS , AND SATURATION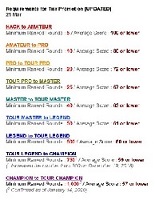 WHAT YOU CAN DO TO ABOUT IT
WHAT'SUP WHATSAP AND OTHER APPS . HERE IN THIS SITE . THE SKY IS YOUR LIMIT . IF YOU WANT TO PROMOTE , GROW , SHARE , IMPROVE , UPDATE POST AND LEARN ABOUT YOUR PRODUCT OR ANY PRODUCT . YOU CAN DO ALL OF THE ABOVE . JUST DO IT .
pdb1

4,709 Posts


06-18-2015 3:56 PM



 pdb1:
JimQ916:
I never realized that the CC torns can help people tier up...anything I set up from now on will be with easy and/or moderate settings....nothing hard. I also realized that when members play head to head that they play hard set ups.
  You are fine Jim . Don't get too nice now . Lol. remember to try to find that area of moderate and challenging still and interesting . Easy or red tees , once in a while . We don't want a cakewalk and then get to Legend and TL and not be able to find the green . Lol.
 
  Hard and  hardest are good too can be moderated with green speeds and hole locations . VF and T greens are very good for all tiers . Maybe fast sometimes for the very lower tiers . 
  I don't know if you all know this . But there are some prominent CC's who's members use the red (easy ) tees almost exclusively to tier up all the way to Tour Legend . And then continue to play the red tees to achieve averages of around 50 .
 
  This is a strange approach and one I am not a big fan of . But it is their choice and not unacceptable in some circles . Free country right ? Lol.
 
  On the other hand the majority IMO of Tour Legends are legitimate and are the Guru's of Golf here at WGT and achieve their averages and maintain them at the moderate ( which includes hard ) approach and are almost unbeatable at any level .
That is the direction I favor for this CC and want nothing more than for all of us to attain that level some day ( not next week ) but when we do . We will be in the elite top players also a force to be reckoned with at all levels . 
 I hope that many of you are good with that and continue to take that journey with us all at VOTSCC
 

 
  On the other hand . Truthfully . I am sure that around 20 of you are on board . Even that is hard to tell as there are only about 10 of you that respond to this forum .
  There are more than 40 members that do not have any input at all .That does not set well with me at all and never did . As I have made clear on many occasions . That in this CC being part of the forum even in some small way is essential to it's ultimate success . That is not just an opinion . It is part of my vision , hopes , and goals and will never change as long as I am still here .
  So now it boils down to what is more of a priority to me ? 
  Continue as status quo . A very strong and ever improving and building CC well on its way making a statement as a viable and respectable CC somewhere around the 50th spot on the CC leader board . All the while still 80 % silent . Quite frankly  that will not do it for me . Will be proud and it will be awesome . But I will continue to be disappointed , frustrated and on the virge of just trimming out that 80 % of silent members that will obviously always be disrespectful to me and obviously not give a flying fk enough to take 5 minutes every once in a while to join the forum .
  Achieving that 50th spot on the CC leader board is only a realistic possibility because of the fact that most members are playing consistently and the size is growing and I have done the numbers . That is all .not really important in comparison to the dozens of other things that I do and really enjoy here like the awards and trophies and accolades and events like the Blitz  and the weekend tourneys , recruiting members that are active and available and fun , interacting and playing , friending , assisting , shooting the bull 
   And many more things that would be a whole lot easier if those 40 other silent not respectful members That won't take 5 minutes to say hi or post a comment or reply to something I ask them or even thank me for making them a trophy , not friending or playing other members  were not here . And we would still be awesome . 
  We would lose all their XP's and we would no longer be even thinking about any other CC's or the 50th spot . 
  I have always said that the XP's are not and never will be very important or expected or required as they will come anyway . It is up to each individual to utilize their points as effectively and efficiently as they are able to . As time went on and the points built up and members reached 100,000 , 200,000 , 300,000 points . Those are incredible achievements and deserve to be acknowledged . But again 80 % of you aren't even visible except on paper . So if you don't care . I don't care . And that's that .
  Therein lies my dilemma . Keep the status quo and not be happy with the lack of response and respect from many .
  I know it's not going to happen but ultimately even though it would make even more work for me ( which I would welcome ) . I want you guys to step up and take a few minutes now and then and  be part of what I am asking .
  Or trim the fat and probably start breathing and relaxing and have an easier time keeping up with all the tasks I enjoy so much . Enabling us to create a small group of top notch GR8 players / members .
NOT A SHOCKER SAME OLE SAME OLE

_________________

May the SUN always be with you
Please enjoy

Paul
---
Permissions in this forum:
You
cannot
reply to topics in this forum