THAT'S ENTERTAINMENT
CLICK ON ANY OF THESE LINKS TO FIND OUR EXTREME ENTERTAINMENT
Statistics
We have
403
registered users
The newest registered user is
ntsplive
Our users have posted a total of
10826
messages in
2788
subjects
January 2022
| Mon | Tue | Wed | Thu | Fri | Sat | Sun |
| --- | --- | --- | --- | --- | --- | --- |
| | | | | | 1 | 2 |
| 3 | 4 | 5 | 6 | 7 | 8 | 9 |
| 10 | 11 | 12 | 13 | 14 | 15 | 16 |
| 17 | 18 | 19 | 20 | 21 | 22 | 23 |
| 24 | 25 | 26 | 27 | 28 | 29 | 30 |
| 31 | | | | | | |
Calendar
71 WGT TUTORIALS & 32 YOUNG46 TUTORIALS
CLICK HERE
TO SEE OVER 100 YOUTUBE VIDEO TUTORIALS . FROM WGTers , WGT & YOUNG46
FORUM UPDATE
THIS FORUM IS FOR YOU ALL . PLEASE FEEL LIKE IT IS YOURS . READ THE FORUMS. POST COMMENTS . ASK QUESTIONS . IF YOU HAVE A COMPLAINT POST IT . MAKE SUGGESTIONS . READ SOME TUTORIALS . READ SOME GOLF TIPS . CHECK RECENT TOURNEY WINNERS . BROWSE OUR OLD FORUM ARCHIVES . LOG IN TO THE CHAT AND MESSAGE SOMEONE TO MEET YOU THERE AND ARRANGE A MATCH . LOG IN TO THE CHAT TO SEE IF SOMEONE IS THERE JUST TO SAY HI . MESSAGE ME IF YOU WANT TO GET ON THE DAILY BLITZ .
THE BLITZ SCORECARD IS ON
Page 3
PLEASE CLICK
HERE
TO FIND THE COURSE OF THE DAY AND SEE
THE WEEKLY STANDINGS .
PLEASE POST
YOUR SCORES HERE. IN THIS
KWIK KLIK TO YOUR FAV FORUM
Owner's Objectives
It's been a while since I expressed some of my objectives for the CC . First of all I like and respect everyone that joins our club . I realize that not everyone knows what a CC is all about . Many have different reasons for joining . I really don't know how many of the other clubs are run . They are all different . What I want to emphasize in our CC is that whatever tier you are . That you feel comfortable here , part of a team of players that come here to find conditions that enable them to improve their game , hone their skills , lower their scores ,lower their averages , move up in tiers . Enjoyably and comfortably with the conditions that challenge them enough to keep that drive without the frustrationsof regular game play . All that is completely possible by either creating those tourneys yourself or by messaging me about it . Or someone else in your tier that has been creating tourneys . Any kind of information that you need to know should be provided here , any kind of appp , calculator , help , tutorial , tournament , statistic , message , opinion , gripe , compliment , etc , etc . Should able to be aqcuired here ( or in our website , as it may be easier there ). With your help , all of this can be done easily . We already have a good start . I am going to be here for a very long time trying to achieve all this . For any of you that think it's a good direction for your CC to go in . Then lets keep on keepin on . Sincerely , Your Co team member PDB1 , Paul ( sitting here on a rare rainy day ) May the SUN always be with you
POST OF THE WEEK
Re:
Where are the Flags ?By Bertasion in Valley of the Sun Casual Club The other day upon the heather fair I hit a flagstick that was not there. I saw it's shadow and heard the clank but where it stood was just a blank. It was not there again today. I wonder when it will come back and stay. Brian
BLITZ LIST
HERE IS THE LIST OF BLITZ COURSES IN THE ORDER THEY ARE PLAYED EVERY WEEK OF EVERY SEASON .
DAILY BLITZ WEEKLY SCHEDULE



WEEK 1

BEST OF BANDON PAR 3
PEBBLE BEACH
THE OLYMPIC CLUB
VAHALLA
MERION


WEEK 2

PINEHURST NO.2
HARBOUR TOWN
KIAWAH ISLAND
ROYAL ST. GEORGE
CONGRESSIONAL


WEEK 3

ERIN HILLS
ST. ANDREWS
BALI HAI
CELTIC MANOR
BETHPAGE BLACK


WEEK 4

PINEHURST NO. 8
WOLF CREEK
CHALLANGE AT MANELE
EXPERIENCE AT KOELE
HILVERSUMSCHE


WEEK 5

EDGEWOOD TAHOE
BEST OF WATER SHOTS
BEST OF FAMOUS SHOTS
BEST OF PUTTING
CHAMBERS BAY
TIER & AVERAGE REQUIREMENTS
BASIC LEVEL AND AVERAGE REQUIREMENTS , AND SATURATION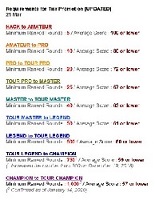 WHAT YOU CAN DO TO ABOUT IT
WHAT'SUP WHATSAP AND OTHER APPS . HERE IN THIS SITE . THE SKY IS YOUR LIMIT . IF YOU WANT TO PROMOTE , GROW , SHARE , IMPROVE , UPDATE POST AND LEARN ABOUT YOUR PRODUCT OR ANY PRODUCT . YOU CAN DO ALL OF THE ABOVE . JUST DO IT .
this discussion was presented by our Doctor of Technology azdewars 

So you want to attract some members into your VOTSCC. Why? Are you sick and tired of trying to do everything yourself? Did someone remind you that two heads are better than one? It may not really matter why you've decided to try to attract more members into your VOTSCC. But what does matter is that you have a plan. Developing a plan for recruiting members will make your life much easier. 

WHAT IS A PLAN?
Planning is a way to organize actions that will hopefully lead to the fulfillment of a goal. How? By providing clear direction and an approach to follow--giving a method to your madness, so to speak.

Developing a plan for recruiting members will cause you to ask yourself some very important questions. These questions are basic to just about any recruitment effort. I believe your answers to these questions will be the building blocks for your own recruitment plan. They are:

Why do you want or need members?
How many members do you need?
What kind of members do you need?
Who is going to find and get the new members?
Where are the new members?
When is a good time to look for new members?
How should you approach potential members?
What happens if you get a yes, a maybe, or a no?
What are some obstacles you may encounter? And how do you get around them?

Also, this may just be the beginning. Here's the key point: Regardless of whether we are trying to recruit members who speak for themselves, or members who speak for entire VOTSCC, it will help us to make a plan, to find people and bring them together. Answering the questions above will save us time in the long run, and increase the chances of accomplishing whatever goals we set for ourselves. As for developing a plan for recruiting members, you must decide what kind of members you are looking for. Then it will be easier to focus your search.

Who's going to find them? Determining who finds and gets the new members is essential to your planning. You and your staff can plan together the approaches you will use to get the people you need.

Don't be shy about delegating responsibility. If you have people available to help you recruit, make those people as useful as possible. Assign different recruitment tasks to different people. Don't just tell all of your people to go out there and get members. That will most definitely waste your time and possibly that of potential members too.

I've got to make a point right now. I strongly recommend that you create a Mission or Vision Statement. This needs to be the foundation for developing a plan for recruiting members and member participation. Statement needs to always be in the forefront of any communications with high visability. The forum is the least visable spot.  The statement "PLEASE READ: BE ACTIVE IN THE CC FORUM" sounds more like a demand rather than members wanting to be active in forum ie: committee updates, tournaments committee updates, technology committee updated, project timeline results, etc.. Every member has a unique personal responsibilities in their lives. Some members may only contribute 10-15 hours per month, whereas, others may have more or less. It should be a question on their application along with skill set. We'll cover that a little later. Your Mission Statement + member skill set + member volunteer availability = results.


ASSESS
Begin by learning what issues matter to VOTSCC, and what resources may be available.

PLAN
Planning provides overall direction on the road that leads from where things are now to where we hope they will be. It can be helpful for a group to develop a clear vision, a mission statement, objectives, strategies, and an action plan.

ACT
You have identified something that you and your CC care about, and it is time to take action. This involves mobilizing people around the effort and implementing some sort of intervention.

EVALUATE
How do you know that your initiative is working? It's important to monitor what is happening and make adjustments as necessary.

SUSTAIN
Some important work has been started. How do you keep your efforts going?

TO BE CONTINUED...........
Last edited by pdb1 on Sat Jul 01, 2017 1:05 pm; edited 1 time in total
Why do you want or need members?
How many members do you need?
What kind of members do you need?
Who is going to find and get the new members?
Where are the new members?
When is a good time to look for new members?
How should you approach potential members?
What happens if you get a yes, a maybe, or a no?
What are some obstacles you may encounter? And how do you get around them?
  !) Why do you want or need members?
  At this point growing and building is still part of the plan .
  2) How many members do you need?
  Probably between 50 & 100
  3) What kind of members do you need?
  unfortunately member type is not one of the options . But our CC guidelines specify 4 main areas that a new member reviews and agrees to at the very beginning . Beyond that there are countless scenarios and areas that are asked of a member to step up for at any given time .
  4) Who is going to find and get the new members?
  That would be me . The few members that have offered their voluntary assistance are already doing heads above what is expected .
  5) Where are the new members?
  Very well hidden . Prospective members , not already in a CC do not have any visiblity . There is no list or icon or any way to determine if there is anyone available .
  6) When is a good time to look for new members?
  In betwen other tasks 
  7) How should you approach potential members?
  From the rear , be sure and hit them hard enough that stay out for several hours  
 What happens if you get a yes, a maybe, or a no?
  A yes would get you a How Do . A maybe will get you a Who Knew . A no will get a Boo Hoo .
  9) What are some obstacles you may encounter? And how do you get around them?
  At times it very hard to tell that these are mature and responsible people these online golfers . As I have encountered ignorance , innocence , obstanence , stubborness wrecklesness , insubordination , prejudice , bigotry , hate , reluntantness , curiosity , eegerness , willingness , helpfulness , expertise , complacency , transparency , invisibleness , dedication , motivation , fraudulence , malitiousness , kindness , kissassingness , and a few others .
Well done Paul. The "Hit them from behind..." was perfect. I'm still chuckling. I needed that. signing off for now my friend.
John
where do we go from here?  i read the article and agree, member ship is good. as long as there is communication. I have a large list of members that befriend me but as of this date i have never been able to talk or play a round with any of them. i really don't know any body in the club. the form is always empty and when i try and hook up with some body to play a round, i get no reply.  i believe  to have a good strong club is good communication.  Daja

daja1012




Posts

: 11


Join date

: 2017-05-20



As you can see . That conversation is a couple years old . It got worse after that . 
  I do not have the answers obviously . I thought I did . It made so much sense to me . 
  The events , the formats , the features , the information , the guidance , the encouragement , the support , etc . Is all in place . 
  I do not know why at this time . That is not what they are looking for . 
  Not enough communication for me to figure it out .
---
Permissions in this forum:
You
cannot
reply to topics in this forum