THAT'S ENTERTAINMENT
CLICK ON ANY OF THESE LINKS TO FIND OUR EXTREME ENTERTAINMENT

Statistics
We have
459
registered users
The newest registered user is
chefcurry3irty
Our users have posted a total of
22848
messages in
4007
subjects
June 2023
| Mon | Tue | Wed | Thu | Fri | Sat | Sun |
| --- | --- | --- | --- | --- | --- | --- |
| | | | 1 | 2 | 3 | 4 |
| 5 | 6 | 7 | 8 | 9 | 10 | 11 |
| 12 | 13 | 14 | 15 | 16 | 17 | 18 |
| 19 | 20 | 21 | 22 | 23 | 24 | 25 |
| 26 | 27 | 28 | 29 | 30 | | |
Calendar
71 WGT TUTORIALS & 32 YOUNG46 TUTORIALS
CLICK HERE
TO SEE OVER 100 YOUTUBE VIDEO TUTORIALS . FROM WGTers , WGT & YOUNG46
FORUM UPDATE
TO THE MANY WELCOME GUESTS . THIS FORUM IS NO LONGER A COUNTRY CLUB WEBSITE FOR A WGT COUNTRY CLUB . PLEASE FEEL FREE TO READ THE FORUMS.

THERE ARE MANY TOPICS OF INTEREST . OR NOT . THIS WEBSITE IS AN INFORMATION AND ENTERTAINMENT WEBSITE ONLY .

MUCH OF THE CONTENT IS ARCHIVES OF PURPOSES PAST .

THERE ARE SOME MORE CURRENT TOPICS .
REGISTRATION IS NOT NECESSARY TO READ THROUGHOUT .

REGISTRATION IS EASY AND FREE . THIS IS AN AD FREE WEBSITE . NOTHING IS EVER REQUESTED FROM REGISTERED MEMBERS .
REGISTRATION ENABLES COMMENTING ON TOPICS . POSTING NEW TOPICS . FULL ACCESS TO THE WEBSITE IMAGE HOST . WHICH IS A VERY COMPLETE AND CONVENIENT TOOL .

PLEASE ENJOY .

Owner's Objectives
ARCHIVES 2014 It's been a while since I expressed some of my objectives for the CC . First of all I like and respect everyone that joins our club . I realize that not everyone knows what a CC is all about . Many have different reasons for joining . I really don't know how many of the other clubs are run . They are all different . What I want to emphasize in our CC is that whatever tier you are . That you feel comfortable here , part of a team of players that come here to find conditions that enable them to improve their game , hone their skills , lower their scores ,lower their averages , move up in tiers . Enjoyably and comfortably with the conditions that challenge them enough to keep that drive without the frustrations of regular game play . All that is completely possible by either creating those tourneys yourself or by messaging me about it . Or someone else in your tier that has been creating tourneys . Any kind of information that you need to know should be provided here , any kind of appp , calculator , help , tutorial , tournament , statistic , message , opinion , gripe , compliment , etc , etc . Should able to be aqcuired here ( or in our website , as it may be easier there ). With your help , all of this can be done easily . We already have a good start . I am going to be here for a very long time trying to achieve all this . For any of you that think it's a good direction for your CC to go in . Then lets keep on keepin on . Sincerely , Your Co team member PDB1 , Paul ( sitting here on a rare rainy day ) May the SUN always be with you
POST OF THE WEEK
Re:
Where are the Flags ?By Bertasion in Valley of the Sun Casual Club The other day upon the heather fair I hit a flagstick that was not there. I saw it's shadow and heard the clank but where it stood was just a blank. It was not there again today. I wonder when it will come back and stay. Brian
TIER & AVERAGE REQUIREMENTS
BASIC LEVEL AND AVERAGE REQUIREMENTS , AND SATURATION
WHAT YOU CAN DO TO ABOUT IT
WHAT'SUP WHATSAP AND OTHER APPS . HERE IN THIS SITE . THE SKY IS YOUR LIMIT . IF YOU WANT TO PROMOTE , GROW , SHARE , IMPROVE , UPDATE POST AND LEARN ABOUT YOUR PRODUCT OR ANY PRODUCT . YOU CAN DO ALL OF THE ABOVE . JUST DO IT .
WHILE YOUR HERE
WHILE YOUR HERE :
CHECK OUT THE INCREDIBLE PHOTOGRAPHY IN

MY SERIES

&

& MORE . ALL IN THE FORUM
As many of you do not know . I have been on moderation for many years . For no reason except that I have had confrontations with some of Icon's buddies here in the Forums .
  On many occasions they have completely destroyed me . In these one sided battles . I can only try to maturely defend myself . With out resorting and lowering myself to their levels . Of berating , insulting , falsely accusing fabricated lies .
  I don't think any of you doubt me . Most have been witness to many of it .
  For quite a few months now I have had an on going discussion with Member Services . Trying to work with them to find a solution to lift my moderation .
  Normally one would be dealing with Icon . The head of the moderation department .  Icon refuses to talk with me . And has deferred me to member Services .
  Member Services will not undermine Icon . Unfortunately . So that isn't any help at all .
  But I'll tell you . It gets old . Every time I click send . I get this .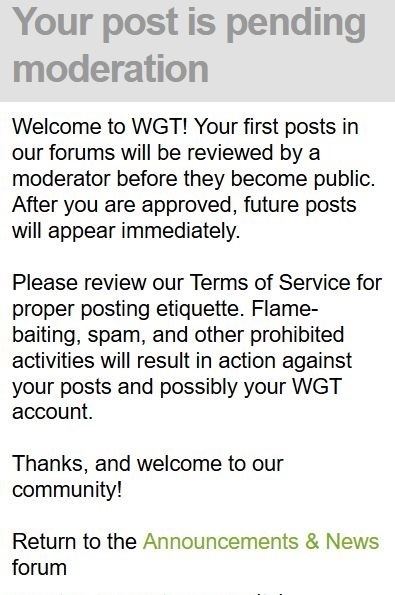 Everyday all day for weeks , months , years .
  Because Icon and his buddies don't like me .
  I am no threat . I never have been . I have a lot of IMSO's ( in my strong opinions ) . I don't break forum protocol . I mind my T's and C's . I only use 1 suspect term . " KICK ASS " . Used in the most endearing way .
  I have been trying to help and suggest and assist and learn the entire time I have been here .
  Myself and a lot of others do not understand my moderation at all .
   There are sometimes 4 , 5 , days , a week in between when they release my posts . Makes me think I have finally been banned . Then when they do post them . They don't post all of them . Of course nothing is wrong with them . It's just that I may have spent an hour researching and writing the post .
  They do not have to notify me . I do not get to appeal those posts they arbitrarily do not post .
  How would you feel about any of that ? It would hard to take . Living in America .
  I promise you there is no content in any of my posts to warrant this . If there was . I would admit it . And I wouldn't have a reason to complain .
  I am using this thread . As it is luckily the only unmoderated to me thread in the Forums .
  Because I have been waiting on a bunch of posts . That don't appear to be coming .
  It again feels like I have been banned . As I may have written an unhappy letter to Member Services yesterday . Not threatening . But not happy .
  Either way . If I end up banned . So be it . If I don't and remain moderated . It might finally be enough for me to move on .
  I will of course finish the " ANDYSON MEMORIAL TOURNAMENT 2020 " . Tomorrow I have my match play round with The Goosebag . Mark set up . And whatever else in the tourney after he rips me a new one .
  I am in the middle of a couple projects . That I am thinking I will stop caring about . This moderation is really a burden . I can't know what to post next if I haven't seen my last response . Because my next reply might not make any sense . Or I have to rewrite some of it . If a thank you to some one was in it .I especially am fond of the
" TRAILBLAZERS "
project . I am just having fun with it . I would like to get to 500 .
  BTW I have a storage that I try to copy my posts to before I send them . So when they aren't posted I can refer back to see what was missed . That's for my sake . They could care less what they don't post .
  I really tried to not let it get to me . Even though the rats continue .These are recent . But non stop .


Most people in here aren't conducive to stalking.
One persons compilations, are another's means of stalking, with impunity.

  Impunity is their area of expertise . It is what they do best .
  Those are nothing . Except lies . And mild compared to what they did to get me moderated .
  I wish I could call them out . And discuss it like men . But they won't . They won't respond . CT has me banned because of his guilt . Lol . What a punk .
  I know you have heard me say I was leaving before . And I did . For almost all of 2019 . And I came back .
  There is a short synopsis about that on this
page
.
  But I can already see some big problems coming up . Many members are already gone . With many more members to follow .
  Either way my our days in this platform are likely going to change soon .
  Maybe sooner for me . But still a while yet .
  I think everyone knows how much I enjoy interacting with everyone of you .
  But years of moderation are getting old . They leave me hanging all too often . I am sure they get a big kick out of it . Lol . No doubt .
  Like I said . I have a tournament to finish . And I gotta find 163 more " TRAILBLAZERS " .
  Take care .
  Paul
---
Permissions in this forum:
You
cannot
reply to topics in this forum