THAT'S ENTERTAINMENT
CLICK ON ANY OF THESE LINKS TO FIND OUR EXTREME ENTERTAINMENT
Statistics
We have
442
registered users
The newest registered user is
Asv77
Our users have posted a total of
14620
messages in
3182
subjects
February 2023
| Mon | Tue | Wed | Thu | Fri | Sat | Sun |
| --- | --- | --- | --- | --- | --- | --- |
| | | 1 | 2 | 3 | 4 | 5 |
| 6 | 7 | 8 | 9 | 10 | 11 | 12 |
| 13 | 14 | 15 | 16 | 17 | 18 | 19 |
| 20 | 21 | 22 | 23 | 24 | 25 | 26 |
| 27 | 28 | | | | | |
Calendar
71 WGT TUTORIALS & 32 YOUNG46 TUTORIALS
CLICK HERE
TO SEE OVER 100 YOUTUBE VIDEO TUTORIALS . FROM WGTers , WGT & YOUNG46
FORUM UPDATE
THIS FORUM IS FOR YOU ALL . PLEASE FEEL LIKE IT IS YOURS . READ THE FORUMS. POST COMMENTS . ASK QUESTIONS . IF YOU HAVE A COMPLAINT POST IT . MAKE SUGGESTIONS . READ SOME TUTORIALS . READ SOME GOLF TIPS . CHECK RECENT TOURNEY WINNERS . BROWSE OUR OLD FORUM ARCHIVES . LOG IN TO THE CHAT AND MESSAGE SOMEONE TO MEET YOU THERE AND ARRANGE A MATCH . LOG IN TO THE CHAT TO SEE IF SOMEONE IS THERE JUST TO SAY HI . MESSAGE ME IF YOU WANT TO GET ON THE DAILY BLITZ .
Owner's Objectives
It's been a while since I expressed some of my objectives for the CC . First of all I like and respect everyone that joins our club . I realize that not everyone knows what a CC is all about . Many have different reasons for joining . I really don't know how many of the other clubs are run . They are all different . What I want to emphasize in our CC is that whatever tier you are . That you feel comfortable here , part of a team of players that come here to find conditions that enable them to improve their game , hone their skills , lower their scores ,lower their averages , move up in tiers . Enjoyably and comfortably with the conditions that challenge them enough to keep that drive without the frustrationsof regular game play . All that is completely possible by either creating those tourneys yourself or by messaging me about it . Or someone else in your tier that has been creating tourneys . Any kind of information that you need to know should be provided here , any kind of appp , calculator , help , tutorial , tournament , statistic , message , opinion , gripe , compliment , etc , etc . Should able to be aqcuired here ( or in our website , as it may be easier there ). With your help , all of this can be done easily . We already have a good start . I am going to be here for a very long time trying to achieve all this . For any of you that think it's a good direction for your CC to go in . Then lets keep on keepin on . Sincerely , Your Co team member PDB1 , Paul ( sitting here on a rare rainy day ) May the SUN always be with you
POST OF THE WEEK
Re:
Where are the Flags ?By Bertasion in Valley of the Sun Casual Club The other day upon the heather fair I hit a flagstick that was not there. I saw it's shadow and heard the clank but where it stood was just a blank. It was not there again today. I wonder when it will come back and stay. Brian
TIER & AVERAGE REQUIREMENTS
BASIC LEVEL AND AVERAGE REQUIREMENTS , AND SATURATION
WHAT YOU CAN DO TO ABOUT IT
WHAT'SUP WHATSAP AND OTHER APPS . HERE IN THIS SITE . THE SKY IS YOUR LIMIT . IF YOU WANT TO PROMOTE , GROW , SHARE , IMPROVE , UPDATE POST AND LEARN ABOUT YOUR PRODUCT OR ANY PRODUCT . YOU CAN DO ALL OF THE ABOVE . JUST DO IT .
I have recorded every Coin Game I have played in the last 3 years . And posted them here in this forum . Month by month .
TIP : IF YOU ARE REALLY INTERESTED IN VIEWING THESE SCORECARDS . THE IMAGES ARE MUCH BIGGER & LEGIBLE ON YOUR PHONE .
As I explained before . The scorecards are just too small to group into a block and see the names . There are too many to post individually .
  Originally I separated them because there were other screen shots in the folder . Once I separated them . I realized that the scorecards were too small .
  So I then organized the opponents . Which were more visible .
  That only helped a little . I could find the opponent by the date and game letter . Then go to the scorecards and look up the date and game letter . To find the results . I still didn't like that . And there were WAY too many to recombine them .
  So now I will just keep them together and edit out the other screen shots .
  There will be an l or a w at the end of each scorecard . That is l if I lost and w if I won .
  Also every round in which for any number of reasons . Either if the round never made it to the first hole , or for some reason didn't make it to the final hole . Any of those rounds that resulted in my opponents winning . I disputed to WGT . There have been over 70 of those . So far I have been reimbursed for the entry fees of 100% of them . Totaling over 2,278,000 COINS .
  This their response :
WGT Member Services (WGT)
Hi Paul, 
Thank you for contacting World Golf Tour. 
After a review of this matter, we determined that a refund was due and credited your WGT account. 
If you have any other questions or concerns, please don't hesitate to contact us and we will be glad to help. 
Thank you for playing World Golf Tour. 
Regards,
WGT Member Services
  See :
PCEA COIN REIMBURSEMENTS FOR THE FORCED FORFEITS AND GLITCHES
As I mentioned above . Because of the high amount of false forfeits that I was receiving when I first started playing the Coin Room format . I started screen shotting various points in the match . Primarily in the steps pre tee . But I quickly decided that if I was going to screen shot the beginning . Then I may as well screen shot the end as well .
But many times the match didn't get to the score card . So in this complilation . There are score cards and 1 shot of every match I played . In 2021 .
But I had enough to submit to Member Services . So they could verify all the errors that were taking my entry fees and wins . It worked and I have been reimbursed for almost all of them .
 This is the updated scorecard list . I have tried to fill in the dates where the game ended before I was able get a screen shot of the scorecard . Or the forfeit ended the game with no scorecard . I filled that spot with another screenshot of the same round .
Here I have gone back and recombined all of the match ups and score cards . The most complete list I have . After them all being separated and in most cases renamed or having the same name . It was quite a task to rejoin them .
JANUARY , FEBRUARY , MARCH
TIP : IF YOU ARE REALLY INTERESTED IN VIEWING THESE SCORECARDS . THE IMAGES ARE MUCH BIGGER & LEGIBLE ON YOUR PHONE .
CLICK
WGT COIN ROOMS & PCEA
TO SEE THEM ALL
JANUARY FEBRUARY  & MARCH  60 ROUNDS RECORDED ( just started counting didn't know I was really going to do this .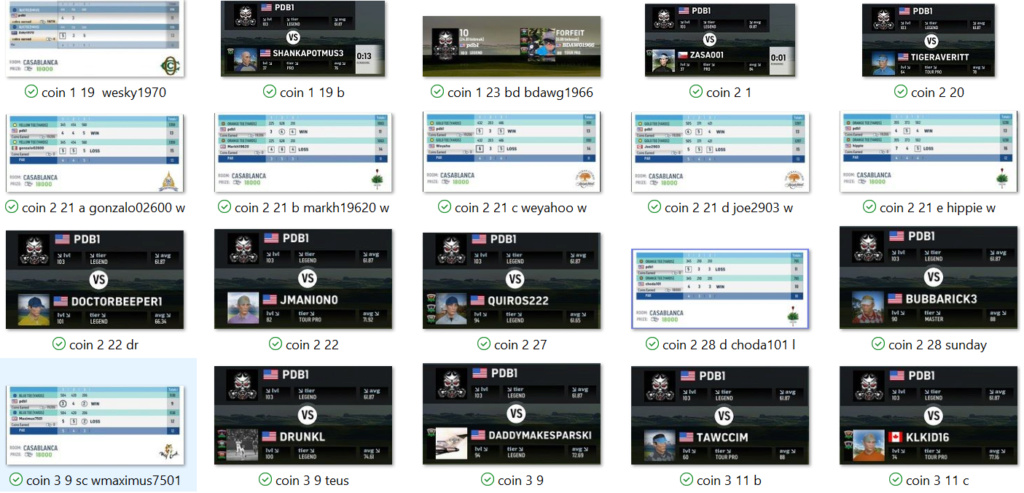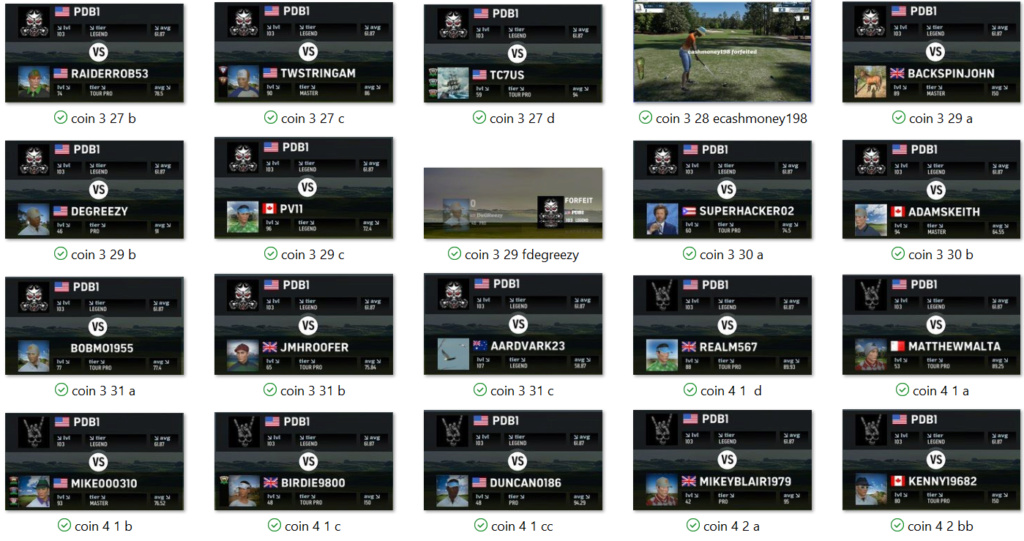 APRIL  100 rounds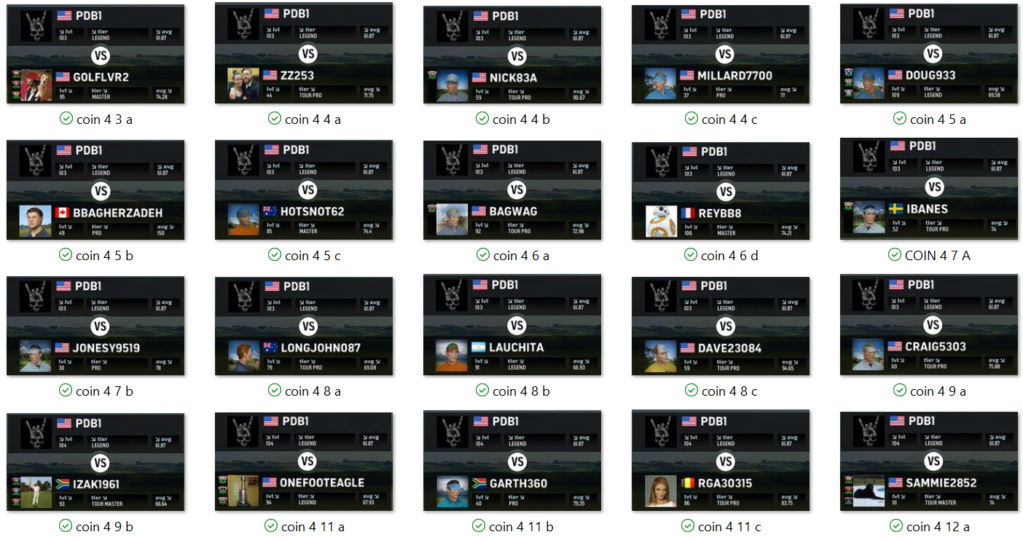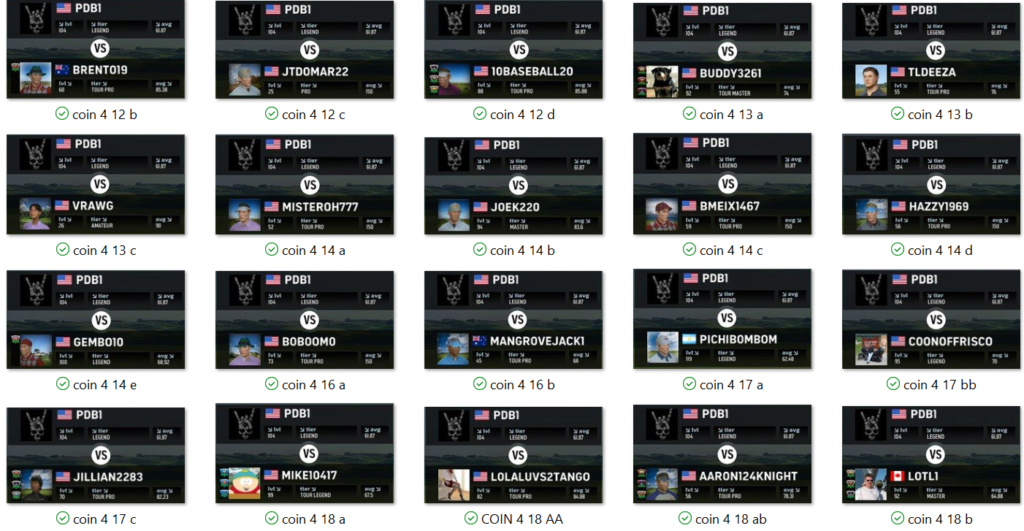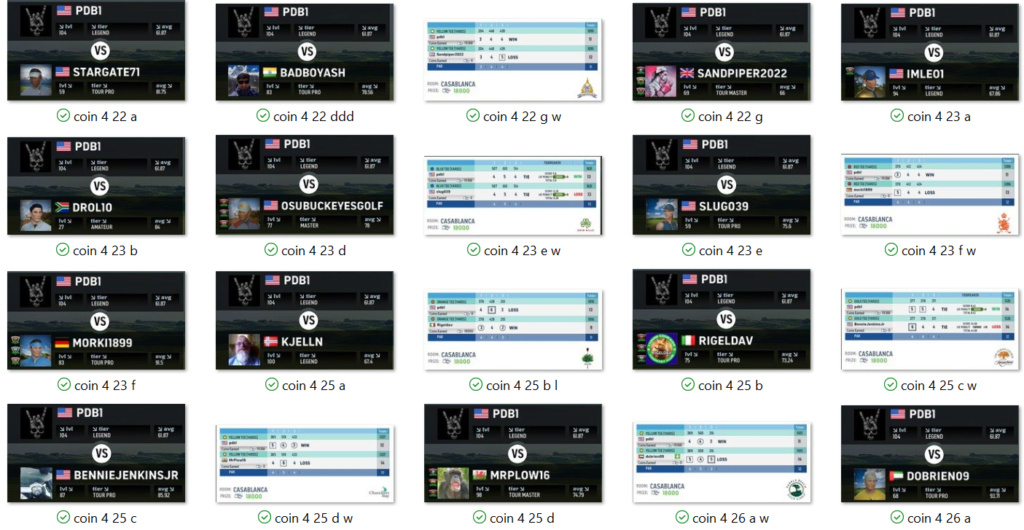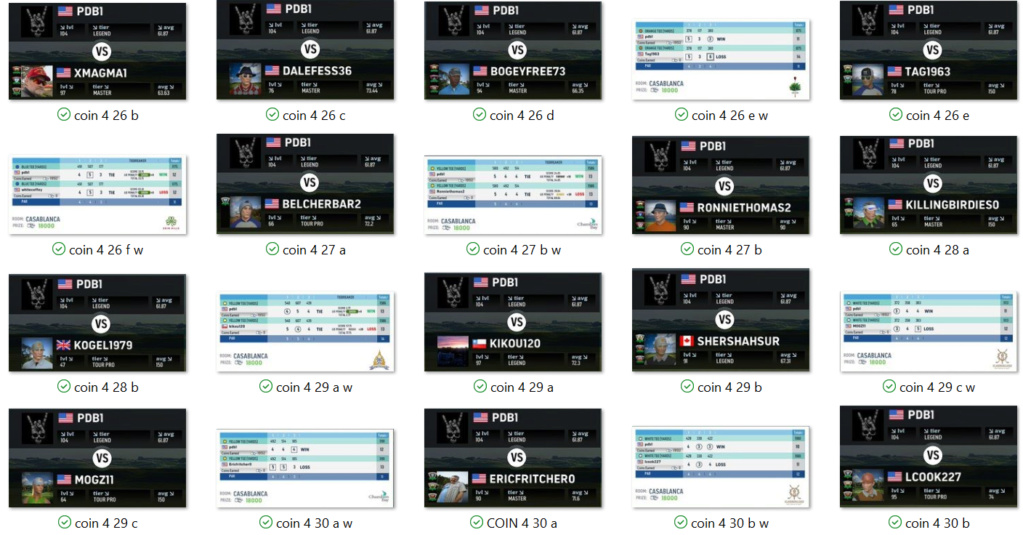 MAY  98 ROUNDS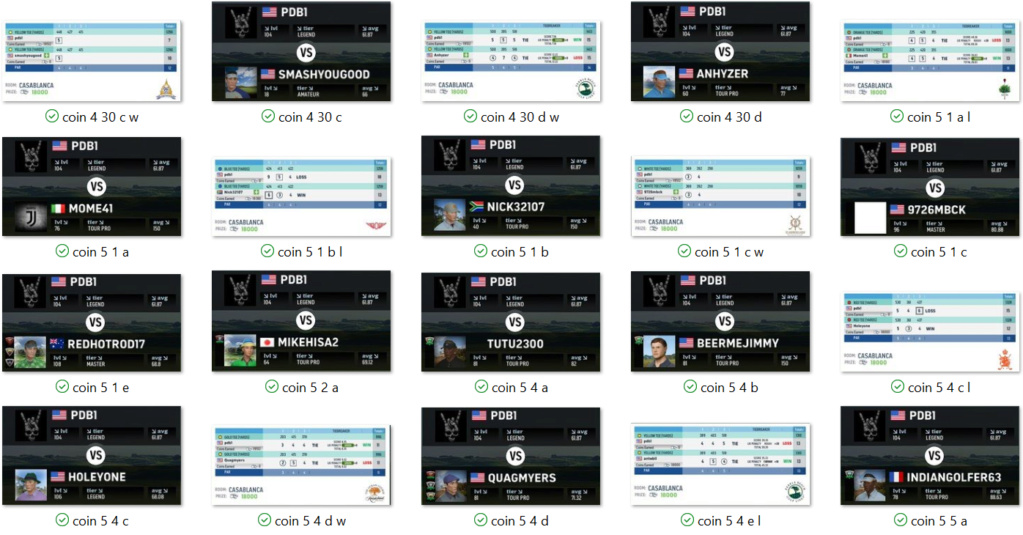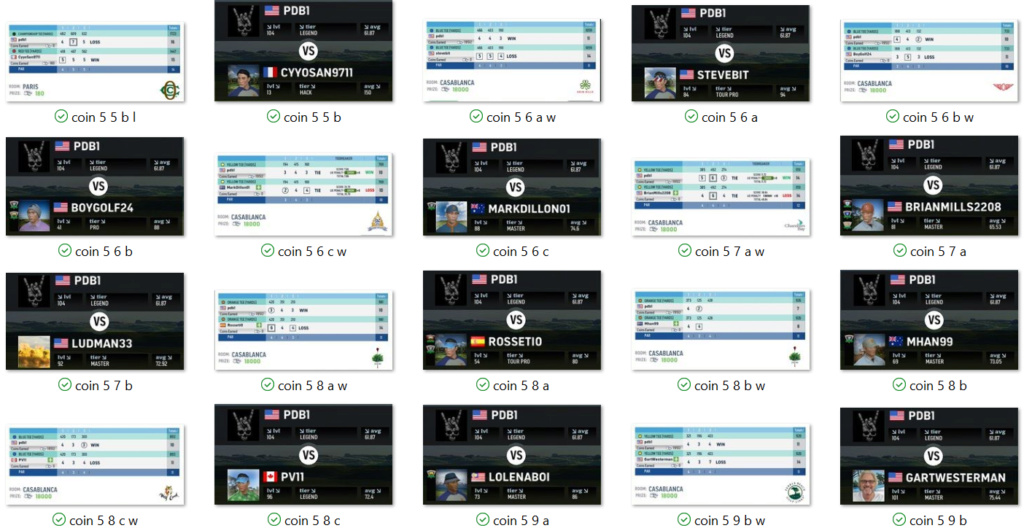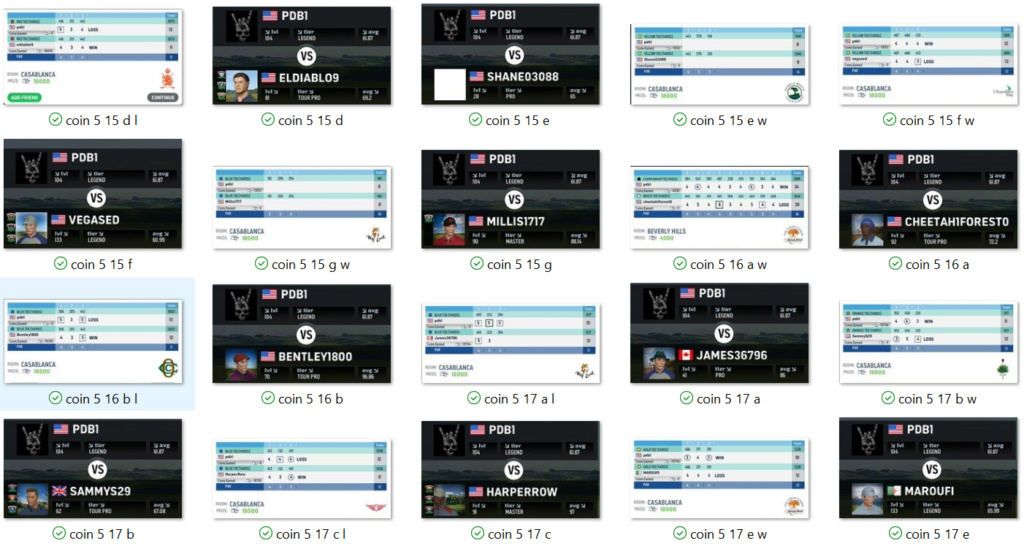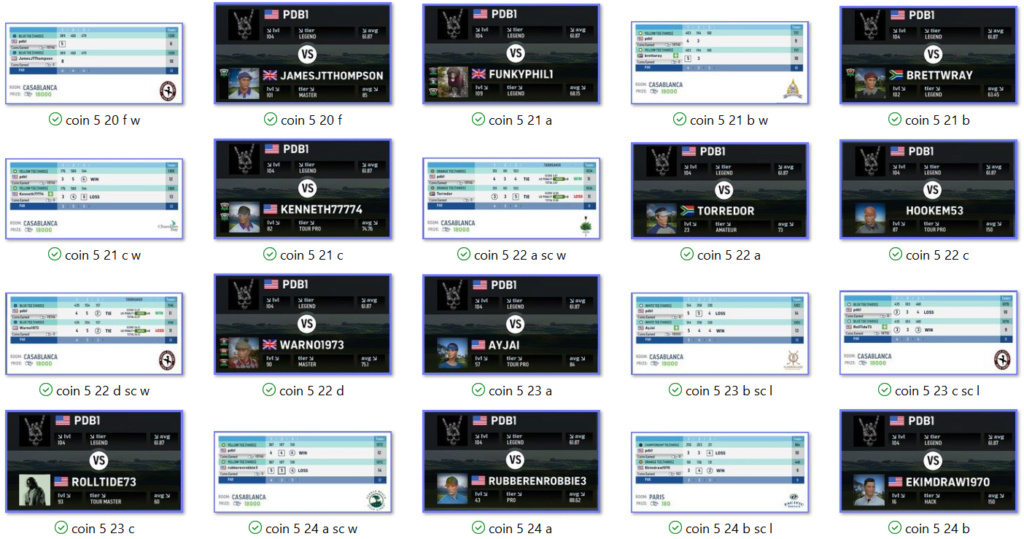 JUNE  107 ROUNDS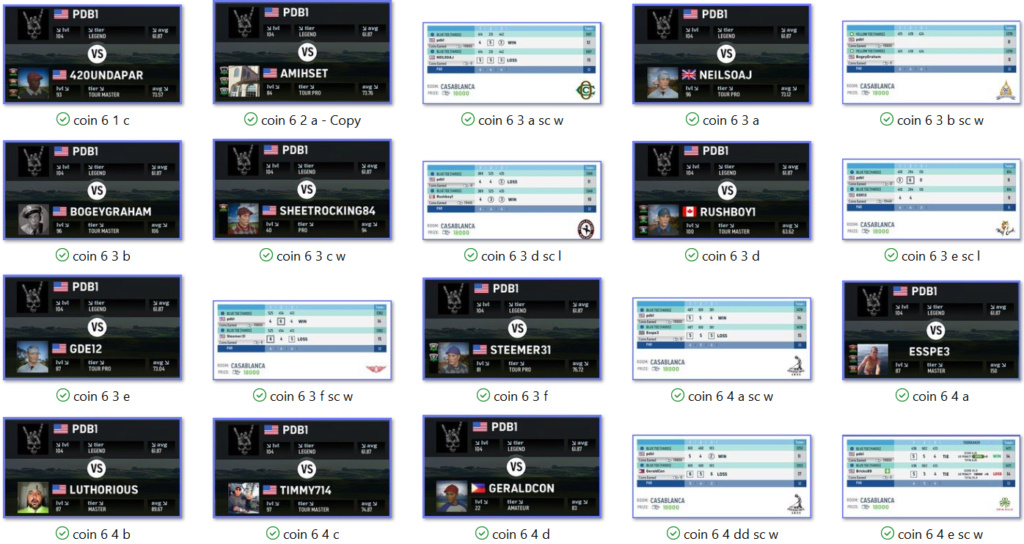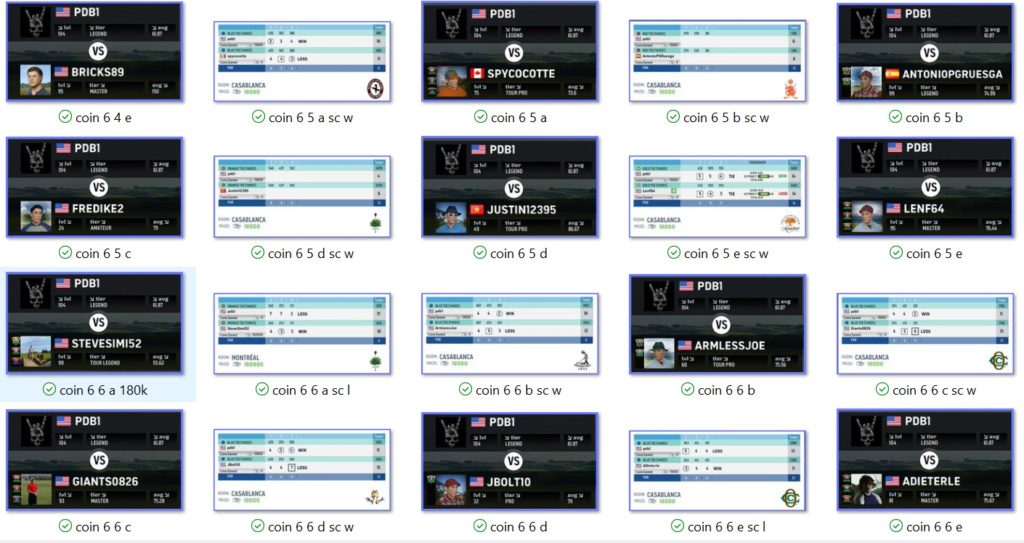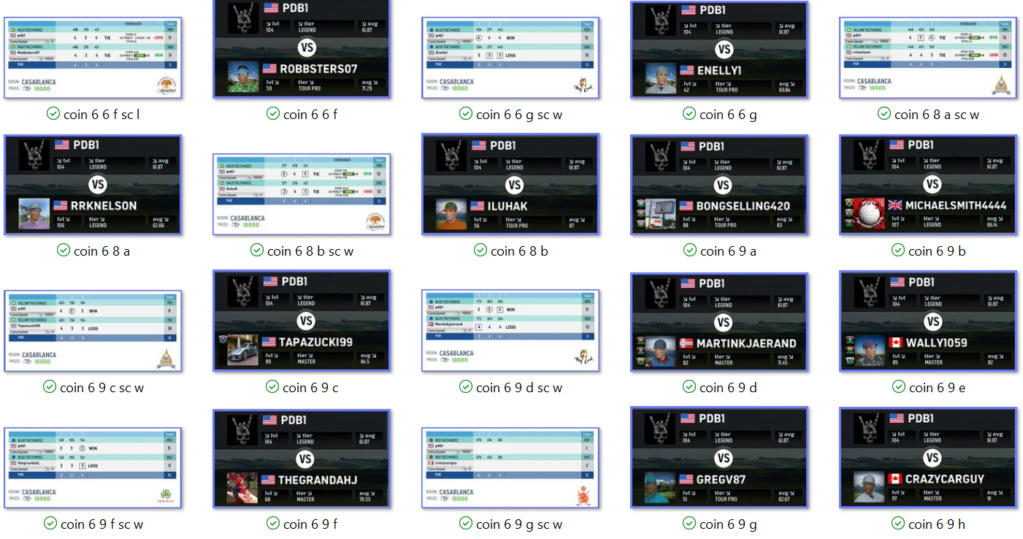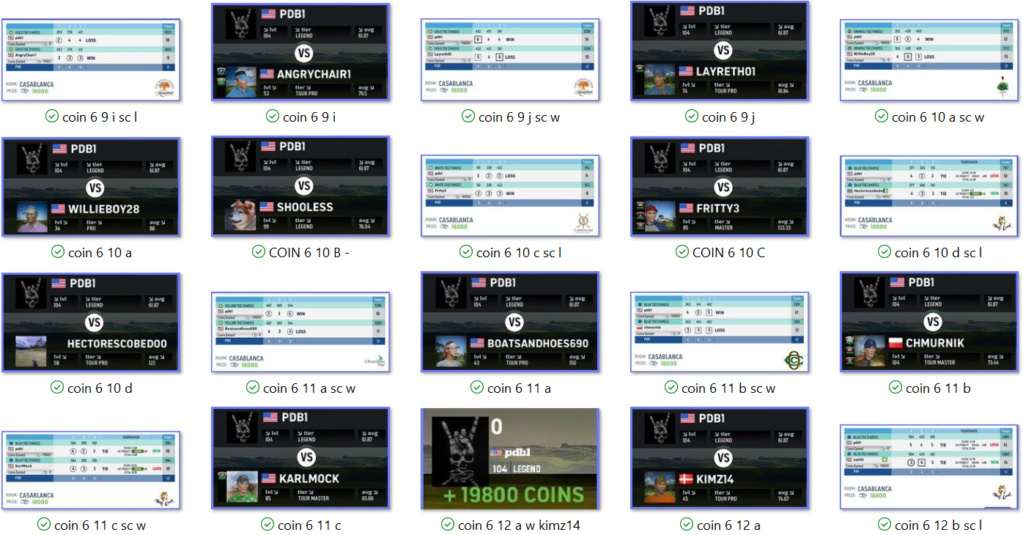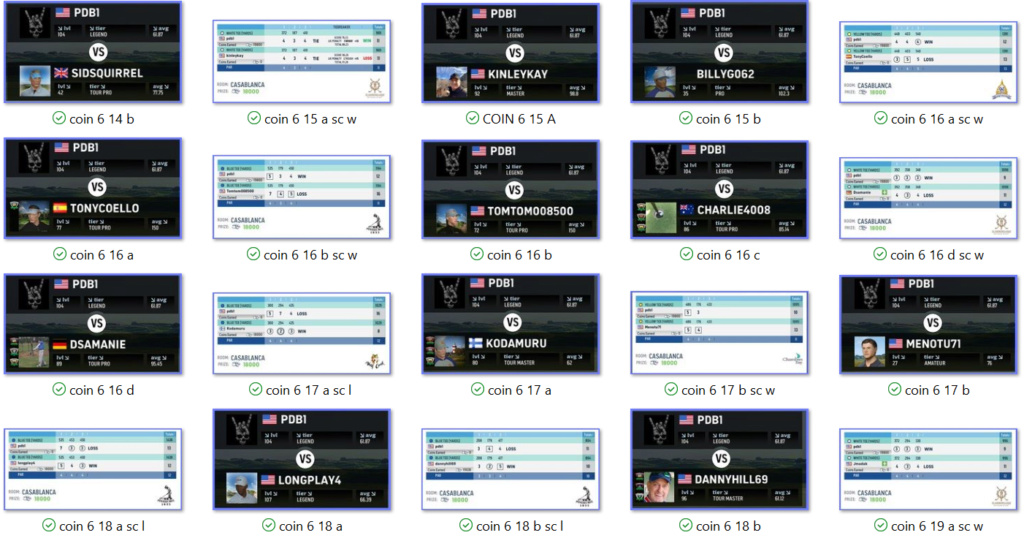 JULY 163 ROUNDS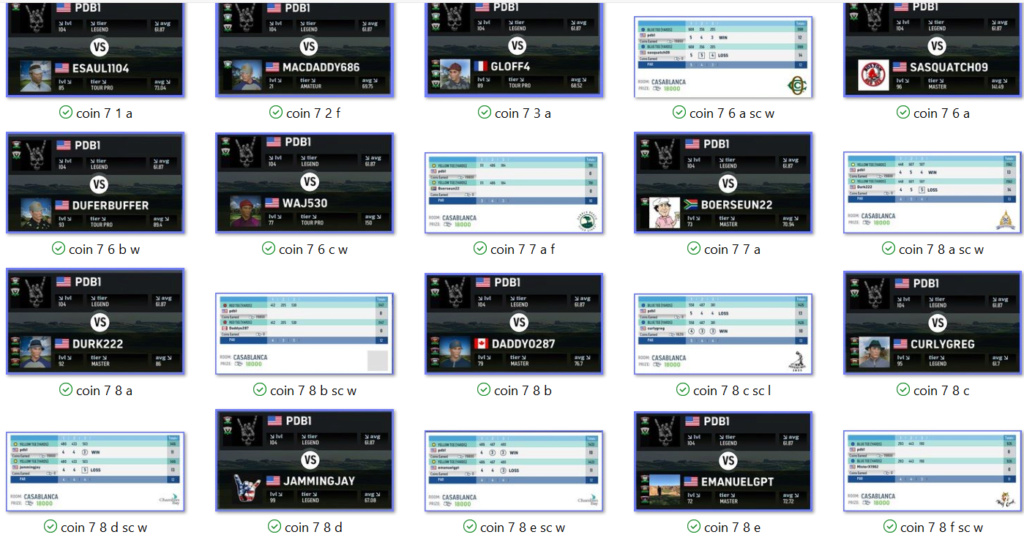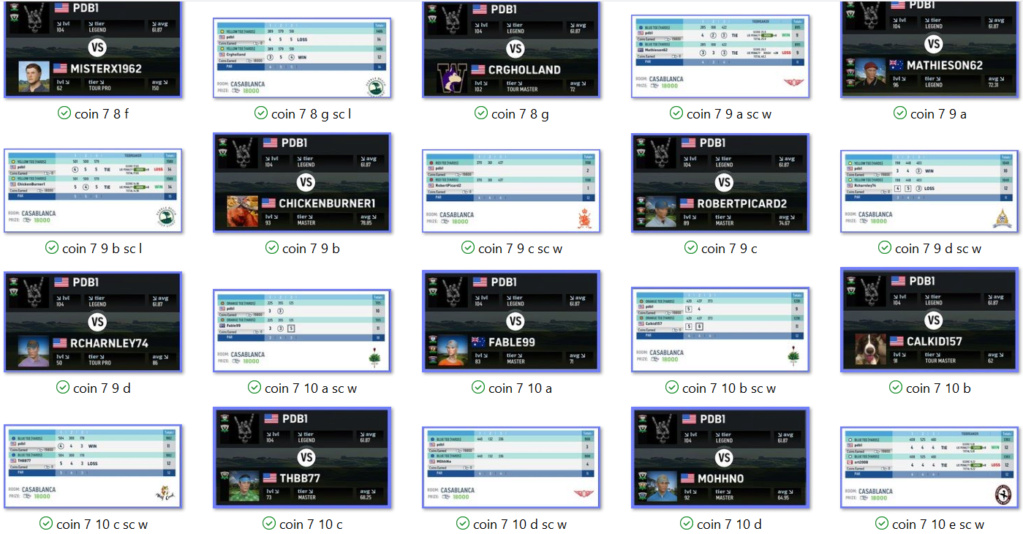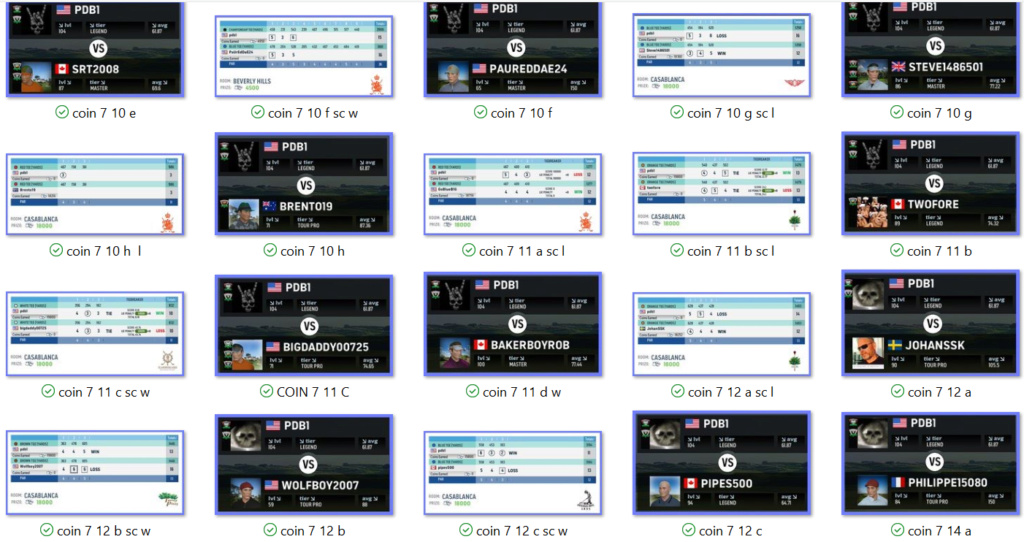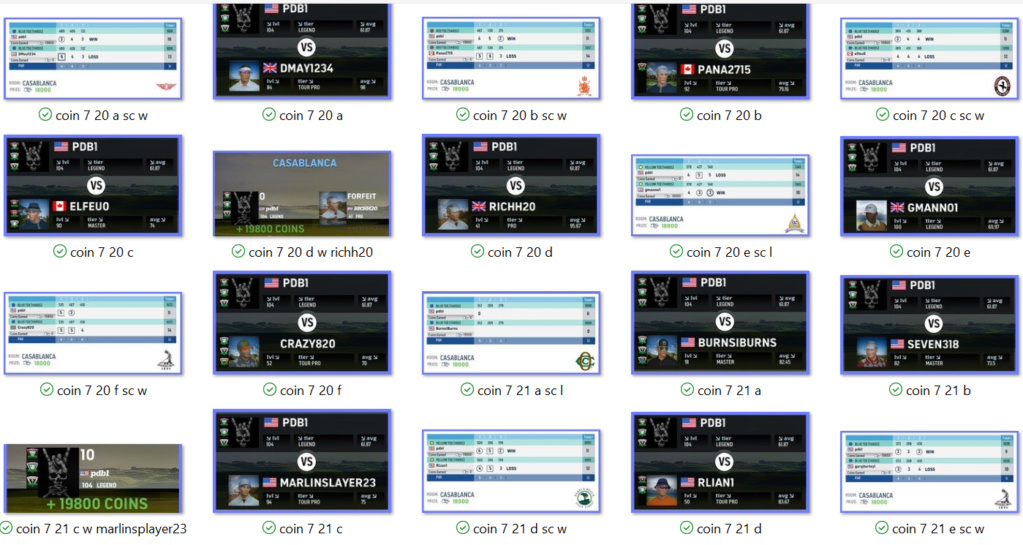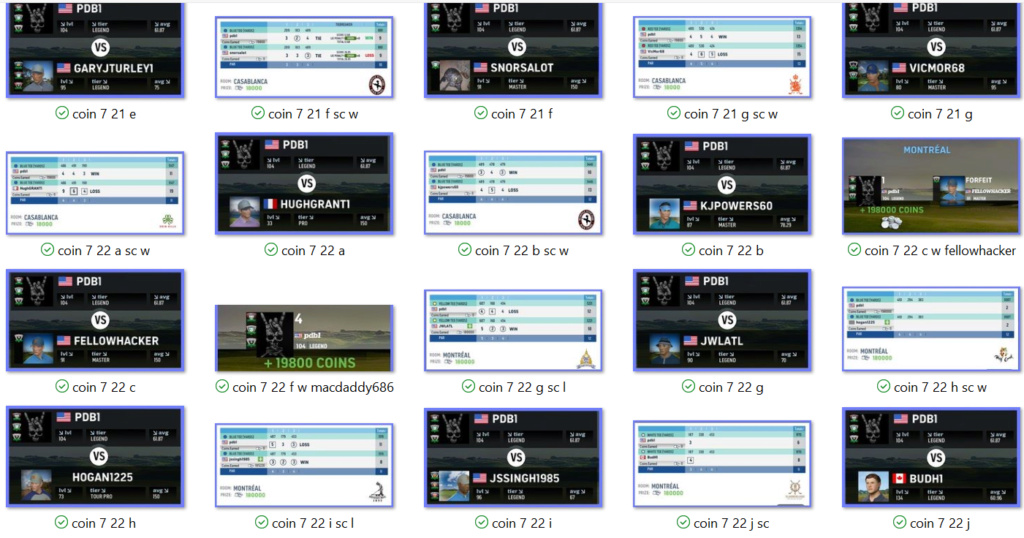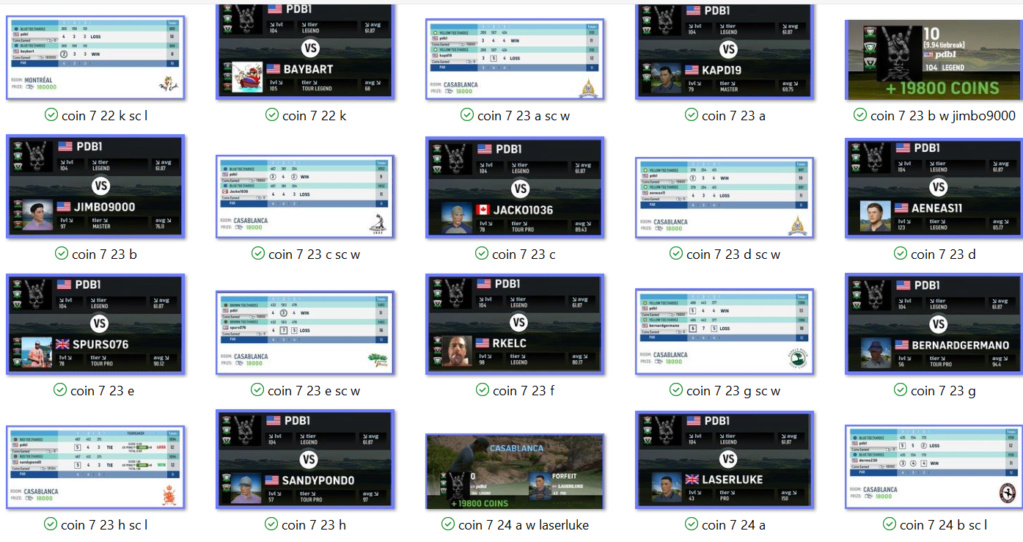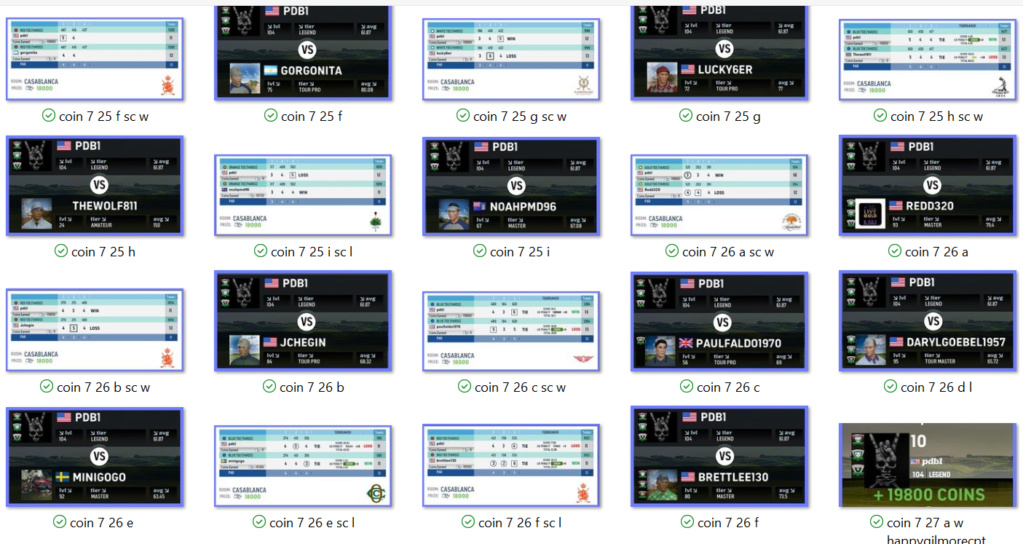 AUGUST  305 ROUNDS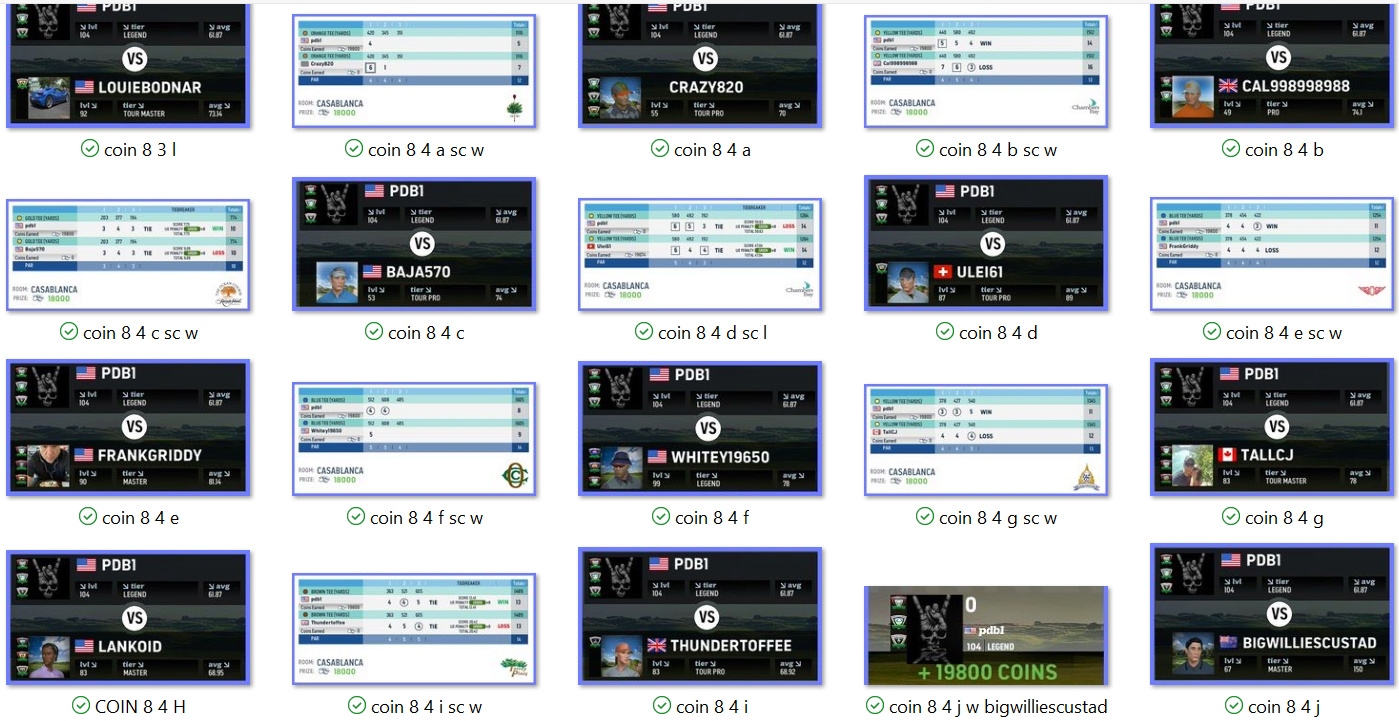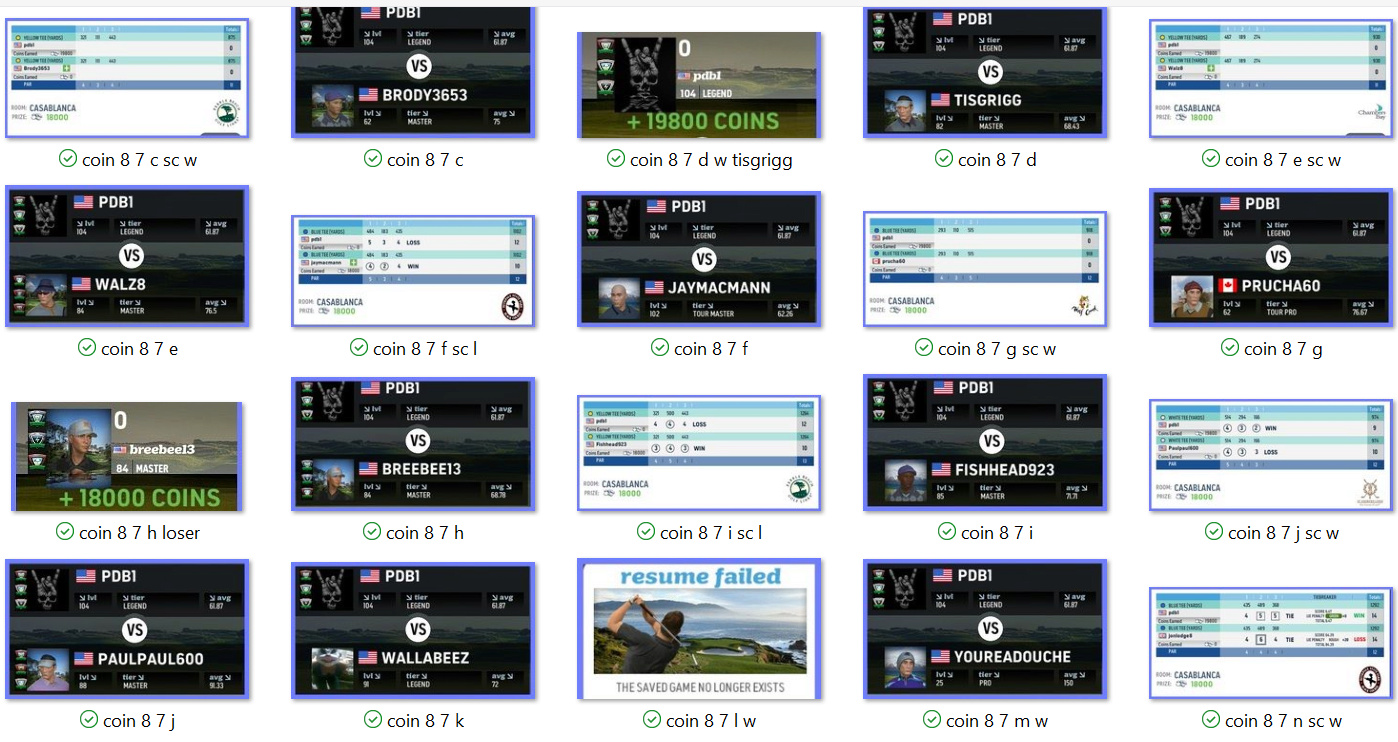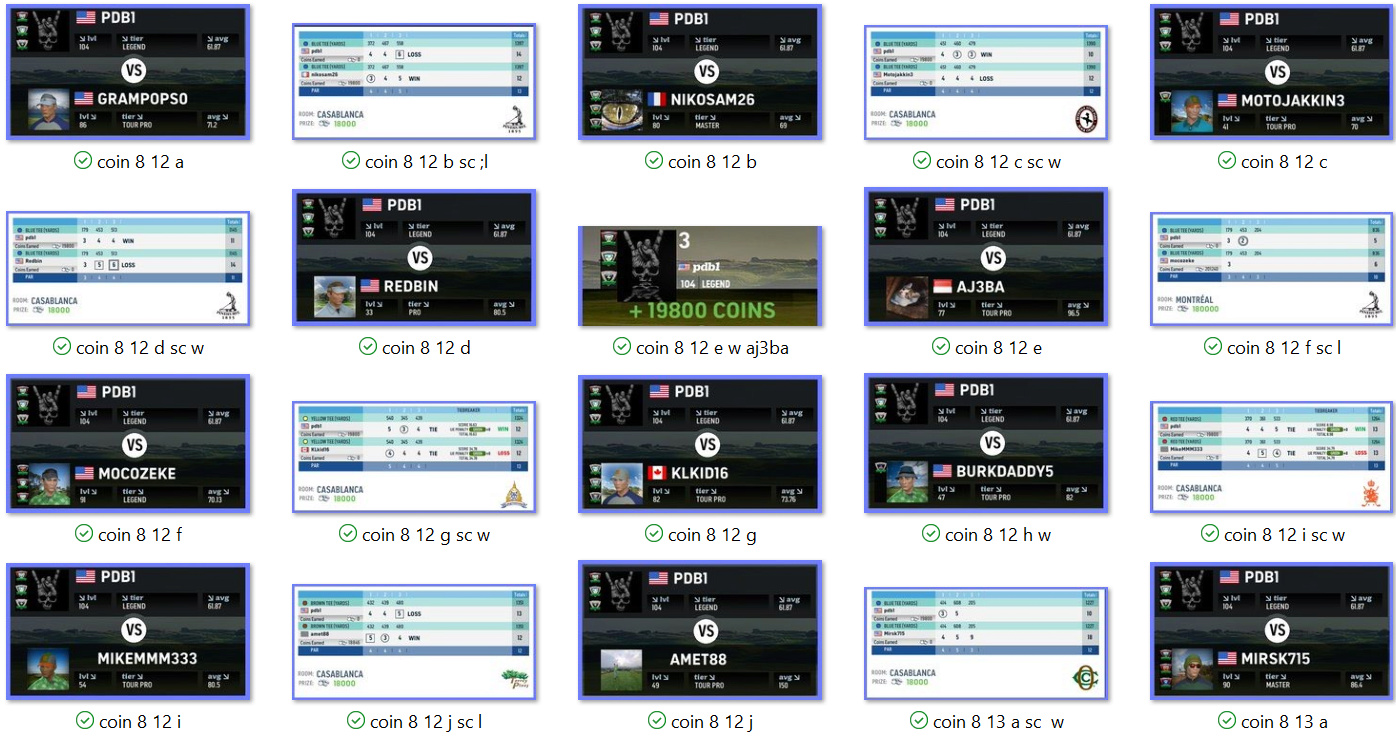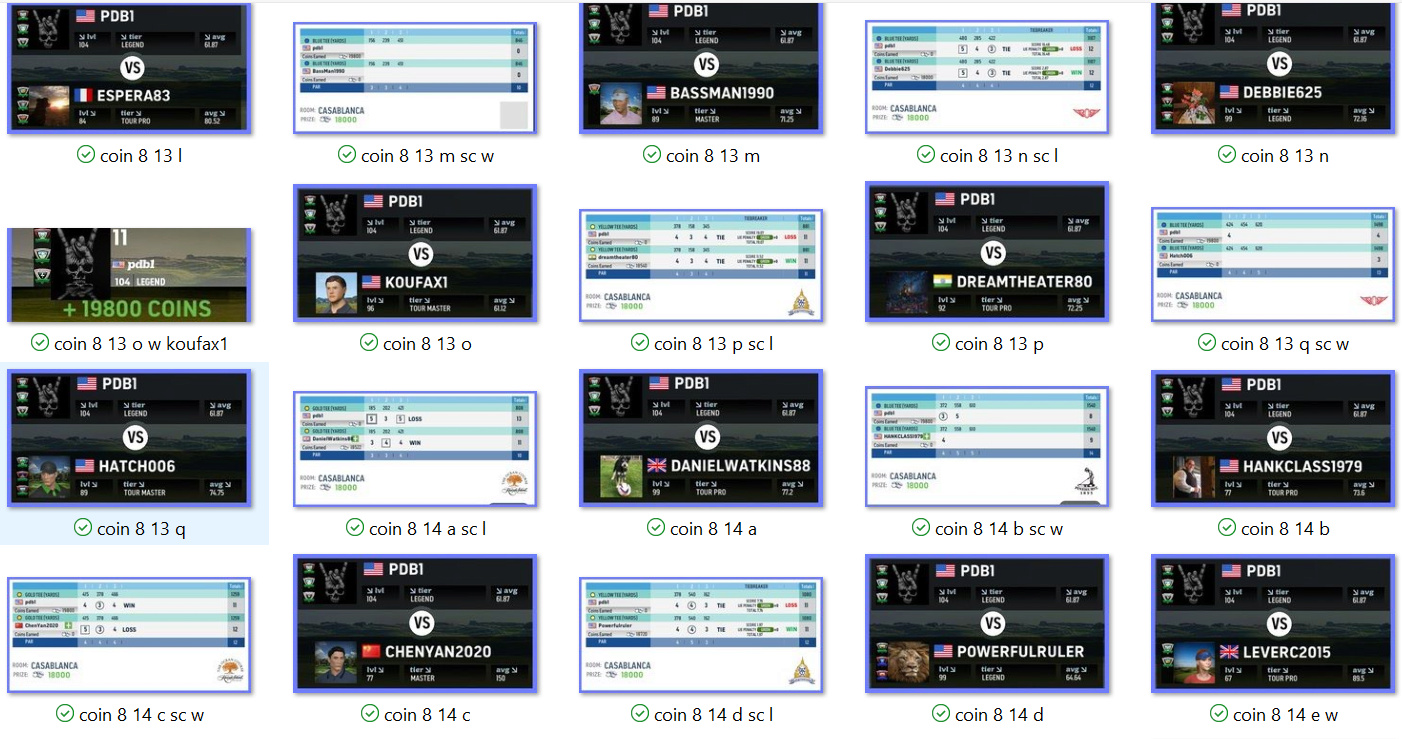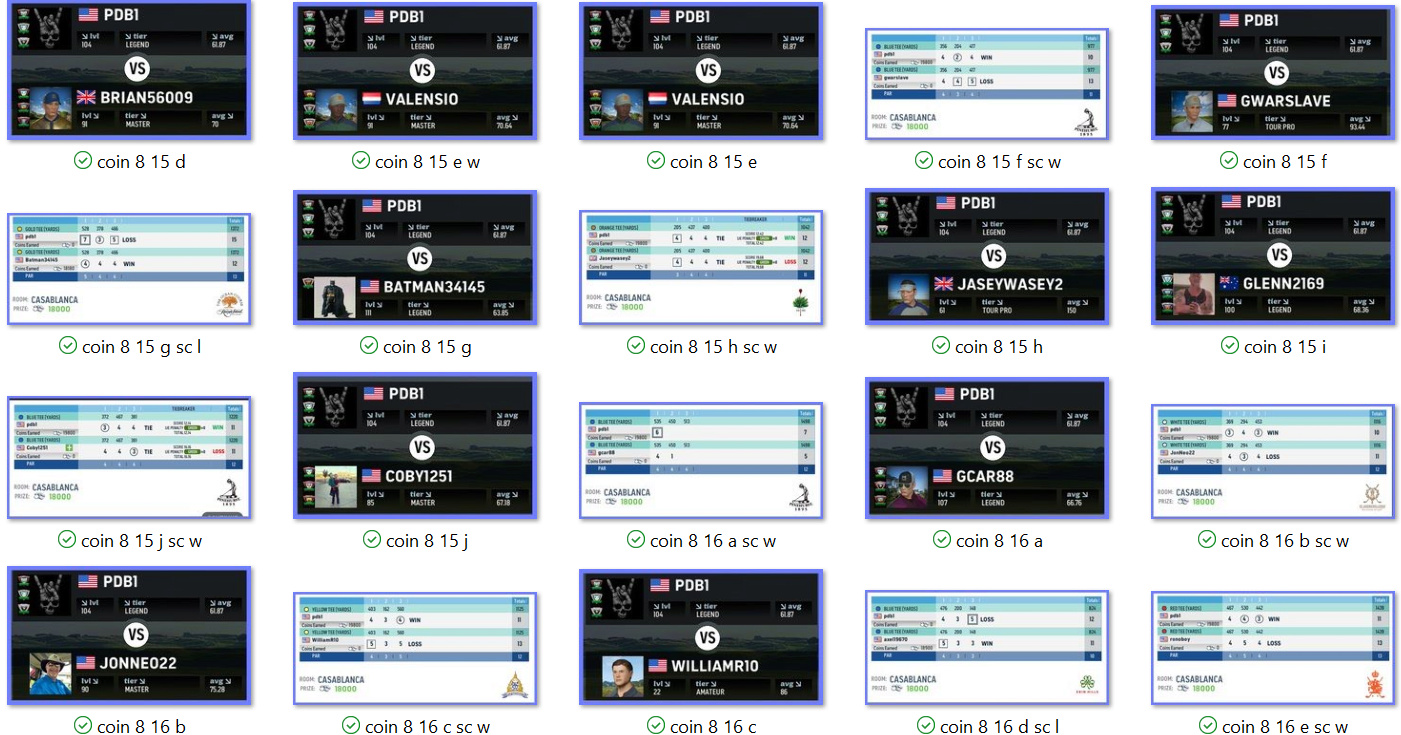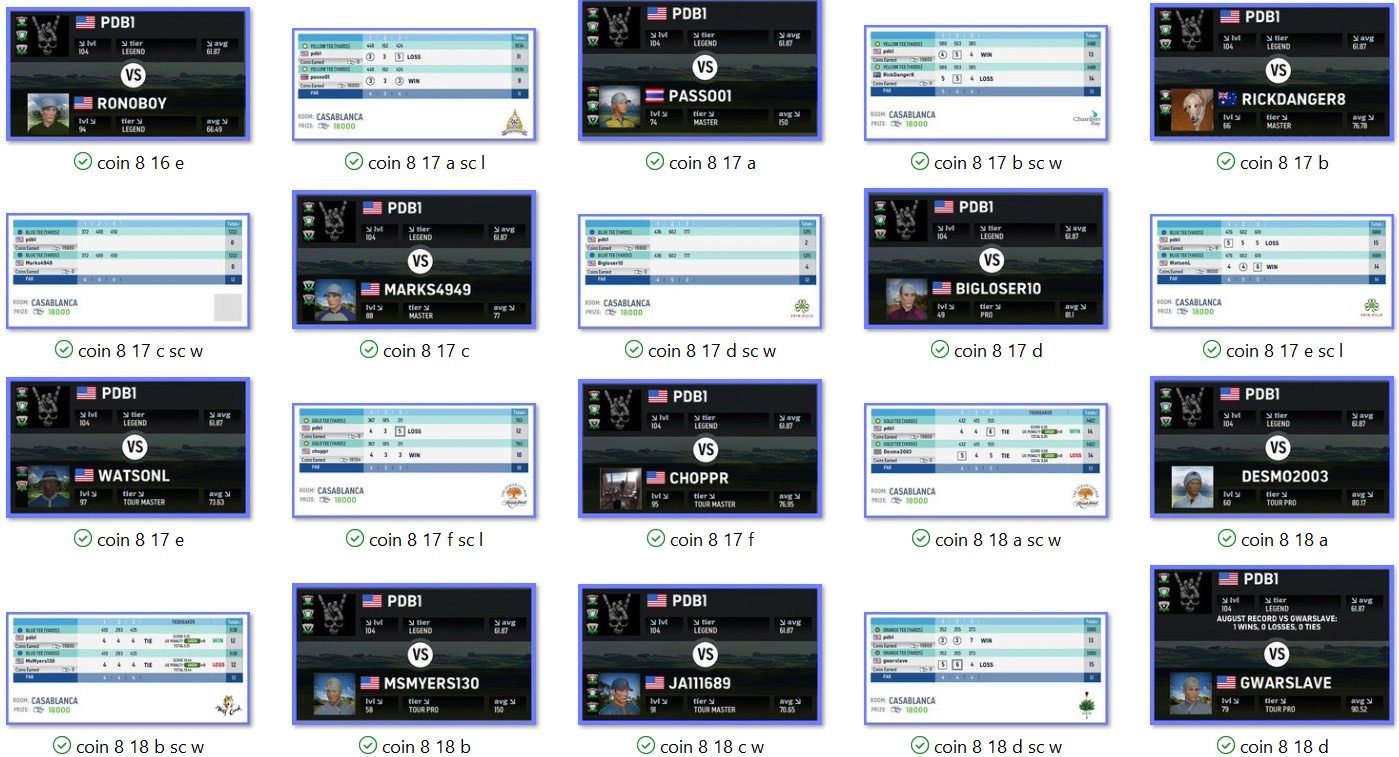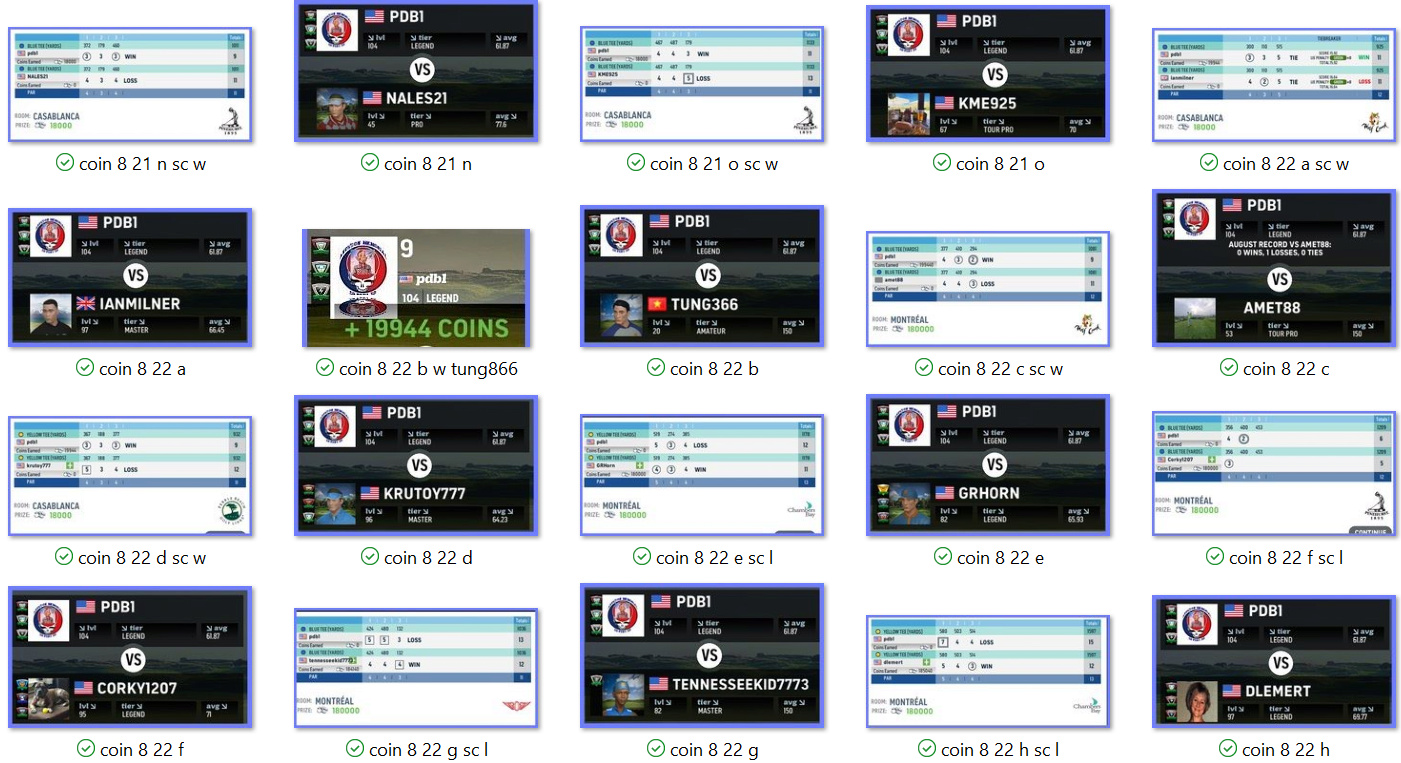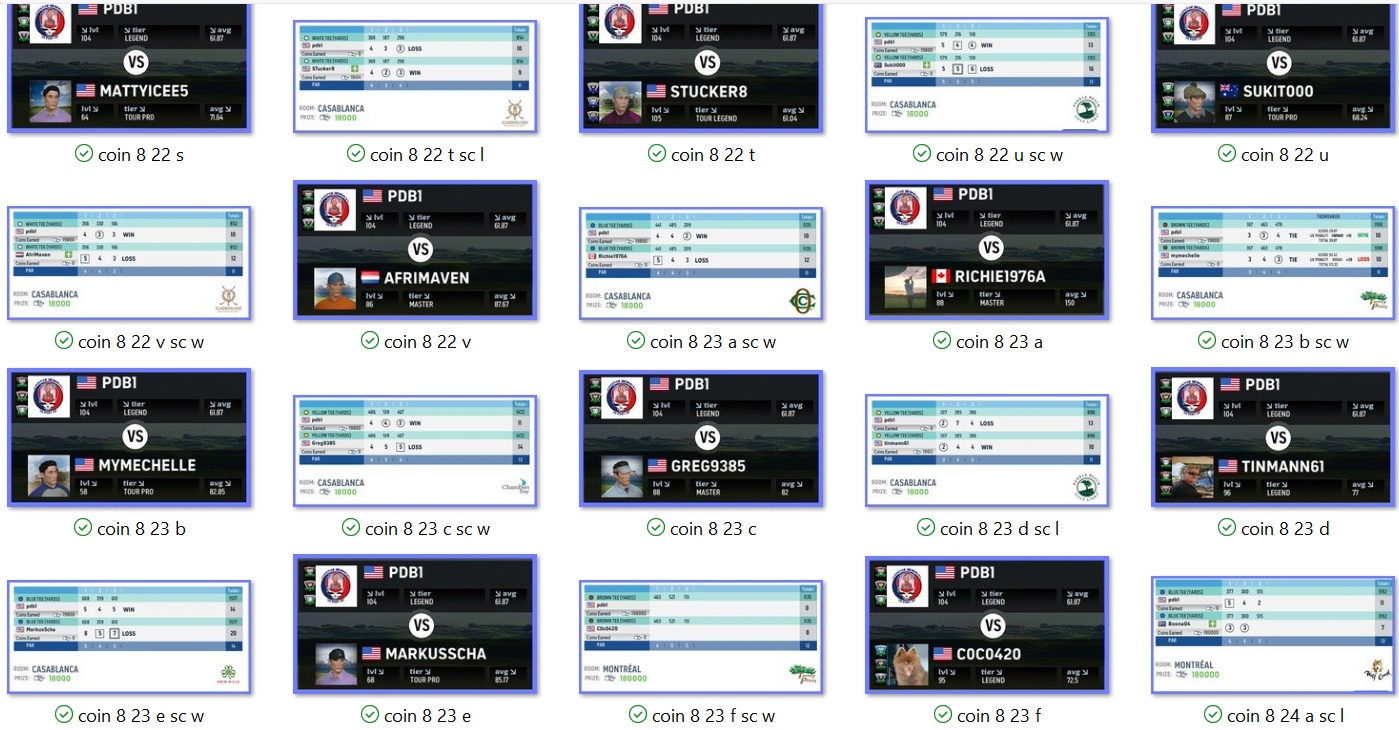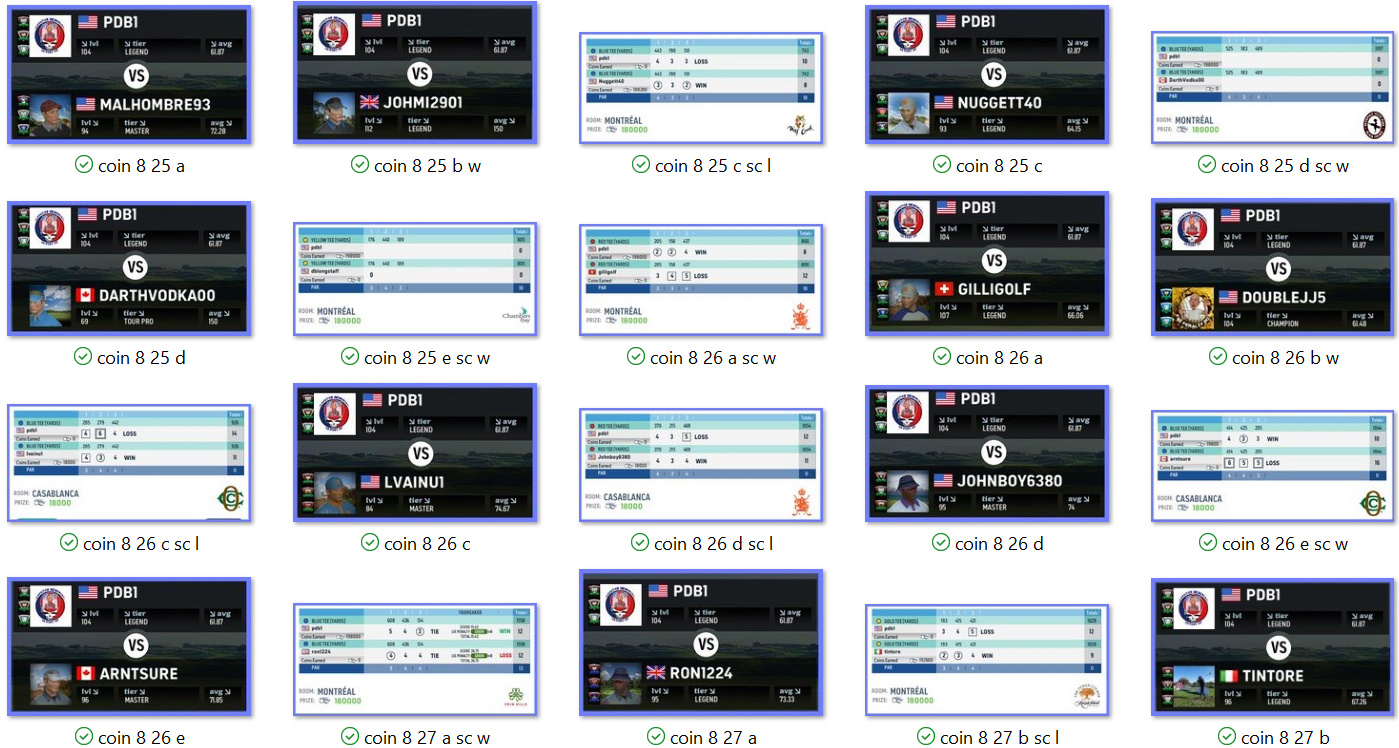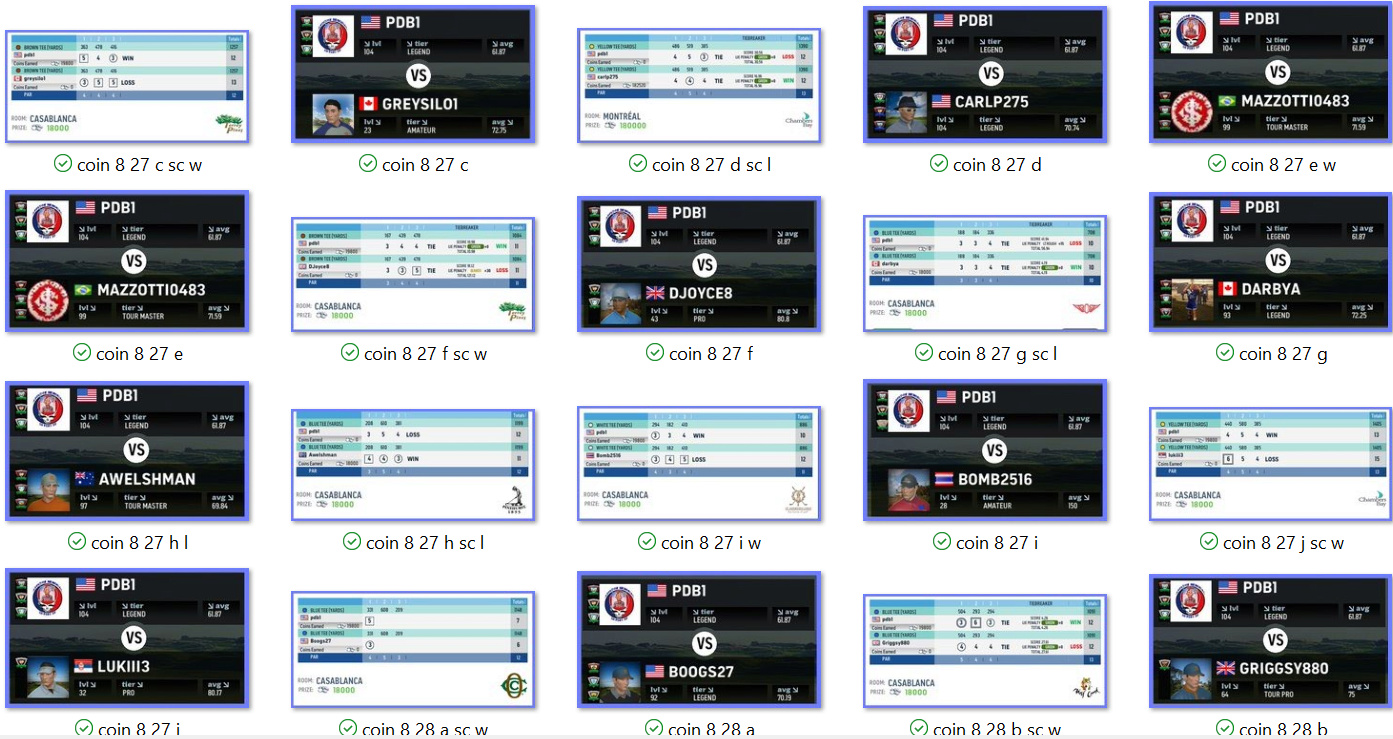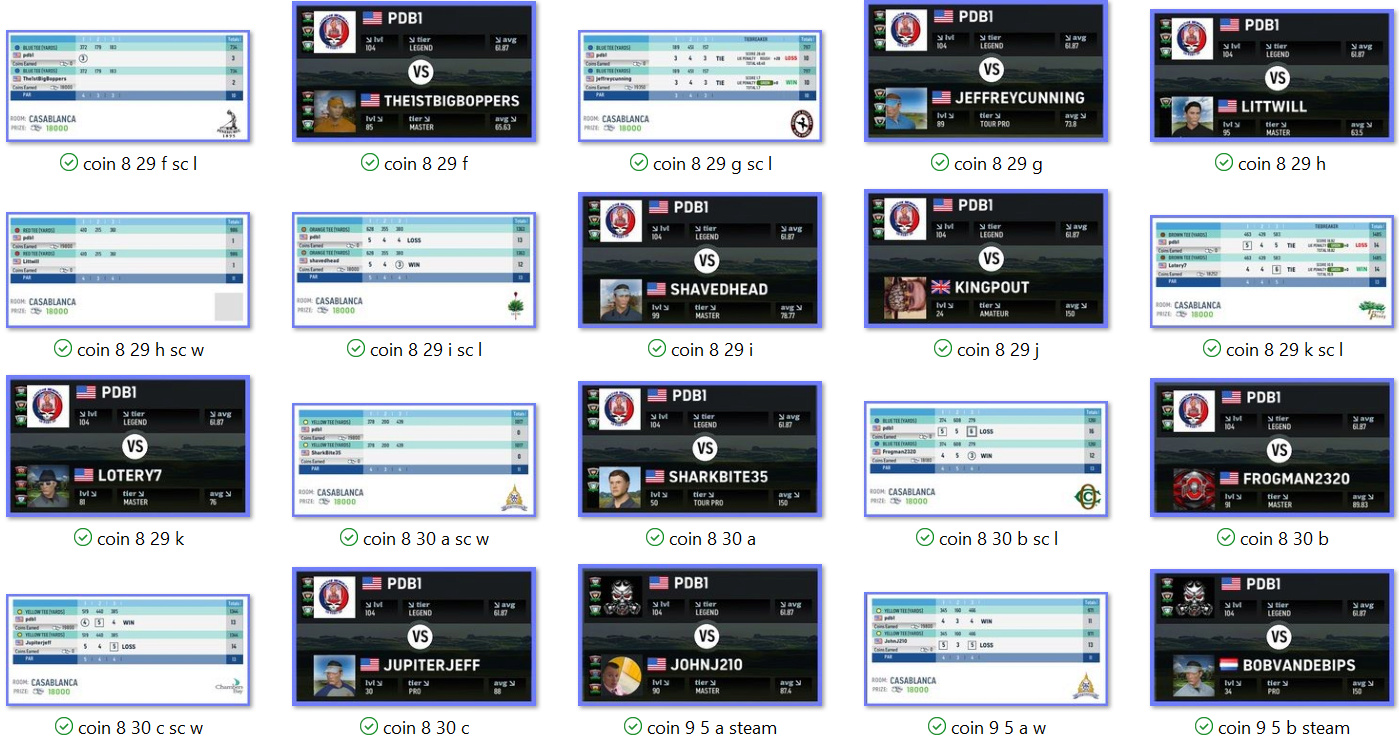 Last edited by Paul on Fri 18 Nov 2022, 9:36 am; edited 11 times in total
Last edited by Paul on Fri 17 Dec 2021, 11:39 pm; edited 4 times in total
Similar topics
---
Permissions in this forum:
You
cannot
reply to topics in this forum