THAT'S ENTERTAINMENT
CLICK ON ANY OF THESE LINKS TO FIND OUR EXTREME ENTERTAINMENT

Statistics
We have
451
registered users
The newest registered user is
daviddzr2
Our users have posted a total of
17313
messages in
3464
subjects
March 2023
| Mon | Tue | Wed | Thu | Fri | Sat | Sun |
| --- | --- | --- | --- | --- | --- | --- |
| | | 1 | 2 | 3 | 4 | 5 |
| 6 | 7 | 8 | 9 | 10 | 11 | 12 |
| 13 | 14 | 15 | 16 | 17 | 18 | 19 |
| 20 | 21 | 22 | 23 | 24 | 25 | 26 |
| 27 | 28 | 29 | 30 | 31 | | |
Calendar
71 WGT TUTORIALS & 32 YOUNG46 TUTORIALS
CLICK HERE
TO SEE OVER 100 YOUTUBE VIDEO TUTORIALS . FROM WGTers , WGT & YOUNG46
FORUM UPDATE
THIS FORUM IS FOR YOU ALL . PLEASE FEEL LIKE IT IS YOURS . READ THE FORUMS. POST COMMENTS . ASK QUESTIONS . IF YOU HAVE A COMPLAINT POST IT . MAKE SUGGESTIONS . READ SOME TUTORIALS . READ SOME GOLF TIPS . CHECK RECENT TOURNEY WINNERS . BROWSE OUR OLD FORUM ARCHIVES . LOG IN TO THE CHAT AND MESSAGE SOMEONE TO MEET YOU THERE AND ARRANGE A MATCH . LOG IN TO THE CHAT TO SEE IF SOMEONE IS THERE JUST TO SAY HI . MESSAGE ME IF YOU WANT TO GET ON THE DAILY BLITZ .
Owner's Objectives
It's been a while since I expressed some of my objectives for the CC . First of all I like and respect everyone that joins our club . I realize that not everyone knows what a CC is all about . Many have different reasons for joining . I really don't know how many of the other clubs are run . They are all different . What I want to emphasize in our CC is that whatever tier you are . That you feel comfortable here , part of a team of players that come here to find conditions that enable them to improve their game , hone their skills , lower their scores ,lower their averages , move up in tiers . Enjoyably and comfortably with the conditions that challenge them enough to keep that drive without the frustrationsof regular game play . All that is completely possible by either creating those tourneys yourself or by messaging me about it . Or someone else in your tier that has been creating tourneys . Any kind of information that you need to know should be provided here , any kind of appp , calculator , help , tutorial , tournament , statistic , message , opinion , gripe , compliment , etc , etc . Should able to be aqcuired here ( or in our website , as it may be easier there ). With your help , all of this can be done easily . We already have a good start . I am going to be here for a very long time trying to achieve all this . For any of you that think it's a good direction for your CC to go in . Then lets keep on keepin on . Sincerely , Your Co team member PDB1 , Paul ( sitting here on a rare rainy day ) May the SUN always be with you
POST OF THE WEEK
Re:
Where are the Flags ?By Bertasion in Valley of the Sun Casual Club The other day upon the heather fair I hit a flagstick that was not there. I saw it's shadow and heard the clank but where it stood was just a blank. It was not there again today. I wonder when it will come back and stay. Brian
TIER & AVERAGE REQUIREMENTS
BASIC LEVEL AND AVERAGE REQUIREMENTS , AND SATURATION
WHAT YOU CAN DO TO ABOUT IT
WHAT'SUP WHATSAP AND OTHER APPS . HERE IN THIS SITE . THE SKY IS YOUR LIMIT . IF YOU WANT TO PROMOTE , GROW , SHARE , IMPROVE , UPDATE POST AND LEARN ABOUT YOUR PRODUCT OR ANY PRODUCT . YOU CAN DO ALL OF THE ABOVE . JUST DO IT .
What Is A Blue Moon?
Have you ever heard someone say that a situation happens only "once in a blue moon"? This usually means that whatever is being described is so rare that you're not likely to see it for a very long time. But where did this phrase come from? What exactly is a blue moon — and are they really that rare?
So, What's a Blue Moon?
It turns out that the term "blue moon" can have multiple definitions, so we'll describe them and then clarify. The first version of a blue moon is when there are two full moons within a calendar month. The second (and older) definition refers to the third full moon in a season with four full moons. And the last usage describes a moon that appears bluish in color.
If you're confused, we understand. It's a little odd that three naturally occurring lunar phenomena have the same name. And while all three of these scenarios are rare and don't happen every month, depending on the definition, they're not
that
infrequent. So, let's break down the various blue moons and why they happen.
Blue Moon: Two Full Moons in a Calendar Month
This one is probably the most confusing to understand because it has to do with the total number of days in a calendar month as compared to the total number of days in a lunar cycle. However, this version of a blue moon is what most people are thinking of when they use the "once in a blue moon" saying. As you know, months within the Gregorian calendar can have anywhere from 28 to 31 days, but the lunar phase cycle doesn't waiver.
There are always 29.5 days
. (To clarify, a lunar phase refers to the shape of the illuminated part of the moon as seen from Earth. This is how we track things like a new moon, crescent moon, quarter moon, gibbous moon, and full moon.)
Two full moons can appear in a single calendar month
because of the inconsistent number of days in our months. If a lunar phase is always 29.5 days, but some months have an additional half-day or more, over time the lunar phase would grow to be out of sync with our calendar months, and a second full moon could occur in one month. The term "blue moon," then, can refer to either that second full moon or the overall phenomenon. By this definition, the most recent blue moon was March 31, 2018, and the next one will appear on October 31, 2020.
Blue Moon: The Third Full Moon in a Season With Four Full Moons
This definition of a blue moon is what was originally meant by the term. It refers to the third full moon in
a season with four full moons
, where seasons are delineated by the solstices and equinoxes. A typical season has only three full moons (one per month), so a season with four full moons is relatively rare, occurring every two-and-a-half years.
Blue Moon: When the Moon Appears Blue
Of the blue moon definitions, this is the rarest (and most literal). For this scenario to occur,
atmospheric conditions have to be perfect
. There must be smoke or dust particles in the atmosphere that are slightly bigger than 900 nanometers in size. For some reason, in this size range, the particles scatter any red light and cause the moon to appear blue. This occurs only after a major geological or weather event such as a dust storm, volcanic eruption, or a forest fire. Blue moons were reported shortly after the eruptions of Mount Saint Helens in the United States, El Chichon in Mexico, and Mount Pinatubo in the Philippines.
Blue Moon Combinations
There are times that a blue moon can combine with other rare moon events to create super events. For example, on January 31, 2018, there was a total lunar eclipse. These types of events usually cause the moon to look red, giving it the common name "Blood Moon." But on that particular night, the moon was at one of its closest positions to the Earth, almost making it a s
upermoon
, when the moon looks exceptionally large in the night sky. Because that full moon was a blood moon and a supermoon, it was dubbed the
Super Blue Blood Moon
.
By
Vigdis Hocken
and
Aparna Kher
On August 30/31, 2023, a Blue Moon will shine brightly in the night sky. It is a monthly Full Moon—the second Full Moon in
August
. And no, it will not turn blue.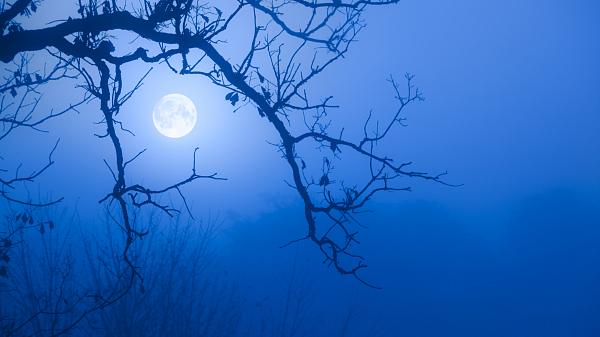 A Blue Moon is very rarely blue.
iStockphoto.com/JamesBrey
This is also a
Super Full Moon
, making it a Super Blue Moon.
What Is a Blue Moon?
There are two different definitions for a Blue Moon. A
seasonal Blue Moon
is the third
Full Moon
of an
astronomical season
that has four Full Moons. A
monthly Blue Moon
is the second Full Moon in a calendar month with two Full Moons.
When Is the Next Blue Moon?
The next
monthly Blue Moon
is on August 30/31, 2023.
The next
seasonal Blue Moon
takes place on August 19/20, 2024.
Since both of them happen in
August
, they are traditionally called
Sturgeon Moons
.
Names of all the Full Moons in a year
Why Is It Called a Blue Moon?
The historical origins of the term and its two definitions are shrouded in a bit of mystery and, by many accounts, an interpretation error.
Some believe that the term "blue moon" meaning
something rare
may have originated from when smoke and ashes after a volcanic eruption turned the Moon blue. Others trace the term's origin to over 400 years ago—folklorist Philip Hiscock has suggested that invoking the Blue Moon once meant that something was absurd and would never happen.
Origins of the Seasonal Full Moon
The definition of a seasonal Blue Moon, the third Full Moon in an astronomical season with four Full Moons, can be traced back to the now-defunct Maine Farmer's Almanac. According to the Almanac, the appearance of a 13th Full Moon in a year 'upset the arrangement of Church festivals.' The
unlucky status of the number 13
and the difficulties of calculating the occurrence of such a Full Moon led to the extra Full Moon being named a Blue Moon.
We can thank the Christian ecclesiastical calendar for the reason why the third Full Moon of the season is called the Blue Moon. The calendar uses the
phases of the Moon
to determine the
exact dates
for holidays like
Lent
and
Easter
.
The month of Lent contains the final Full Moon of winter,
Lenten Moon
. The first Full Moon of spring—also known as the Easter Moon or the
Paschal Moon
—falls just before Easter. Naming the third Moon of the season as the Blue Moon ensured that Lent and Easter coincided with the right Moon phases, and other celebrations and customs would still fall during their "proper" times.
The Moon: Our natural satellite
Is there a perfect calendar?
Origins of the Monthly Blue Moon
The more popular definition of the Blue Moon, that of the second Full Moon in a month, owes its existence to a misinterpretation originally made by amateur astronomer James Hugh Pruett (1886–1955) in a 1946 edition of Sky & Telescope magazine. The error took on a life of its own and spread around as fact. It even found its way into the answers of the 1986 version of the board game Trivial Pursuit! Today, this definition is considered a second definition of the Blue Moon rather than a mistake.
At timeanddate.com, you will find the dates and times of
both seasonal and monthly Blue Moons
in your time zone.
Sleep, crime, and menstruation: how Full Moons affect humans
How Rare Is a Blue Moon?
For a monthly Blue Moon to take place, a Full Moon must occur at the beginning of the month. This is because the
time between two successive Full Moons
is approximately 29.5 days, just short of most months in the
Gregorian Calendar
.
Seasonal Blue Moons take place slightly less frequently than monthly Blue Moons—in the 1100 years between 1550 and 2650, there are 408 seasonal Blue Moons and 456 monthly Blue Moons. This means that either type of Blue Moon occurs roughly every two or three years.
Blue Moons that are blue are incredibly rare and have nothing to do with the calendar or the Moon's phases but are instead a result of atmospheric conditions. Volcanic ashes and smoke, water droplets in the air, or certain types of clouds can all contribute to a Full Moon taking on a blue shade on rare occasions.
The Moon can sometimes look red
Double Blue Moon
Because of this,
February
, which has 28 days in a
Common Year
and 29 days in a
Leap Year
, can never have a monthly Blue Moon. Some years, February has no Full Moon at all, which is called a
Black Moon
. A February with no Full Moon happens when
January
and
March
have a Blue Moon each.
Known as a Double Blue Moon, this phenomenon is rather uncommon and takes place only about three to five times in a century. We saw a Double Blue Moon in 2018 in most time zones and will see it again 19 years later, in
2037
, in many time zones.
Astronomical terms & definitions
Seasonal and Monthly Blue Moons Together
Seasonal and monthly Blue Moons can also sometimes occur in the same year. Between 1550 and 2650, 20 years have one seasonal and one monthly Blue Moon in many time zones. The last time this happened was in
1934
and the next time will be in
2048
.
In the same period, 21 years have Triple Blue Moons—one seasonal and two monthly Blue Moons in the same calendar year. The next is in
2143
, while the last time was in
1961
.
Two seasonal Blue Moons in a year is an impossibility, as that would require 14 Full Moons in the same year.
How can Full Moon be in the daytime?
Not the Same Worldwide
The Moon reaches its various phases at specific moments. But because of time zones, the local time of a Full Moon can differ from one location to another. For instance, the Blue Moon in August 2023 takes place at 01:35
UTC
on August 31. Locations in time zones that are at least 1:30 hours behind UTC, including
New York City
,
Rio De Janeiro
, and
Vancouver
, will see their Full Moon take place on August 30, 2023.
Similar topics
---
Permissions in this forum:
You
cannot
reply to topics in this forum