THAT'S ENTERTAINMENT
CLICK ON ANY OF THESE LINKS TO FIND OUR EXTREME ENTERTAINMENT

Statistics
We have
459
registered users
The newest registered user is
chefcurry3irty
Our users have posted a total of
22038
messages in
3936
subjects
May 2023
| Mon | Tue | Wed | Thu | Fri | Sat | Sun |
| --- | --- | --- | --- | --- | --- | --- |
| 1 | 2 | 3 | 4 | 5 | 6 | 7 |
| 8 | 9 | 10 | 11 | 12 | 13 | 14 |
| 15 | 16 | 17 | 18 | 19 | 20 | 21 |
| 22 | 23 | 24 | 25 | 26 | 27 | 28 |
| 29 | 30 | 31 | | | | |
Calendar
71 WGT TUTORIALS & 32 YOUNG46 TUTORIALS
CLICK HERE
TO SEE OVER 100 YOUTUBE VIDEO TUTORIALS . FROM WGTers , WGT & YOUNG46
FORUM UPDATE
TO THE MANY WELCOME GUESTS . THIS FORUM IS NO LONGER A COUNTRY CLUB WEBSITE FOR A WGT COUNTRY CLUB . PLEASE FEEL FREE TO READ THE FORUMS.

THERE ARE MANY TOPICS OF INTEREST . OR NOT . THIS WEBSITE IS AN INFORMATION AND ENTERTAINMENT WEBSITE ONLY .

MUCH OF THE CONTENT IS ARCHIVES OF PURPOSES PAST .

THERE ARE SOME MORE CURRENT TOPICS .
REGISTRATION IS NOT NECESSARY TO READ THROUGHOUT .

REGISTRATION IS EASY AND FREE . THIS IS AN AD FREE WEBSITE . NOTHING IS EVER REQUESTED FROM REGISTERED MEMBERS .
REGISTRATION ENABLES COMMENTING ON TOPICS . POSTING NEW TOPICS . FULL ACCESS TO THE WEBSITE IMAGE HOST . WHICH IS A VERY COMPLETE AND CONVENIENT TOOL .

PLEASE ENJOY .

Owner's Objectives
ARCHIVES 2014 It's been a while since I expressed some of my objectives for the CC . First of all I like and respect everyone that joins our club . I realize that not everyone knows what a CC is all about . Many have different reasons for joining . I really don't know how many of the other clubs are run . They are all different . What I want to emphasize in our CC is that whatever tier you are . That you feel comfortable here , part of a team of players that come here to find conditions that enable them to improve their game , hone their skills , lower their scores ,lower their averages , move up in tiers . Enjoyably and comfortably with the conditions that challenge them enough to keep that drive without the frustrations of regular game play . All that is completely possible by either creating those tourneys yourself or by messaging me about it . Or someone else in your tier that has been creating tourneys . Any kind of information that you need to know should be provided here , any kind of appp , calculator , help , tutorial , tournament , statistic , message , opinion , gripe , compliment , etc , etc . Should able to be aqcuired here ( or in our website , as it may be easier there ). With your help , all of this can be done easily . We already have a good start . I am going to be here for a very long time trying to achieve all this . For any of you that think it's a good direction for your CC to go in . Then lets keep on keepin on . Sincerely , Your Co team member PDB1 , Paul ( sitting here on a rare rainy day ) May the SUN always be with you
POST OF THE WEEK
Re:
Where are the Flags ?By Bertasion in Valley of the Sun Casual Club The other day upon the heather fair I hit a flagstick that was not there. I saw it's shadow and heard the clank but where it stood was just a blank. It was not there again today. I wonder when it will come back and stay. Brian
TIER & AVERAGE REQUIREMENTS
BASIC LEVEL AND AVERAGE REQUIREMENTS , AND SATURATION
WHAT YOU CAN DO TO ABOUT IT
WHAT'SUP WHATSAP AND OTHER APPS . HERE IN THIS SITE . THE SKY IS YOUR LIMIT . IF YOU WANT TO PROMOTE , GROW , SHARE , IMPROVE , UPDATE POST AND LEARN ABOUT YOUR PRODUCT OR ANY PRODUCT . YOU CAN DO ALL OF THE ABOVE . JUST DO IT .
WHILE YOUR HERE
WHILE YOUR HERE :
CHECK OUT THE INCREDIBLE PHOTOGRAPHY IN

MY SERIES

&

& MORE . ALL IN THE FORUM
Is Quicksand Real?
Quicksand is more than just a danger-filled plot device in movies and on television.
In Hollywood, few moments put you on the edge of your seat more than when a character becomes entrapped in quicksand. The stunt is sometimes used during a peak dramatic moment, like in
Lawrence of Arabia
, but also for comedic relief, like on
Gilligan's Island
.
But quicksand is more than a danger-filled plot device — it's very real and has been trapping people for centuries. The mucky stuff exists just about everywhere on the planet, so if you do encounter it, be cautious. Though it
can't
drag people under as seen on screen, quicksand is still very dangerous.
What Is Quicksand Made Of?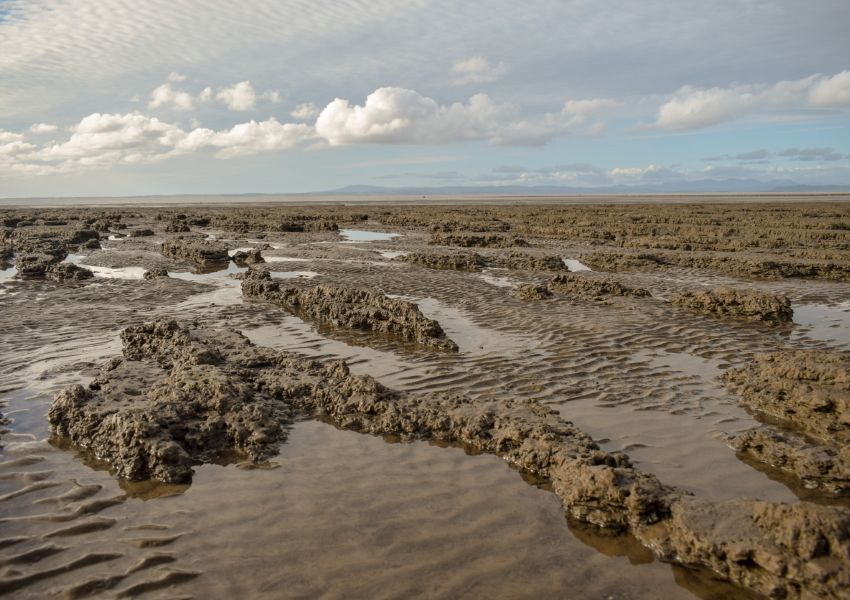 At first glance, quicksand
looks
like
wet sand
you typically see at the beach, which explains why people step in it without thinking twice. However, unlike slightly damp beach sand, quicksand is
saturated
with water. This saturation occurs when
water
isn't able to flow away, usually due to the presence of dense material, such as a bed of clay that stops
drainage
.
Quicksand often has
salt and clay
mixed in as well. The presence of salt
results
in clay particles clumping together, not intermingling with the grains of sand, and adds to quicksand's
instability
.
But some quicksands form without the presence of salt. In Brazil, quicksand was found around a lagoon where
bacteria
created a crust that looked like the regular ground but turned into quicksand when stepped on.
Quicksand can form in any location where water and sand meet, such as near rivers,
lakes
, beaches, marshy areas, and natural springs. Quicksand can also be created when water escapes from an underground
reservoir
, perhaps due to a natural disaster.
Why Do People Sink In Quicksand?
The water saturation of quicksand cuts down the friction between sand particles. As a
result
, quicksand cannot support any weight. If someone steps on quicksand and adds weight, this
pressure
disturbs the quicksand's structure. Quicksand then turns into a viscous
liquid
, which is what people and animals sink into.
After someone or something has sunk into the liquified sand, quicksand becomes more viscous and starts to
solidify
once more. This makes it harder to
move
, increasing the difficulty of escape.
Quicksand's inability to support weight can have consequences beyond individuals sinking into it. If quicksand appears around a
bridge
or building, the structure can
collapse
.
How Dangerous Is Quicksand?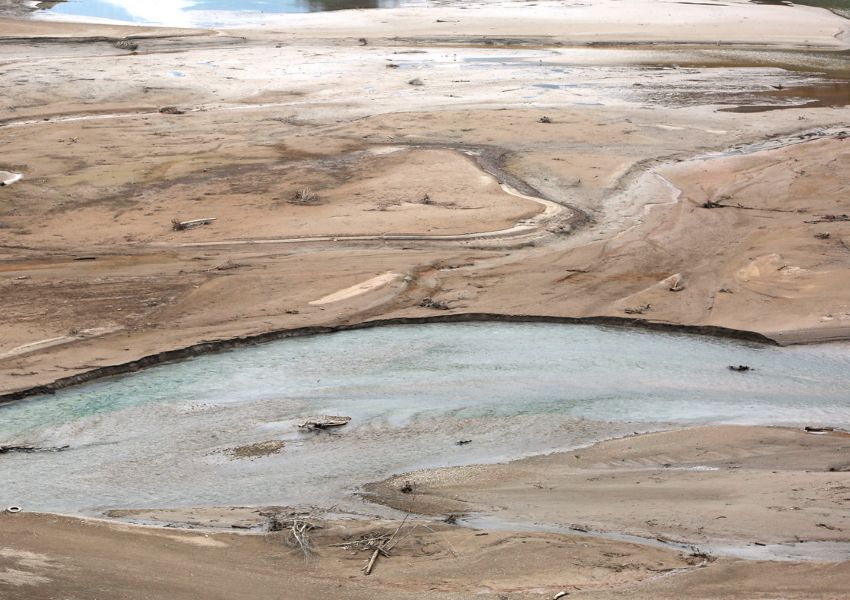 It's true that should you ever step into quicksand, you'll start sinking into its murky depths. Fortunately, despite what has been depicted in movies and on television, you don't need to worry about being swallowed up and disappearing beneath quicksand's surface.
A human body is
less dense
than quicksand (one gram per milliliter for humans vs. two grams per milliliter for quicksand). If you go into quicksand feet first, buoyancy will keep you from sinking much more than
waist-deep
— though your legs are denser, your lungs offer enough
upthrust
to keep your head above the surface.
That doesn't mean quicksand isn't dangerous, though. For one thing, it takes time for anyone to get themselves out of it. A man hiking in Utah's Zion National Park in
2019
was sucked into quicksand and remained stuck for hours. He experienced hypothermia, exposure, and other injuries before he could be rescued.
In some
situations
, such as when water levels rise due to incoming tides, people can drown when they're trapped in place by quicksand. Such fatalities are rare, but they've happened even as recently as 2012 and 2015.
What Should You Do if You Step in Quicksand?
If you do stumble upon quicksand, here are a few tips about what to do next. First, though it may be hard advice to follow, try not to panic.
You risk being dragged down further if you
struggle
.
Second, don't just ask someone who's nearby to pull you out of the quicksand. The amount of force required to lift a foot out of quicksand at a
rate
of one centimeter per second is
100,000 newtons
. This is enough power to lift a midsize car, and it means that the amount of force needed to lift someone out of quicksand could backfire and
cause
more extreme injury
.
Instead, take time to work your way out of the quicksand. One tactic is to slowly move your legs and feet. This
allows
water to get to the quicksand that's gripping you, which will lessen the strength of that hold.
Spreading
your weight over as much space as possible will also help.
Remember, your body's density is less than quicksand's density, so you have buoyancy on your side. With
time
, you can get out.
---
Permissions in this forum:
You
cannot
reply to topics in this forum