September 2023
| Mon | Tue | Wed | Thu | Fri | Sat | Sun |
| --- | --- | --- | --- | --- | --- | --- |
| | | | | 1 | 2 | 3 |
| 4 | 5 | 6 | 7 | 8 | 9 | 10 |
| 11 | 12 | 13 | 14 | 15 | 16 | 17 |
| 18 | 19 | 20 | 21 | 22 | 23 | 24 |
| 25 | 26 | 27 | 28 | 29 | 30 | |
Calendar
Statistics
We have
464
registered users
The newest registered user is
kumarsharma91910
Our users have posted a total of
34107
messages in
5068
subjects
THAT'S ENTERTAINMENT
CLICK ON ANY OF THESE LINKS TO FIND OUR EXTREME ENTERTAINMENT

71 WGT TUTORIALS & 32 YOUNG46 TUTORIALS
CLICK HERE
TO SEE OVER 100 YOUTUBE VIDEO TUTORIALS . FROM WGTers , WGT & YOUNG46
FORUM UPDATE
TO THE MANY WELCOME GUESTS . THIS FORUM IS NO LONGER A COUNTRY CLUB WEBSITE FOR A WGT COUNTRY CLUB . PLEASE FEEL FREE TO READ THE FORUMS.

THERE ARE MANY TOPICS OF INTEREST . OR NOT . THIS WEBSITE IS AN INFORMATION AND ENTERTAINMENT WEBSITE ONLY .

MUCH OF THE CONTENT IS ARCHIVES OF PURPOSES PAST .

THERE ARE SOME MORE CURRENT TOPICS .
REGISTRATION IS NOT NECESSARY TO READ THROUGHOUT .

REGISTRATION IS EASY AND FREE . THIS IS AN AD FREE WEBSITE . NOTHING IS EVER REQUESTED FROM REGISTERED MEMBERS .
REGISTRATION ENABLES COMMENTING ON TOPICS . POSTING NEW TOPICS . FULL ACCESS TO THE WEBSITE IMAGE HOST . WHICH IS A VERY COMPLETE AND CONVENIENT TOOL .

PLEASE ENJOY .

ALL NEW
TIER & AVERAGE REQUIREMENTS
BASIC LEVEL AND AVERAGE REQUIREMENTS , AND SATURATION
WHILE YOUR HERE
WHILE YOUR HERE :
CHECK OUT THE INCREDIBLE PHOTOGRAPHY IN

MY SERIES

&

& MORE . ALL IN THE FORUM
THIS USED TO BE THE HOME OF OUR WORLD CLOCK . WHICH CAN NOW BE FOUND IN ITS OWN FORUM ON THE MAIN PAGE ..
THERE ARE MORE WORLD CLOCKS INSIDE HERE .
BLITZ 16
Supposedly . We'll see .

Thursday 29 June
National Work From Home Day
We celebrate technology that allows any office job can be done at home, in our pajamas!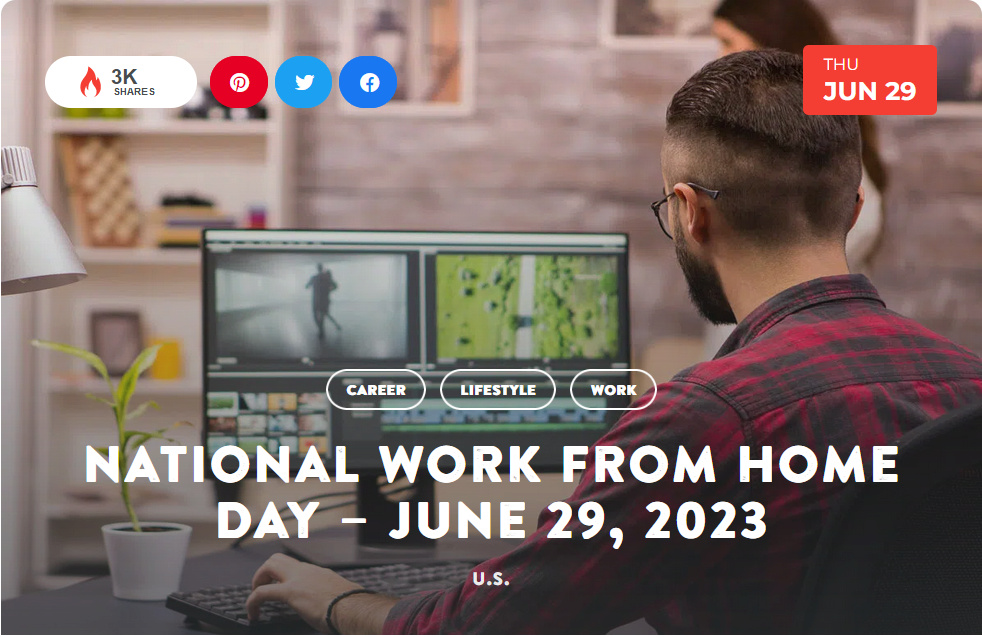 On the last Thursday in June we celebrate National Work From Home Day, this year it is June 29. It's a chance to recognize the technological and cultural evolutions that allow us as a work culture to be as productive anywhere in the world as we are in the office. For years, working at home had been the purview of certain types of jobs, or saved as a bonus to reward employees while the rest of us battled with the daily commute. Now, however, the tools exist so that nearly any office job can be done at home without a loss of productivity. Today, we celebrate those achievements and do so in our pajamas. If you wanted to make sure your work from home setup is on point, then check out our guide to the
best laptop stands
.
History of National Work From Home Day
The history of working from home should probably be called the history of working, because for most of human history work was done primarily in and around the home. From the earliest hunter-gatherers to the home-based shops of medieval Europe, working from home was more the norm than the exception. It wasn't until the Renaissance when mixed use storefronts gave way to more centralized administrative buildings for government, schools, that the idea of an office to go to for work even entered the lexicon. 
However, it was the Industrial Revolution of the 19th century that changed the way we work in profound ways. The advent of factories with sophisticated and heavy machinery for producing goods such as textiles meant that people were unable to do their work within the confines of their own homes. This created the working outside of the home model consisting of skilled workers that would eventually evolve into our own familiar office-style work model. 
Throughout most of the 20th century work from home was relegated to certain professions, the most notably being creative arts — painters, musicians, writers, etc. — and multi-level marketing jobs that became popular in the 1950s and 1960s. 
However, in the background, the technology was slowly evolving to the point where working from home was as technologically sophisticated and productive as working in an office. From roughly the 1980s until today, technology has opened the door bit by bit to more and more remote work options. The personal computer, the fax machine, mobile phones, the internet, video chat, collaborative documents, have all collaborated to changes in remote work culture and capability. 
As the impact of the COVID-19 pandemic on remote work is analyzed in the coming months, many of the cultural barriers to remote work may be weakened or removed, revealing a renaissance in remote work professions (pants options, of course).
National Work From Home Day Activities
   No Shirt, No Shoes, No Problem
   Assuming you've already chosen to celebrate National Work From Home Day by actually working from home, why not take it step further and completely eschew that office dress code. Want to type away in cut-off jean shorts and an old band t-shirt? Go for it. Pajamas more your style, who are we to judge. Get comfy, cause you're already home.
   My That Couch Looks Comfy
   Sure, your home office may be the latest in ergonomic work chairs from Sweden but they don't hold a candle to your couch. Prop your laptop on a throw pillow on your lap and get workin.'
   Make a Gourmet Homemade Lunch
   When we're in the office, lunch often exists of greasy takeout or a limp sandwich eaten at your desk. But when you're home you have access to all sorts of foods and cooking materials. Why not make the most of them? Spend a little time (breaks are healthy) and prepare a nice meal from scratch. You'll feel much better about your culinary choices and come back to your desk refreshed and ready.
Five Ways To Make The Most Out Of Working From Home
   Have a Routine
   It doesn't really matter what it is as long as you stick to it. Routines make us more productive and reduce anxieties about never leaving work.
   Maintain Relationships With Your Coworkers
   We may have never felt so remote in our lives, but that's no excuse for allowing those work relationships to go fallow. Set up a virtual happy hour, have treats or lunches delivered, maintain watercooler chat on Slack or Basecamp, and celebrate personal and professional wins.
   Boundaries Make Good Workers
   Sure, your office may be your kitchen table but that's no reason to let the office takeover your home. As with a routine, it is important to set boundaries for your work life and your home life. When the work day is done, put the laptop away, leave your home office, and maybe mute your slack messages.
   Make Accommodations For Your Kids
   When you're working in an office and the kids are in school it is easy to forget how tough it is to balance both at the same time. Now that everyone is home (and those kids are probably bored) creating rules and routines for your children will help to reduce the number and frequency of interruptions
   Make your Breaks Meaningful
   It's easy to overlook the importance just chatting with your desk mate can have on resetting your brain's productivity capabilities. When working from home, especially solo, take meaningful breaks. Go for a walk, do some light exercise, pick up a book and read for a few minutes. Do things that help to give your brain the break it needs to maintain high productivity.
Why We Love National Work From Home Day
   It Feels Almost Like a Staycation
   We may be working, but when you don't have to worry about beating the traffic to the office and instead ease into the day with a cup of coffee on the porch, it can almost feel like having the day off — almost.
   Video Calls Can Be Fun
   Don't throw that tomato at the screen, you know they have their moments. Video calls are a fact of life now but they don't have to drab, annoying, and fruitless conversations. Spice them up with a clever background, or start each meeting by screen sharing a fun game that everyone on the call can play. Video calls are what you make them, so make them fun.
   The Relative Freedom
   Of course we are still expected to work our usual hours and be as productive as we are in the office, but when you're working from home there's a bit more freedom to control your day than there is when you're under the microscope in the office. Take advantage of that freedom, it can be recuperative.
---
Permissions in this forum:
You
cannot
reply to topics in this forum