September 2023
| Mon | Tue | Wed | Thu | Fri | Sat | Sun |
| --- | --- | --- | --- | --- | --- | --- |
| | | | | 1 | 2 | 3 |
| 4 | 5 | 6 | 7 | 8 | 9 | 10 |
| 11 | 12 | 13 | 14 | 15 | 16 | 17 |
| 18 | 19 | 20 | 21 | 22 | 23 | 24 |
| 25 | 26 | 27 | 28 | 29 | 30 | |
Calendar
Statistics
We have
464
registered users
The newest registered user is
kumarsharma91910
Our users have posted a total of
33976
messages in
5059
subjects
THAT'S ENTERTAINMENT
CLICK ON ANY OF THESE LINKS TO FIND OUR EXTREME ENTERTAINMENT

71 WGT TUTORIALS & 32 YOUNG46 TUTORIALS
CLICK HERE
TO SEE OVER 100 YOUTUBE VIDEO TUTORIALS . FROM WGTers , WGT & YOUNG46
FORUM UPDATE
TO THE MANY WELCOME GUESTS . THIS FORUM IS NO LONGER A COUNTRY CLUB WEBSITE FOR A WGT COUNTRY CLUB . PLEASE FEEL FREE TO READ THE FORUMS.

THERE ARE MANY TOPICS OF INTEREST . OR NOT . THIS WEBSITE IS AN INFORMATION AND ENTERTAINMENT WEBSITE ONLY .

MUCH OF THE CONTENT IS ARCHIVES OF PURPOSES PAST .

THERE ARE SOME MORE CURRENT TOPICS .
REGISTRATION IS NOT NECESSARY TO READ THROUGHOUT .

REGISTRATION IS EASY AND FREE . THIS IS AN AD FREE WEBSITE . NOTHING IS EVER REQUESTED FROM REGISTERED MEMBERS .
REGISTRATION ENABLES COMMENTING ON TOPICS . POSTING NEW TOPICS . FULL ACCESS TO THE WEBSITE IMAGE HOST . WHICH IS A VERY COMPLETE AND CONVENIENT TOOL .

PLEASE ENJOY .

ALL NEW
TIER & AVERAGE REQUIREMENTS
BASIC LEVEL AND AVERAGE REQUIREMENTS , AND SATURATION
WHILE YOUR HERE
WHILE YOUR HERE :
CHECK OUT THE INCREDIBLE PHOTOGRAPHY IN

MY SERIES

&

& MORE . ALL IN THE FORUM
THIS USED TO BE THE HOME OF OUR WORLD CLOCK . WHICH CAN NOW BE FOUND IN ITS OWN FORUM ON THE MAIN PAGE ..
THERE ARE MORE WORLD CLOCKS INSIDE HERE .
BLITZ 16
Supposedly . We'll see .

National Cheesecake Day
Join us for the creamiest, cheesiest, and yummiest holiday today.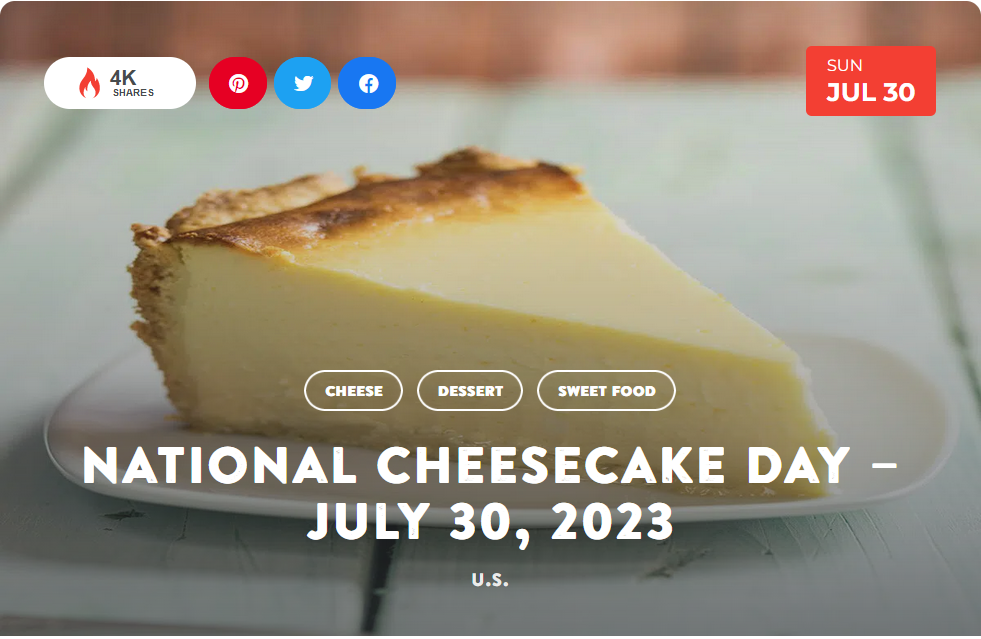 National Cheesecake Day is the creamiest and yummiest holiday held on July 30 where America samples and indulges in some of the most delicious cheesecakes ever!
Separately, cheese and cake are beloved all over the world. But taken together, they attract a veritable cult following. Cheesecake is thought to have originated in ancient Greece, as evidenced by its earliest mention in Greek physician, Aegimus', a book on the art of making cheesecakes. Since then, cheesecake has been passed down through the generations and entered into the fabric of numerous cultures.
History of National Cheesecake Day
Weirdly enough, the origins of the Cheesecakes are not known to us but it can be traced as early as back to ancient Greece. The recipe used back then only consisted of the most basic ingredients such as cheese, flour, and honey. Interestingly, cheesecake was fed to the greek athletes during the Olympics held back in 776 B.C. It was not until when the Romans conquered ancient Greece that eggs and proper baking methods were introduced.
As time went by, the recipe was modified several times to get that perfect ratio of smooth to creamy consistency, and this led us to the American cheesecake that we all know and love! In 1872, New York dairyman William Lawrence unintentionally came up with cream cheese while he was trying to replicate a French cheese called the Neufchatel. Talk about luck, right! Cream cheese became so popular and the demand for it became so high that it was packaged and distributed to all the local stores in the area.
Time went by, and an immigrant named Arnold Reuben from Germany, who lived in New York, was once served cheese pie at an event he attended. He was so fascinated and intrigued by the dessert, that he decided to experiment with the recipe until he came up with what we know today as the New York Cheesecake.
The popularity of the New York Cheesecake increased so much that different cities came up with their own versions, for example, the Chicago cheesecake, the Pennsylvanian cheesecake, etc. It became such an important part of American culture, that in 1985, it was decided that on July 30 every year National Cheesecake Day would be celebrated.
National Cheesecake Day Activities
 Around the world through cheesecake
   Why get on a plane when you can travel the world through your mouth? Taste test regional variations of cheesecake by visiting your local Italian, Russian, German, Polish or French bakeries. 
 Indulge in the most famous cheesecake on earth
   You can't celebrate National Cheesecake Day without celebrating one of America's proudest exports: New York-Style Cheesecake. Unlike other cheesecakes, New York-Style uses heavy cream, eggs and loads of rich, cream cheese. This cheesecake has a dense, smooth, velvety consistency. Chances are, when you think of cheesecake, you're thinking of New York-Style.   
Bake a homemade cheesecake
   Don't be fooled by that rich, complex taste—cheesecake is actually super easy to make. Treat your friends and family (and yourself, of course) to a homemade cheesecake that's fresh out of the oven. With an endless array of toppings, garnishes, spices and flavorings; your creation is sure to be one-of-a-kind.
5 Facts About Cheesecake That Will Blow Your Mind
 Your style
   Whether you want your cheesecake baked or not, it is completely up to you! 
 People really liked their stamps
   You used to be able to buy cheesecake-flavored postage stamps. 
 Good for the body
   Cheesecake contains a good amount of vitamin A, riboflavin, protein, and phosphorus. 
 It is not a cake
   Cheesecake is considered a torte. 
 For the Bride and Groom
   In ancient Greece, cheesecake was a popular wedding "cake" and it was part of their tradition for the bride to make it and serve it to her husband as a nice gesture.
Why We Love National Cheesecake Day
 It's easy to transform a cheesecake into a masterpiece
   Despite it's creamy taste, cheesecake is rather dull-looking. Luckily, the freshness and flexibility of its ingredients can take a cheesecake from ordinary to extraordinary! All you have to do is add a topping. Pop a few blueberries, strawberries or cherries on top, add a dribble of chocolate sauce, and voila—you've turned your kitchen into a Michelin Star restaurant.   
Every country has its own version of cheesecake
   You could travel the world and eat nothing but cheesecake (although we don't necessarily recommend that.) Almost every country has its own spin on cheesecake, with slight variations in the types of cheese used and the way the dessert is baked.   
Cheesecake has a fascinating history
   Cheesecake was originally invented by the ancient Greeks. When Rome conquered Greece, the Romans loved the recipe so much that they coopted it and modified it by including crushed cheese and eggs. Then, they baked the cheesecake under a hot brick and served it warm.
Similar topics
---
Permissions in this forum:
You
cannot
reply to topics in this forum